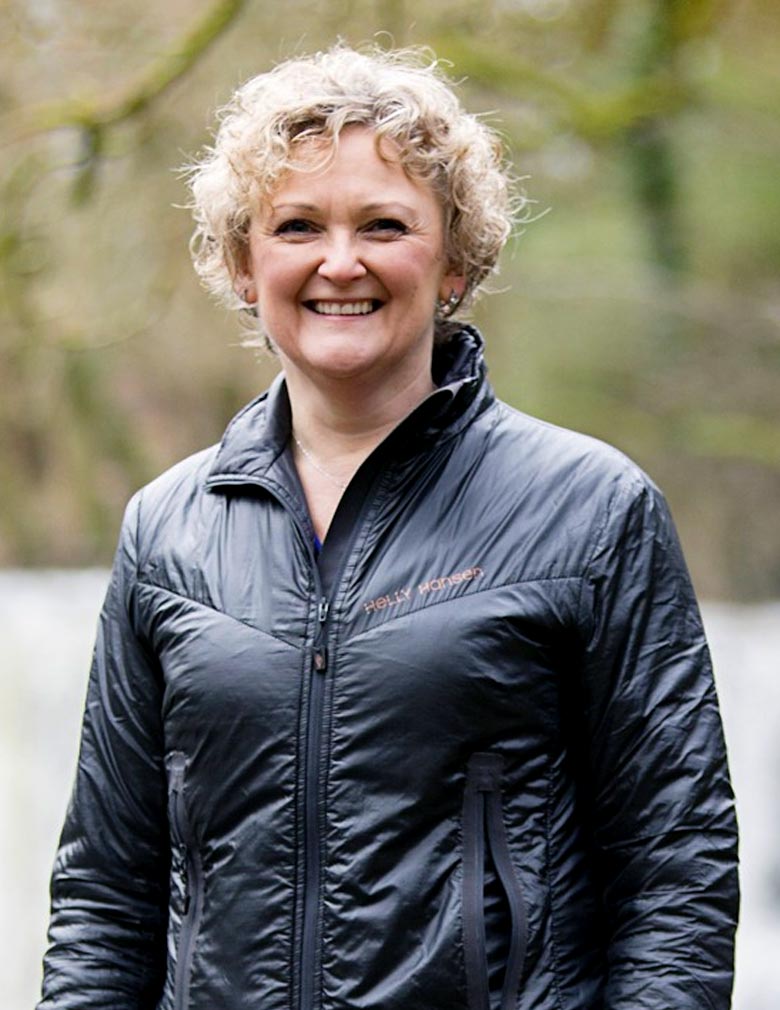 Audrey McIntosh
I am an ordinary woman managing work, family life and the curve balls that life has a habit of throwing at us. What does this look like?
Home: Glasgow
Family: Married to Alasdair since 1991, two adult daughters finding their way in the world.
Work: Always full-time and since 2003 as a freelance Business Consultant and Digital Programme Manager. Board member of two arts organisations and some race directing thrown in.
Interests: Theatre, dance, film, running of course, and the odd adventure or two.
Here is my journey from charity 10k to extreme adventure running and my Global Odyssey.
1997 – First Race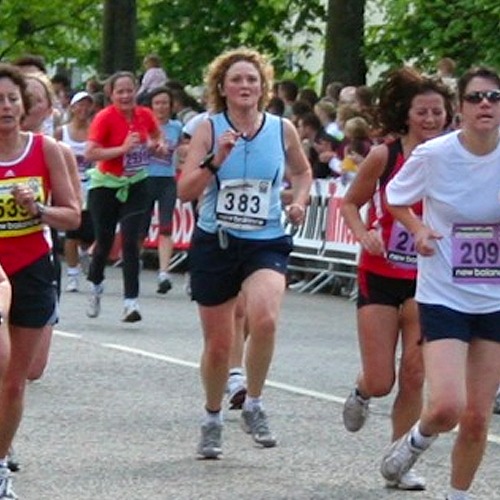 The girl who had hated sport, and did everything she could to avoid it, decided at the age of 34 to give running a go to raise funds for the hospital ward where Alasdair received treatment for cancer. I ran the then Glasgow Women's 10k. It was hard and I did not want run again, but I did. I liked being fitter and lighter; and had to admit that I rather enjoyed it.
2001 – A year of curve balls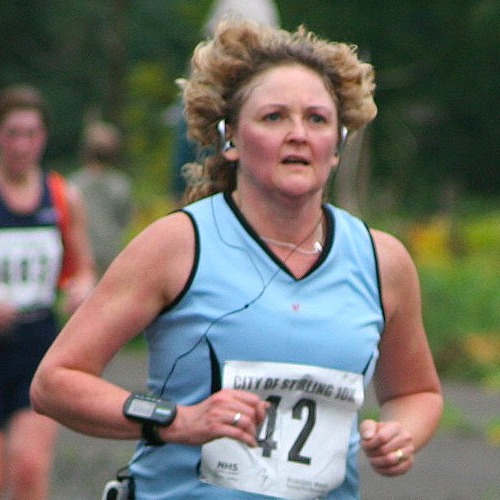 Alasdair had to undergo further chemotherapy and a stem cell transplant. Five days after the transplant my father died and three months later my mother was diagnosed with cancer. This was the point where I realised the true benefit of being a runner: it got me through this difficult year.
2002 – My first Half Marathon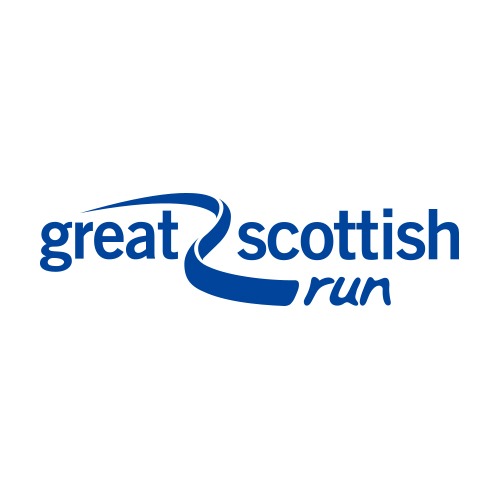 I had been running more, so time to increase the challenge and to raise more funds for the hospital. The Glasgow half marathon this time. People asked if I would run a marathon; 'No, only lunatics do that', I said.
2003 – Redundancy and a touch of lunacy – First Marathon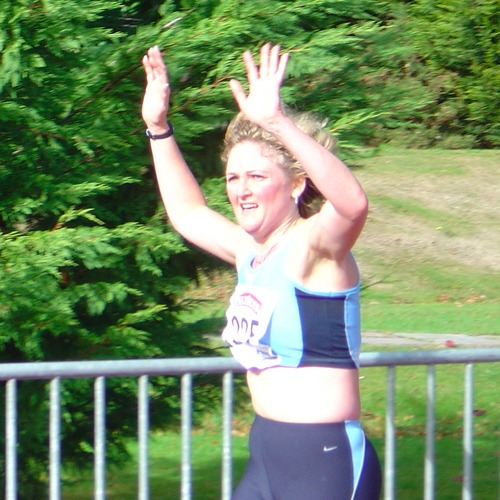 A year of firsts. I got made redundant and decided to set up my own company and freelance. And, yes, at the age of 40, I just had to push the limits and chose the Loch Ness Marathon as my marathon debut. It is tough road marathon and it remains my fastest marathon.
2010 – More madness – First ultra-marathon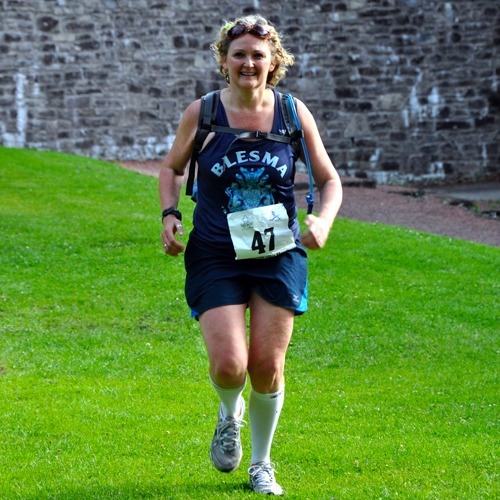 There is a pattern forming. After that first marathon in 2003 I was asked; 'Will you run an ultra-marathon? 'No that definitely is for lunatics', I said. It took a while and a few years of getting comfortable with marathon running but once again I wanted to test myself. It was a less than impressive start to my ultra-marathon career, finishing 2nd last. I returned in 2013 and redeemed myself finishing 23 minutes faster.
2013 – My first Adventure – The Antarctic Odyssey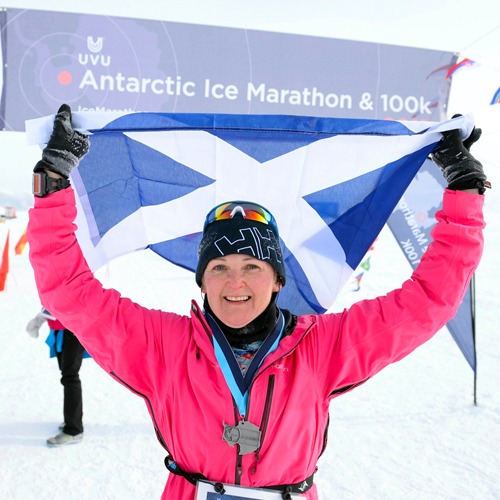 Mid-life crisis perhaps? Time for an adventure to mark my 50th birthday and to raise some serious money for charity. The woman who hates the cold and hates camping finds the ultimate challenge: The Antarctic Ice Marathon run just a few hundred miles from the south-pole in the inner Antarctic Circle. And let's throw in a 100k too. The Odyssey was born. It was a massive challenge preparing, getting there and completing the races. I surprised myself and others, exceeding expectation. It showed me what I was capable of achieving. I finished 4th woman in the marathon and 1st woman 3rd overall in the 100 km (just 28 hours later).
2014 – Carrying the Baton & New adventures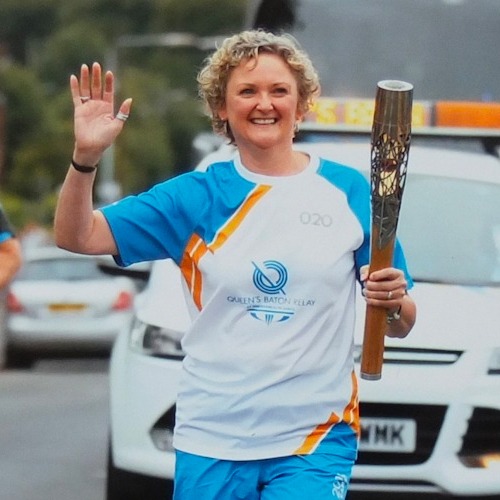 Where do you go after a year like 2013? Being chosen to carry the Commonwealth Games baton is a good start and a great honour. Follow this with heat and altitude in the Atacama Desert and the Volcano Marathon where I finished 3rd Woman after a gruelling race and finish line collapse.
2015 – North Pole Odyssey and more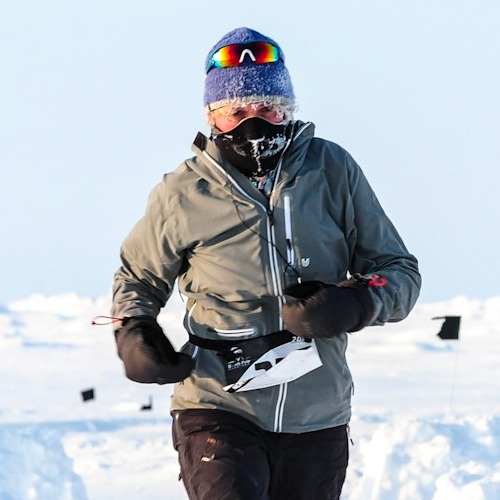 What are my limits? How far can I push? The North Pole Marathon, finishing 4th woman in -41 degrees and with a touch of frost-bite. That was just a start I went on to run four more ultras on my home territory: the 53 miles Hoka Highland Fling, the 95 mile West Highland Way race, the 42 mile Devil O' the Highlands Race and ran 100 miles in the Glenmore 24 (hour) race.
2017 – Desert & Ice and the Global Odyssey 100 is born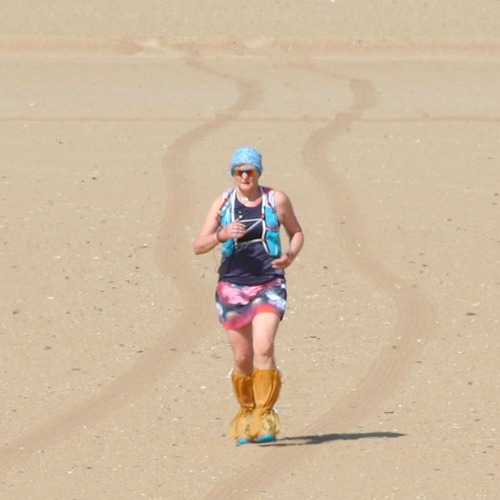 At the start of 2017 I became the first person to complete a double marathon event that consisted of a marathon in the Namib Desert followed by a marathon on the frozen Mongolian Steppe a week later: running in +36 degrees then -32 degrees. During this event I realised what defines me as an adventure ultra-runner: it is the joy of challenging myself in remote, wild and beautiful places; and taking time to experience the culture. I knew what my next big adventure would be. The Global Odyssey was born. I would run an extreme 100k ultra-marathon on every continent finding new routes and extreme conditions. Having already run in Antarctica I was off to a good start. Next stop Europe with the 100k Grand Raid des Bogomiles in Carcassonne defined by the 4,300m of ascent as it wound along the old Cathar trails.
2018 – The Global Odyssey failure & success in the deserts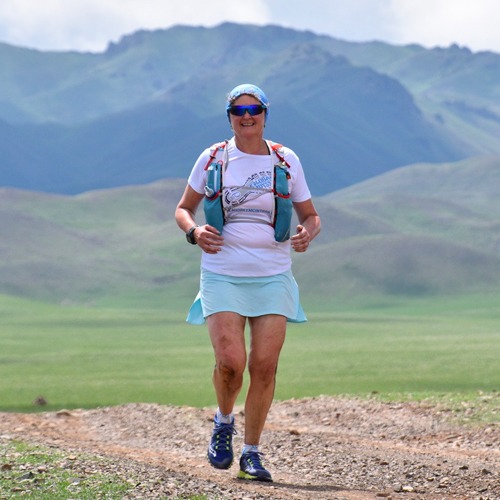 I returned to the wonderful Namib Desert for my Africa 100k but it was not to be. Nature did not allow me pass and I succumbed to heat exhaustion. I picked myself up and a few months later and went to the Gobi Desert in Mongolia. Running through mountains, flooded gorges and scorching desert sand I completed the Asia 100k. In September I returned to Africa; Tunisia and the Sahara this time: another fail. Failure is part of the story. It would not be a challenge if I were successful every time.
2019 – A bitter sweet year: another curve ball, success and failure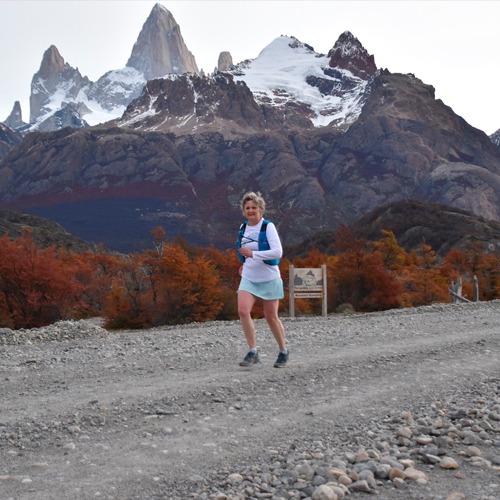 Determination pays and it was third time lucky in Africa where I completed 100k in the low Atlas Mountains in Morocco. Next up was South America in Patagonia. What a run in and around the Mount Fitzroy massif. So hard and so beautiful. Perhaps I stretched too far. Another fail a couple of months later in Canada when my slow progress on an extremely technical route got me timed out. Just weeks after my return from Canada my mother died after a short battle with cancer. The wind was taken from sails and for the first time I could find no solace in running.
2020 – Picking up the Global Odyssey 100 again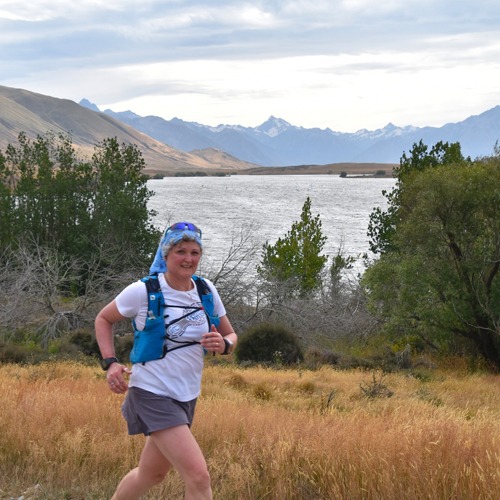 Life goes on, we owe it to those who have passed. The year started well with a trip to New Zealand for my Oceania 100k. It was cathartic, bit raw and emotional but I completed my 100k in Otago. Then a week later I completed a, slow but joyous marathon savouring the moment: completion of a standard marathon (26.2 miles) on all seven continents. Just one more continent to go for the Global Odyssey 100.
The future
My second attempt at North America is in planning and I hope to complete that in 2021, pandemic allowing.
After that? I have some unfinished business with the African deserts and am in the early stages of looking at a multi-day full crossing of the Namib Desert.
Charity fundraising
Charity fundraising is a big part of what drives me. I have raised over £50k for a number of charities over the years including my local hospital, MacMillan, BLESMA; and through The Odyssey I have raised over £40k for Alzheimer Scotland.
My Just giving page is still active if you would like to donate.
You can find out much more about my journey on my blog and if you'd like me to book me as your next guest speaker, please just contact me.