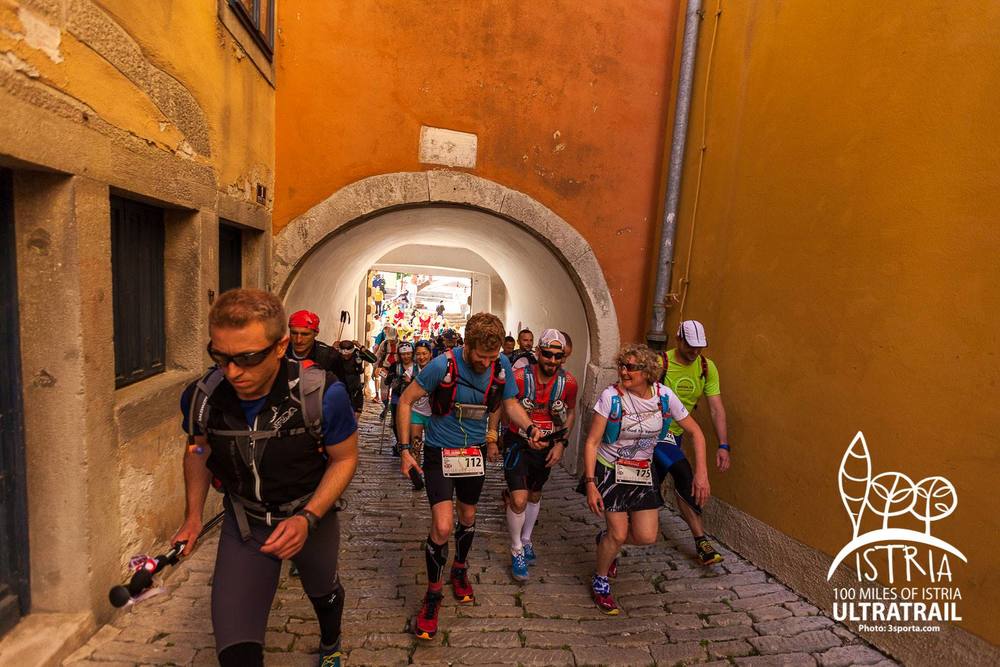 You have trained, you have tapered, you have a race plan, your lost luggage arrives in time, you eat enough food to sink the Titanic, get to the start line, and everything is on track until …..
Sometimes, there are things that you just cannot control. Someone told me recently that it is less about you conquering the terrain and more a case of it allowing you through. My 100 Miles of Istria experience proved just how true that is.
The 100 Miles of Istria is part of a multi-distance event which includes two other ultra-marathon distance races, a marathon and a 5k in the town of Umag where the race HQ and finish area is based. This was a well organised and well supported event with plentiful marshals providing a fantastic level of support from start to finish, and well provisioned aid stations. It attracts a decent international field as well as home grown and local runners, and it is starting to attract top flight ultra-runners.
The races are challenging and technical with a considerable amount ascent: well over 23k feet in the 100 mile race that I was entered for. The ascents are spread throughout the distance and it is front loaded with the toughest climbs in the first half. For me, this was another big step up pushing my distance a bit beyond the 100 miles I achieved at Glenmore 24 and in much more challenging terrain. I expected to be slow and I planned for steady continuous progress knowing that there would be considerable amounts of walking on the ascents and not to get frustrated by that. With no support crew and only 1 bag drop I had to be Spartan and well organised with the contents of my race vest and be prepared to eat plenty of whatever was on offer at the regular checkpoints. It would be important to maintain energy levels as best I good by ensuring that I take small quantitiesof food and fluid regularly (without someone have to remind or force me to) so for the first time I set an alert on my Garmin to remind me to eat.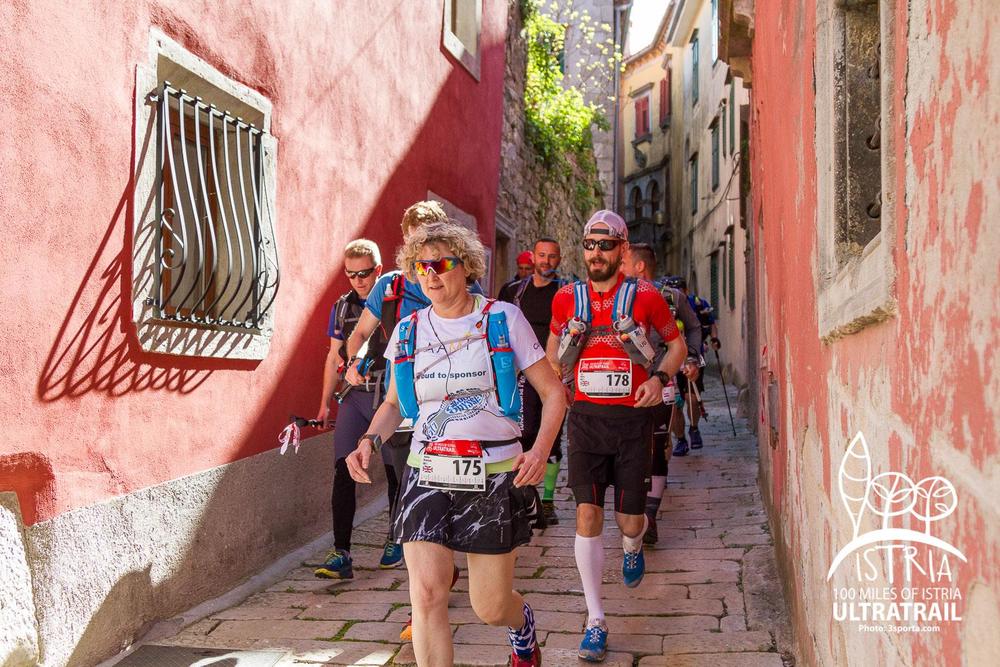 The race started in the small and very pretty hilltop town of Labin on the east coast. From there the route dropped down through the town and a woodland path to sea-level round an inlet and then the serious climbing started. It was hot with the temperature around 20 degrees as we started. I was baking in a t-shirt and skirt and found it curious to see people in tights and long-sleeved tops anticipating the night chill. For me, a low of 12 degrees was not going to necessitate much in the way of extra layers. Spot the difference between Northern and Southern European runners. One thing I had not expected was to have to dodge about to avoid being stabbed by poles whilst negotiating the tight descent down to the coast. I am not altogether sure why people thought it was a good idea to run along holding their extended poles horizontally.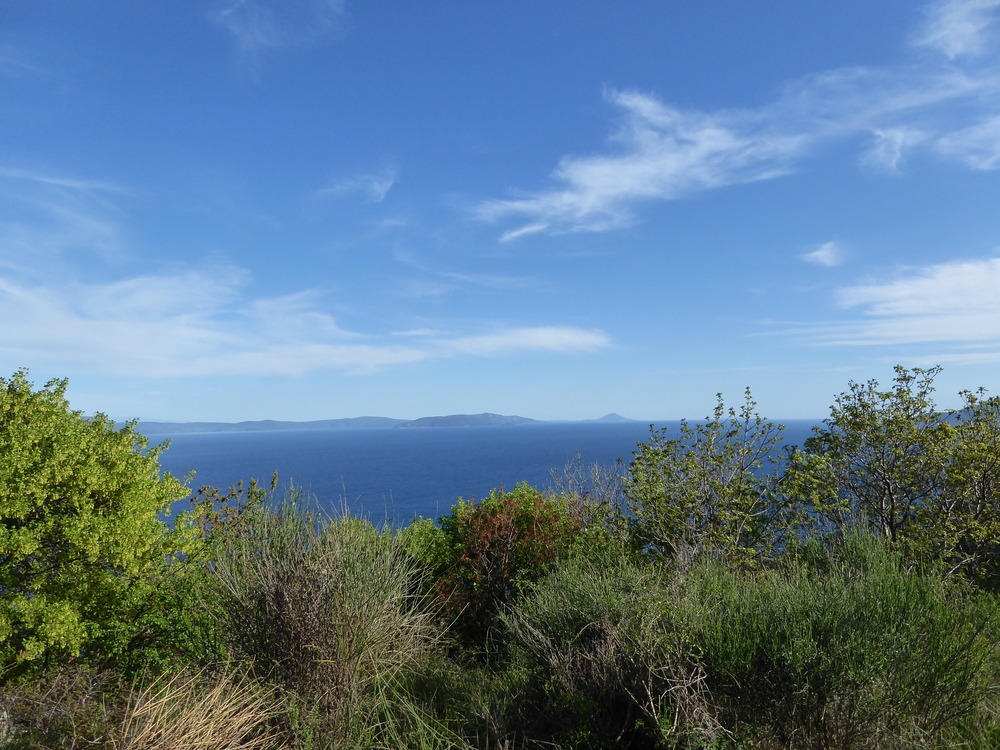 Stunning views over the Adriatic, wild orchids and the scent of wild sweet bay, thyme, sage and verbena provided plenty of distraction up that first big climb mainly on stony track.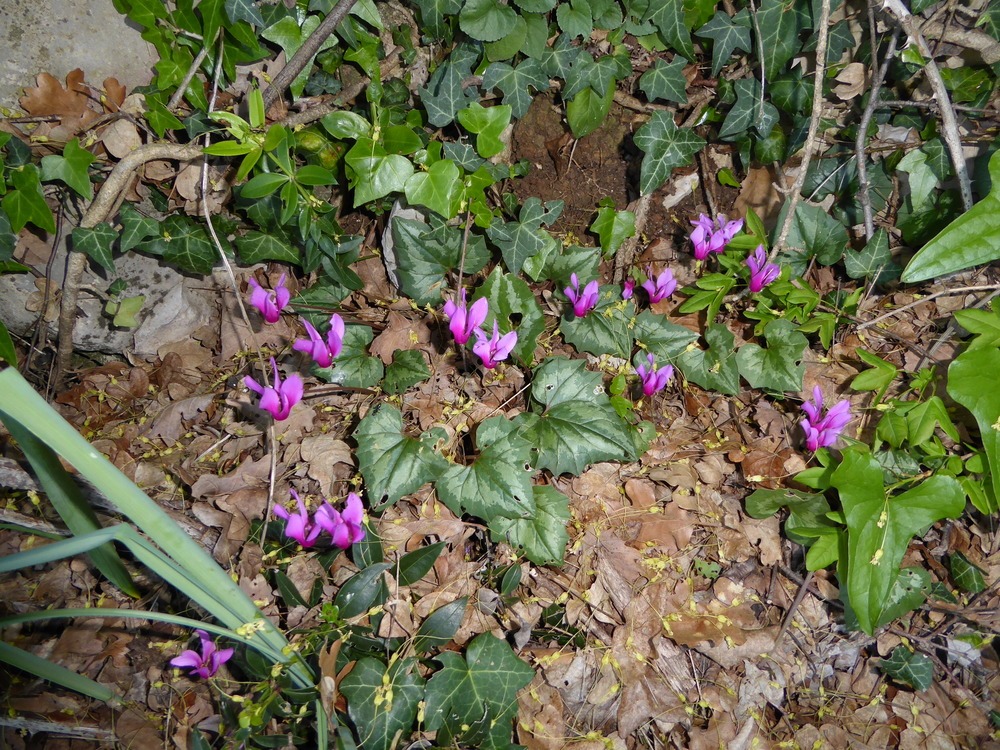 Then there was an easy lope down back to sea level before a tortuous and overgrown climb up to the first checkpoint: the 'fort' perched up on the sheer hillside that I had admired so much on my way down.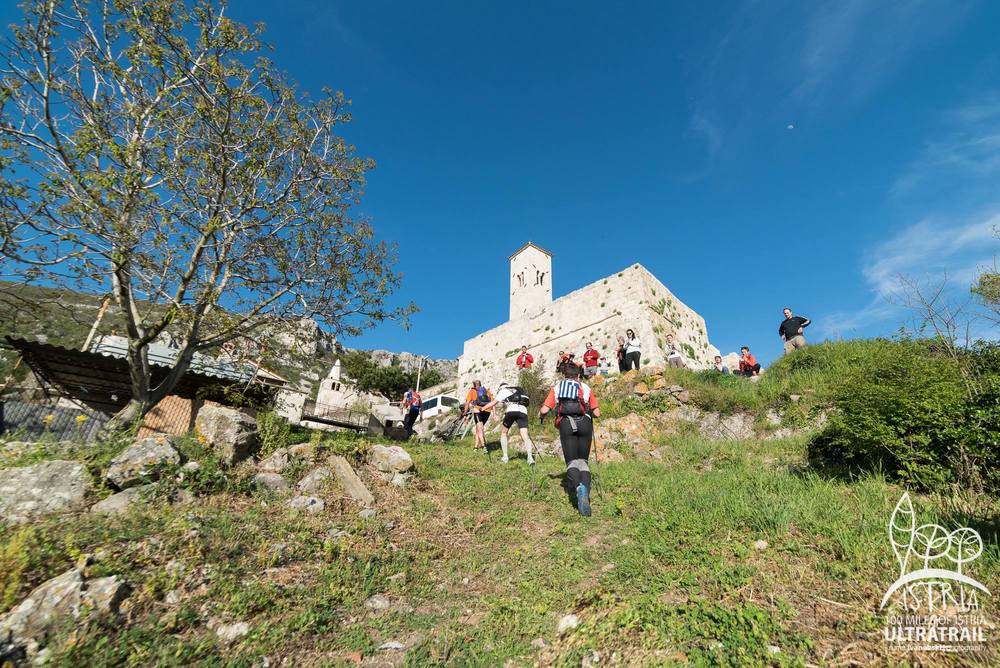 Water bottles filled, some coke, a handful of crisps then I was back on my way with a yummy pastry slice filled with a type of cheesecake mixture to munch on the way. As the sun stated to set the route followed a track for up and down for a while and then turned off onto another steep, narrow and overgrown path just as the light was failing. The warm earthy smell and the darkening sky kept my attention as I kept a slow steady continuous pace going hanging on for as long as I could before getting my head torch out, and a thin long sleeved layer to put under my t-shirt just after emerging from the vegetation. The next section to the 2nd checkpoint was rocky and often with no clear path.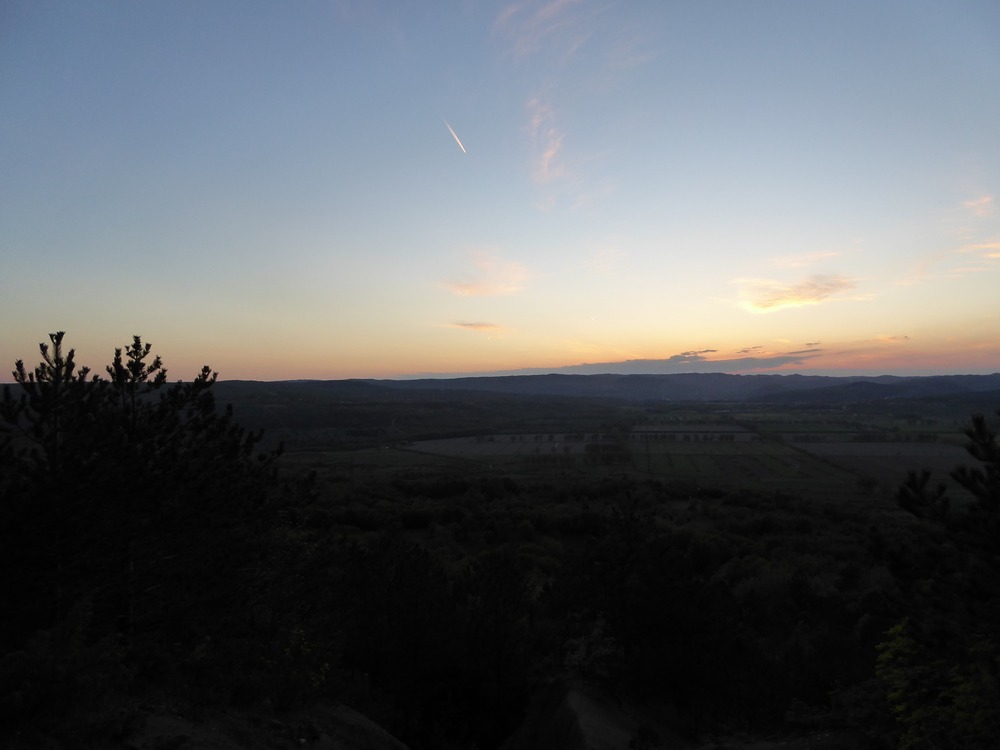 In the main the route was well marked with reflective flags but there were moments where I had to pause and scan about for the next flag, being called back onto the route by other runners and vice-versa. Although I thought my progress was slow I reached the second checkpoint on schedule. Energy levels were good, hydration and nutrition were good. I felt positive. The wedges of lemon were a bit of a surprise, but the tub of salt was very welcome as I had been experiencing some cramp.
The next section was the 'big climb' to the highest point of the route. A roller-coaster pattern was forming: up, down, up; but all the while ascending. It seemed particularly cruel to have a lengthy drop before facing the 'final ascent'. I could see the head torches ahead of me zig-zagging upwards and then a near vertical line of them up the final peak. I paused, took a deep breath, then launched myself up the stony path through the trees, focussing on short distances and resisting the urge to keep looking up at that line of lights. I passed a guy sat at the side of the path and checked if he was OK; 'I'm so tired, I just want to sleep' was the reply. It was steady progress and with a couple of brief rest stops I was soon on the saddle below the final steepest climb.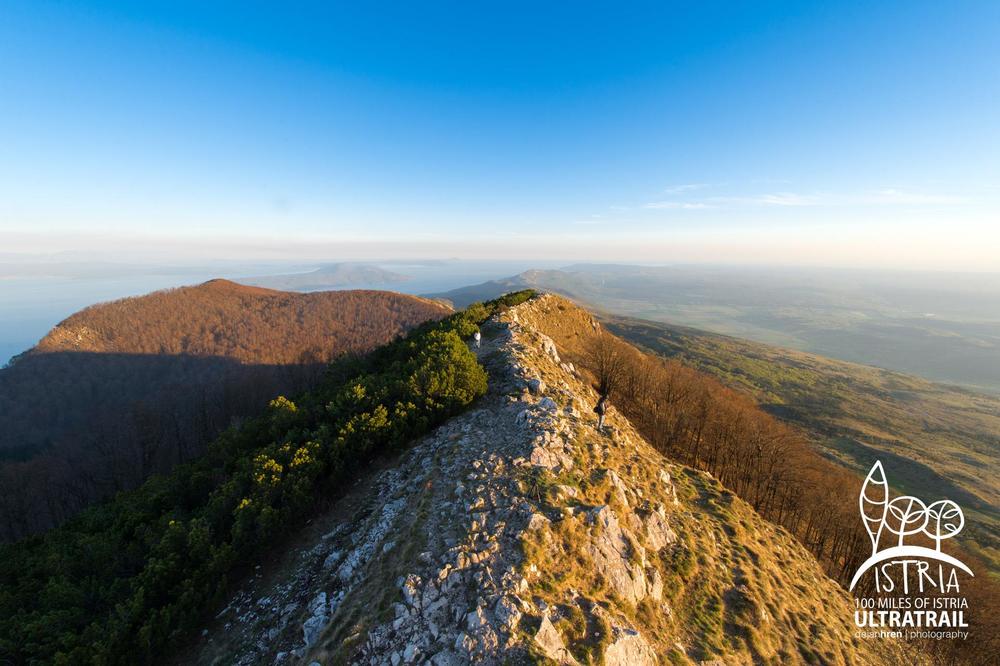 I knew where I was headed, but could not pick out the marker flags then I spotted some off to the right. Odd, but maybe the route looped down and round rather than the direct line: wrong! After following the flags for a bit over half a mile, descending, I realised that I was now following the 110k race route (which joined the 100 mile) in reverse: damn! Later, I learned that I was not the only person to have made the mistake, and some went further than me before realising. I re-traced my steps back to the saddle, scanned about a bit and then finally spotted the correct marker line all the while berating my stupidity. I heaved my way up passing another runner who declared that she was OK, but did not like climbing. That begged the (unvoiced) question, so you thought this race a good idea then? I have to admit to a touch of schadenfreude as it brought a smile to my face.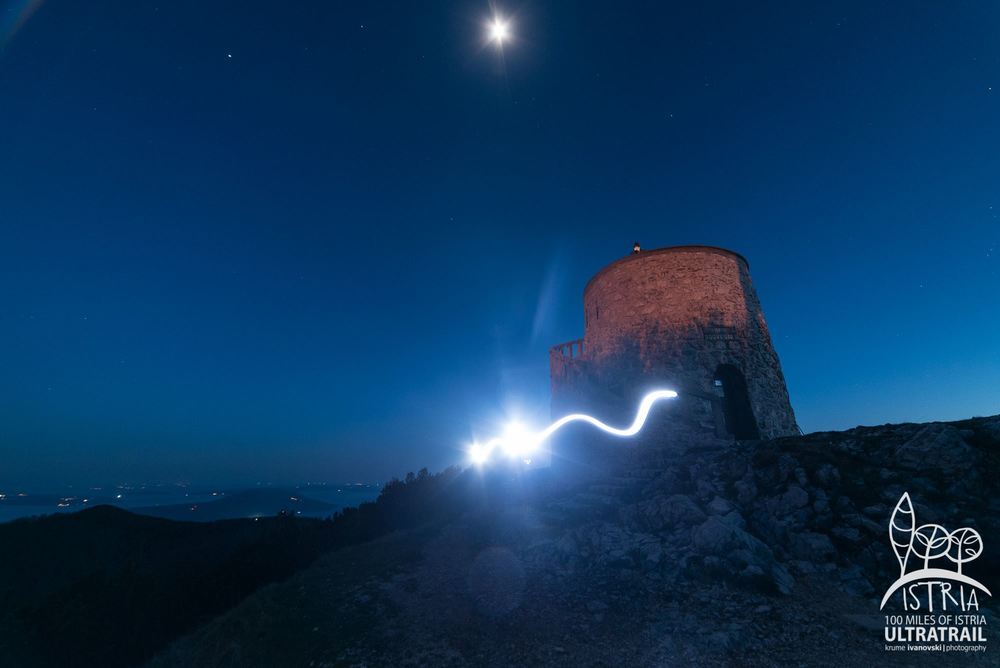 The top came quicker than expected then a short rocky ridge to traverse with my gut saying stay close to the bush/tree line: good move and I was glad that the darkness hid the drop on the other side. A reasonable quick descent down good forest path and I was at the 3rd checkpoint on schedule in spite of the 1 mile plus detour.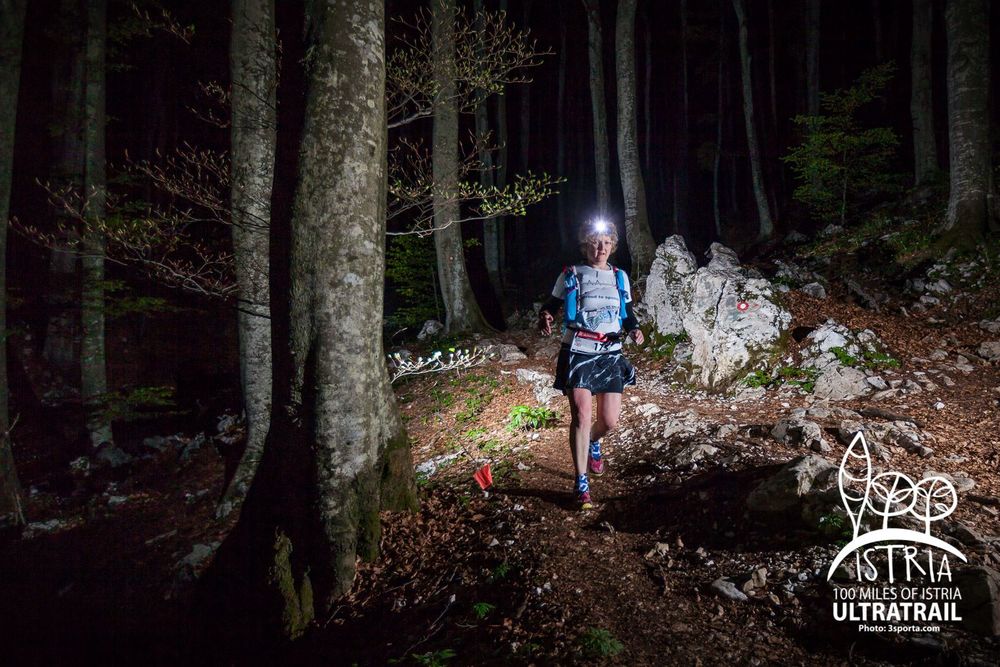 I had regained my equilibrium after the detour and was feeling good, better than I had expected to after such a mammoth ascent. After a slightly longer stop I was off again on a forest track meandering up and down. My head torch which had dimmed chose this point to go-out, the downside of the rookie error of using full beam. My small hand torch came to the rescue while I changed the batteries. At this point the 110k runners started to pass, many giving words of encouragement as they passed. The high point of this hill was a rocky hands and feet scramble that involved peering round rocks in search of the marker flags. This led onto a steep narrow and technical descent through the forest.
There were slippery wet stones, tree roots, some mud and a layer of leaves covering many of them. This is where my race effectively ended. A slip off a wet stone resulted in a painful wrench. A minute or two later I was on my arse. All the while the 110k runners were descending at speed and not wanting held up by someone unsteady on their feet so there was a lot of stepping aside and stop-start. Another couple of wrenches to the ankle and several more slides landing me on my arse left me limping and cautious. Did I go from too fast to overly cautious? Probably, and both are as bad as the other. I finally emerged onto a track with 3k to go to the check point and after a tentative start was able to start running.
I had realised during the descent that I there was probably a difficult decision to make. Once in the checkpoint I had to assess. Yes, energy levels and hydration were good and there was minimal fatigue, but the ankle was tender and it was not going to take another wrench. Also, would it take another 64 miles? The falls had also spooked me a bit and shaken my confidence. I have fallen before in races but never repeatedly like this. Another UK runner, who should have been way ahead was there. He too was having a bad time and he suggested we head out together. I was tempted, but decided to I wanted a bit longer to assess. The final assessment: the sensible move would be to stop. The next section was a long one and I was not sure how technical and I did not want to risk more falls and getting stuck at night halfway between checkpoints. I withdrew.
The usual round of doubt, questioning and beating myself up ensued but as the bruising and swelling appeared I knew it was the right decision.
The potential for injury goes with the territory and is just one of those random spanners that nature can throw into your well-oiled machine; the combination of unknown technical terrain and the dark raising the odds significantly. To date I have been remarkably lucky with these big ultra-events and this is the first that I have failed to finish and I should take much from that. I also completed a hard ultra, 36 miles and 9,700 feet of ascent. It was just not the one I set out to do.
This time nature said no and nature won.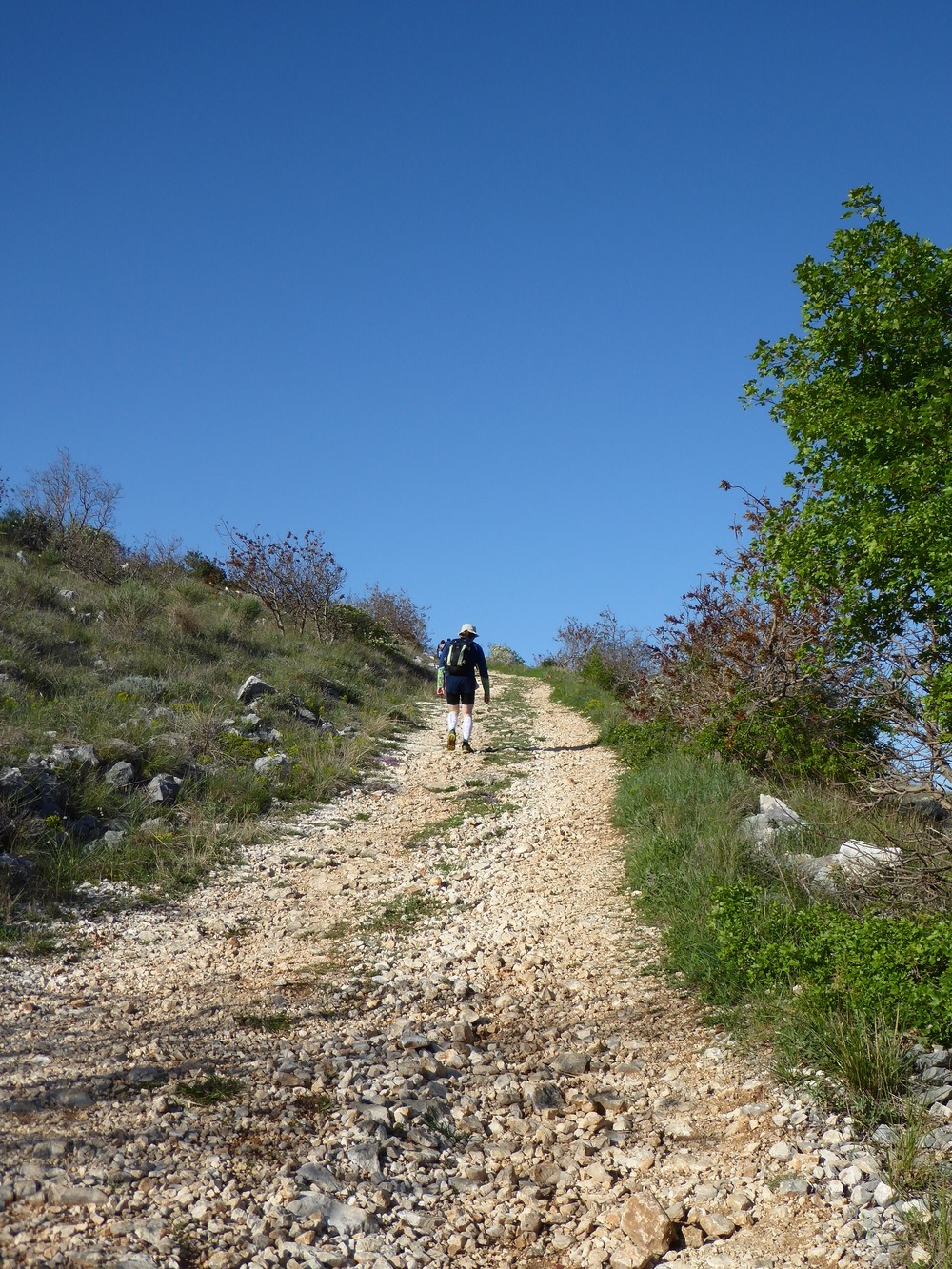 All runners reflect on their races and performance. When it is a DNF it is all too easy and tempting to reflect on the negatives. But this DNF was a different one for me. It was not because I had failed to train and prepare, failed to eat, or failed to hydrate, run out of energy or motivation it was down to one of those random events that you can't plan for. Or can you?
The first question I asked myself was should I have used poles? Many fellow runners were using them and I know that they are more widely used in continental Europe. This was an easy one to answer. Without prior practice: no. The chances of getting tangled up, stabbing myself or someone else would have been high. I can manage the climbs without them, they would slow me on the descents, and although I came a cropper on a descent I am not convinced poles would have helped.
Next up, shoes. Were my PureGrits just not up to the task? They have done me well in all my races to date, handling distance and most terrains, but perhaps I should have taken more notice when I was slipping and sliding at Glentress. The space between the lugs can fill with mud rendering them less effective. I have also recently learned they are notoriously bad on wet stone; however, let's face it no shoe is going to be completely secure on wet rock; and no shoe is going to stop you tripping. So, that is a maybe yes, maybe no one. But I am going to get a more aggressive and 'sticky' shoe to use when I think there is a chance that the terrain or conditions will be too much for the Grits.
One question Alasdair asked; was I trying to descend too quickly? Good point. I also asked myself if I got a bit over confident from the success of the earlier descents? I know I had become frustrated with the scramble over the top and I had allowed myself to feel pressured by the faster 110k runners. This almost certainly meant that I started down too fast, and was not paying enough attention. I also subsequently over-compensated and that tentative foot placement contributed to a couple of falls and slips. Everyone found that descent hard and I was not the only that it got the better of.
Ultimately, the positives of this experience outnumber the questions and the negatives.
I met and ran with new members of the ultra-family and it was a pleasure.
I experienced a different style of international ultra-event.
I experienced a new a country and culture, new terrain and a new level of challenge.
I can climb! I have gained greater confidence in my climbing ability.
And, in spite of the tumbles and the fact that it was a descent that 'did for me' I am getting better at them.
I know that I did a good job on what I did do: 36 miles and just under 10k feet of climb in 12.20 is OK.
I have the maturity and discipline to make the hard, but right decisions and live to fight another day.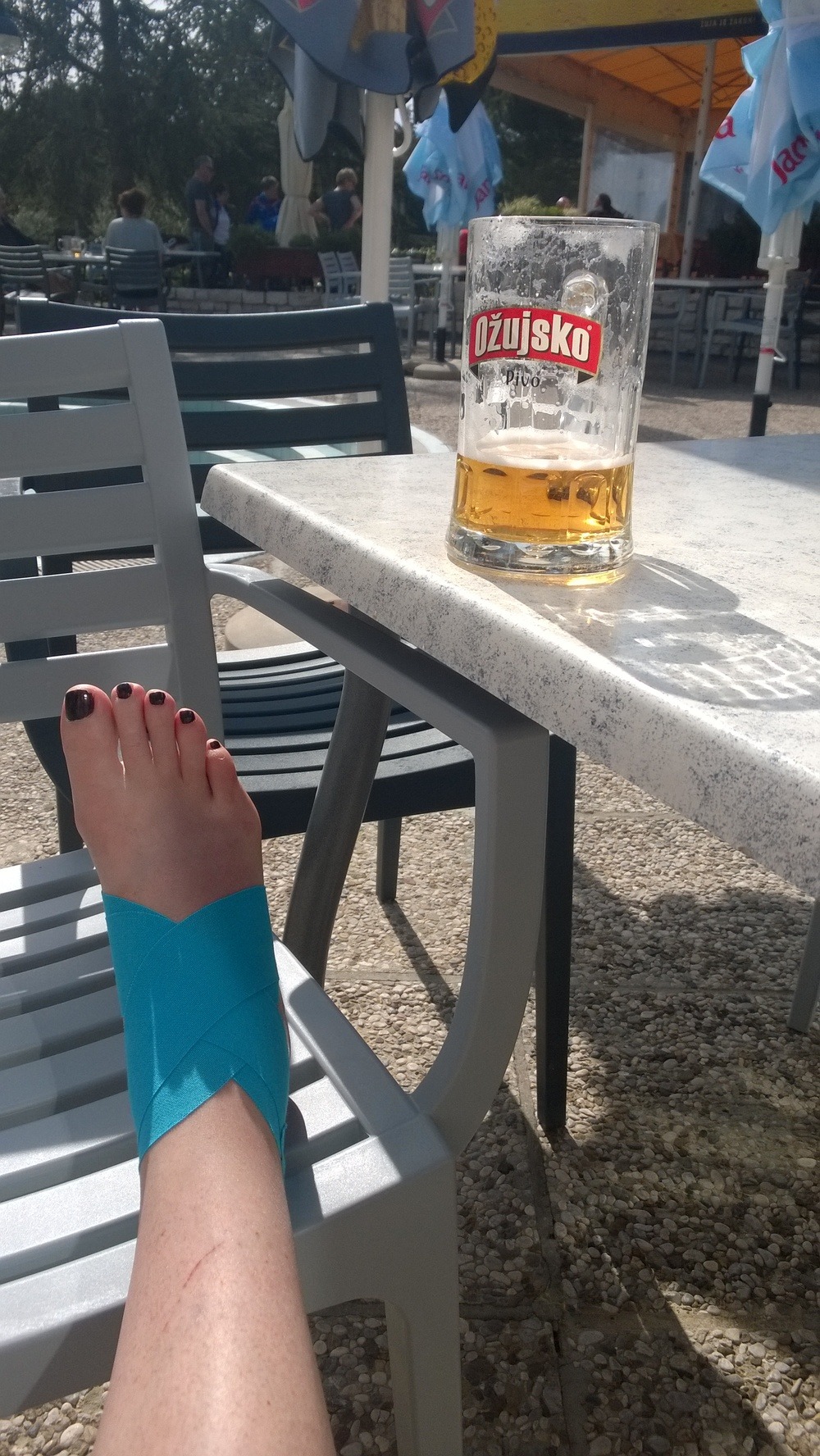 Now, when do entries for 2017 open?