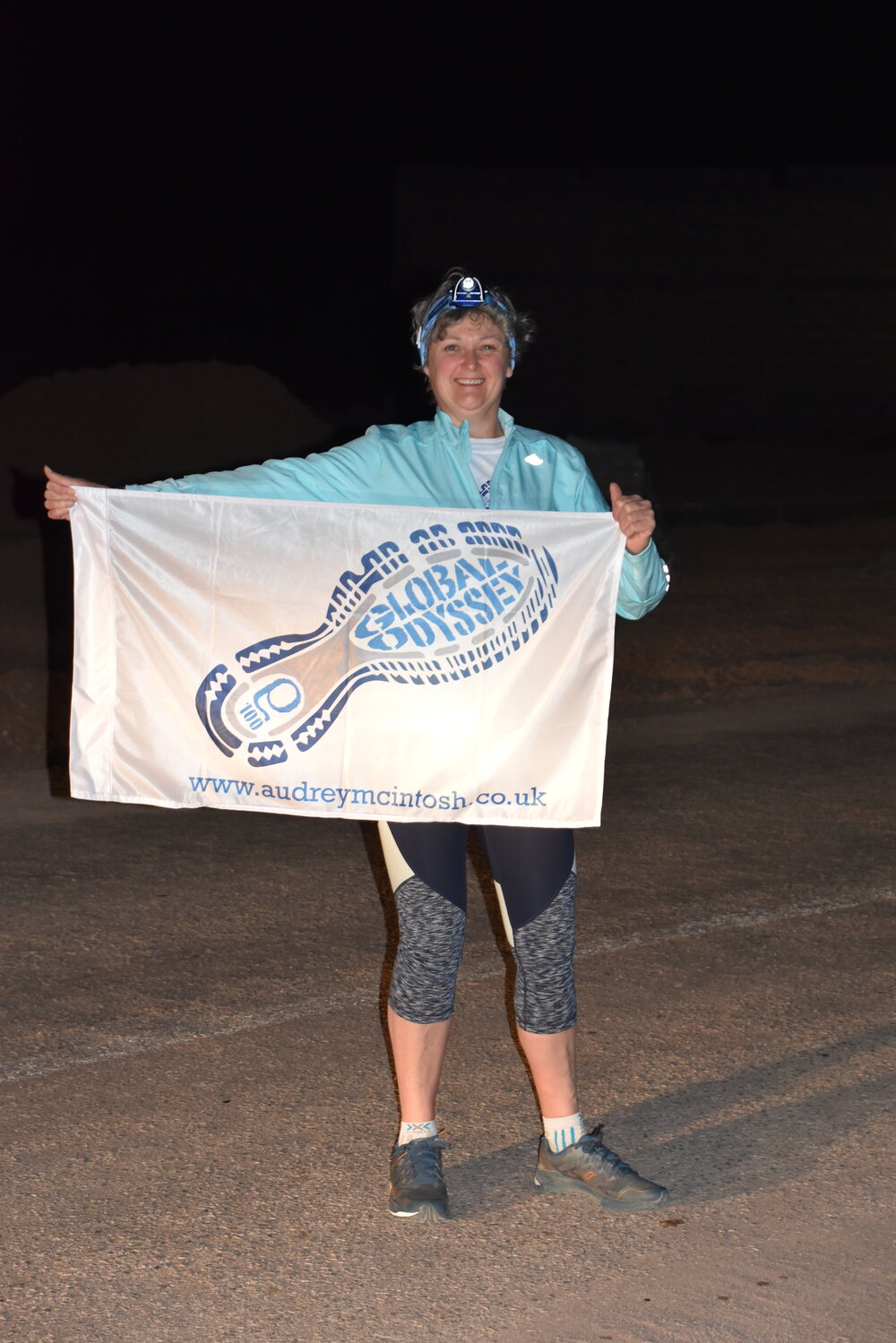 As I write this on the last day of 2019 with one run to go my year's mileage sits at 1,370 miles and my year will probably end on 1,376, or thereabouts. A lower mileage than in recent years. The last year of the decade has been one hell of a year: extreme highs and extreme lows with everything in between. Quite apart from the Global Odyssey, life's odyssey took me on a path I had not expected to encounter for some years.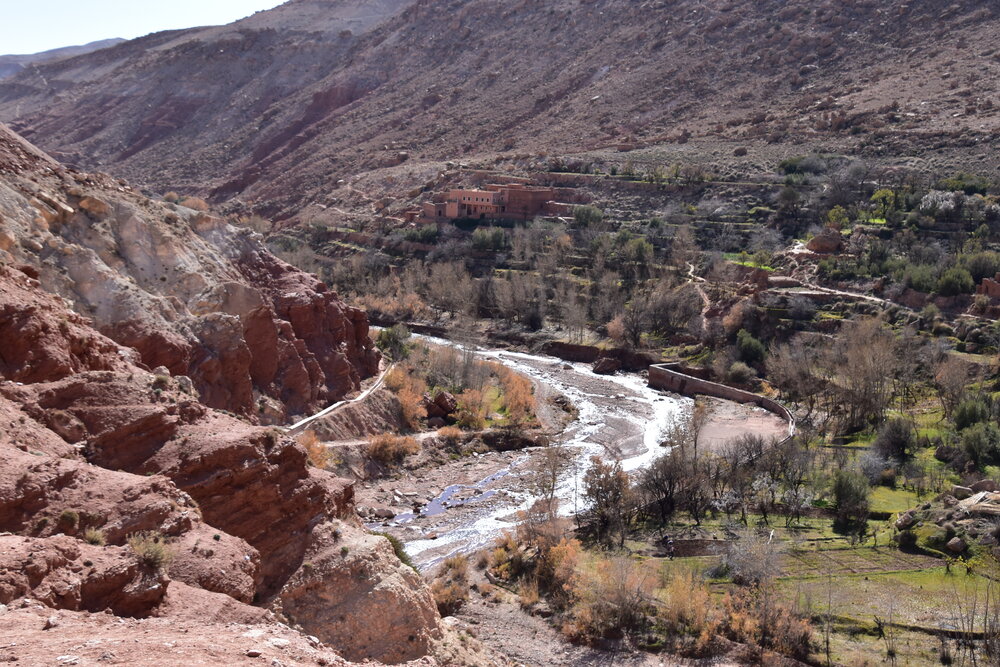 The year started on a high. Finally, in January, on the 3rd attempt I completed the African stage of the Global Odyssey 100 in Morocco, with a cracking run that undulated through a valley in the low Atlas Mountains near Ouarzazate. It felt good to finally break the jinx, and get the continent under my belt. The sense of achievement all the greater for having been so hard won and with the added bonus of not meeting my old nemesis heat exhaustion. It was my fastest odyssey run so far, probably helped by the fact that for the last 20k the support vehicle stayed just tantalisingly out of reach, stopping occasionally but setting out just as I came within reach. It caused a severe outbreak of my runner's Tourettes, but did the job. Every odyssey run has things to be learned: don't assume that the three guys in the van, with one job, (keep eyes on the runner), are paying attention and have seen you waving and indicating that you are continuing without a stop. Little old ladies crossing a foot bridge are infinitely more interesting rendering the runner in the background invisible. Always, go bang on the van.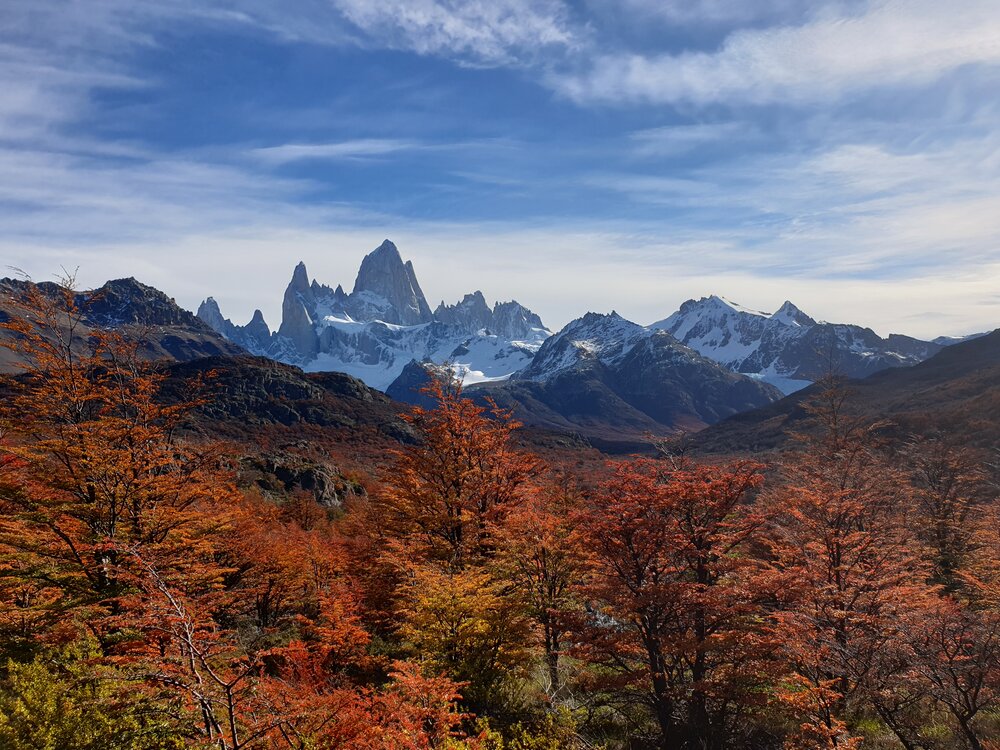 Next up, April and the South America and the Patagonian Global Odyssey 100. This time I was not alone. Five others joined the trip and two friends tackled the run with me. What an epic trip: 13 lane roads in Buenos Aries; tango; Eve Peron's tomb; calving glaciers; condors; rheas; Butch Cassidy and the Sundance Kid's hideaway and the magnificent beast that is Mount Fitzroy. And, a surprised skunk for good measure. A tough awe-inspiring run along the mountain trails and glacial lakes around Mount Fitzroy with a hefty amount of ascent. We had our moments. Jenny took a hard tumble. My head torch packed in just as Jenny and Ken pulled away from me and with a good hour before the dawn. Alasdair and I managed to miss each other twice and I took the wrong path. And, of course, it would not be a run without a bit of a diva strop and some totally illogical reasoning. There really is no point running to the lake with a view in the dark. The less said about the explosive throwing up after, the better. My poor companions must have expected my head to start revolving exorcist style. This odyssey trip might just have trumped Antarctica.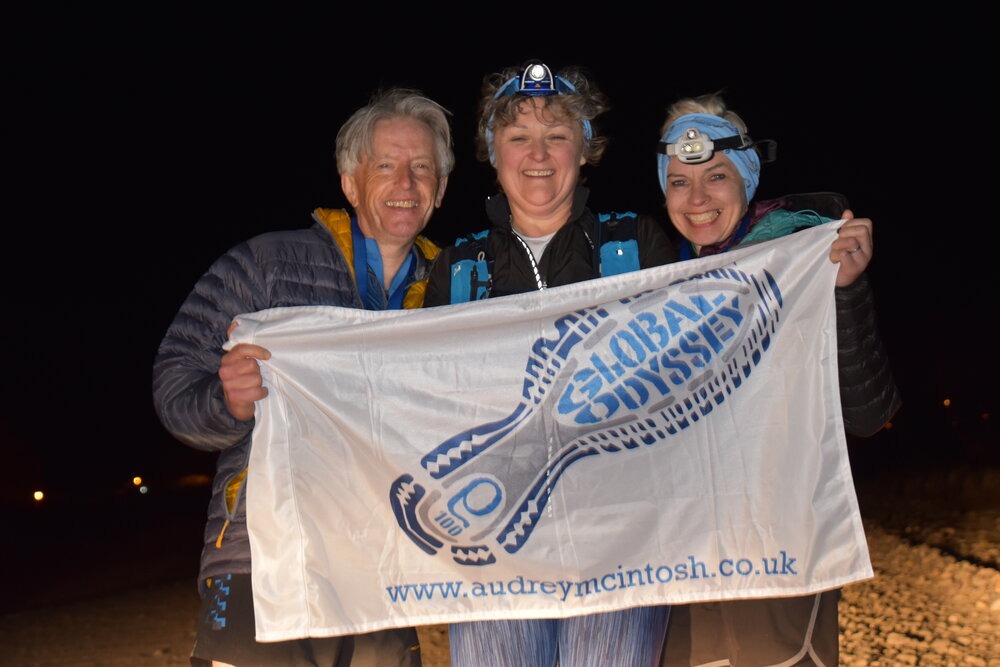 Lessons from Patagonia: always carry a spare head torch even if a full charge should cover the hours of darkness; always double, double check the route plan. There were two lakes with a fork on the track.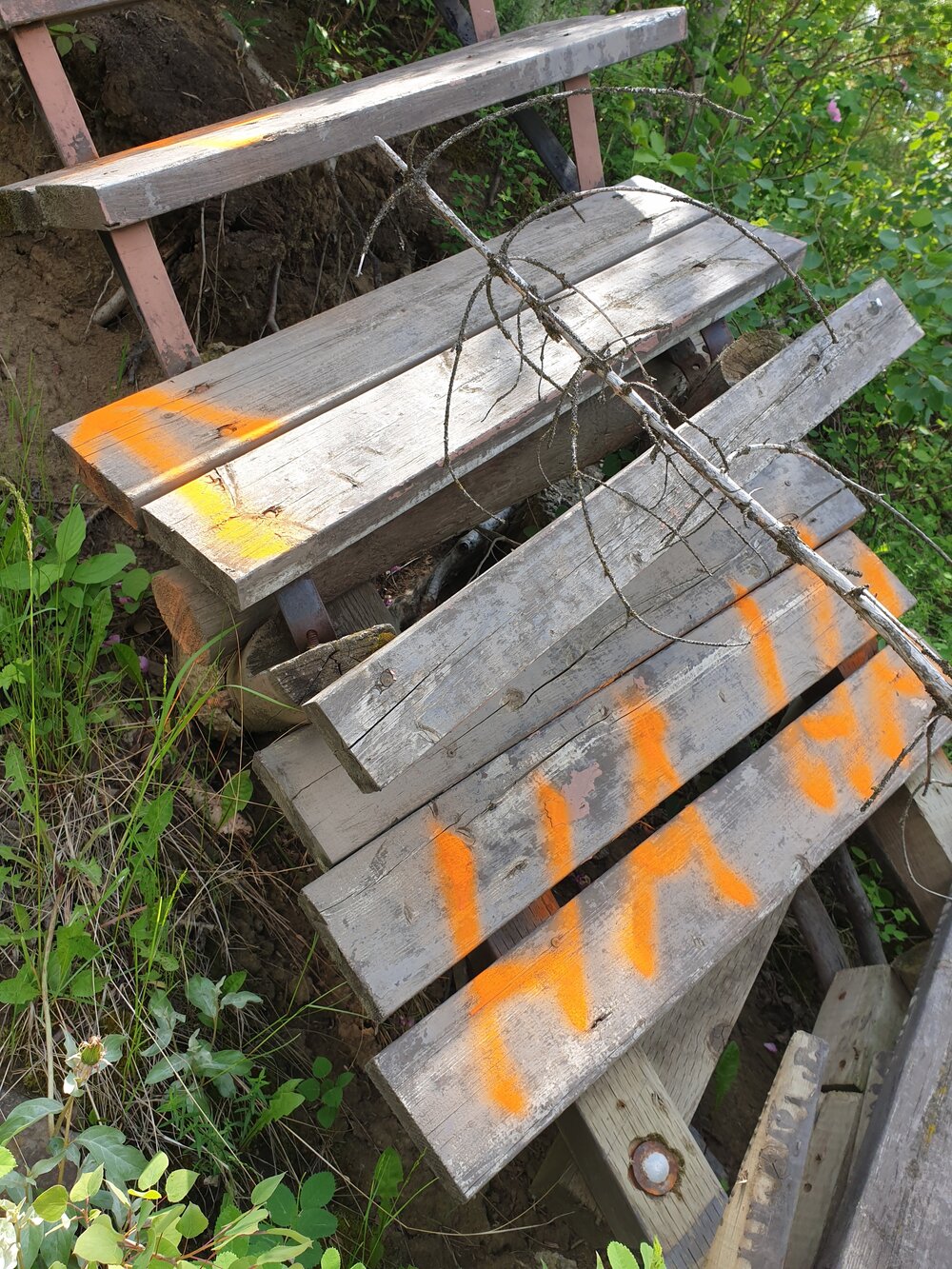 North America in June. Three Global Odyssey runs in one year was probably just tempting fate. Mum's admission to hospital two days before leaving set the stress levels high. It was an organised event this time in the River Valley that runs through Edmonton. This was a real eye-opener. A poorly marked route that was more obstacle course and tough mudder than a run. Barely 10% was runnable. Some sections were, in my opinion, dangerous.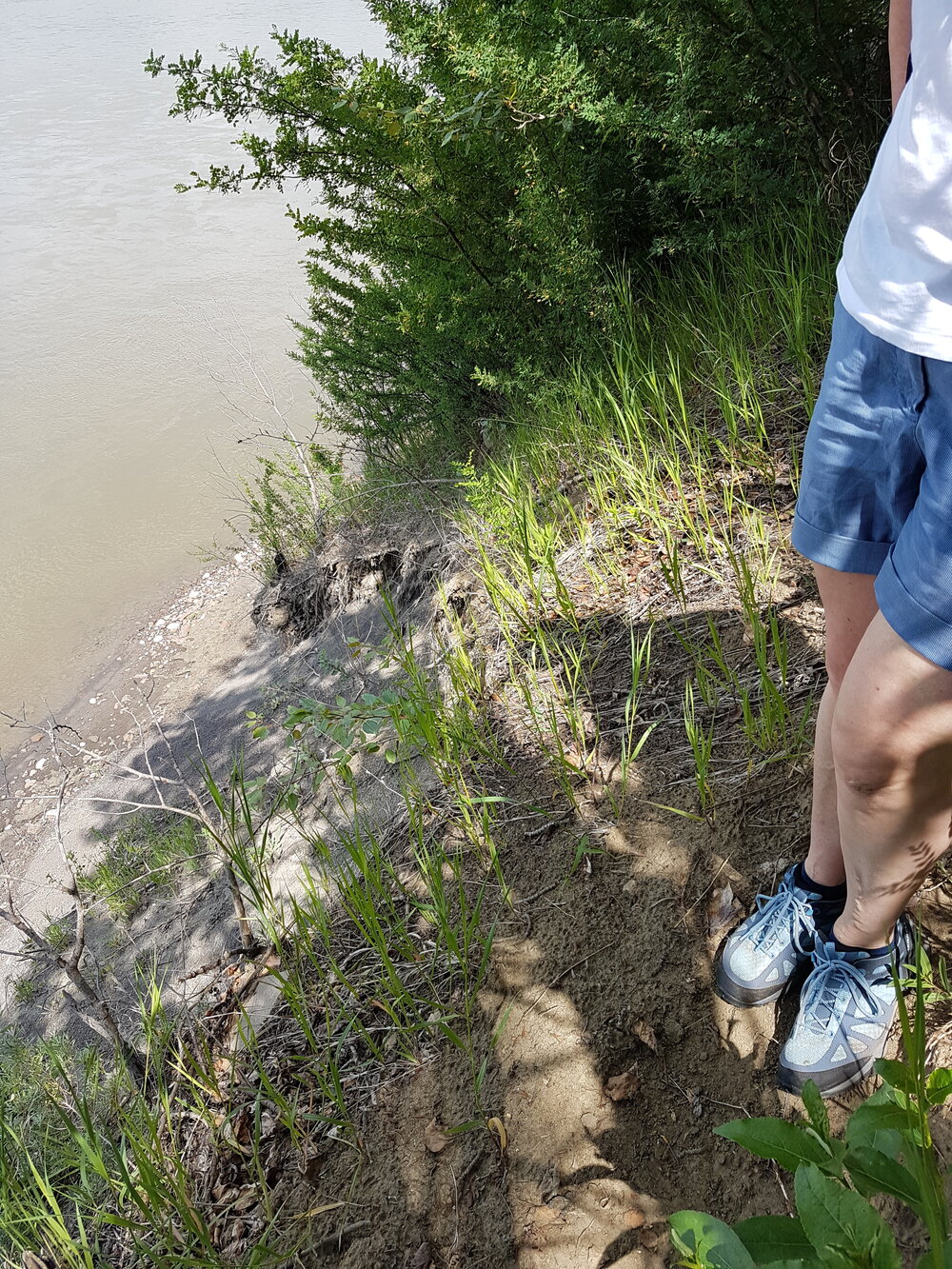 Scrambling through trees, undergrowth and mud, and along subsiding cliffs in the dark was never going to go well. My energy sapped quickly and some wrong turns meant a time out at 50k two hours over the time limit. There were injuries and some runners got so lost they did an extra 34k on the first loop.
I did salvage something from the trip; a good solid trail marathon at Taylor Mountain just outside Seattle. A lovely welcoming, well organised and safe event. I have now run a standard distance marathon on six continents.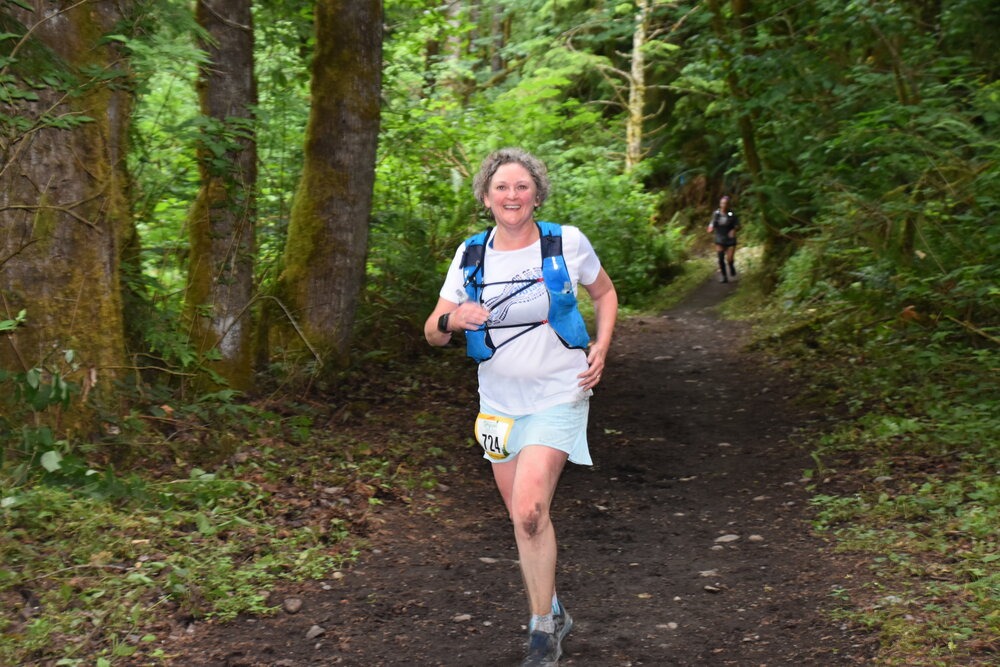 The learning point: not all race directors are made equal, not all event websites provide enough accurate information and it's all about asking the right questions.
The second half of the year has been just horrible. Mum passed away after a short fight with secondary cancer just three weeks after our return from North America. Along with her all motivation and desire to run left me too. Normally running is my salvation, but not this time. This tough lady not so tough after all.
I decided to run the Ben Vorlich ultra a few days after mum's passing. Everyone felt that I needed it as a release. I was glad I did it, but there was no pleasure or joy and there were tears. Some weeks later I had another go and attempted the Thieves Road ultra. It was a train wreck but my ultra-running family picked me up and enveloped me in their warmth and care, something which I am extremely grateful for and for which I thank you all.
Weeks passed, weight gained, fitness gone and mentally strung out. Something had to be done. A self-delivered swift and hard kick up the arse and I started to pick up again. There is a Global Odyssey to complete. Planning commenced and a training plan put together. It has not been easy at all. Life, and work have impacted as has injury. It has taken a while and many trips to Crail to clear the house and deal with the estate. Not only time consuming but exhausting. A large dollop of work stress and excessively long days thrown in too. And that injury. Well, I should have known better than to ignore the 10% rule. Net result I will be starting my next Global Odyssey 100 under-trained and not as fit as I would hope. It will be interesting.
Procrastination has become something of a problem for me. Not something I am normally prone to. This has led to some rather last minute planning for the Oceania Global Odyssey 100 in New Zealand in February. Having informed our family in Christchurch that we were coming and booking the flights I then failed to complete the plan. Finally, last night I decided on the route and got round to booking the essential accommodation at the start and finish (otherwise it was going to be a tent). My brother-in-law and his wife who will be joining Alasdair to support have been remarkably patient.
My head also turned back to North America and, all being well, the conclusion of the Global Odyssey. There has been a couple of false starts with these plans, but it looks like a plan will shape up early in 2020. The friends from the Patagonia run may well join us and it looks like my friend Dave from Sandbaggers, who has organised most of the Odyssey expeditions will be involved in some way too. That just feels right.
It has been a tough one and the achievements and highs of the year have been clouded by my loss and sadness, losing their shine, but the truth is they should not; they should still shine bright and be celebrated. They are the good and happy moments that need to be cherished. They are the evidence of a life being lived to the full, of making and taking the opportunities when they come. There will not be a time in later years when I reflect on life and regret the missed opportunities. When my father died almost eighteen years ago my mother said, live your life while you can.
There has inevitably been a period of reassessment and re-prioritisation within my life and running. I will take more time to enjoy both, to enjoy family time, not sweat the small stuff, mix it up a bit and kill the tired and often unnecessary routines and regimes: be a bit less prescriptive. Why do I need to go to the supermarket at 6am every Saturday, when I can get an extra hour in bed or a head start on a day out on the trails.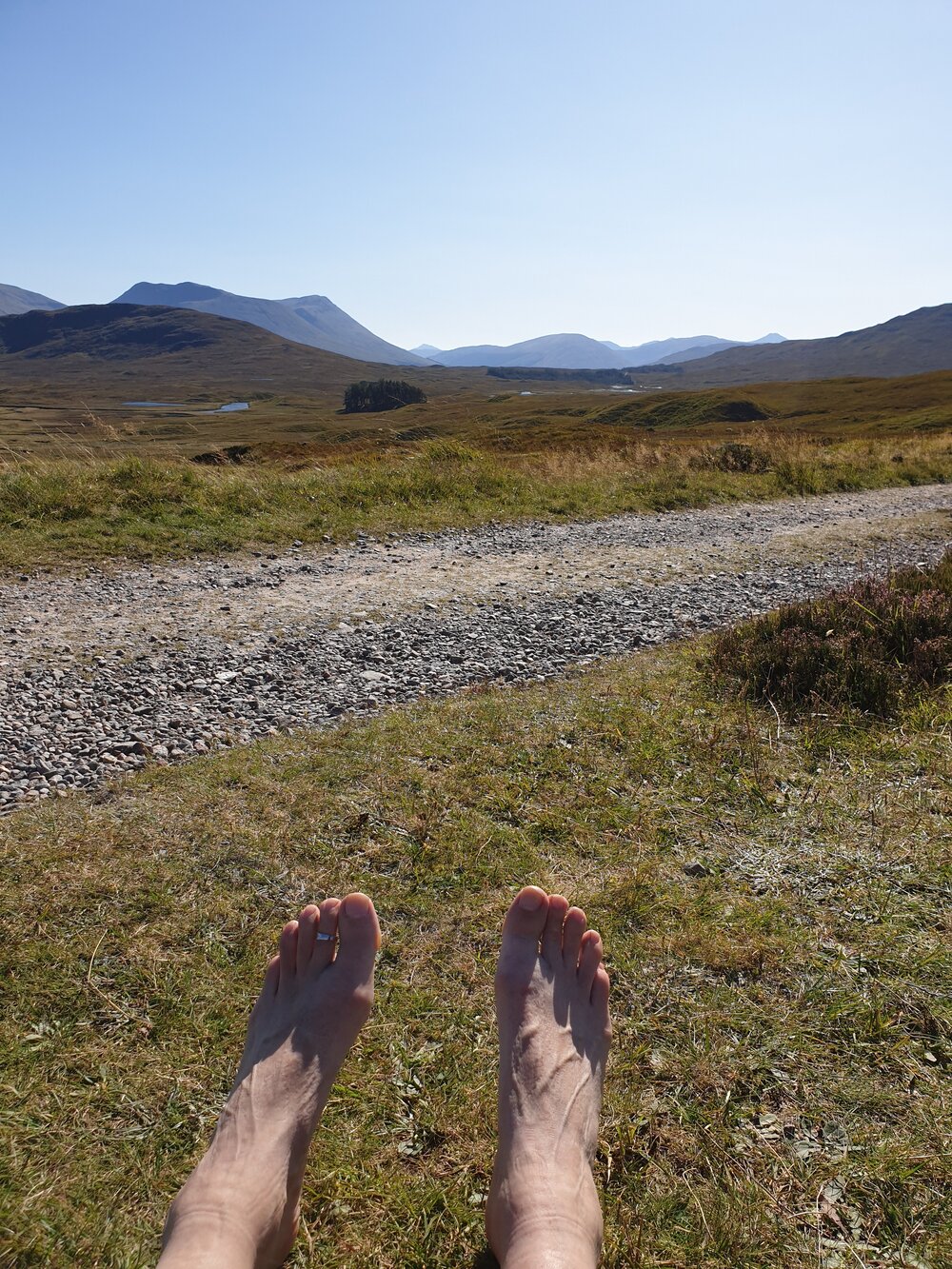 It's the start of a new decade as well as a new year. Time to sweep out the dust and cobwebs send the black dog on his way. My 2020 training log is there ready for the first entries. The last two continents of the Global Odyssey are lined up, and a sneaky wee marathon added to the New Zealand trip will give me a marathon on all seven continents.
Have a great 2020 everyone. Enjoy life, have fun and love your running or whatever makes your heart sing. Make sure your support can see you, don't take the wrong path and if you fancy a 100k assault course head to Edmonton.