Saturday 21st June was the longest day in so many ways; and be warned this is going to be a long post. It was of course West Highland Race day meaning that a not insignificant number of people were set to have a very long day either running, crewing for a runner, or supporting the infrastructure of the event. I have to say at this point that the event was a logistical tour-de-force.
What a day! It was a pleasure and an honour to be involved. I will assume that everyone involved had a memorable day and will have taken something away from it, even those whose day did not pan out as they had hoped. As I watched the event unfold I witnessed the full gamut of emotions from nervous excitement and anticipation to smiles and laughter to tears and frustration, in every conceivable combination. I saw incredible effort and performance, bravery and sheer determination by the bucket load, as well as kindness and overwhelming support.
A field of 193 set out from Milngavie at 1 am on Saturday morning. Some 14 hours 20 minutes and 11 seconds later Paul Giblin smashed his own course record with a simply stunning performance. Fiona Ross ran a great race for the ladies and came in first lady in 18 hours 45 minutes and 04 seconds, one of the fastest female times over the course. My runner Sarah triumphed also, finishing in 26 hours 24 minutes and 29 seconds in 101st place, which was well ahead of her predicted 28 hours.
Sarah and I met in 2008 whilst waiting for the bus to the start of the Lewis Marathon, part of the Hebridean Challenge which had us running 2 marathons in 3 days. We were both a bit nervous and hanging around the edge a 100 Marathon Club celebration that was going on and just started to chat. Sarah was just starting her '40 for 40' challenge which was to complete 40 sporting achievements over the 12 months as she turned 40. I was running in memory of a friend and raising money for Macmillan, as well as dipping my toe into the multi-day/double event arena. The rest as they say is history. We have remained friends, run a few more races together and both gone onto bigger challenges. It was a no brainer when Sarah asked if I was free to crew.
Sarah and Andy (Sarah's partner and my fellow crew member) were due to arrive mid-afternoon on Friday. I had arranged to take the day off to ensure that I was rested and ready: a long lie in the morning, an afternoon and an early evening nap. My body and brain had other plans. Awake at 4, awake at 5, gave up at 6 and got up; finished packing my bags and made some flapjack. The morning was spent doing some chores and getting some food for our evening meal. At some point the toenail fell of my left big toe: fantastic! It was a little tender but would be OK with some gauze bandage.
The afternoon nap did not happen, but not for the want of trying. At least I had a pleasant hour resting on the bed. Sarah and Andy arrived and that was it, we were on the countdown: cue 3 excited and 2 slightly nervous people. Some last minute planning, a meal and then a couple of hours sleep. You can see what is coming here can't you? No sleep for me, brain and body just too wired.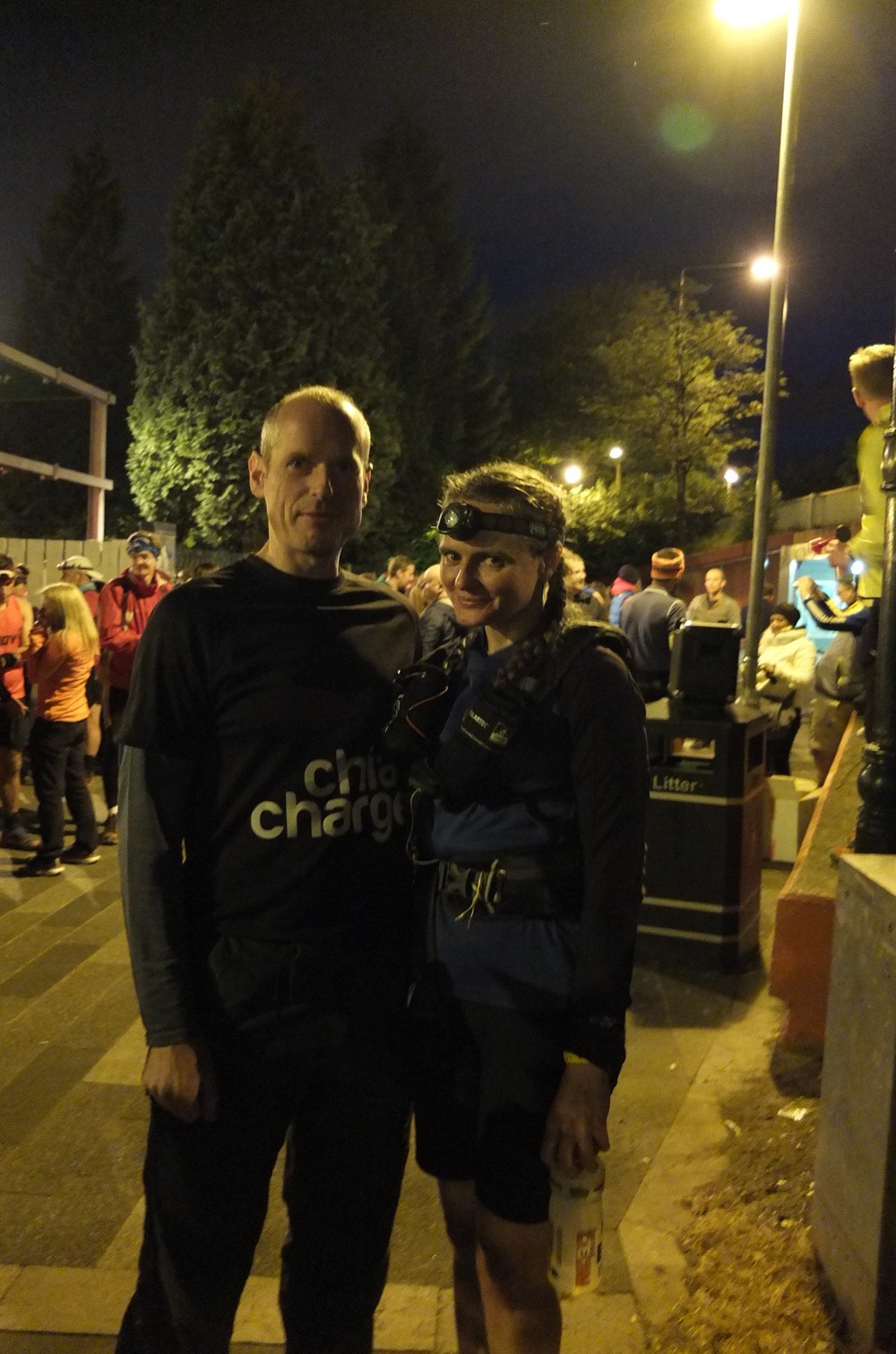 At 10.30 pm we put the last things in the car and headed to Milngavie for registration. That was a slick process and within minutes Sarah was registered, weighed and had deposited her drop bags (water bottles) for Rowardennan and Inversnaid. She went back to the car to rest, whilst I had a wander about catching up with the many friends who were running, crewing and marshalling. Andy did a bit of both. Time passed quickly and we were soon gathered at the start for the briefing and then they were off. Andy and I had gone up to the high street to get some pictures as everyone streamed past. We then jumped into action.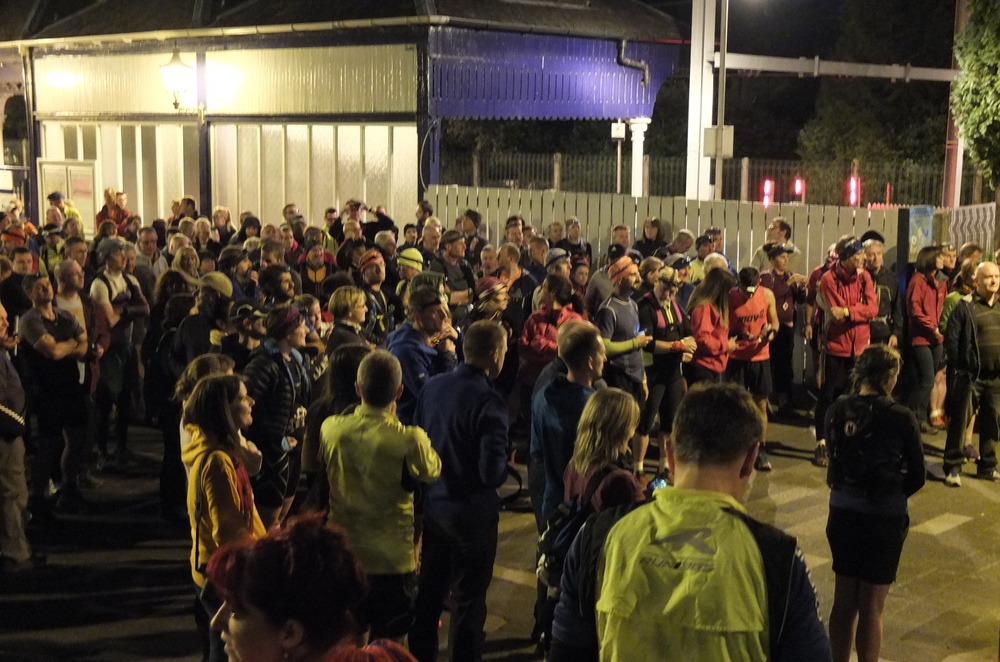 First stop the Garahdban Forrest car park just above Drymen. The logic was that there would potentially be less people here than in Drymen itself. We were quick off the mark and there were only 2 other vehicles there when we arrived, a few more arrived but it was at no point busy or overcrowded. The plan: get a bit of kip before catching Sarah on her way past. Once we were parked Andy decided to sort out the back of the car a bit. That done I at least decided to try and settle for some sleep, but Andy got distracted by John Kynaston who was collecting wood for his Lundavra check point campfire. Sleep was not coming easy not helped by the glare of car headlights and head torches as people arrived and moved about. As the first runners started to come through I gave up and got out of the car to cheer them on and chat with John. It had never got fully dark during the night, with an ever present chink of light sky evident, and by the time I was out talking with John it was half-light and most runners coming through were removing their head torches. As luck would have it Sarah appeared just as I slipped away to use the 'facilities'. She was on schedule and going well. We gave her some fluid and changed her chia charge.
As soon as she was through it was off to Balmaha. It was a lot busier and there was not many spaces left to park, but we squeezed in. It was at this point also that the midgies kicked in: the little feckers were everywhere. The trusty duo of midge net and skin so soft did their job though, so not too bad and they were more of an irritation than a biting problem. A number of the runners were coming down off Conic hill quite agitated by the midgies they had encountered through the trees and then in the car park. Sarah was no exception. The midgies were annoying us and we were protected. We reapplied her skin so soft; we changed her chia charge bottle, checked her supply of flapjack, and gave her water and coke, but were not so successful on the food front. She did not know what she wanted and picked at some boiled potatoes and poked about the food box. I was left with the feeling that she had not had a lot when she set off for Rowardennan, and I was very aware that she had only left water for both Rowardennan and Inversnaid, but she did have flapjack with her. Chia charge, flapjack and coke played a significant part in her nutrition for the day.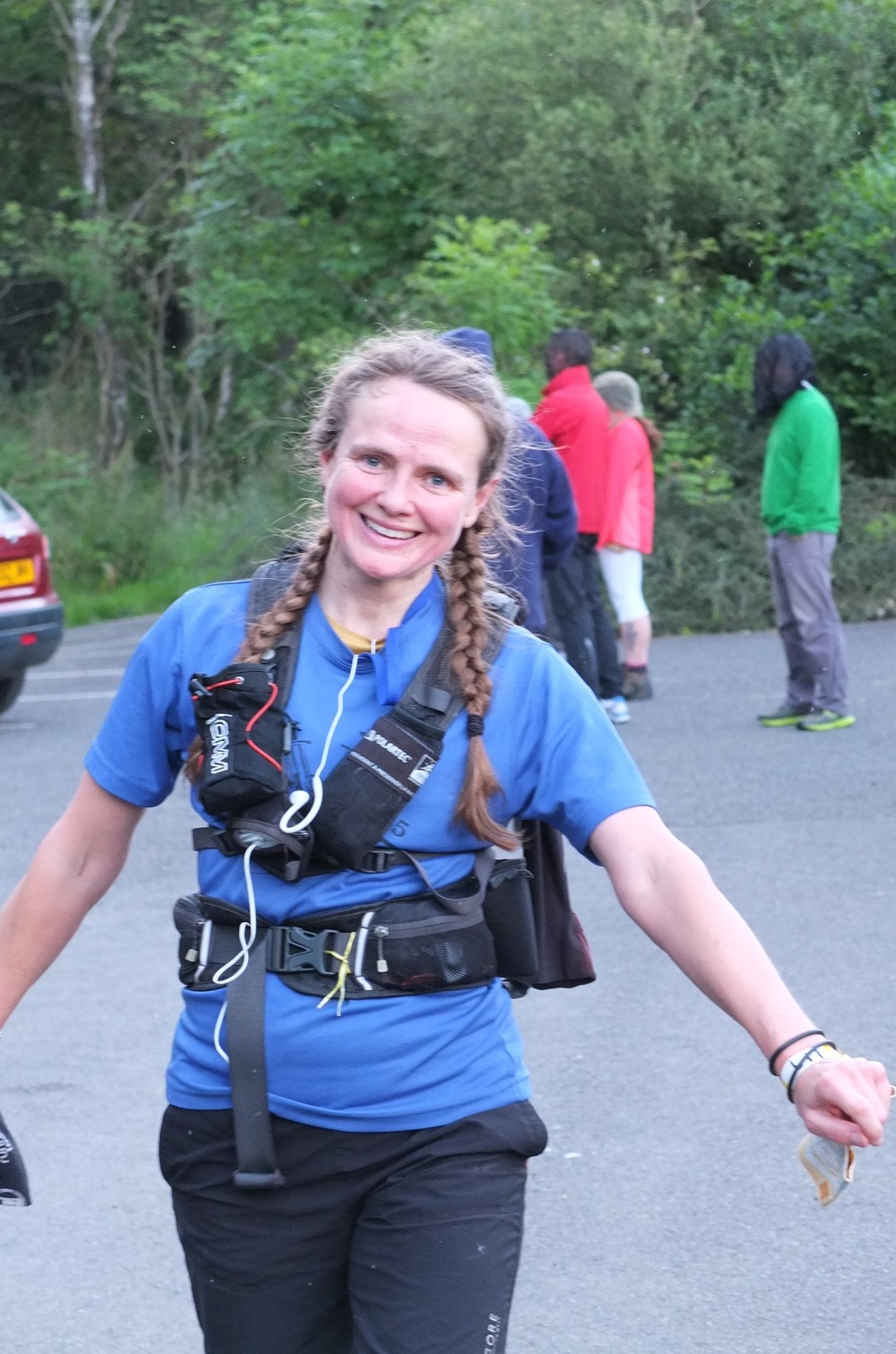 It was now breakfast time for the crew. After Sarah headed off slightly ahead of schedule, we wandered over to the Oak Tree Inn for a timely cup of coffee and a much needed and delicious breakfast roll. The inn had been open since 3 am providing breakfast for the crews! After breakfast we were in a bit of quandary; the road on the West side of the loch was closed until 6 am, and the Beinglas gates were not opening until 6.30 am, so do we stay at Balmaha or get part way round the loch towards Beinglas? We split the difference and hung about so I could see Fiona Rennie and Robin Wombill and a few other friends come through and then set out for Inveruglas where there was parking and a cafe and where we could stop for a couple of hours for some kip. The car park was all but empty when we arrived. There was a bit of faffing around before I had yet another attempt to get some sleep. Andy faffed a bit longer, also having problems with not being able to sleep. If we were lucky we managed about half an hour a piece before giving up, getting a Mocha and some cake from the café as it opened and then heading up to Beinglas.
Beinglas was a hive of activity with crews bustling around and a steady stream of runners coming through. There was also a lot of excitement as word spread about the superb competition going on at the front of the race. We packed up what we needed for Sarah and headed up to the check point area and set up our stall. Andy walked back up the path in the direction Sarah would be coming in whilst I chatted with various folk I knew. Just as I was beginning to wonder where they were Andy returned saying that he had received a text from Sarah and she was about 1.5 miles out. After double checking we had everything he headed out again and within a few minutes Sarah appeared. She was just about still on schedule, perhaps a few minutes behind but in great shape; running strong and happy. We checked the chia charge and flapjack, provided water and coke, and were a bit more successful on the food front this time; she ate some pasta and tomato sauce. We chatted briefly about when she would want a support runner. She was happy with her pace and progress and thought that she would not need me until after Auchtertyre. After she had gone on, Andy and I had a brief chat and it was decided that I should change into my running kit and be ready to go from Auchtertyre. I changed in the shower block and then we were on the road again. As we were heading out the marshal directing the cars asked if I was Audrey McIntosh. He had been reading my blog and complimented me on a recent entry telling me in inspired to not withdraw from the forthcoming Great Glen Ultra. It was nice to learn that it was being read quite widely.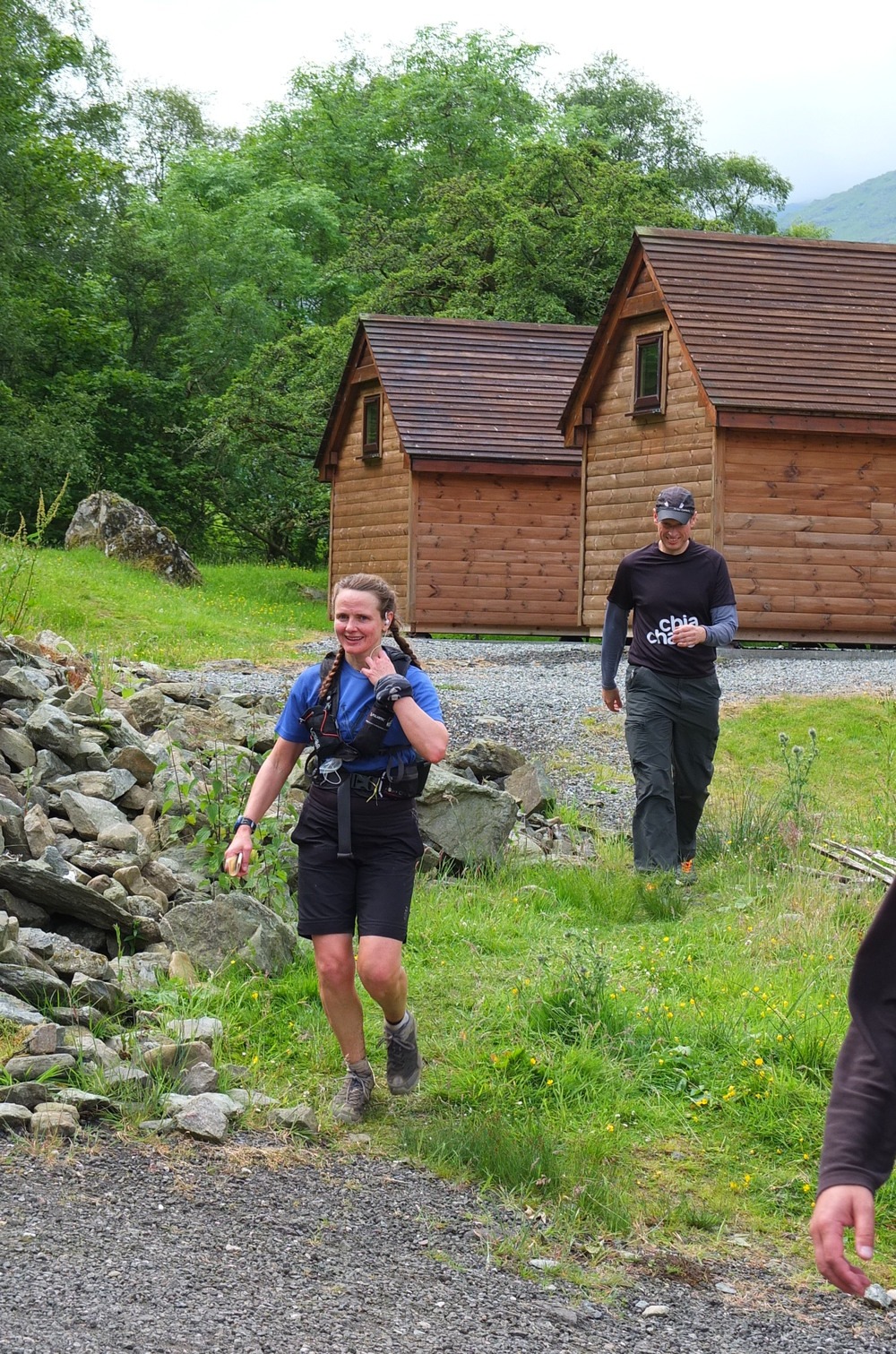 I was mindful that I needed to keep my hydration levels and eating up to ensure that I had the energy to run good distance with Sarah. It was quite easy to get distracted from this as we made our way between check points, tended to Sarah and got caught up in what was happening around us. After getting settled at Auchtertyre I ate some creamed rice, some flapjack and a few almonds, not wanting to overdo it in case I was needed to run from this point. What I did not factor in was that I should probably have been eating and certainly drinking more to combat the fatigue from not sleeping and the time on feet. At this point I had been up for about 30 hours give or take.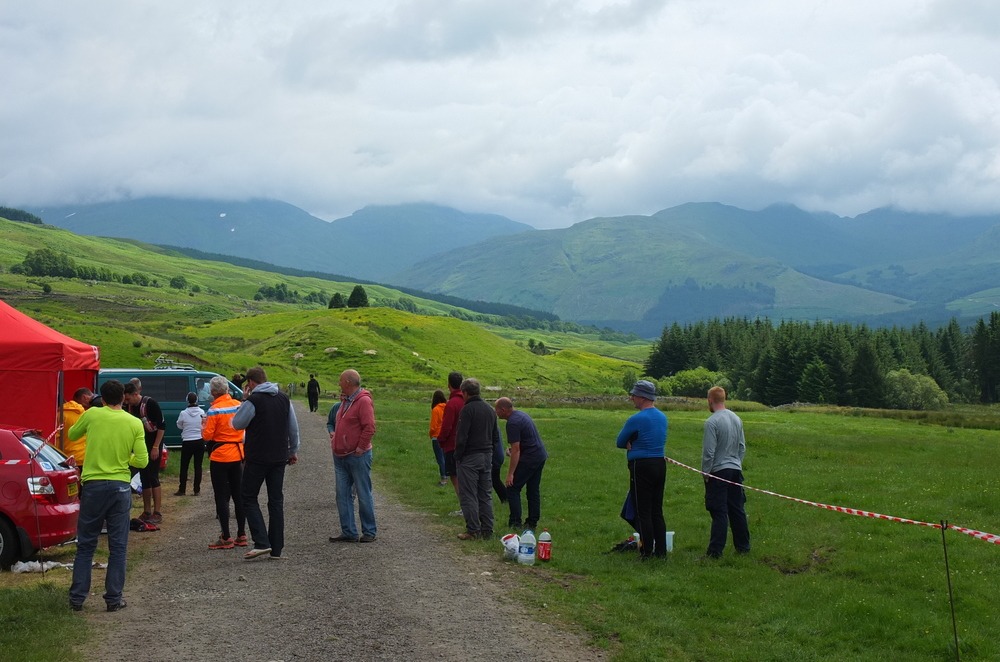 We got word from Sarah that she had just crossed a small wooden bridge, so she was about a mile away. She had indigestion so we asked at the medical tent if they had anything. They didn't but they did suggest she eat a little toothepaste. We could get some Rennies at Tyndrum and hand them to her as she passed through. Sarah was in reasonable shape when she got in but the effort and tiredness was just beginning to show and she was now about 10 minutes behind schedule. Not much food at this stop and a request for her chia charge to be more diluted, and she was adamant that she did not need running support. We thought otherwise, but did not push the point. I hung back and gave her and Andy a few moments on their own .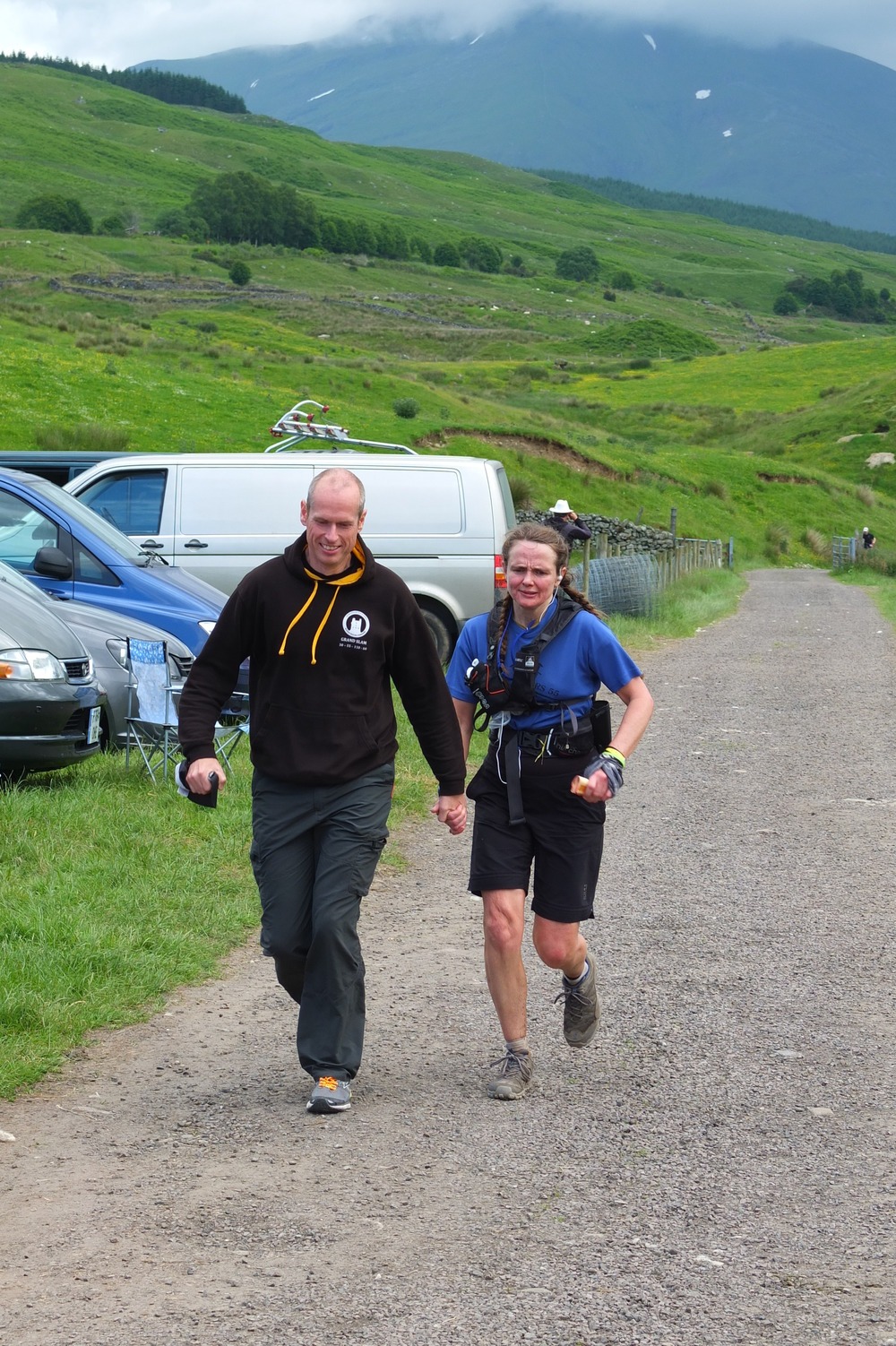 Tyndrum next. Andy got the Rennies. I realised I was pretty hungry so decided to buy a sandwich and hope that it would settle enough in my stomach by the time I started to run at Bridge of Orchy, as we had agreed that I would definitely start running with Sarah from there. As the last bike went into my mouth I joked saying; I bet now that I have just eaten, she changes her mind and wants me to run from here. I must be psychic, because as she headed to use the toilets in Tyndrum she asked if I would start to run with her. Whilst she was did that I sorted out my backpack and was good to go. Andy handed me some of the Rennies as we headed off.
We made good progress. I was careful to let Sarah set the pace and not to pull her along faster than she wanted, nor slow her down. We both had our music, and just kept one earpiece in. That way there was no compulsion to chat, but equally we were able to clearly hear each other and chat when we wanted. It worked. We kept a steady pace and made good progress. Sarah was fixating on litter, something she abhors, as do I. If I have the means to carry it and dispose of it I will pick up litter. Sarah was adamant that she wanted to pick up all the litter she saw, but we did not have room in our small backpacks which made it a little awkward. In the end I picked things up for her and carried it in my hand, arriving at Bridge or Orchy with quite a collection. It did occur to me that this was perhaps not the best of times to be collecting litter, but I think that tiredness was the ability to be 100% rational.
As we arrived at the check point back on schedule I ran on ahead to tell Andy what she wanted while she had another pit stop. There was a moment of shocked surprise when someone thought I was a runner as opposed to support, thinking that I was being a bit over enthusiastic doing both the WHW and the Great Glen. Even I am not that mad yet! I also got another complement on my blog: happy days. The plan was that Andy would focus on Sarah and I would sort myself out at the checkpoints. I actually can't remember exactly what we both ate here. I think Sarah had more pasta, and I had some coke and flapjack.
We did not stop long and were soon climbing up out of Bridge of Orchy, a long steady climb which we walked. This was followed by an easy bounce down to Inveroran then some steady road before joining the drover's road to start the steady climb up over Rannoch Moor. Our spirits were good and we progressed steadily although Sarah was now taking occasional 1 minute stops. It makes a huge difference to morale when the weather is good and the moor is at its colourful best. There was a bit of confusion as we started our decent to the Glencoe ski centre. Sarah dropped back and I thought I was going too fast in my eagerness to get to the checkpoint and fresh supplies, so slowed to let her pull level, but she told me to keep ahead. It took me a few minutes to realise that she wanted me to guide her and pick the best and softest path. I just had not considered that she would trust me, a poor descender, to lead the descents, but that is what she wanted. No pressure then.
We made it down safely and were about 15 minutes ahead of schedule now! We were both in our own world of discomfort. Sarah was pretty fatigued and needing a decent break. Andy looked after, changing her socks and taping her feet as well as ensuring that she got some food. As we had arrived at the car I had realised that I was not in great shape either. The distance was not the problem, the problem was the fatigue from lack of sleep and being on the go for about 36 hours now, and I was hungry, dehydrated and very emotional. How the hell did I get dehydrated? And why was I choking back tears? I threw down a pot of creamed rice, a can of expresso shot, some water and a bag of mini cheddars while sitting on my own pulling myself together and getting my head straight. That chimp needed to go back in its cage. Twenty minutes after arriving we hobbled out, to make our way through Glencoe and then face the Devil's Staircase. After a slow and rather comical stagger we got a steady jog going and overtook a few people. I was taking the lead now to keep the pace steady and to pick the path for Sarah who was now past decision making.
Soon we were at the foot of the infamous staircase and 1000 feet of climb. I started a bit fast and Sarah asked me to ease the pace which I did, moderating it to find a pace that kept us going steady and continuously. As we picked our way up Sarah took regular 1 minute breaks. She reminded me of the sleepy dormouse from Alice in Wonderland, and I suspect that I was like some wild eyed version of the mad-hatter, especially with my multi-coloured running tights. I felt bad urging her to keep these rests to a minimum and no longer than a minute. What a sense of relief as we crested the top and bagged the milestone, and it was even better when we eventually spotted Kinlochleven twinkling in the dusk below. Sarah wanted me to keep the lead, pick the path and set a steady jog down. I was certainly getting in some good practice to improve my descents. Every now and again I heard Sarah saying; Good. That's good. I don't know if she meant the sensation of going downhill, the pace or my path picking. Maybe it was a combination. The final bit of track down into the village seemed to take forever. I was spent, and feeling guilty about it, especially when Sarah had done so much more and was doing to so well. The midgies on the final bit of track through the trees and into the village were horrendous, but a real incentive to press on. We got to the check point 45 minutes faster than scheduled. I think at this point she was about an hour ahead of plan.
Sarah took a longish break again, ate a reasonable amount and took the opportunity to gather herself ready for the last 15 miles. She was really happy to be so far ahead of schedule and really positive about the last leg. I was so, so thirsty and just drank cup after cup of water, and just sat not knowing quite what to do with myself. I had missed the chance to get food at the inn by about 5 minutes. Damn. Andy was taking over as the support runner. We had planned that I would go straight to Fort William and then run out towards Lundavra to meet them. At this point I knew that I probably would not be up for that, but if they texted me, I would at least come out to run the last few hundred metres with them.
As they set out, I headed to the car. This was going to be an interesting drive, and one that I probably was not in a fit state to do, but it had to be done. I could not see a thing and needed to get my contacts out. I then adjusted the car seat and mirror and set about familiarising myself with Andy's car. A surreal drive then followed as I got to grips with the car, and then realised that I was actually only driving at about 35 miles an hour although it felt like 60! I was so tired and punch drunk. Probably not the safest of drives, but thankfully at that time of night there was no traffic. I arrived safely in Fort William, watched a few folk coming in, congratulated Johnny Fling and Noanie who were sitting in the foyer of the leisure centre and who had done really well. There had been some stunning performances and wonderful achievements.
After a shower, I went to the car and sorted out my kit, then decided to try and get a bit of sleep. A message came through from Andy and Sarah to say they were through Lundavra. They were making good time, but I reckoned I could get an hour of sleep before heading out meet them. I had no sooner shut my eyes when there was a tap in the window. It was Andy! Bloody hell, I had missed Sarah finishing! What a muppet! It turned out that the message did not send until they were a good way down, and so when I had got it they were a lot closer to the finish that I thought and I had been too tired and befuddled to realise.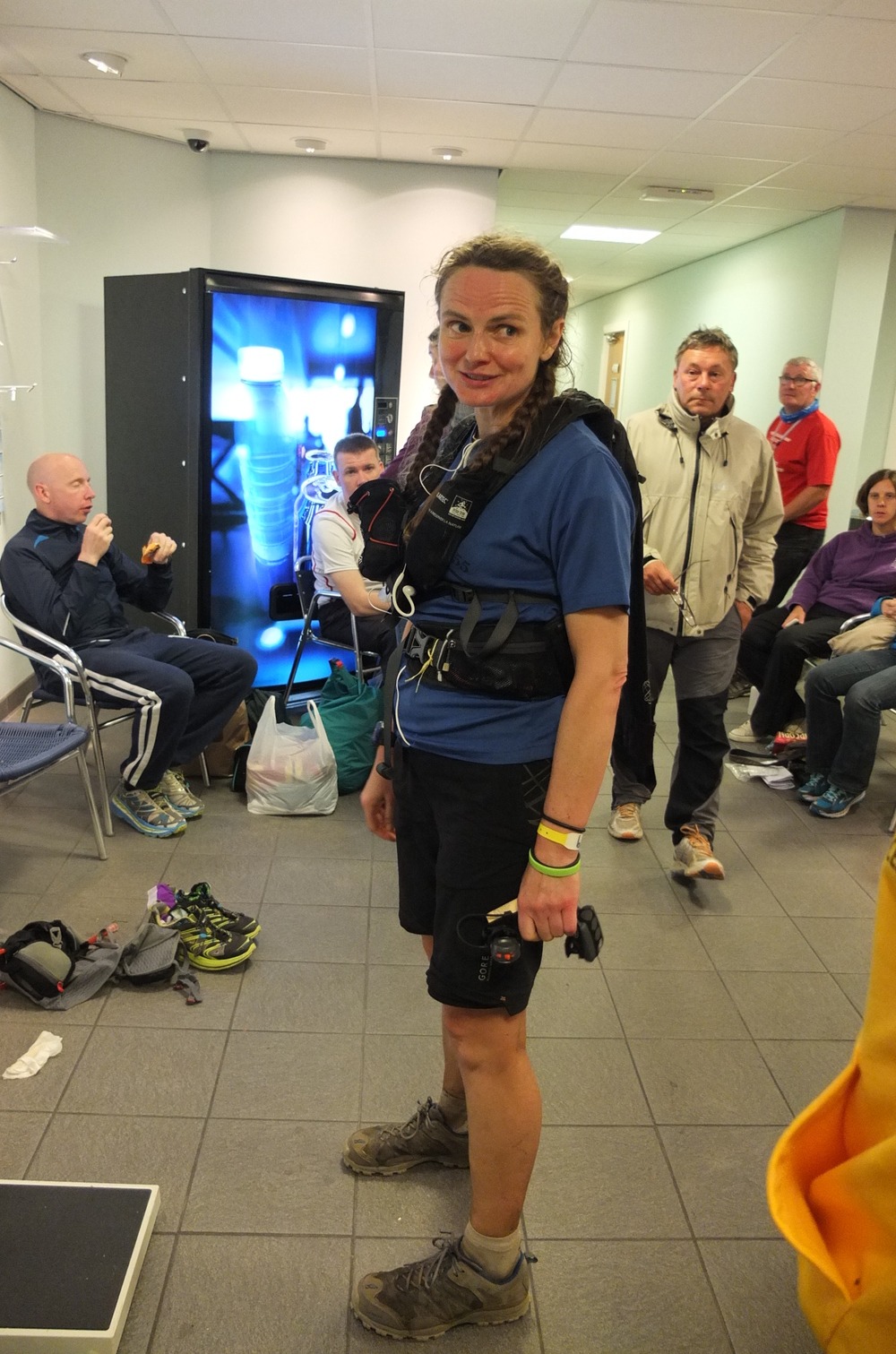 Sarah was so happy and elated and deservedly so. She had run a good strong, solid race and finished strong. She and Andy showered and then she collected her goblet from Ian. Unfortunately, we could not stay for the prize-giving as they had to get back to Leeds as Andy had a business trip first thing on Monday. Andy said he was ok to drive for a while and we set out. At long last I managed to drift off and got an hour so of sleep. We arrived back in Glasgow about 7.30 am much to Alasdair's surprise. He thought he had slept in to 7.30 pm. We had a hot drink and then Andy and Sarah went for some sleep before heading back down south. True to my OCD, I pottered about unpacking and sorting kit, then had some breakfast and a poke at the Sunday papers. Eventually, after Andy and Sarah left and we had popped out for some lunch and ice cream, (I was craving ice cream), I went to bed and got 3 hours sleep, out like a light, and nothing was going to wake me after being up for the best part of 54 hours.
What have I taken away from the experience?
Being asked to crew for someone is a sign of trust, and you have to live up to that trust and the responsibility. Crewing is not a soft option and is damned hard. I believe every runner should crew. It will give a greater appreciation of what their own crews do for them. It is immensely satisfying, great fun, damned tiring, and a bit nerve wracking at times.
Sarah is indeed low maintenance and not at all growly.
I was exhausted after the weekend but had a sense of achievement similar to when I have completed a race. Seeing Sarah's face at the finish filled me with pride and made me forget the fatigue.
I witnessed determination and focus, and people pushing themselves up to and beyond the limit, which is humbling.
I learned that it takes a fair amount of focus and organisation to also look after yourself to ensure that you can do your job properly as a support runner, and I could have done better on that front.
Trying to sleep during the day, early evening or in a car is a talent I do not seem to possess.