The Antarctic Odyssey was the start of my journey into adventure racing and blogging. I wrote a series of post that charted my adventure from start to completion of my Antarctic Odyssey. This post is part of the series.
The 2013 Loch Ness Marathon was set to be fairly special for me.
It was exactly 10 years since I ran my first marathon, which had been Loch Ness in 2003 which gave me my marathon PB which still stands to this day. This would be my 7th run of this event. In addition this was my last formal running event before Antarctica. Emotions would potentially ride high this weekend.
We had an irritating slow drive over to Inverness made marginally better by the lovely autumn sunshine and scenery. The frustrations were compounded by the traffic chaos that we met in Inverness. It was that perfect storm of road works, marathon and football traffic. I dropped my husband off to go and visit Leakeys 2nd hand book store, then crawled my way along to Bught Park to register. Parking was busy, but I managed to grab a space only a short walk from the event village just as someone was leaving: result, bu t boy was I stressed. Registration was quick and efficient as always. I then meandered through the various stalls, had an interesting but unproductive chat with the Rock Tape guys; then grabbed a cup of tea and a coconut slice which I ate whilst lurking at the entrance to the pasta party tent. There I listened to some of the motivational speaking and entertainment that had been laid on. It was 2 years since I last ran this event, but I really noticed how much it has grown, more so than on previous occasions.
Alasdair joined me and we headed off back into the traffic chaos to make our way to the B&B. It was a quick turnaround before heading out for some food down at The Kitchen. It was busy and full of runners all following their own fueling routines. None were drinking: I was. I was feeling edgy and nervous and still a bit stressed from the journey and traffic, so I had a couple of glasses of wine accompanied by lots of water. For me it was potato and chorizo croquettes, porcini risotto and a roasted beetroot salad with feta, mint and pomegranate, followed by date baklava which was too sweet, but good fuel.
A leisurely walk back to the B&B where I sorted out the kit I would need: shorts, vest, gels and energy drink. I would be running light (well, light for an ultra runner). In bed for 11 and the alarm set for 5.10 am. Unlike my previous 2 events where I have slept well the night before, this time I woke 2 or 3 times, and was wide awake just before 5 and switching off the alarm before it was due. Up, dressed, green tea, bag packed, jacket laid out; then down to breakfast on my own as I was the only runner in the B&B doing the full marathon. A slight change to my breakfast routine; but I had a mix of apple juice and coconut water, more green tea, a dish of fruit salad and a pile of toast with almond butter and jam. The owner of the B&B chatted amiably with me while I breakfasted providing a grateful distraction to what was ahead. After a quick last check, I was out at 6.30am and making my way down to Bught Park.
It was mild and still dark with a light mist hanging around the river. Figures began to emerge from building and streets, all making their way quietly down to the river and on the park: a steady flow. It was eerie, beautiful and really quite special, rather like the elves heading for the Grey Havens. I began to feel all the emotion of the year and the day welling up inside me: tears started to roll down my cheeks, and I supressed a couple of sobs. As we converged on the north side of the river I pulled myself together and became aware of the soft sound of hushed conversation. I fell into step beside a couple of runners and we started to talk. They were first timers and one was also running for Alzheimer Scotland. We spoke about the course and our expectations.
I quickly got myself onto a bus, one of the first ones and soon we were off down the opposite side of the loch. I chatted a bit to the people around me about Loch Ness and inevitably about Antarctica. Some were first time marathon runners, other more experienced. We were all excited. I sipped more apple juice mixed with water and coconut water then ate a tub of creamed rice. The good thing about being on one of the first buses was that there was virtually no queue for the portaloos, the bad thing was that we arrived 1.5 hours before the start and it was Baltic! (Yeh, yeh: good conditioning). I tried to find some shelter then drank a can of espresso shot, then used nature's toilet facilities several times more. I managed to see all the friends and fellow runners I had hoped to catch up with finally joining up with Helen, Emma and Gary in the starting area. I was cold, I was excited, I felt strong and I had absolutely no idea how I was going to run this. What I did know was that I wanted to enjoy it and have fun and use the time to reflect on my achievements over the past 12 months. We were off.
The first 3 miles of the loch ness marathon can be very fast as they are downhill and you can get caught up in the excitement of the day and feeling good. We clipped long at a fair pace knocking off the 1st and 2nd miles much quicker that we thought we should. Apparently, the others were relying on me to be sensible and set the pace: oops. Gary headed off to do his own thing and Helen stuck with her run/walk plan. Emma and I continued chatting away and feeling comfortable. Three, four, five, six miles: we were both running faster than we had expected, but we both felt good. What was the plan? Do we continue like this for as long as it feels good or do we rein back? We decided to continue as we were. We did short bursts of walking up some of the inclines, and then bounced down the hills making full use of the gravity. We had agreed that if at any point one of us felt stronger and wanted to pull away then we would. I did not for a minute think that would be me. Somewhere roundabout 10 or 11 miles we did a short walk on a hill, and I think I must have started to run again sooner, or maybe set out a bit faster, but I suddenly realised that Emma was not there! Do I slow down? I kept glancing round but could not see her. I decided to stick with the agreement and carry on at my own pace.
I was taking on energy every 30 minutes and regular small amounts of fluid. I felt good and strong. The miles continued to click past and soon I was going through 17 miles and Dores, where there were plenty of enthusiastic supporters cheering us on. That whole having your name printed on your vest is genius. It gave me a real lift as we headed for the infamous hill. My plan was to run walk it and just see how things went. I managed to run more than I expected and soon I was passing the 20 mile marker: 3hours and 8 minutes! What? Never! I double checked. Oh God, I could be on for a PB! No, don't think about that. That was not the plan. Don't even contemplate doing anything silly.
As it turned out a PB was not on the cards. I slowed quite significantly in the last 6 miles, and especially in miles 23 and 24. I suspect that if I had managed to take an extra gel I might have not slowed so much. I mistimed it slightly with the water stations. These things happen. The trick is to not let it unnerve you and to carry on. I had run a far better and far faster race than I had expected and I had had a blast doing it. I had also run in good company and had the opportunity to enjoy my achievements. In many respects that was worth more than a PB.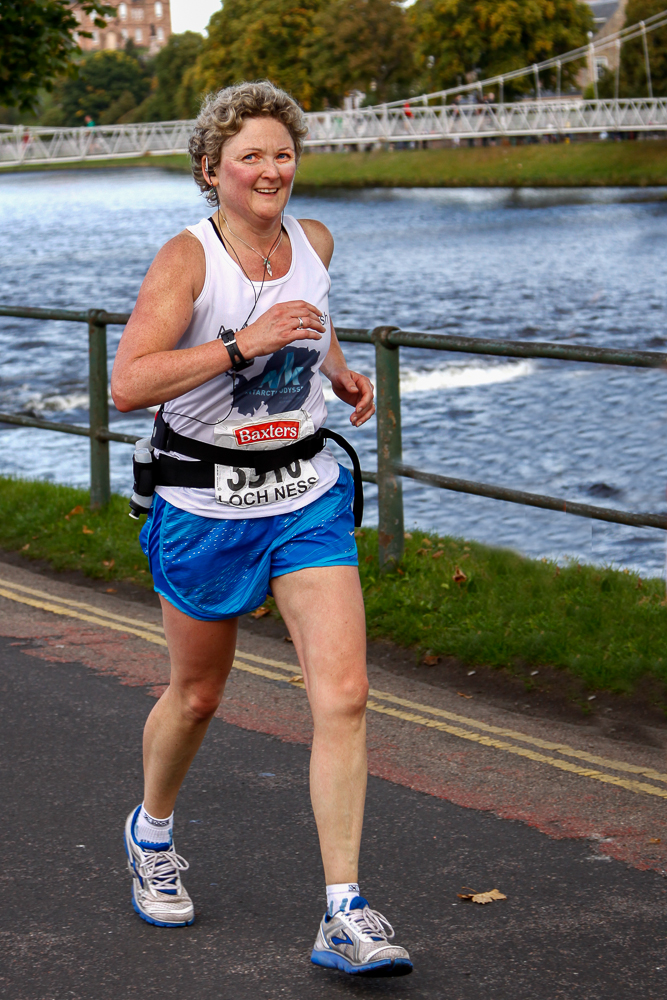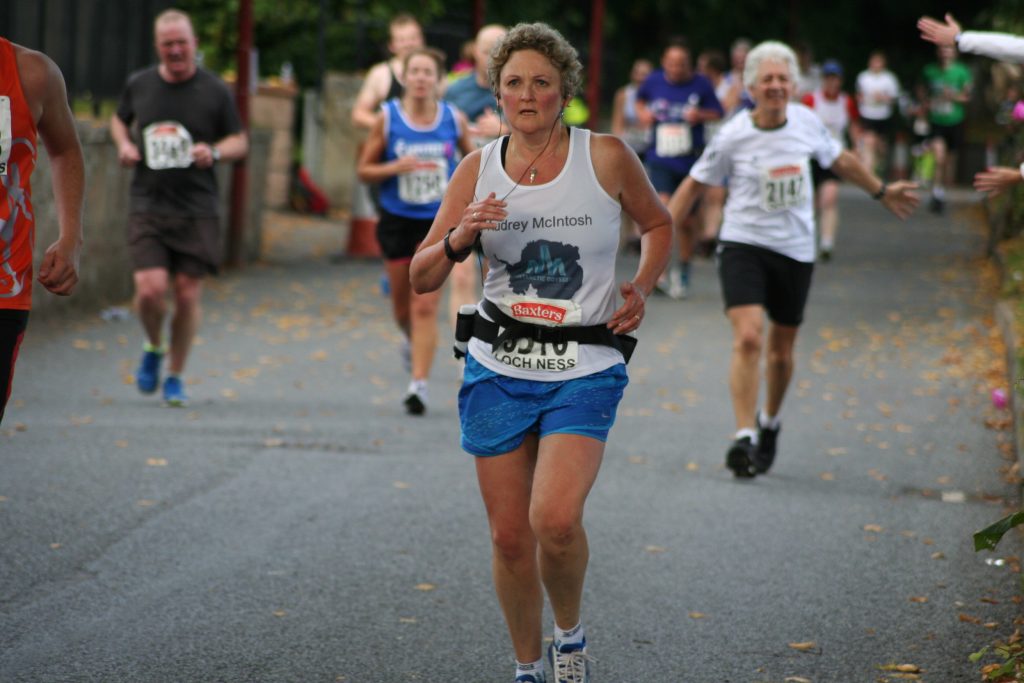 Soon I was past the 25 mile marker and crossing the river. I was so happy, so elated. No it was not going to be a PB, but it was a good well paced run. The finish line was in sight, I did not see or hear Alasdair calling out to me as I focused on that line: 4.22.27, my 2nd best time. Loch Ness has provided me with my 3 best marathon times. We are a good partnership. I had expected more tears but no just a huge grin and a massive high of endorphins. I met Alasdair overjoyed and with a great sense of achievement. He asked if I wanted to go and sit and I said no, I wanted to wait at the finish for my friends. I was surprised at how many people came up to me to congratulate me and wish me well. It was lovely, but it was even better to see the joy on my friends faces as they too finished, happy with their race and for some ecstatic to have banished their Loch Ness demons.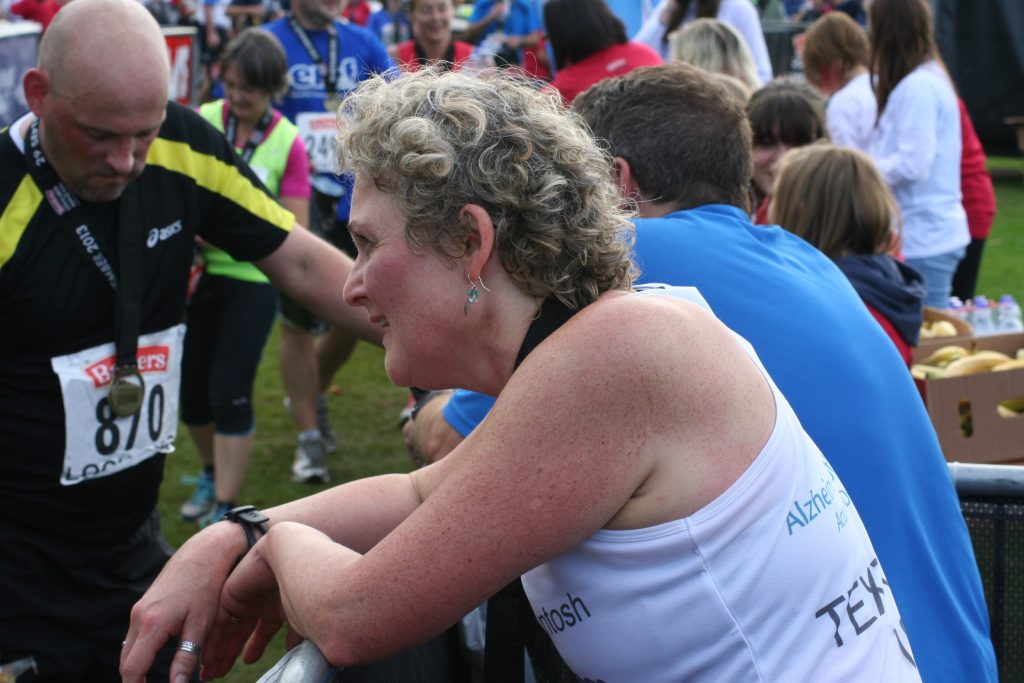 A massage, a shower, and unusually for me lots of food before heading home for that classic combination of pizza and champagne.
So, there we are 10 years, 16 marathons, 6 ultra marathons: next stop Antarctica and the Antarctic Ice Marathon and the Antarctic 100km Ultra Marathon.