The Antarctic Odyssey was the start of my journey into adventure racing and blogging. I wrote a series of post that charted my adventure from start to completion of my Antarctic Odyssey. This post is part of the series.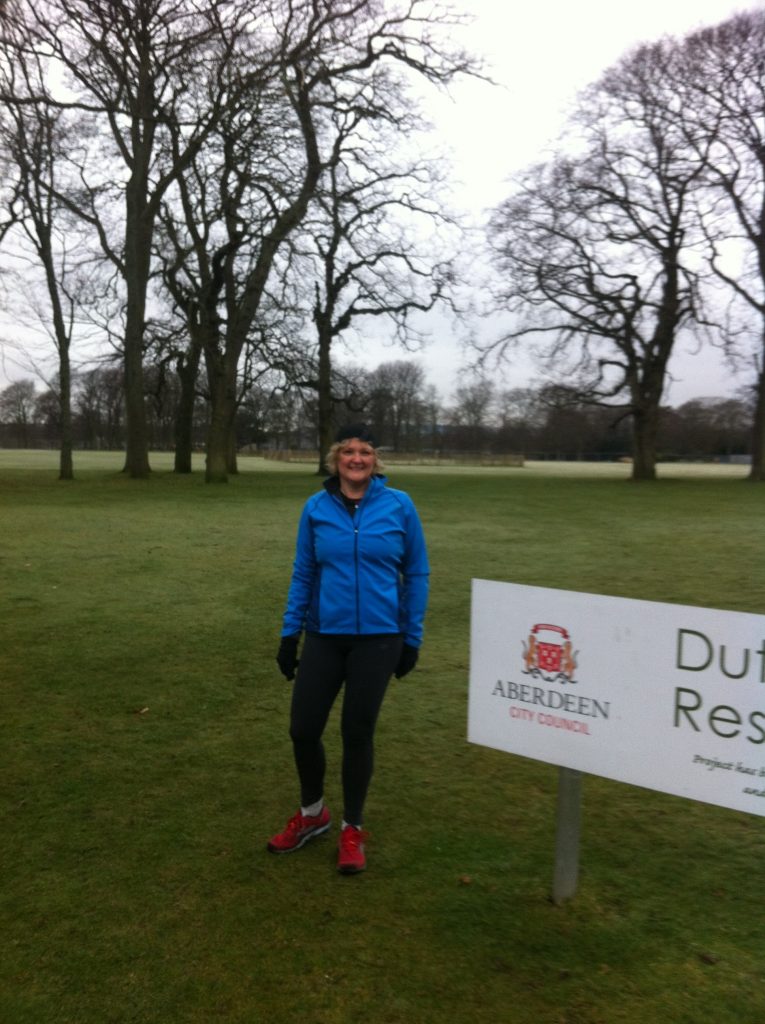 First race and first ultra of the year: the D33 is, strangely enough, a 33 mile race along the Deeside Way starting and finishing in Duthie Park, Aberdeen, with a turning point at Banchory. The route is largely flat with a few undulations to break things up a bit. The surface was a combination of tarmac and trail. There are various reminders of railway heritage along the route with information points, old railway carriages and converted station buildings and railway cottages. We did not see the route at its best on a grey, driech, wet and muddy day, but I imagine that on sunny spring or summers day it must be lovely.
Light rain started as we started and got steadily heavier turning at times to sleet and hail as time when on, finally easing early to mid afternoon. This meant that the course was tricky in places with mud and water, especially for those of us at the back of the field. With hindsight trail shoes would perhaps have been the better choice. It was also cold and windy, but my HH kit stood me in good stead, keeping me cosy. A last minute decision to change my mid layer to one with some merino (Odin Hybrid) in it proved to be a good one.
There was a great atmosphere. George Reid, ably assisted by Karen Donohue, has created a well organised and slick event. The marshals were amazing too; standing in the cold and pouring rain for hours to direct us and help us with our drops bags and to give cheery encouragement: so a big thank-you to all the organisers and helpers. I am sure their cheer was wearing thin by the time I trudged past being positioned well back in the field.
I have no expectations of speed. I have never been and never will be a fast runner. For me, it is a case of doing as best I can and completing the challenge. This year is about slow and steady, building strength and stamina for my ultimate goal in November. I came into this race under trained. The usual suspects of work and life had conspired to deprive me of some of my training and at least one long run.
As a result I set my expectations low: a target of 7 hours would serve me well, with a plan to stick to a strict regime of run/walk intervals to maintain a state of perpetual motion, and to ensure that I ate drank enough. I was determined that this was going to be a controlled run. Rather amazingly, I managed to have the discipline to stick with the plan. I stuck religiously to my run 12 mins and walk 3 mins, with sips of water or energy drink every 30 minutes, with some form of food going in every 45 – 60 minutes: egg sandwiches, jaffa cakes, dark chocolate, torq gels (which taste great), shot bloks.
The first checkpoint seemed to take a long time to appear. I was just beginning to get a little desperate and sorry for myself when I suddenly spotted it. Added bonus: I realised I was ahead of schedule. A quick stop to pull on my waterproof over my shell layer which had had its water resistant qualities tested to the limit, and grab some goodies which I nibbled on as I did my next walking interval.
As I approached the 2 hours point some poor navigation round some flooding resulted in a shoe full of cold muddy water triggering a minor worry about potential for friction and blisters. I pushed that to back of my mind: I was prepared; I had dry socks in my pack. I then spotted the front runners on their way back. Again I was completely prepared for this and had steeled myself mentally. There would be no tricky, negative mind games today.
As with the first check point the mid way turn seemed to take longer than expected to appear, but the steady stream of runners going in the opposite direction and offering encouragement suggested that it was not too far off. I had planned a slightly longer stop at this point: to change my socks, pull on some shell tights and take my time with some nutrition. It quickly became clear that between the rain and mud that I was not going to be able to change my socks or pull on the outer shell; and to be honest what was the point? Still ahead of schedule (6.30 finish pace) I felt strong, so a short stop to eat some creamed rice (Rachel's Farm Organic: tasted like nectar!), replenish my pockets and back pack and then off, sipping my flat coke. My trusty egg sandwiches let me down on this occasion inducing almost instant nausea, so they got ditched in the next bin.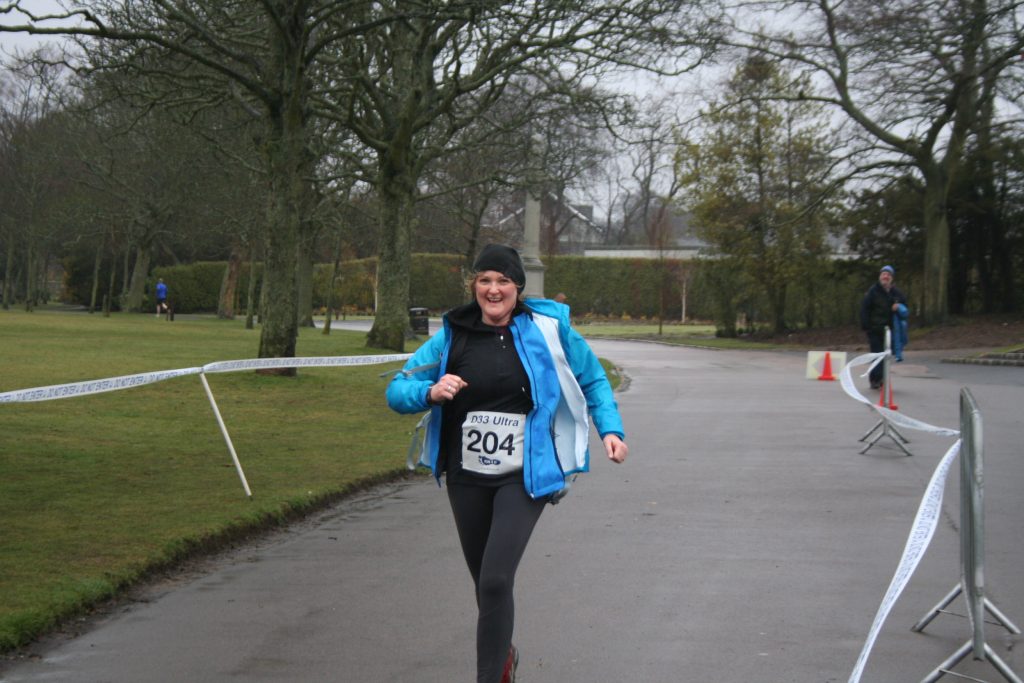 The return leg was odd: I know my running pace was slowing, but mentally, I seemed to cover the ground quicker. Maybe it was just the fact that it was familiar. I managed to fill my other shoe with cold muddy water at the flood spot this time. When I reached the 3rdcheck point I was feeling good and really positive. I had started to pass people, something which rarely happens with me. Amazingly, I was still ahead of schedule which really boosted my confidence. Ate more rice, grabbed my supplied and took a 2nd Surge gel(one of the most disgusting things I have ever eaten, but worth it).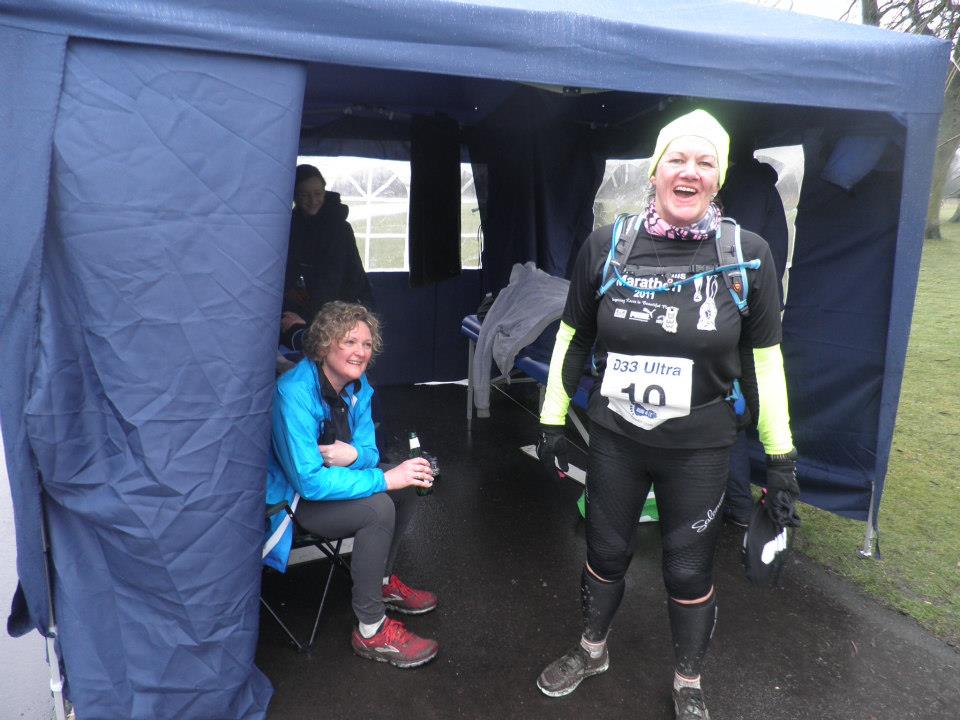 I then slithered my way, bambi –like, down a very muddy incline narrowly escaping a fall, and continued my merry way. Next thing I knew I was being marshalled across a road and being told 6 miles to go, just a wee 10k. At this point all the caffeine that the gel was loaded with kicked in with some endorphins and I experienced a rush of energy and what I can only describe as euphoric. I felt amazing! So, the running pace picked up, I passed a few more people, and I checked off the miles. As ever, the last 2 miles seemed interminable but then I was through the gates back into the park with the finish in site. A finish time of 6.42.16, better than I could possibly have imagined. I felt good and fresh, which suggests I could have pushed harder, but for me the real win was being able to control my effort, stick with the plan and get the nutrition right.This was a training run for the Hoka Highland Fling and it has really boosted my confidence in me, my strategy and my home spun training plan. Let's just hope that this was not just lucky coincidence, and that I can build on this and keep on track.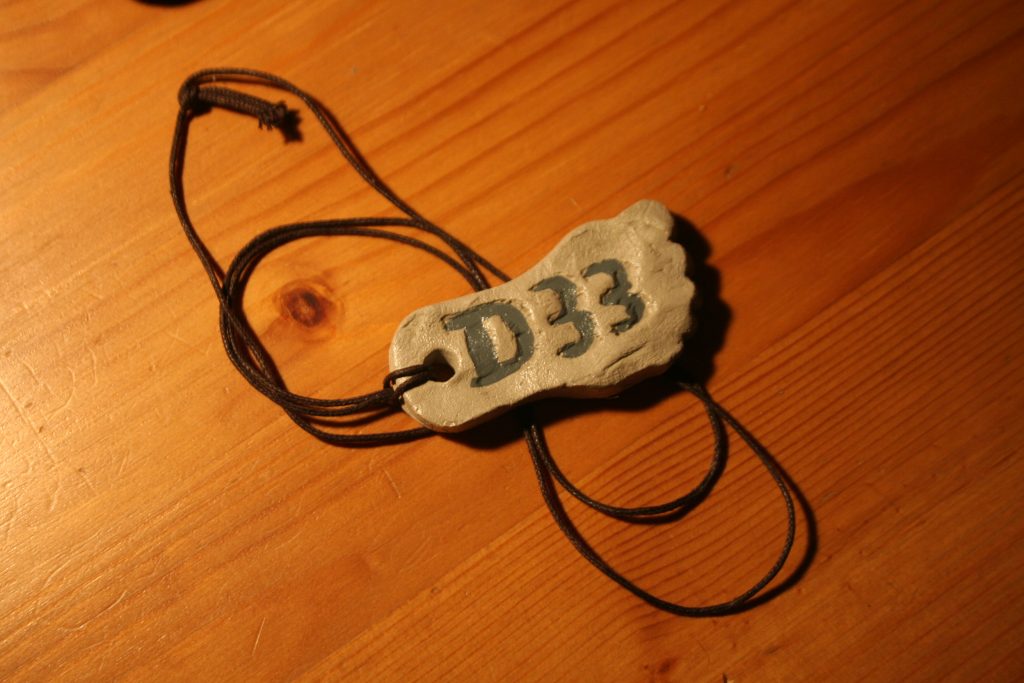 And finally, a great drawstring kit bag with treats, beer with a bespoke label, useful goodies in it; and a lovely bespoke 'medal' created from the event logo.