It is three weeks since I participated in the Glenmore 24. Work and life have conspired against me allowing no time to write. That may be no bad thing as it has given me time to reflect on the event, and try to figure out just how you write about a 24 hour event. An hour by hour, step by step account would be prohibitively long not to mention tedious.
The Glenmore 24, is as it says on the tin, a 24 hour trail race that is run on a 4 mile forest trail at Glenmore near Aviemore. There is also a 12 hour event. It is a superbly organised event by team BaM who are also responsible for the GO33 and Great Glen Ultra. Having previously done the other events, I knew that this would a relaxed, fun and well supported event, and I was not disappointed. The organisation and support were excellent and there was the usual amount of banter and camaraderie amongst runners and the support teams which is all important at events like this.
Photos: thanks to Catriona Adams and my fellow runners and Alasdair.
Friday – set Up
Tents and Pirates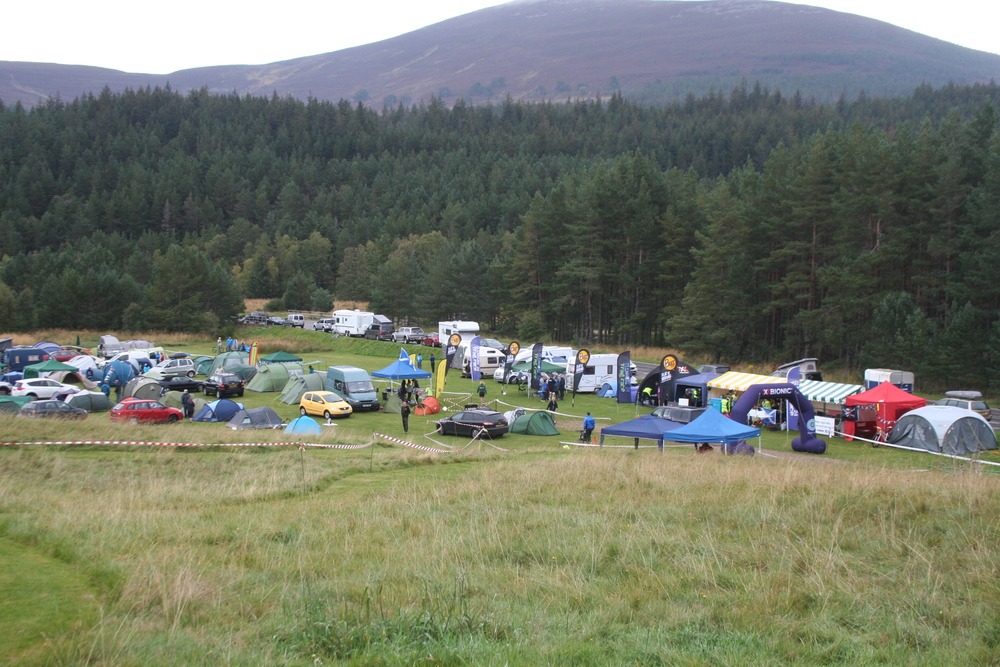 After working from early until about 1.30 pm, I did one last check on the weather forecast before we loaded up the car and set out for Aviemore. The forecast was not great and so we decided that an emergency wellie buying stop was on order. The wellies along with an extra LED lamp turned out to be worth their weight in gold.
The hub of the event is the 'base camp' that is set up in The Hayfield with part of the circuit running round the perimeter of the camp. The perimeter of the camp also forms the 'short' quarter mile circuit that runners get swapped onto during the last hour of the event.
When we arrived on Friday evening before the race the camp area was buzzing with activity. Quite a few teams had already arrived and set themselves up around the taped perimeter. We managed to blag one of the last spots against the tape, along the bottom end of the camp. This was lucky as it meant that I was able to get all my food and kit passed to me over the tape without having to leave the circuit. The tent was pitched and the bags stowed inside within about half an hour. The mild evening after heavy rain during the day meant the midgies were out in force. We hoped they would not be so bad the next day.
After setting up we then introduced ourselves to our neighbours, greeted friends as they arrived and I wondered over to race HQ and registered. We were set. Then it was a quick change into our pirate gear for the 'Pirate Party'. Yes, a pirate party. At some point via the Facebook chat-group and race page it had been agreed that a pre-race party was the order of the day and that it would be pirate themed. What an excellent idea which everyone embraced wholeheartedly. There were many varied and splendid costumes and a plethora of 'bad dad pirate jokes'. This was a lovely way to break the ice and socialise and dispel pre-race nerves, creating a relaxed sociable atmosphere.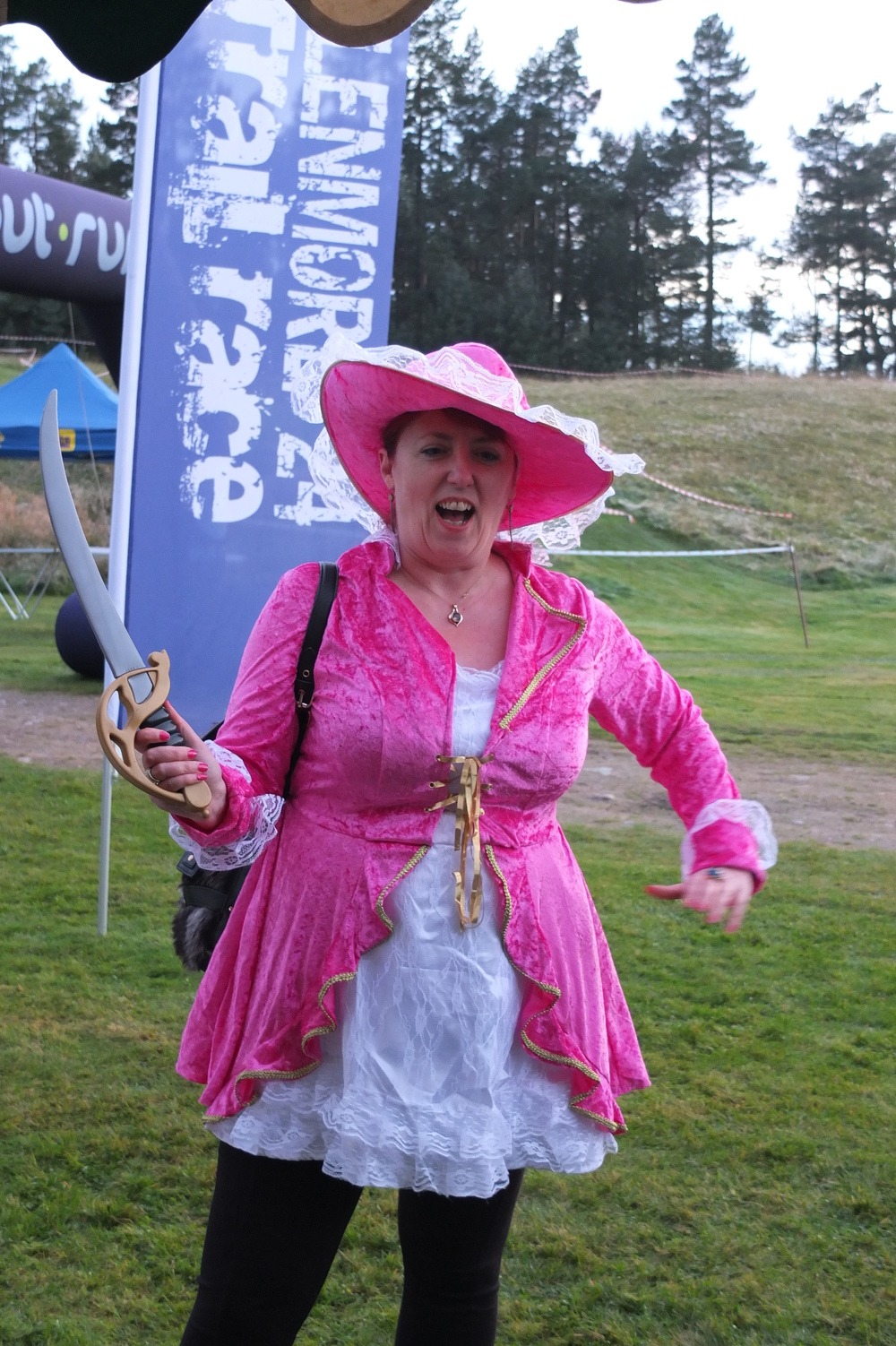 As things livened up it was very tempting to stay longer than originally planned but we stuck to plan, staying for a bit over an hour before heading back to Aviemore and our B&B. We were 'wimping out' and not camping at the hayfield overnight. It is not as if I do not have my camping credentials, but we had decided that a night in a bed was probably a good idea, since we were then going to spend well over 24 hours without sleep. As Gerry said the following morning, 'there's a reason God invented bricks and mortar'. Turns out it was a good plan. By all accounts it was a cold and wet night. We certainly felt the chill on Saturday morning as picked up some last minute supplies in Aviemore. I was glad I had had a decent night's sleep in a warm bed and a nice hot shower in the morning.
Saturday – Race Day
Getting Ready for the start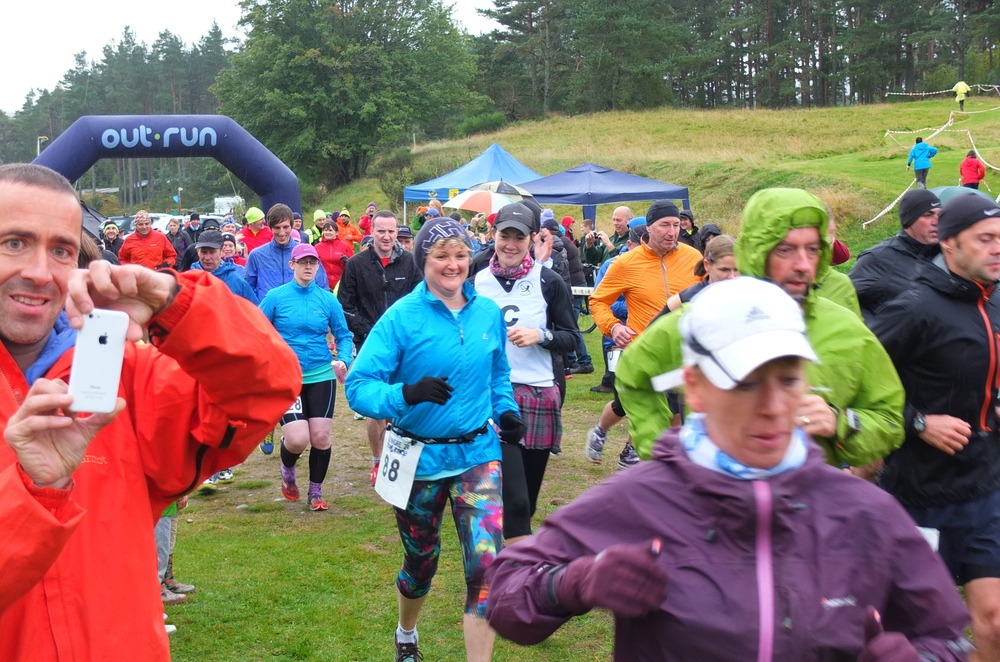 Once back out at the hayfield we finished organising the bags in the tent, set up the sleep mat and sleeping bag for Alasdair, and set up the table with various drinks and water bottles and some of the food (tubs of sweets, flapjack, cake) and gels.
We then looked over the race plan again. The plan was to keep going and not take any significant breaks. Initially, stops would be every 2nd loop, with me just grabbing something on the way past on the intermediate loops. This would then swap to brief stops every lap as time passed and assuming that I would be tiring. We also planned to work around a snack and 'meal' approach: small quantities of savoury food at the appropriate time of day; risotto, mashed potato, porridge.
Distance was not discussed, and with hindsight it probably should have been. Although I had said the main aim was to keep going for 24 hours and see what distance I could cover, I had quietly set myself a target of 100 miles, but recognised that based on my speed that was going to be quite a big ask. My mistake was not telling Alasdair that: although I was sure that I had.
A last minute tweaking of my layers and a final decision to run in my trail shoes and I was ready. The time passed quickly and soon it was time for the race brief complete with more pirate jokes. Then a few minutes for a last trip to the portaloo and a final check in with Alasdair before we assembled at the start line, just as the rain started.
Settling into a rhythm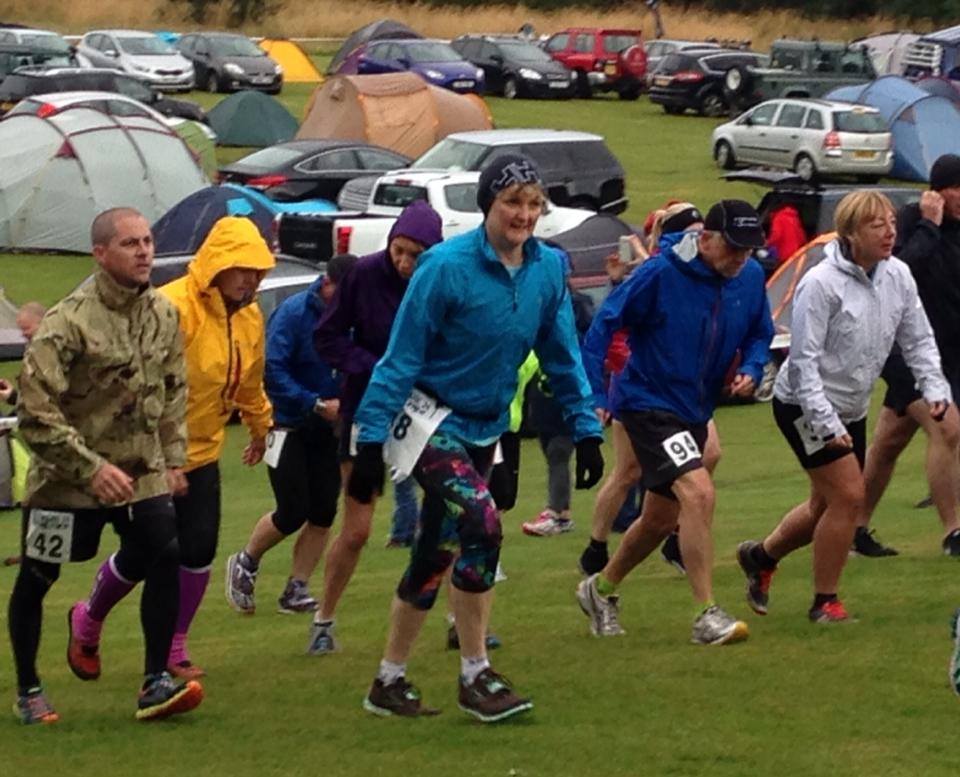 We were off, round the field up the hill and down through the trees. During the first lap we were mostly close together all just easing into our run, chatting and sussing out the route. The circuit has a bit of everything. The first mile is best described as lumpy-bumpy, mainly narrow rough path with stones, tree roots and some significant puddles which could be tricky to navigate. The second mile was on forestry track, smooth and wide with some minor undulations running along the side of the loch. This gave some nice easy running and lovely views even with the poor weather. At about two miles the track turned and started a long steady climb up to and past the water station and on to about three miles. At this point it turned again and there was a pretty downhill through forestry and woodland with some lovely rowans and the sound of a burn rumbling over stones. It then flattened out before a final short incline followed by a few stone steps that led you back down to the field.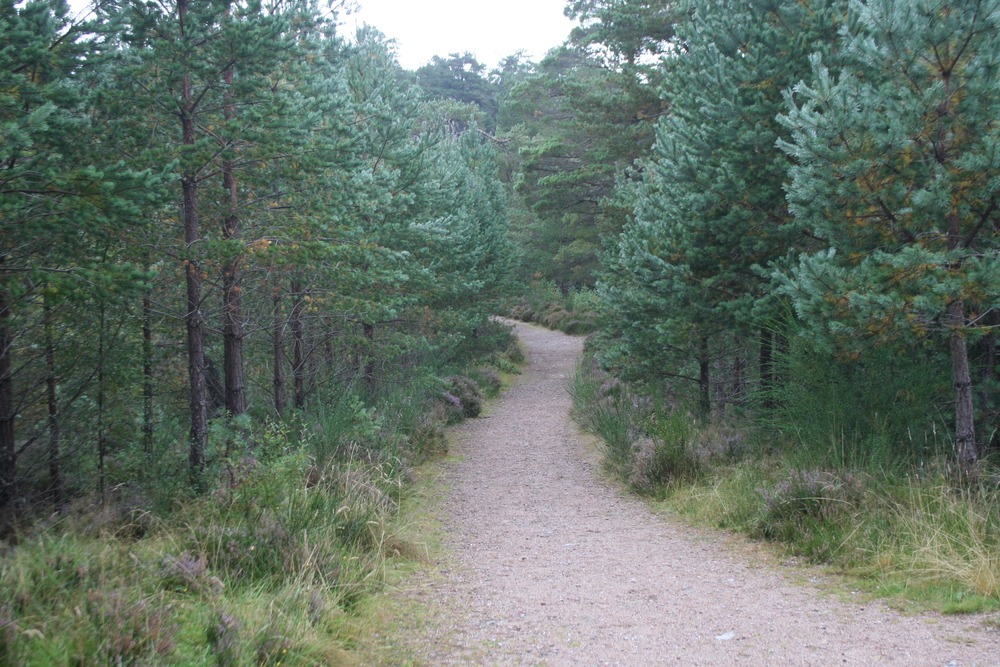 The field was going to be interesting. It was becoming pretty waterlogged and would get worse as with each circuit especially if the rain kept up. As I passed our spot in the camp there was no sign of Alasdair, but that was fine, I did not need anything. My hat and gloves were sopping wet, so I dropped them on the table calling out that they would need dried. I realised at this point that drying wet bits of kit was going to be problematic, and so I was going to have to come up with a plan with regard to clothing, socks and shoes. The rain eased a bit for now, but the weather was going to prove to be a significant factor.
The next couple of laps were about further familiarisation and starting to identify my visual markers for my running and walking sections, knowing that as time wore on and as I got tired there would be undulations that I was happily running now, but would probably want to walk later. I then settled into an easy and consistent pace, taking as brief a stop as possible going through the camp lifting something to eat each time, and taking water at the half way station, and notching up the laps.
4 seasons in one day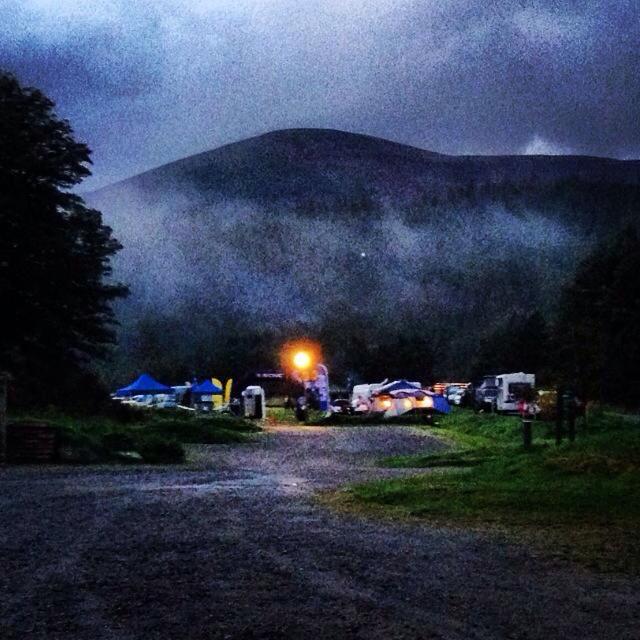 Now, back to that weather. We got a bit of respite and even a brief period of sunshine at which point I flirted with the idea of changing into shorts, but during the next lap the sky darkened and just as I was coming back into the hayfield we got battered with a heavy and fierce hail storm: hailstones the size of small peas!! Ouch, ouch, ouch!! I huddled against Alasdair under the golf umbrella for a minute or so before striking out again with half dry hat and gloves. During the next lap the hail stopped and was replaced by loud thunder rolling through the valley. The rain continued on and off but gave us some respite during the evening, but then is started up again in the early hours and rained pretty steadily until not long before the finish. The temperature dropped, and the darkness was intense with no hint of the full moon that was hidden by heavy cloud.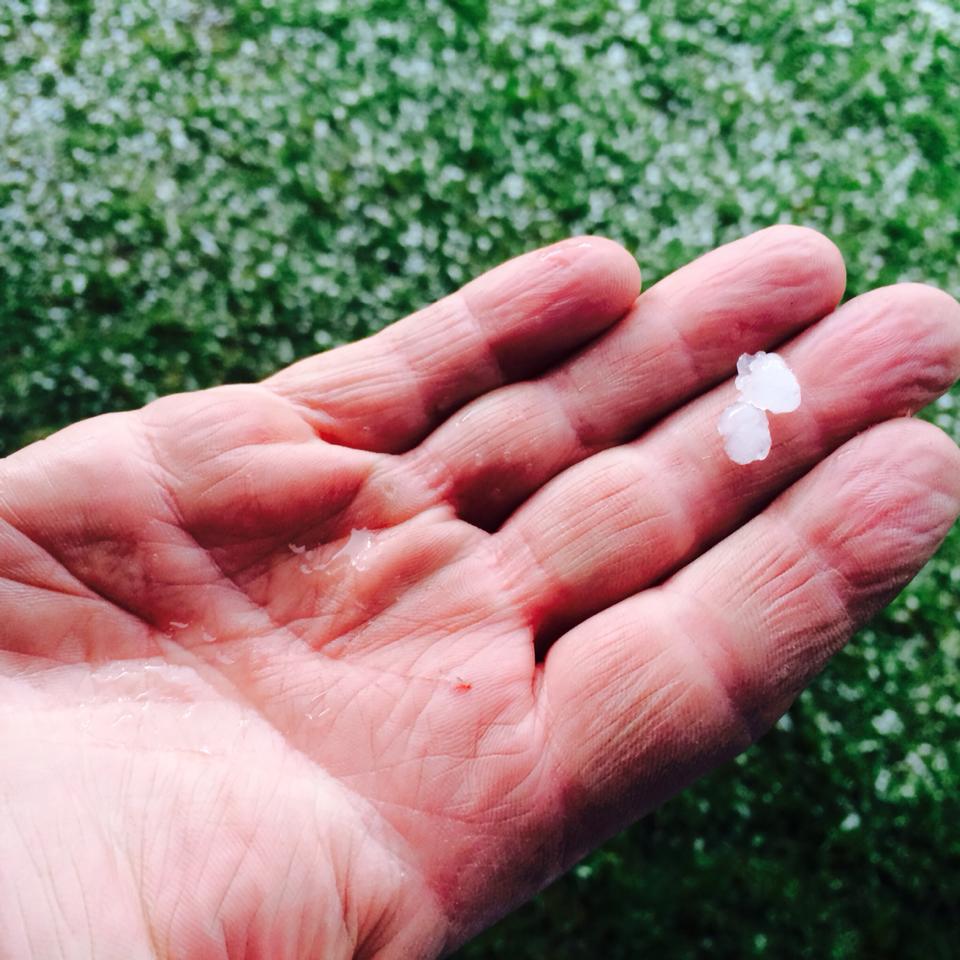 Alasdair's comment: 'You really know how to show a guy a good time. Plague of midgies, thunder, hail, flood all we are missing are the four horsemen'.
Between the rain, hail and constant foot fall the hayfield became a muddy water logged swamp. I quickly realised that changing shoes and socks was going to be a futile exercise. My feet would warm up and start to dry off, but then the moment I was back at the field my shoes filled with cold muddy water. Clothing was not much better. As with the shoes, I made the decision just to stay in the tights I started in. I changed my tops once just before it got dark. After a 'nudity alert' to our neighbours I wriggled out of my tops and struggled out of my crop top only to find it even harder to pull on the clean dry ones over cold damp skin. There would be no more changes.
Al Running Gannet wandered by just after I was decent, asking Alasdair if I was being nice to him. Of course I was; he had just had the chance to 'cop a feel': how many race support get that.
There was no point stressing; the weather was what it was. A case of put up and shut up. It is early autumn in Scotland and you have to expect anything. We would muddle through as best as we could. It may have been miserable for me, but I think it was worse for Alasdair standing and sitting around getting cold trying to keep the rain off. It was not easy trying to keep food dry and prepare food in the pouring rain. He did not take any time to sleep and was there waiting for me at almost every lap.
Darkness falls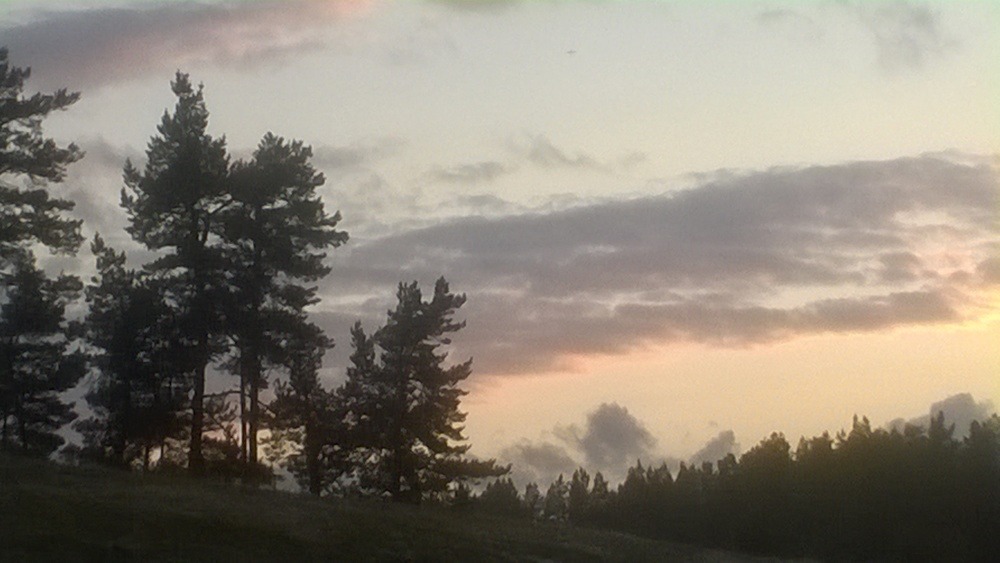 At about 8.30 pm the head torch was on. For some odd reason I opted for a small lightweight head torch rather than my larger more powerful one that I wear round my waist. I suppose I could not be bothered faffing about getting it on in the wet. My pace slowed significantly in the dark. Picking my way over the lumpy mile with all the puddles, and then having to take the rougher sections downhill a little slower added a good 10 minutes onto my laps. Should I have used the brighter torch – yes – especially when there was no moonlight. Thinking is always impaired when tired and I did not think to pick up and use the other torch, and nor did it occur to Alasdair. One positive from the poor weather was that although I was stopping at the camp on most laps, I was not tempted to stop long. I just kept plugging away, knowing that as long as I was moving it was good.
Apart from my frustration at slowing down and losing count of my laps I was actually going OK and seemed to be getting enough food and fluid on board and was not getting any niggles. Just taking it steady and hoping that I would not crash. As time went by the field spread out, especially in the dark, and I was pretty much keeping my own company, listening to my music. As I was passed and passed there would be a brief friendly exchange of encouragement, and there was always a cheery, supportive exchange of banter at the water station manned in turns by pirates, parrots and 'regular' marshals.
Glow sticks were placed round the course adding little pools of warm, friendly light in the darkness.
We had bought some 'glow stick' accessories including a necklace which proved invaluable to Alasdair as it meant he was able to spot me coming round the field. There was a glow bunny ear headband too, but being a bit wet and miserable I did not feel inclined to use it. I probably should have. It would have added a bit of cheer. Alasdair used some small Glow rings to decorate the tape at the tent and also to mark the guy ropes of the next door tent after tripping and going down full length.
12 hours in and the wee small hours
I had no idea of the time although became aware when it was approaching midnight and the end of the 12 hour race as I sensed the excitement of the runners about to finish. Then as I came into the camp at the end of another lap there was a buzz and liveliness and a cheery light from all the head torches as most of the 12 hour racers were on their short laps. By stark contrast the next pass there were no runners and the camp eerily quiet and dark.
Now we were into the wee small hours and the rain was back. It was lonely out there. There did not seem to be many of us and we were well spread out. I focussed on trying to keep the pace steady, not tripping up, and wondering why on earth I did not think about the darkness when setting my visual markers. Quite a few were not that visible in the dark.
I became more aware of being lapped by the faster runners, and I got fixated on trying to figure out how many laps I had done. Why had I not kept count, and why had I not specifically asked Alasdair to keep track.
It was quite lonely for Alasdair too after the 12 hour race finished. Our immediate neighbours were both 12 hour racers who quickly couried into their tents out of the wet and cold, as did most of the 12 hour runners. Alasdair had hoped for more company and chat, and we are sure that had the weather been better it would have been more sociable with people moving about between tents and through the camp, and there probably would have been a bit of a party atmosphere. He said it was strange to hear the camp fall so quiet and to see tents go dark one-by-one, and then to hear the quiet splosh, splosh every now and again as a runner came round the field.
Having become totally obsessed with my laps I started to try and find out how many I had done. I knew I could not ask Ada for fear of the cattle prod and disrupting the process. I could not see the board as I passed race HQ. I asked Alsadair if he could find out. Next lap through and he had not been able to find out, I asked Noanie if she might be able to find out: next lap and she said there was no up to date information, but said I was going well and to keep it up. Noanie was great, there supporting John, but offering constant enthusiastic encouragement to all the other runners too.
I sensed I was slowing a bit more, and my right foot, ankle and knee were giving me quite a lot of grief on the downhill. This was a mile where I had been relying on picking up the pace, and I was anxious that I was having to take it easier.
Still obsessing about the laps: you have to obsess about something in an ultra: I eventually asked Bill on my way past. He would find out. I needed to figure out if I could afford to be slowing up as much as I seemed to be. It was not a case of hit the distance and stop, or of giving up; it was a case of did I need to, and indeed could I push any harder. Alasdair kept reminding me that my main focus had to be avoiding injury, because I must not risk the Volcano Marathon: that has to be my 'A' race this year.
The final hours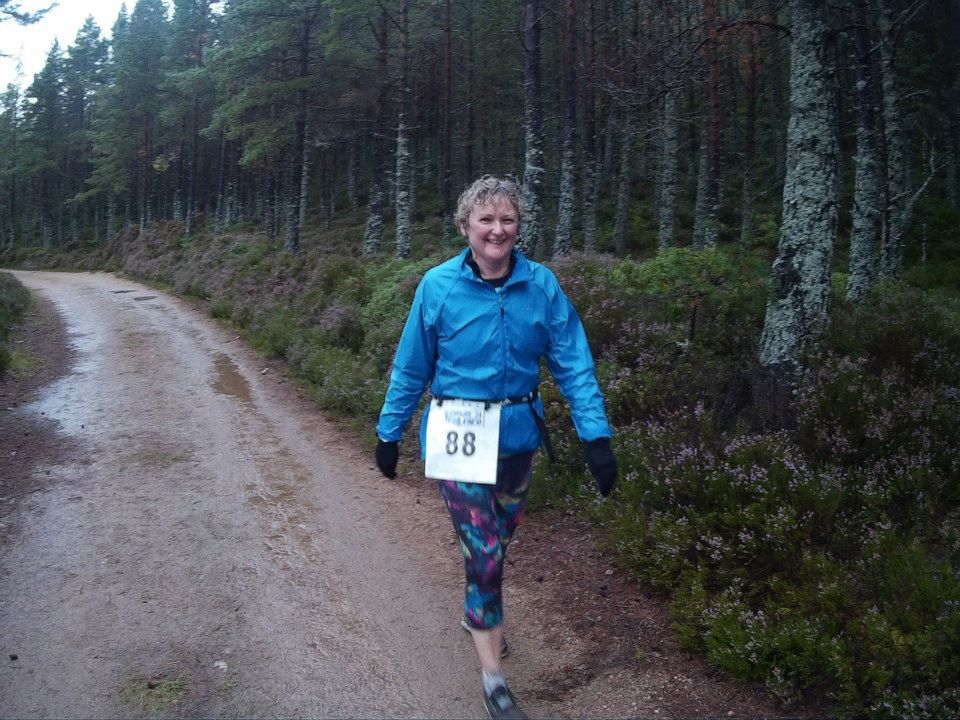 True to the saying, it is always darkest before the dawn. There were two laps where it seemed to be even darker and I was struggling with the head torch. It just was not producing enough light or a wide enough beam or pool of light. Were the batteries running low? I took a hand held led out with me, and even it was struggling to provide enough light.
Bill eventually got back to me, but would not say how many laps I had done, simply that if I kept going it would be possible to hit my target: I had plenty of time. That was about 6 am. With hindsight, the problem at that point was that I was not as many laps up as I assumed, I was covering the laps slowly, and I was not able to regain any speed once it got light.
I was starting to need longer stops too, and quite rightly Alasdair was insistent that I take on more food (porridge and cheesy mashed potato) and warm drinks.
The head torch came off.
The camp began to stir a bit.
It was close to the finish and I knew that I would only get one more full lap in, so I plucked up the courage to ask Ada how many I was on: 22. I cannot deny that I was bitterly disappointed, and had really hoped that she was about to say 23 (maybe even 24). Angry with myself on so many counts I grumped my way to Alasdair considering what to do. It was all totally illogical: if I had stopped less often in the camp and for less time, if I had gone faster, if I had walked less. The one thing I was not taking into consideration at this point was that I had known from the outset that 100 miles was going to be a big ask, and that the conditions had slowed me, and everyone else down. Alasdair did not need to do much cajoling, the fighter in me took over and I headed out for a last lap determined to pick up the pace and do a creditable last lap; and it would be a last lap. I was not going to bother with the short laps.
On the final decent I bumped into Robin Wombill coming in the opposite direction. I vented my frustration and said that I was stopping after this lap: he said absolutely not and that he expected to see me on the short laps when he got back to the field, and that I was absolutely not to stop until the final horn went. Of course, I didn't stop, I did the short laps and they gained me an extra 3 miles. The support in the camp was amazing. We were getting cheered all the way, our efforts generously recognised. The final confirmed tally: 95 miles and 4th lady. I had completed my first 24 hour race with no significant stops. Job well done.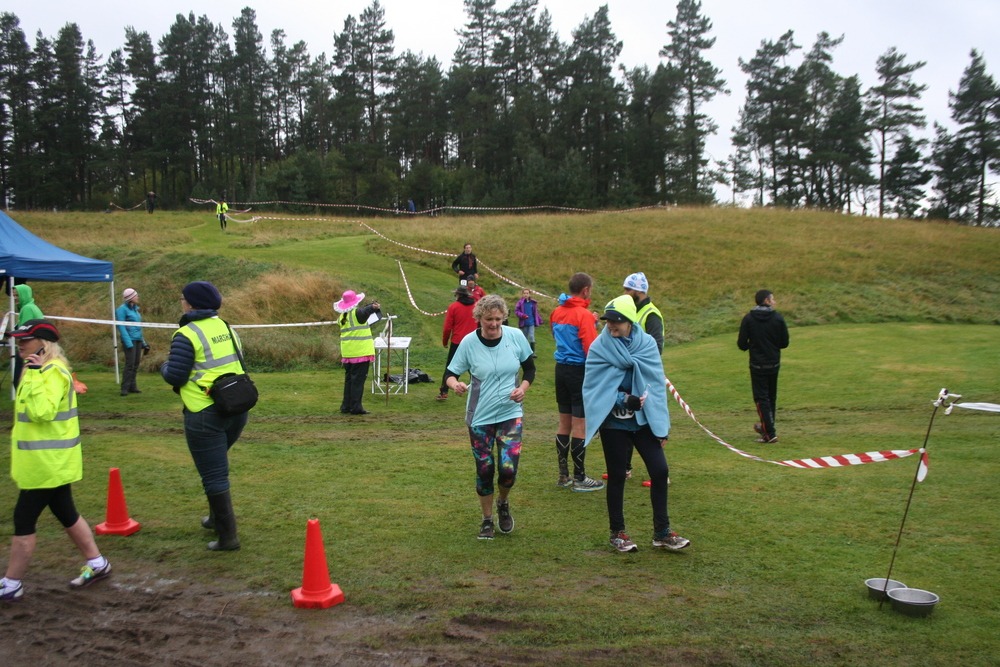 Finale & some well earned luxury
What a race. Everyone was soggy and weary, but happy to have achieved and survived. The sense of achievement more special for having battled the elements. We would be joking and dining out on this for some time.
We dismantled out little camp and waited for the presentations. I had not changed and was getting very cold and then had a wee blip getting rather light head and nauseous. A brief trip to the first aid tent to get checked out. All was fine, it was to be expected after that. Main advice was to go and get changed ASAP, which I did. It was hilarious, trying to negotiate getting into the tent, wriggling out filthy wet clothes and into clean dry ones with a rapidly stiffening body. Needless to say my shoes and socks went straight into the rubbish bag.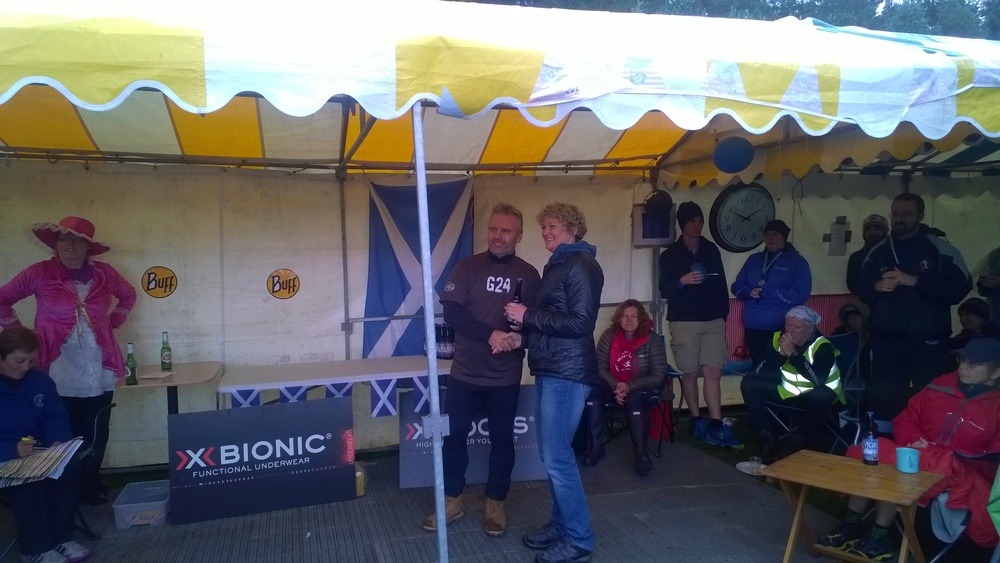 More pirate jokes and banter at the presentations. I do like it when an event like this ends with presentations for all runners. It provides the opportunity to acknowledge everyone's efforts, runner, marshals, support and organisers.
Afterwards, for us it was off the Old Ministers House guest house in Inverdruie, for a bit of R&R and luxury. A hot bath, big fluffy towels, duck down duvet and pillows, freshly ground coffee, tea-pigs, home-made biscuits and sherry all in the room. After a rest we managed to drag ourselves along the 10 minute walk to the Old Bridge Inn where we had a really delicious meal. After pre-dinner gin and tonic, a hearty meal and half a bottle of wine I was literally falling asleep at the table. We meandered back to the B&B and were in bed for 10 pm and out like a light. I had the best sleep ever, not waking until 7 am. After yet more amazing food with eggs benedict to die for we wound our way back to Glasgow.
Surreal Moments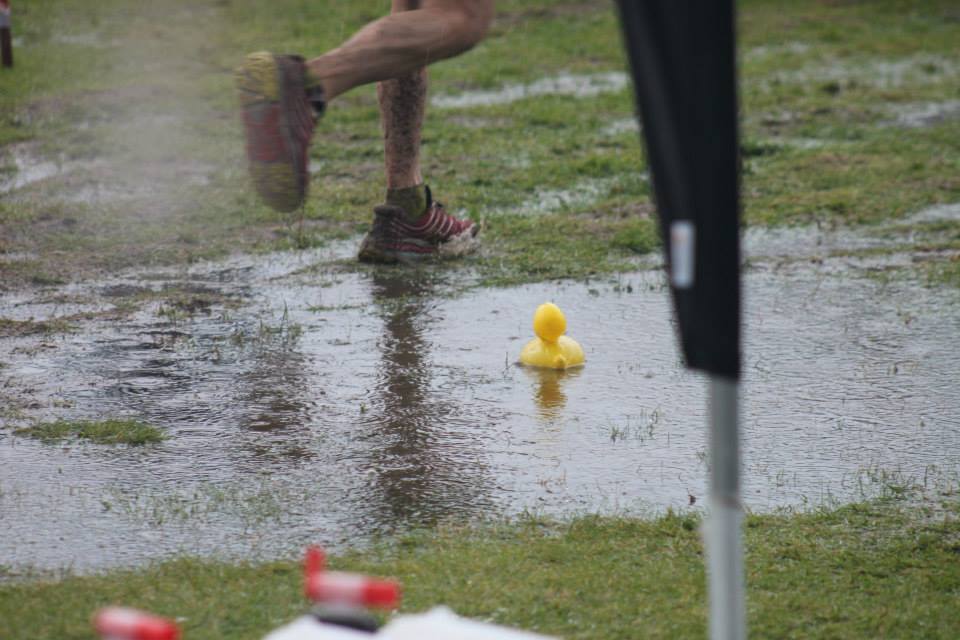 There had been some surreal moments during the race, and we are not talking about my chimp running rampant through the trails. In fact my chimp was under control for the entire time.
The weather was definitely surreal, biblical even. I certainly did not expect to be battered by hailstones, or to see a hailstone ice bucket for beer.
Finding a congregation of pirates in the middle of the Scottish highlands must have seemed surreal to anyone passing. It was also quite odd being greeted by a large singing parrot at the water station in the early hours of the morning.
The walking portaloos as witnessed by Alasdair left him thinking he was hallucinating, and I found the glowing portaloos a bit disturbing. Thank-fully that was not the result of toxic waste but occupants wearing head torches.
Then there was the plastic duck swimming in the puddle.
Most surreal of all, was John Duncan impervious to the cold and rain running in tiny, very 'daz' white shorts (which remained white: did he have an endless supply of clean ones?) and rhinestone embellished vest!
The Good the bad and the ugly and the benefit of hindsight
The good thing about having had three weeks to reflect on this is the benefit of hindsight and rational thought.
Managing to get 95 miles in my first 24 hour event in poor conditions was actually pretty good going for me. I do, however, know that I can get the ton, so I will be back next year chasing that.
Keeping going and keeping up the food intake and not giving in to tiredness: good
Buying wellies and an extra lamp: genius.
Hot, cheesy mashed potato is the food of the gods and the best thing over.
Cold wet feet for 24 hours: bad. Feet after 24 hours of being wet and cold: ugly.
Losing count of the laps: bad, will have a system next year.
Poor visual marking: bad, but next time I will use the glow-rings.
Glow sticks, infact anything that glowed: ace.
My race support: bloody brilliant. General support: bloody brilliant too.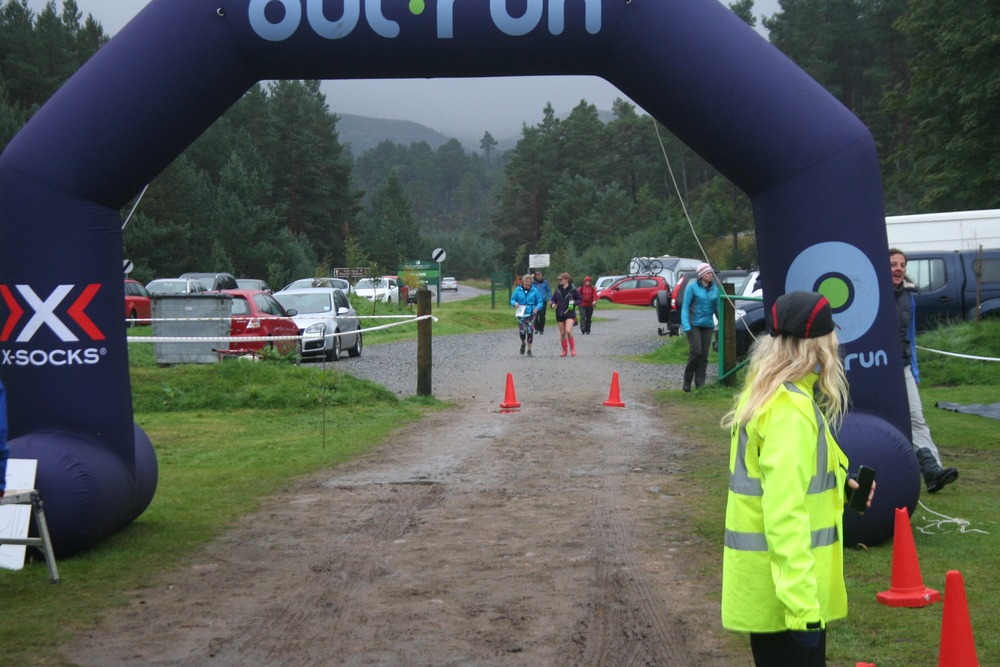 Pre-race pirate party: brilliant idea. Pirate jokes: so bad. Parrot and pirate singing duo, and pink velvet clad pirate at the water station: awesome.
Glenmore 24: good, bad and ugly at times, but a totally awesome experience.