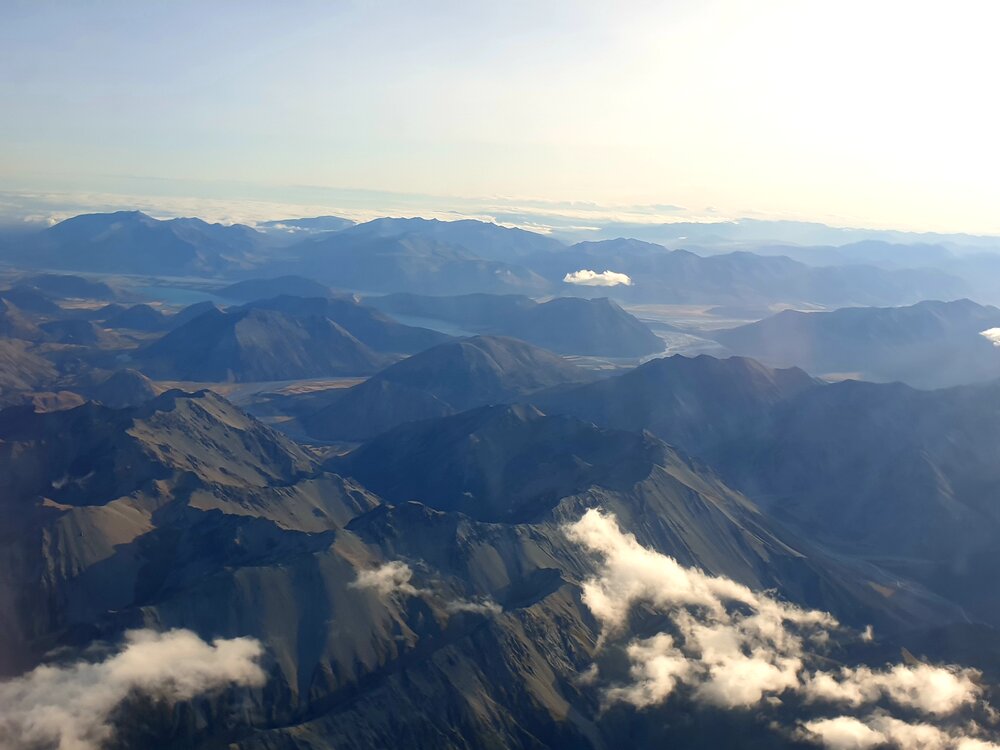 The Global Odyssey has reached another milestone after a stormy period in rough waters. On 8th February 2020 I ran Global Odyssey New Zealand 100k to complete the Oceania stage of the Odyssey, leaving just one continent to go. A week later I ran a marathon achieving the Global Odyssey's secondary goal: to complete a marathon on all seven continents. 'Well chuffed' pretty much describes the feeling. Little did I know that this trip was but a lull between storms. As I write this we are in the grip of Covid-19 and in lock down, all races and events cancelled or postponed and all plans for completing the Global Odyssey on hold.
I had all but given up running over the summer and into the autumn as I weathered to storm of the loss of mum. Eventually I decided enough was enough and it was time to set a goal. That goal was the Oceania stage of the Global Odyssey. My brother-in-law and his wife live in New Zealand which made it the obvious destination. Some much needed time away with family and a ready-made support crew. Keen 'trampers', their knowledge of the south island trails was invaluable and they helped me select two excellent routes which fitted my criteria in terms of interesting and challenging runs and which had good access for support.
Getting back to fitness and increasing my mileage for February was testing. There was barely enough time and little or no contingency for missed training sessions. Winter has been mild but very wet and quite literally every long run was done in the rain. It proved expensive too: my MP3 player drowned in a waterproof pocket that filled with water, and on the next long run my headphones took a dive somewhere along the way. I departed for New Zealand knowing that I was short on speed, and with rather less miles in my legs than I had hoped. Alasdair helpfully pointed out that I HAD to finish as it was an expensive and long way to go for a re-run should I fail. No pressure then.
We arrived in Christchurch on the eve of Waitangi Day, the National Holiday of New Zealand. It was a good day for some R&R and a gentle walk around nearby Godley Head where Alasdair got some military history in the shape of the old WW2 batteries.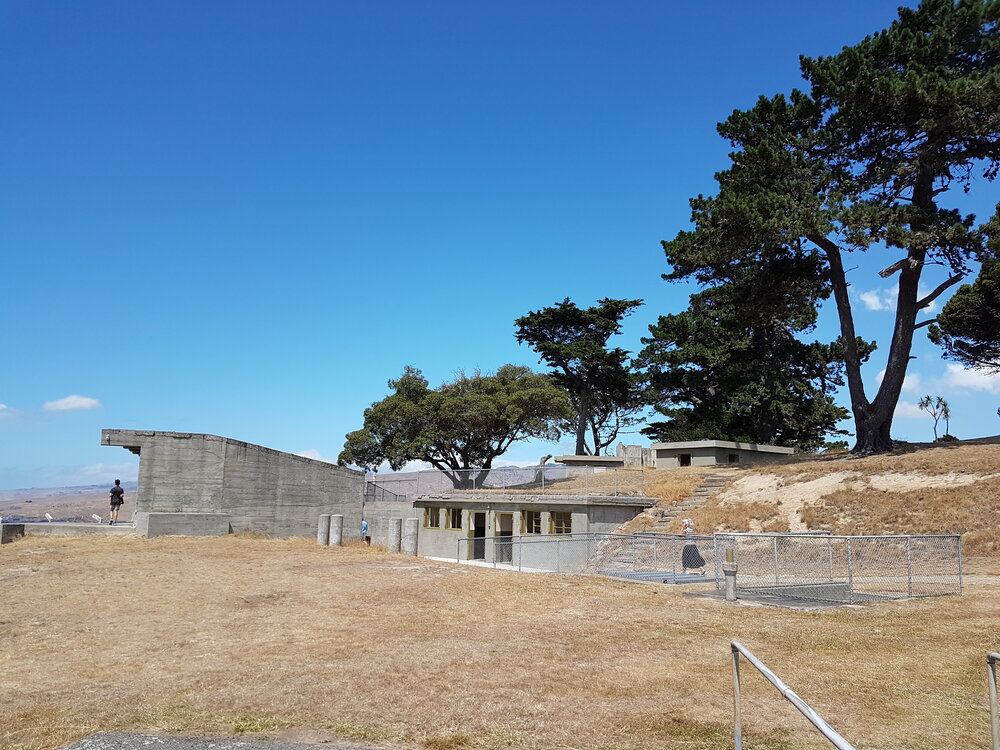 Next day the four of us headed south to the Otago district and the town of Alexandra the start point for the New Zealand Global Odyssey 100k. I was going to run a section of the Otago Central Rail Trail from Alexandra to Waipiata. It took the whole day, but with fantastic landscape of rolling farmland, mountains, glacial lakes and rivers, frequent coffee and photo stops it was no hardship.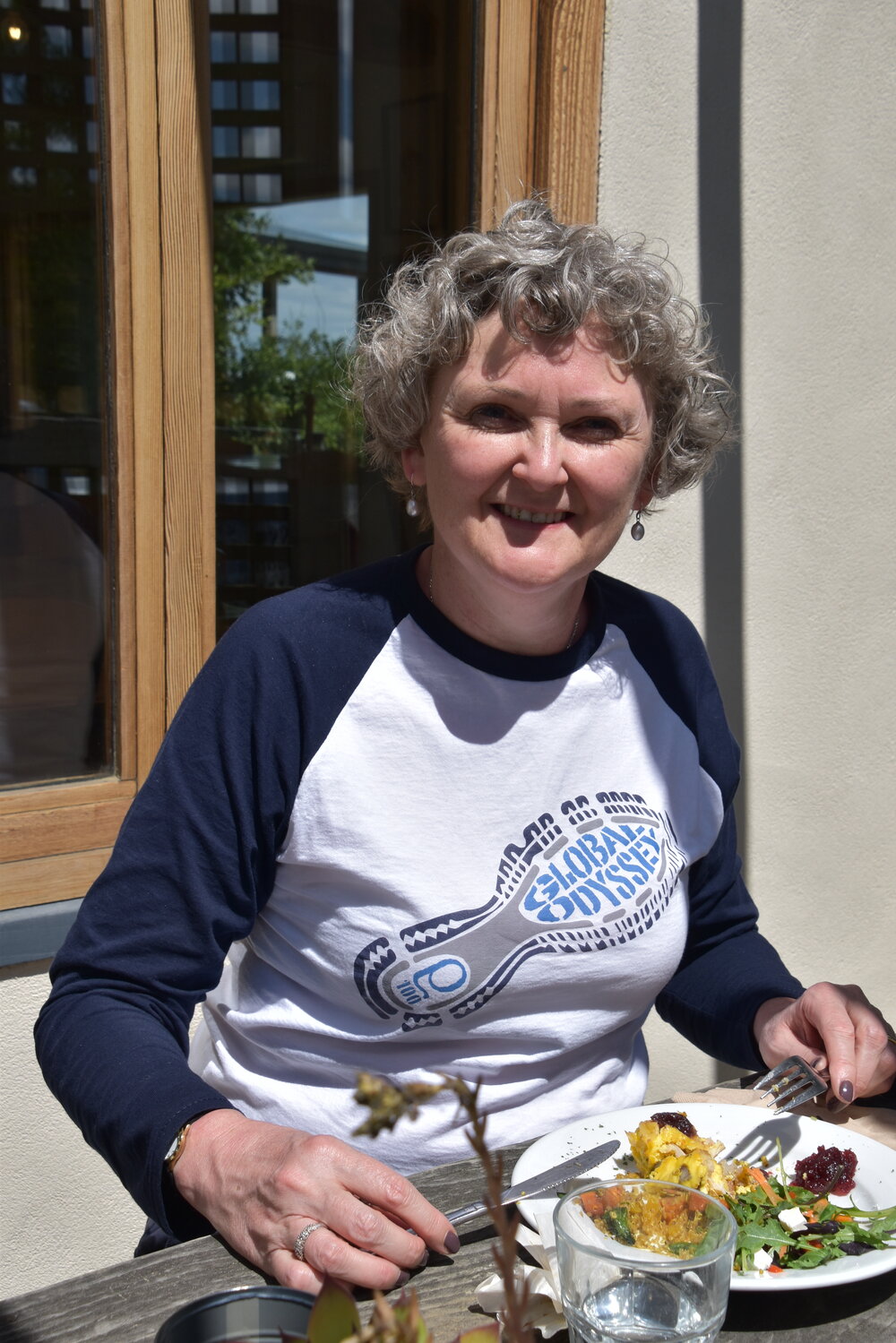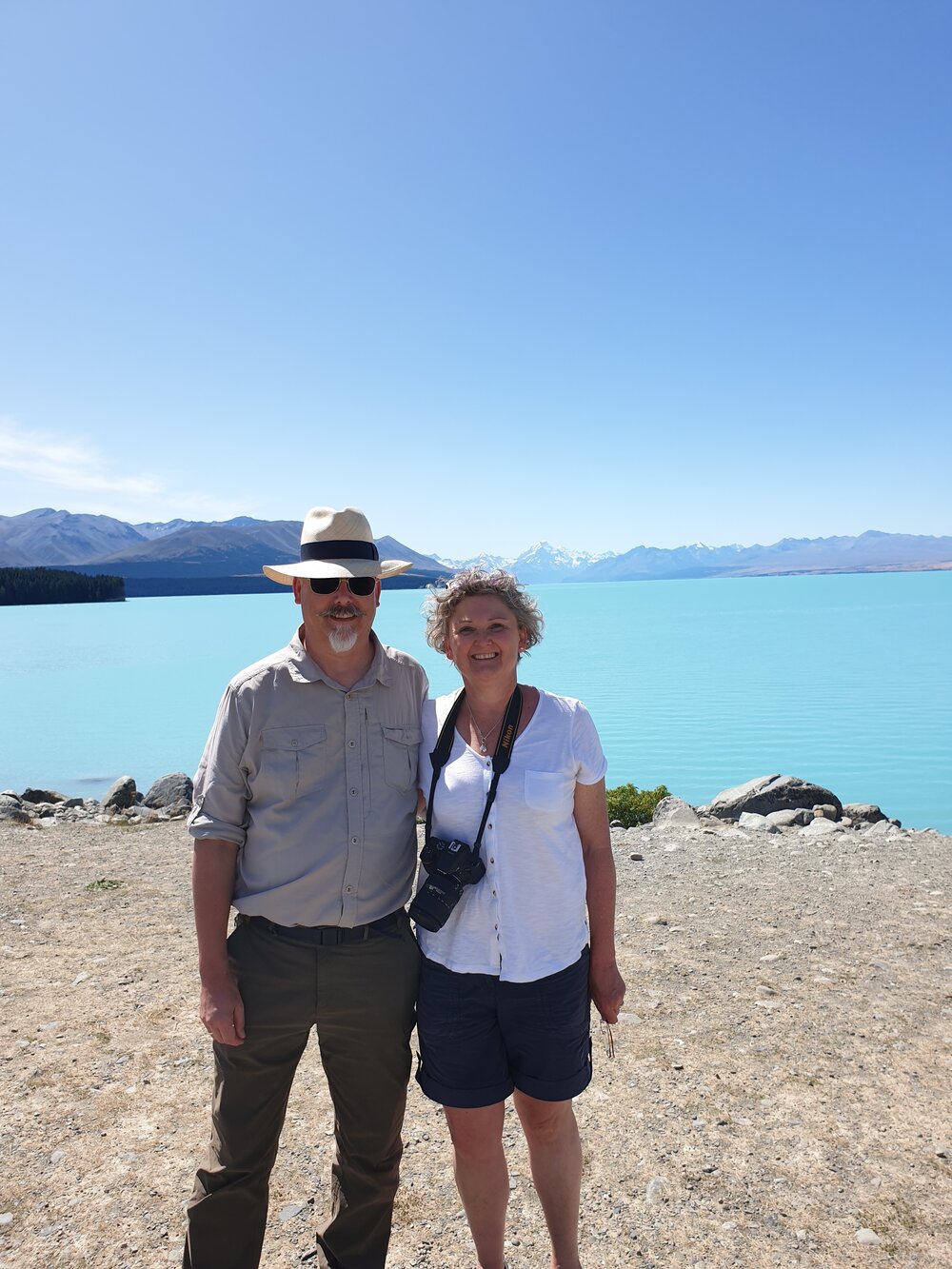 The house we had booked for the night was really well provisioned and luxurious. We settled in for a relaxed evening and supper before an early night. As the house was my designated start line it meant the others could have a more leisurely start.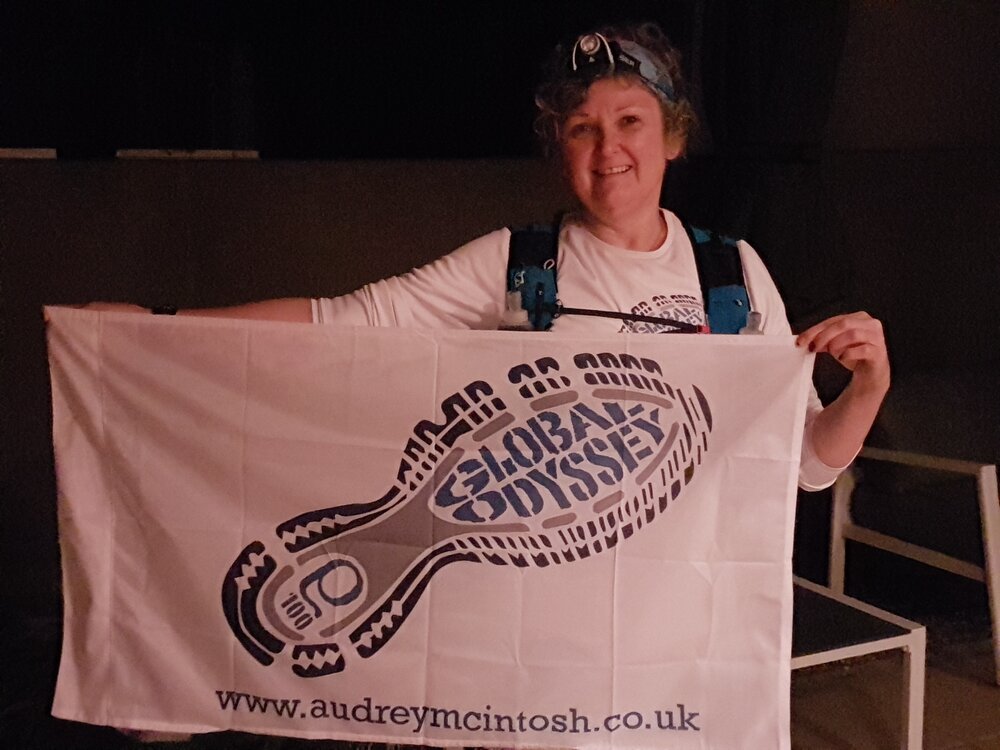 It was the normal 3.30 am alarm for myself and Alasdair (who passed on the lie in, to record the start). We quietly organised my breakfast and checked my kit then Alasdair set me on my way at 5 am. As I ran past the house for the 3rd time unable to find my way out of the estate in the dark, it occurred to me that a route recce from the house to the track the previous evening might have been a good plan. Eventually I found my way out and through the silent town to the point where I could join the track.
No further navigation required, just follow the trail now with the old stations providing convenient check points. Oh, hello, good morning Mr Hedgehog. Endangered in the UK these little guys are plentiful pests in New Zealand and here was one was toddling along the trail. Dawn broke just as the trail and landscape opened out to reveal a vista of rolling farmland and distant mountains.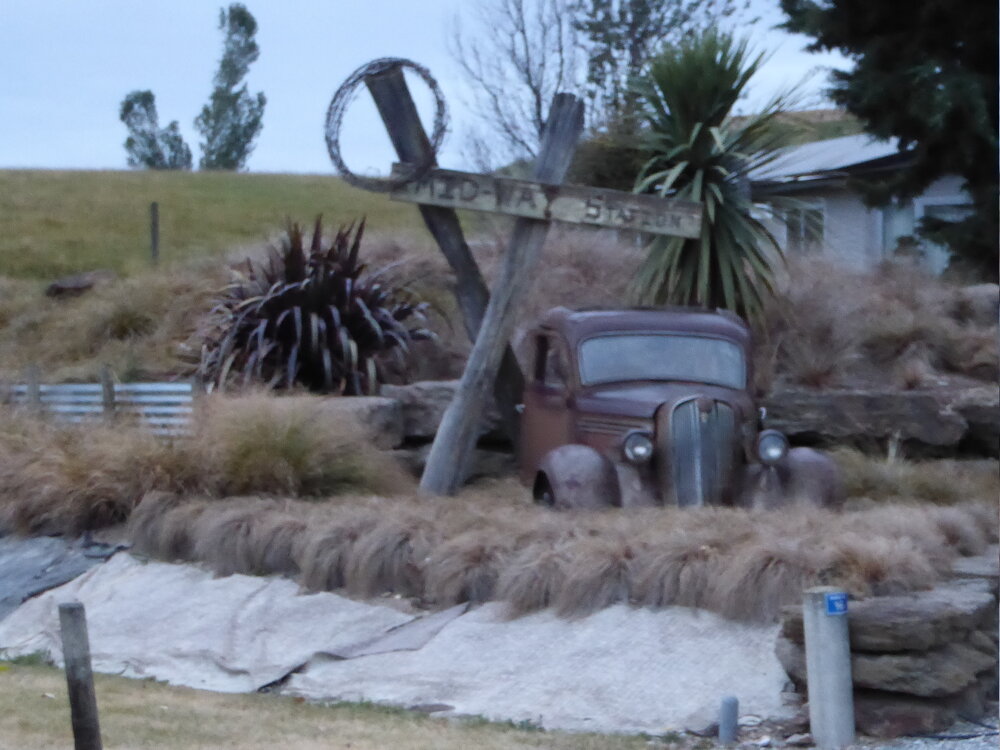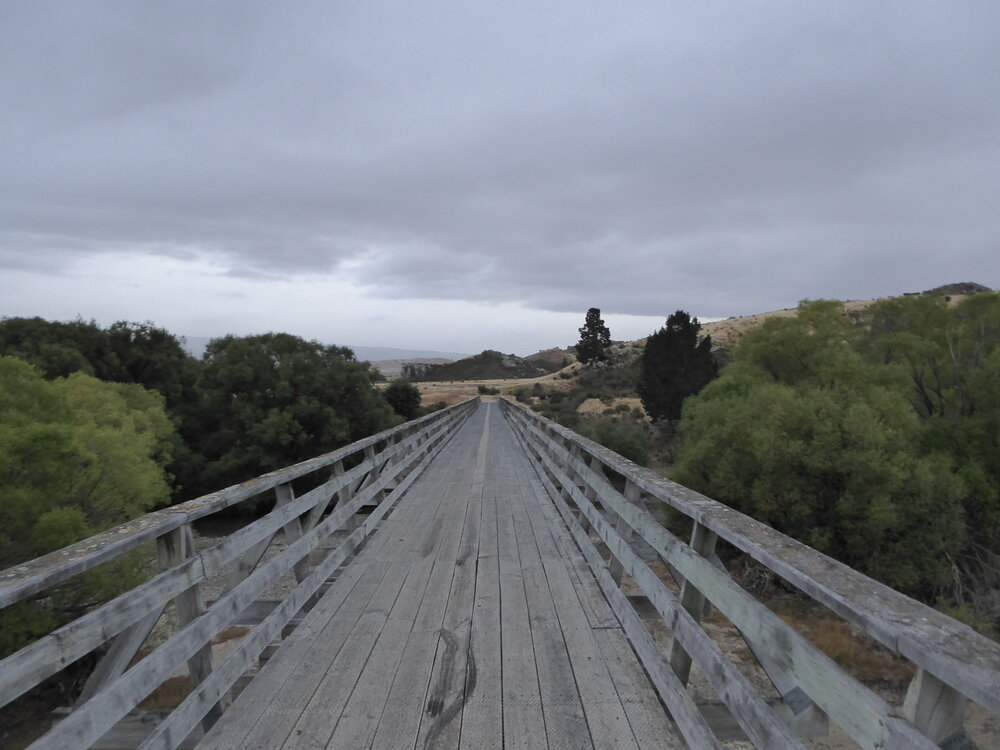 I had the trail to myself and the dawn chorus for company. I crossed the lovely Manuherikia No. 2 Bridge and then followed the gorgeous willow lined Chatto Creek and experienced the heady aroma of the thyme spread over the rock formations on the right. As I arrived at Chatto Creek I saw my first possum running through a field. They are bigger than I thought: large cat or small dog sized.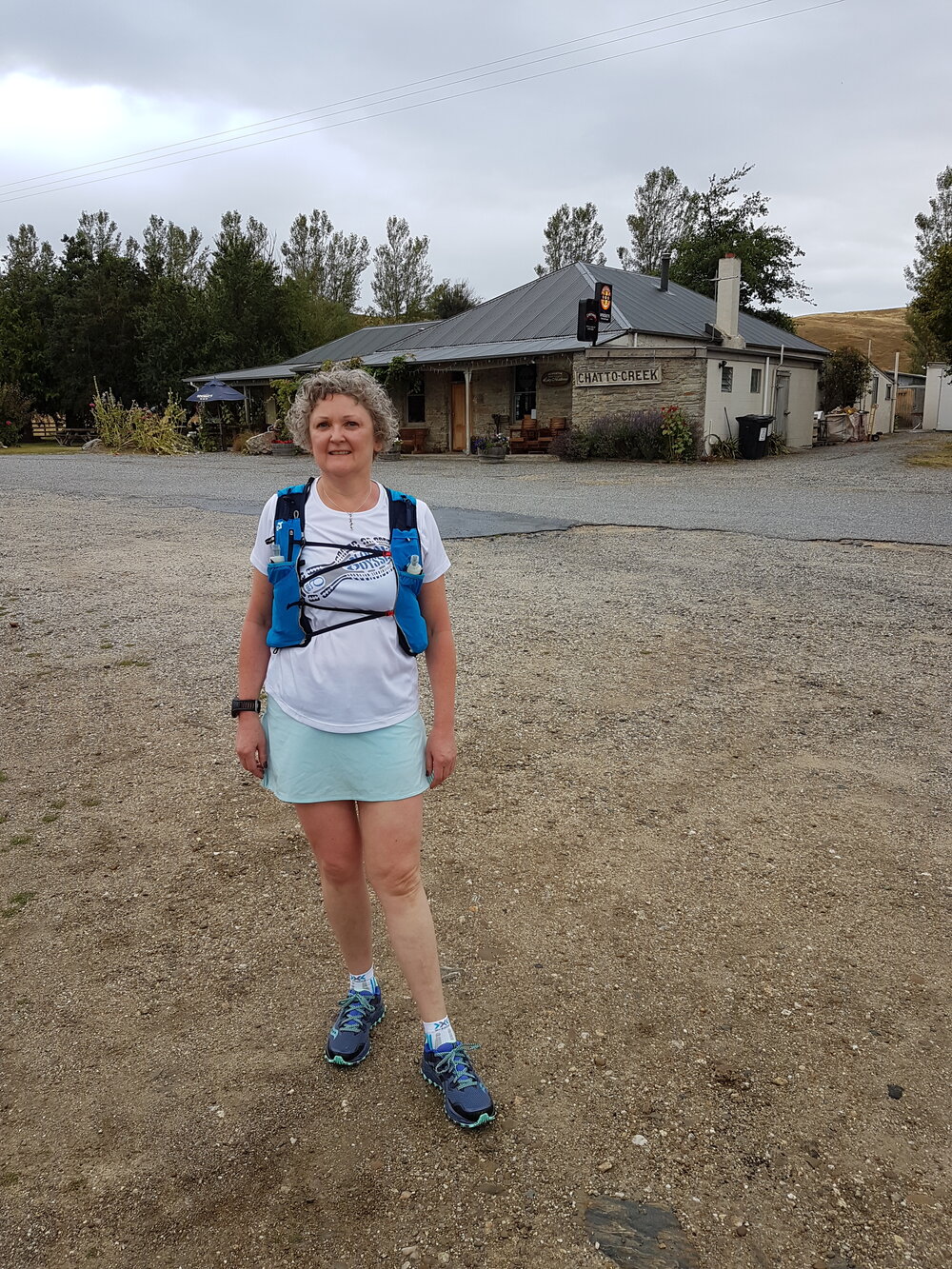 That had been a steady comfortable 20k and I was bang on schedule. A rather embarrassing dash into the undergrowth was required just as Calum and Pat arrived, but other than that I ate and stocked up on snacks, including Pat's excellent flapjack; then set off in good spirits just as it was starting to drizzle. Over the next two stages to Omakau and Lauder the drizzle changed from light rain to heavy rain. What is it with the rain: can a girl not get a break? It did not dampen my spirits as I clipped along at a steady pace enjoying the small pleasures: the random fruit trees seeded from cores discarded from train windows, the birds, and the damp green smell of the earth. A few cyclists started to appear encouraging me on my way and apologising for the weather. At Wedderburn my trusty crew were entertained by a Ukulele concert. I mean, why wouldn't there be a ukulele concert in the middle of nowhere.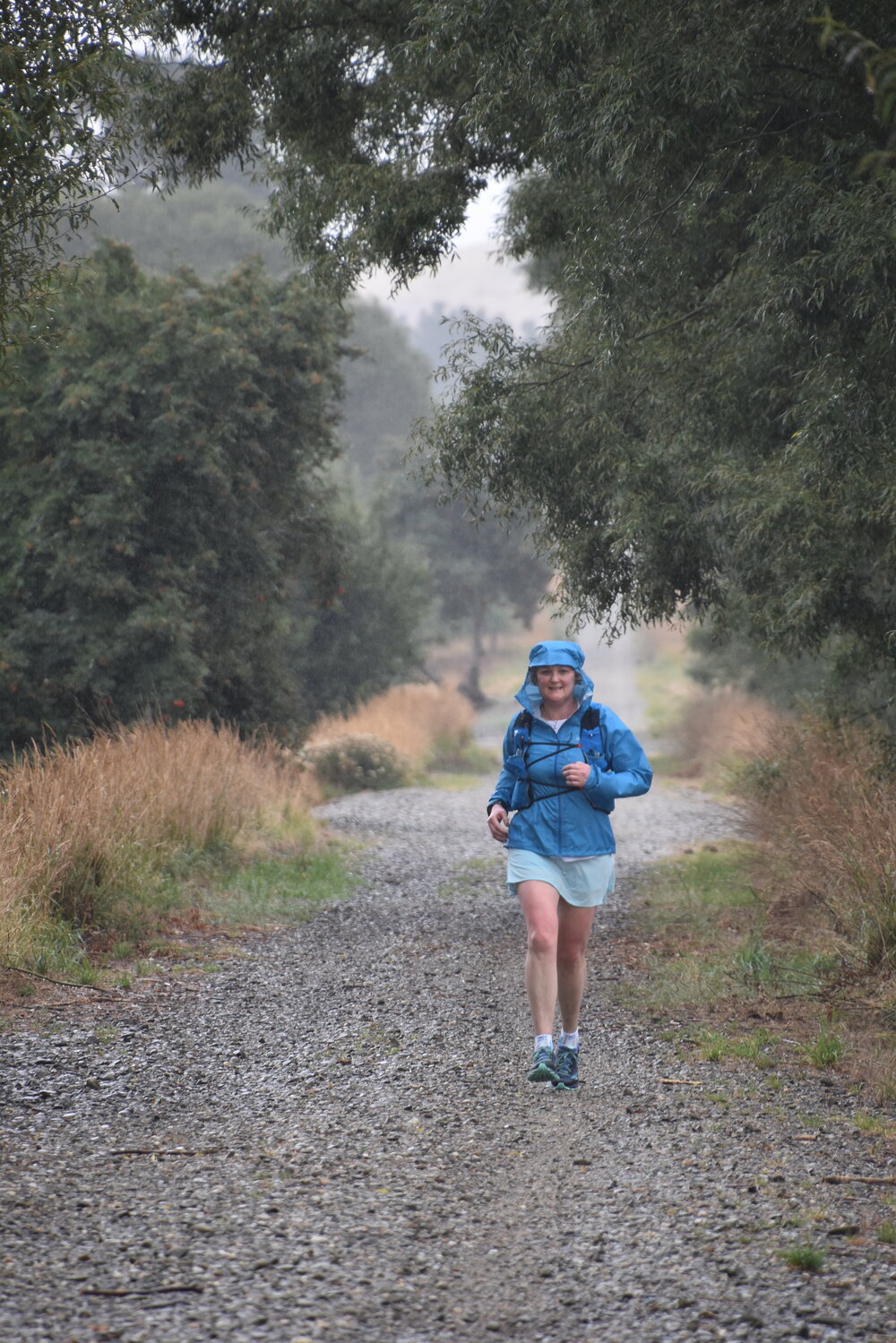 The next stage was another longer 20k section to Oturehua which would take me to well over halfway; 59k. Assured by Calum and Pat that the rain was due to stop within the next hour and that this section was really pretty I set out in good spirits. Just as the rain stopped I reached a large trestle bridge; whoa! Vertigo trigger. Deep breath, and go for it. Next track highlight Poolburn gorge and a couple of tunnels. Just as I was thinking gorge? What gorge? Where is it? I turned a corner and there it was, dropping dramatically away from the side of the line. Tunnels, not really that good for the heart when there are a couple of kids hiding in there and jumping out at unsuspecting cyclists and runners. Thank goodness I had popped an immodium earlier.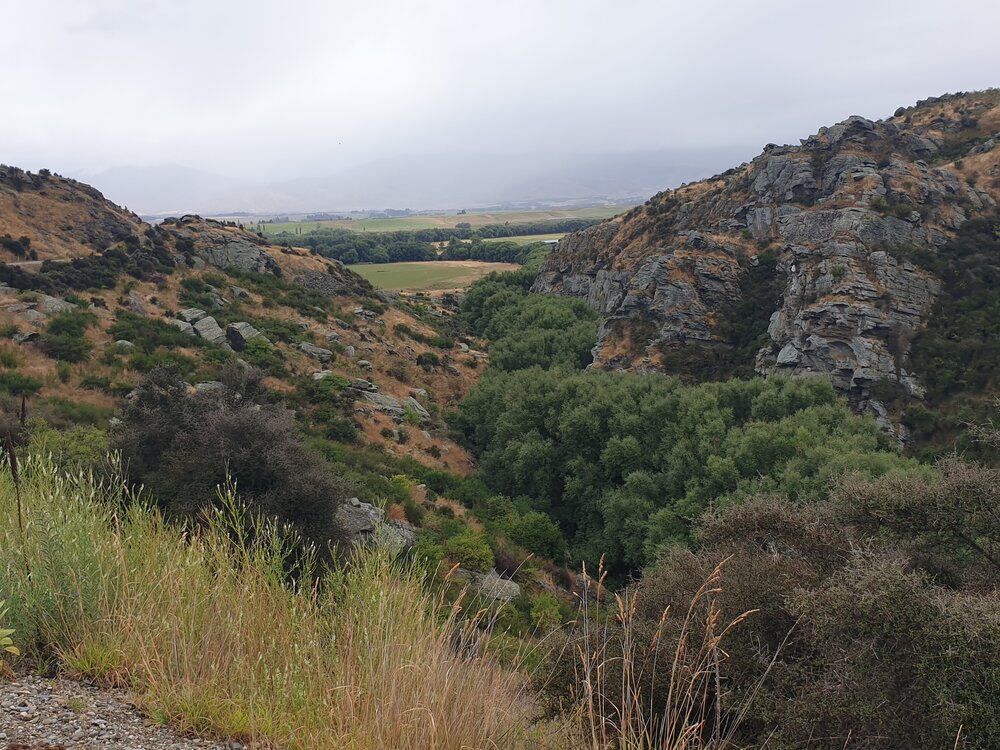 After the tunnels there were amazing views over the Ida valley and hills and the trial dropped down and flattened out. (More about this hill thing later). I discovered that New Zealand summer is a lot like the Scottish summer as the rain and cloud was replaced by sun and the temperature ramped up and I began to fry as I passed through the Ida valley. As I left Wedderburn in the pouring rain sun block was the last thing on my mind. I hijacked a couple of cyclist who kindly gave me some sun block. They asked what I was doing and where I was headed and then causally dropped into the conversation that it had only been 4 degrees and there had been snow at the top of the trail. Top of the trail? Snow? Must have joined this from a different trail I think. I was tiring now in the heat and the distance was starting to take effect and I slowed significantly on the final approach to Oturehua. It was time for a longer stop and some noodles.
Alasdair was having a good day: no diva strops or growly bear so far; he had good easy company; interesting stops including the historic Haye's Engineering works and the Oturehua general store largely unchanged since 1899; and he had had the best muffin in his life at the last coffee stop. All was good in team McIntosh. Next stop Wedderburn.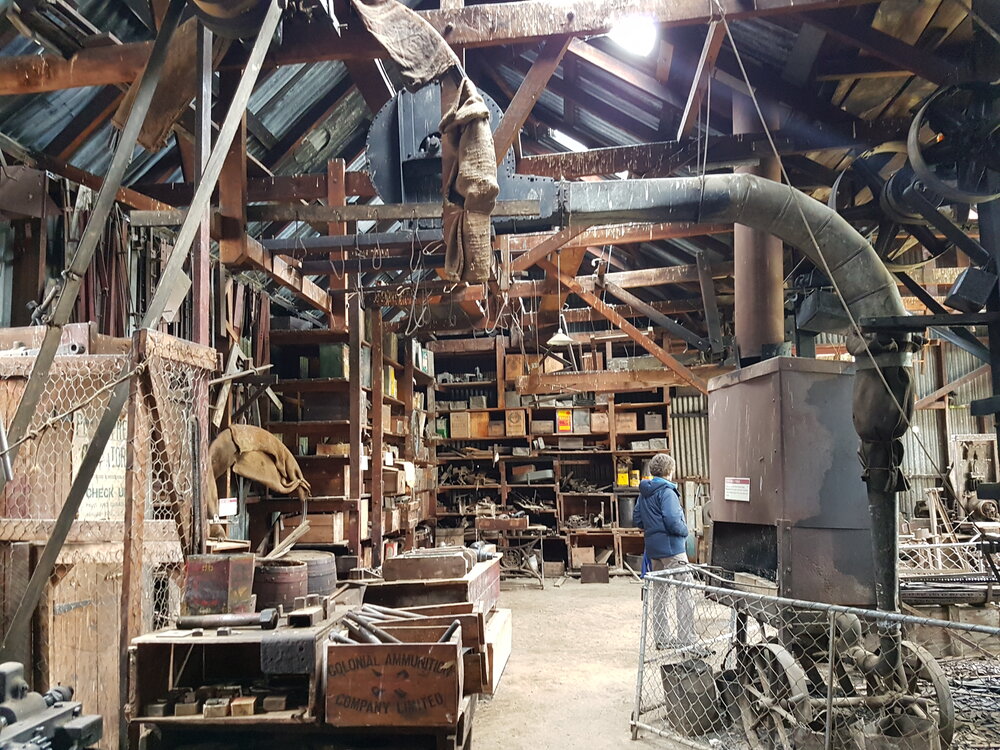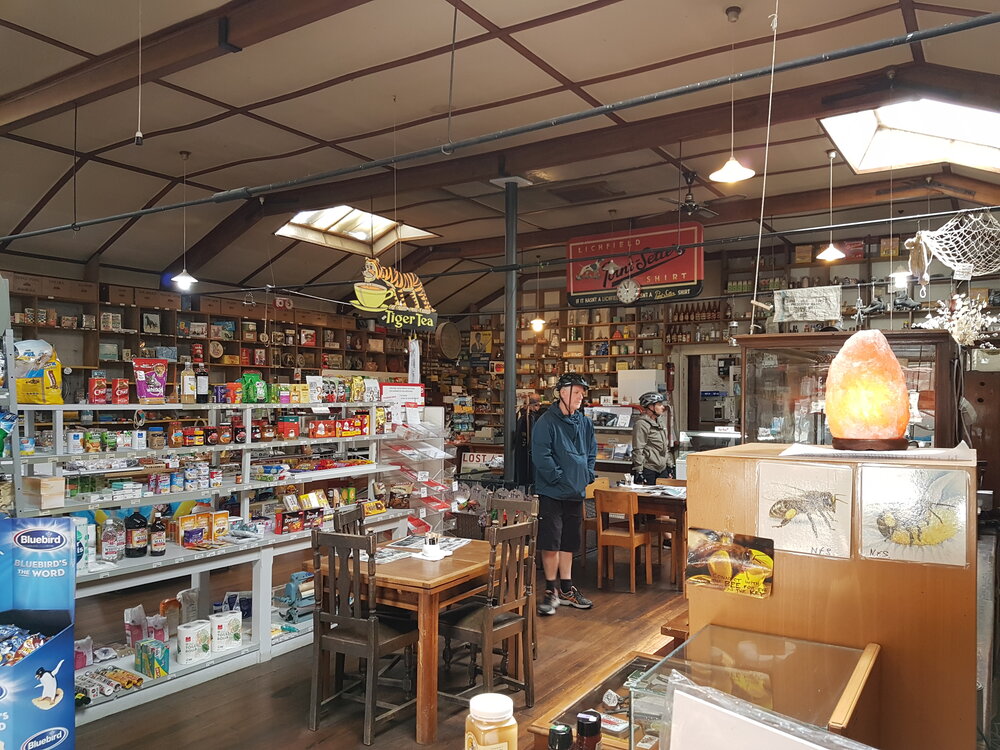 There was a fantastic view of snow-capped Hawkden mountains keeping me distracted for the next few kilometres.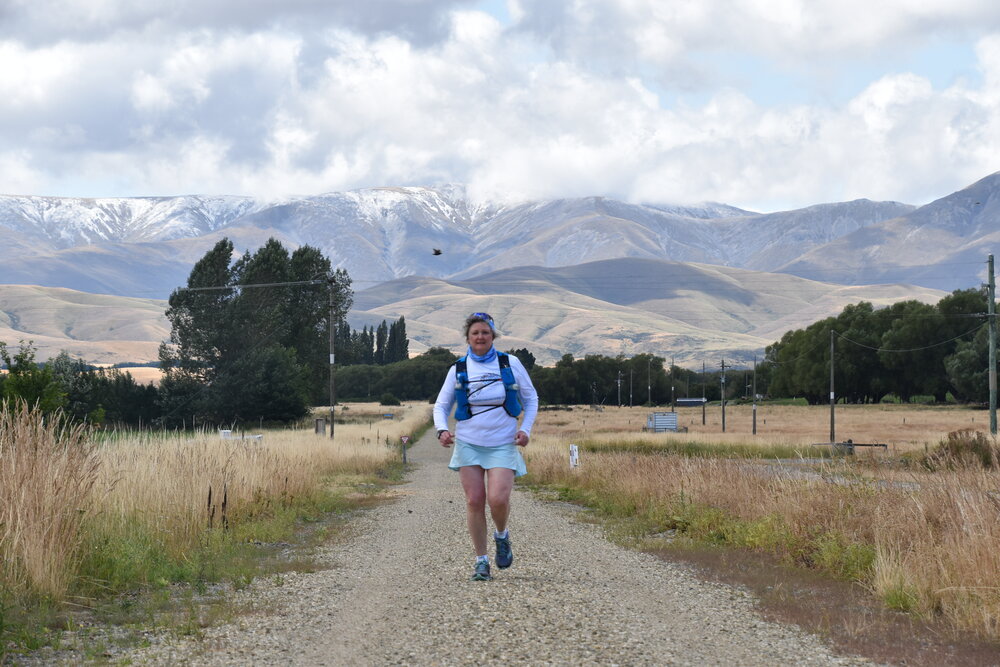 A cycle trail on an old railway track: it's flat right? Railways are flat. Well, not all railways. There had been a few gentle inclines already and the track had been climbing pretty much from the start. I now started on a long steady climb which struck me as being pretty steep for a railway line and which I was definitely walking. Did trains have two engines back and front? How did they have the pulling power? I still haven't answered that one yet.

I spotted a marker stone for the 45th latitude south (half way point between the equator and the South Pole) then shortly after that another marker stone for the high point. At 618 metres it was by no means high, but it had been a little unexpected and I had run best part of 70k up hill, but as the sign post says; it's all downhill from here.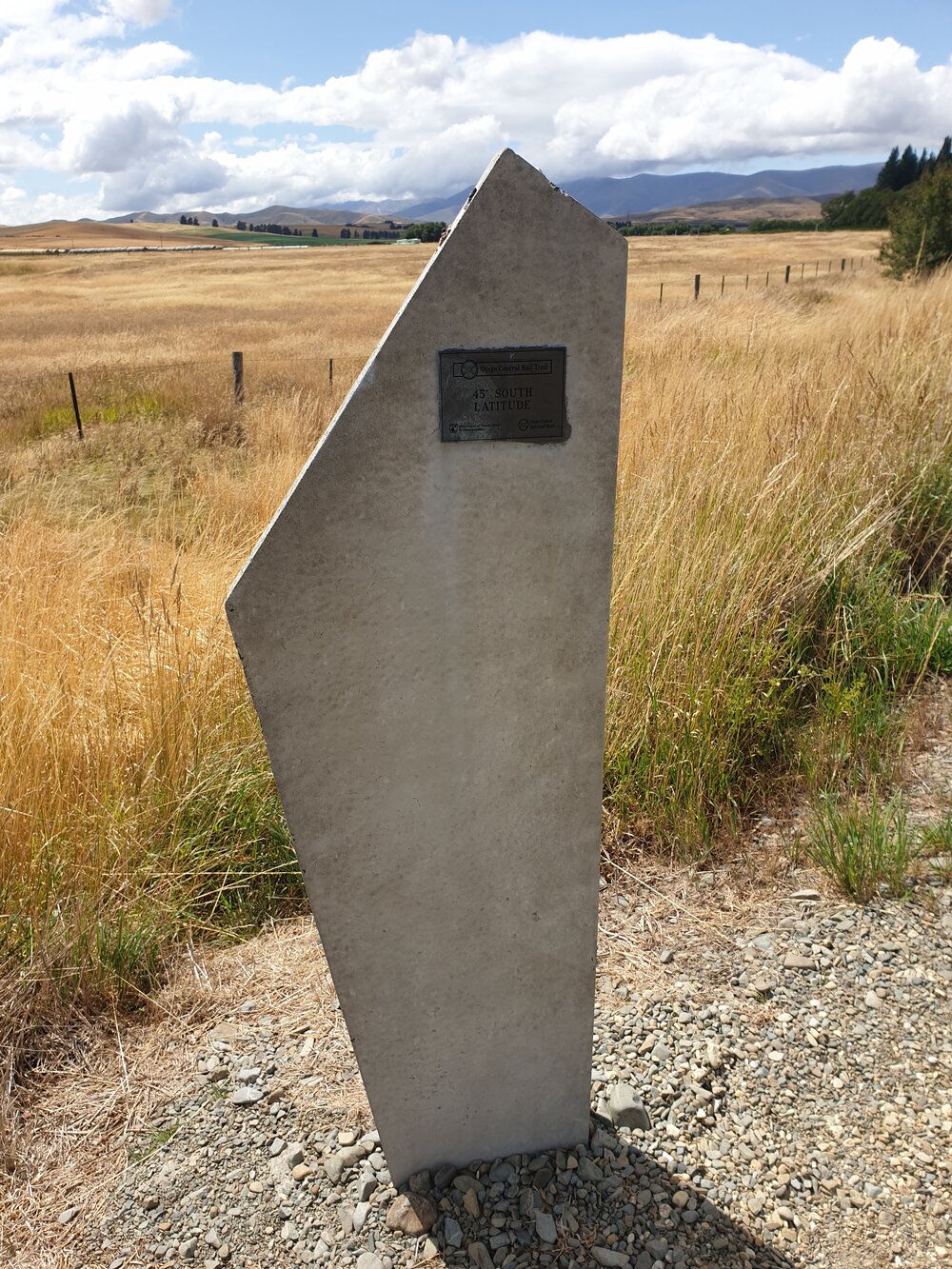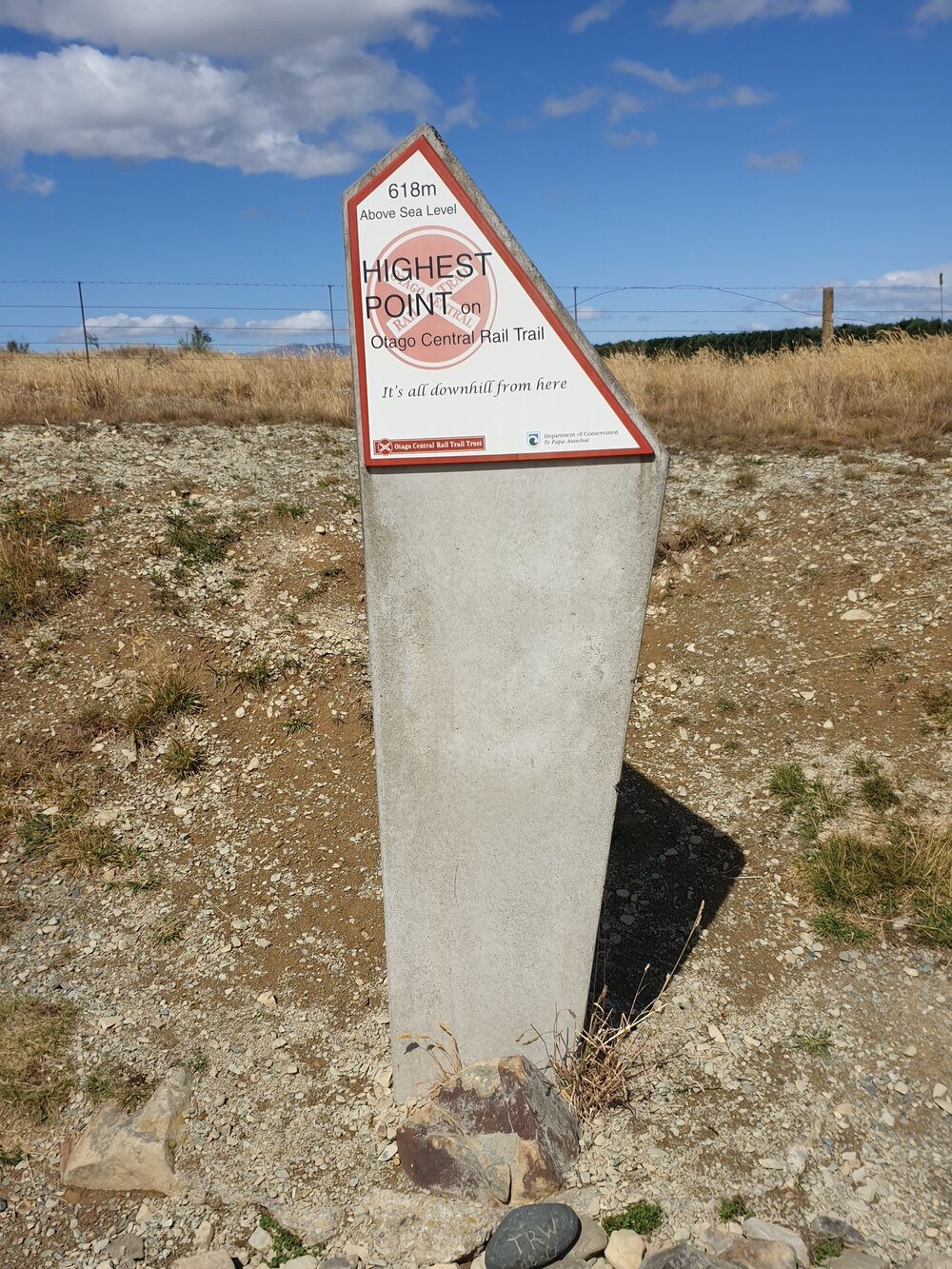 When I had worried about this route not being as challenging as some of my other Global Odyssey runs my brother-in-law pointed out it was an exposed track and that in rain, heat, wind or any combination of these it could get tough. I had experienced the rain and the heat and was about to get the hat trick. At the high point it was breezy and cool. I realised this was where the cyclists had experienced the snow shower. The breeze was picking up as I had dropped down into Wedderburn but I thought nothing of it sitting at the sunny, warm check point sheltered by the station shed.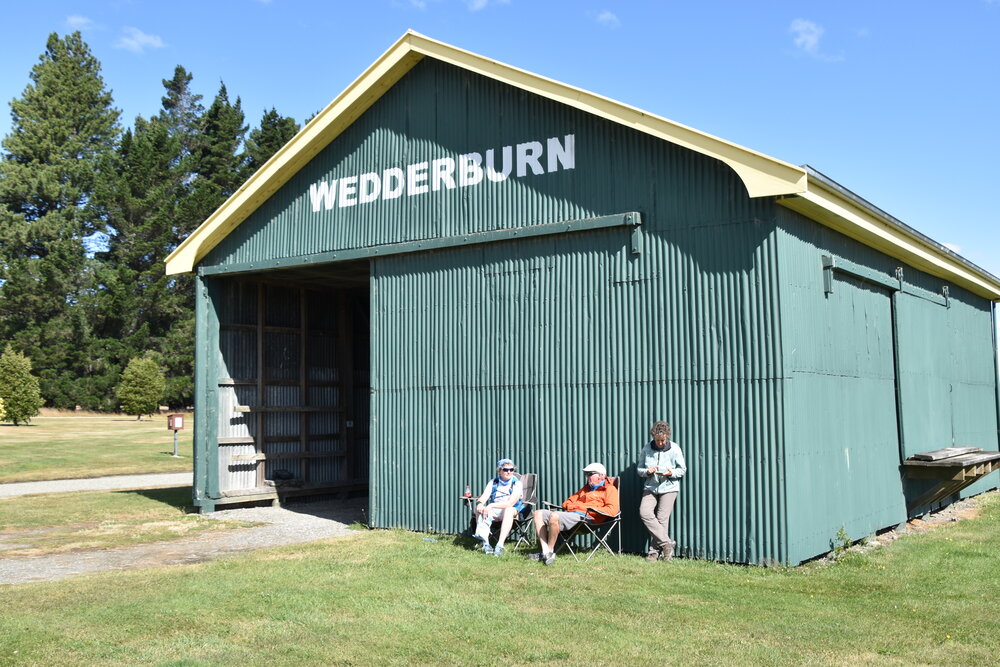 There was just one more check point and a bit over 20k to go. I was feeling good and strong as I set out towards Ranfurly. This section of the trail had impressive views of the vast Maniototo Plain which is surrounded by Mount Ida, the Rock and Pillar Ranges, and the Kakanui Mountains. So much for downhill all the way that breeze had increased to quite a headwind. It felt like I was climbing. It was energy sapping leaning into it and it was taking a toll on low energy levels.
I lost a lot of time on this section and quite literally staggered exhausted into Ranfurly. There was a bit of discussion around what the problem was with me insisting it was just battling the wind and everyone else insisting that it was the cold; I was losing heat and could be mildly hypothermic. 'BUT I'M NOT COLD'. Now, the clues were there. They were all in fleeces, down jackets hats and gloves. I was in a t-shirt and skort. In New Zealand a south wind, which this was, is bad news because it is coming up from Antarctica and is always cold. I was bundled, squeaking, into the car to rest and warm up. There was a vague nervousness that it was game over, but at 89k I was absolutely not stopping even if I walked the last 11k. Sandwiches and a hot cup of tea; a change into warmer kit and I started to feel better and was able to speak in full sentences again.
I set out at a walk bundled up against the wind, the walk turned into a fast shuffle into a jog. Not far out of the town I spotted a grizzly sight; a line of fence covered with dead possums! Grim. This section was through the Maniototo plain with its big sky showing the early evening light to perfection and creating a sense of calm that helped to lift me mentally. I was cosy and moving well.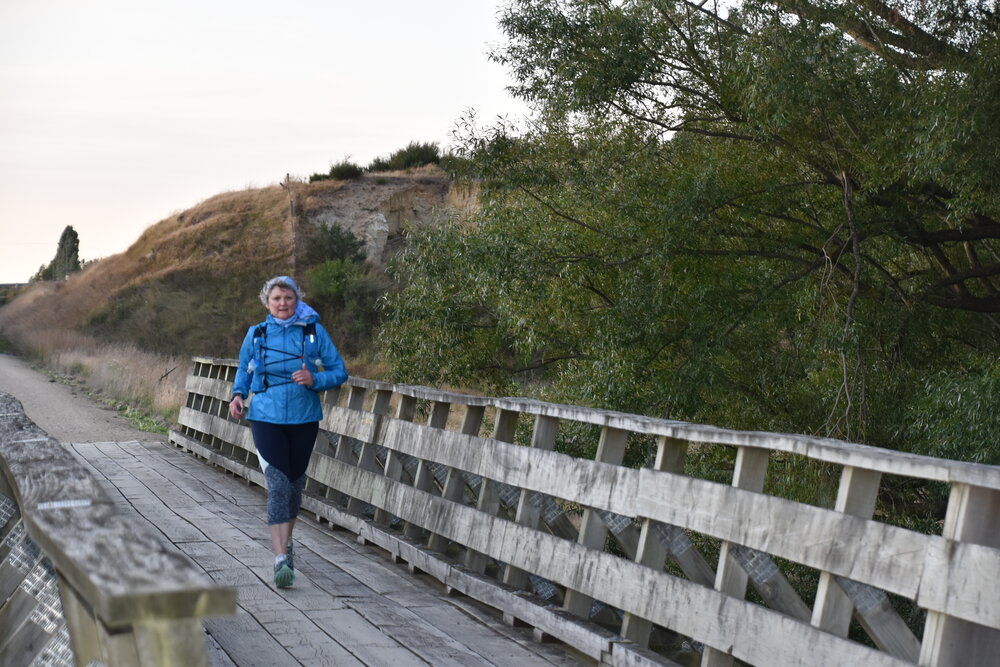 Finally, I came down the track into Waipiata just as dusk was falling and the full moon rising, just another 2k to do via a little out and back dog leg.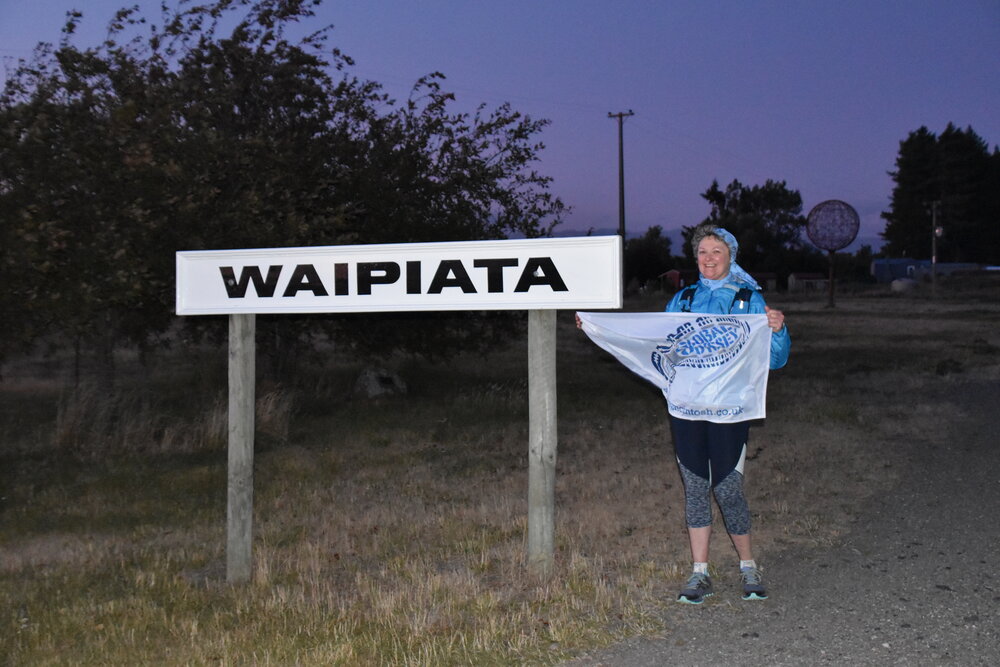 Job done, and at 16 hours 25 minutes my fastest Global Odyssey 100k. It felt good, to back in the saddle to have some normality returning to life. This may not have looked challenging on paper and it certainly was not technical but it had quite a sting in its tail between the distance with incline and the weather.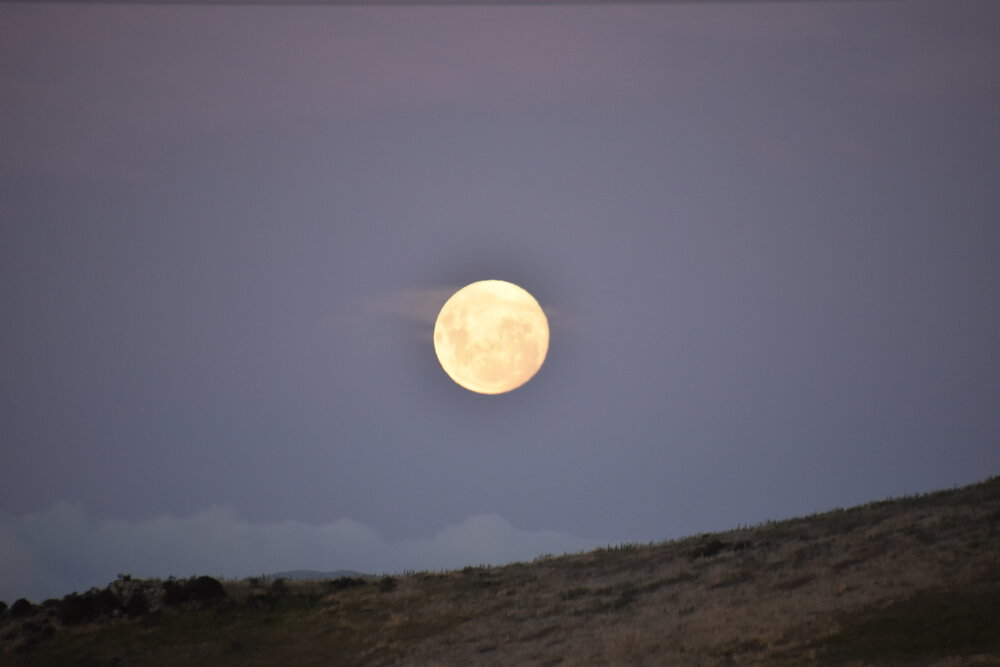 It was bitterly cold with that wind still whipping around. We piled into the cars and drove the short distance to Peter's Farm Lodge, our bed for the night. A cosy traditional 19th century farmhouse retaining its antique charm which included, oh joy, a huge Victorian bathtub and lashings of hot water. Guess where I headed first?
Another post will follow this covering the remainder of the trip and the marathon.