I never thought I would hear myself saying this: Patagonia trumps Antarctica!
What an epic, spectacular, awesome and inspiring experience the South American stage of the Global Odyssey 100 was.
Coming hot off the heels of success in Africa (finally) I was in a positive and strong place. This was in spite of not managing to ramp up my training up as planned and picking up a minor knee injuring pulling on a boot. Don't ask, I have no idea.
It was another 'Audrey special' on the logistics: Glasgow to Frankfurt to Buenos Aries. It is a long way to Argentina: thirteen hours from Frankfurt and, as it turns out, not much fun when a migraine hits and your medication is in the hold. I couldn't sleep, I couldn't eat, I couldn't watch the films, I couldn't read, but I could be sick again and again.
On arrival we were met by Steve one of our support crew, and Jenny and Ken (fellow runners) who had arrived earlier. Whilst we waited on Gordon P we relaxed in a café. Some coffee and pastries and I was beginning to feel more human.
Day 1 – Buenos Aries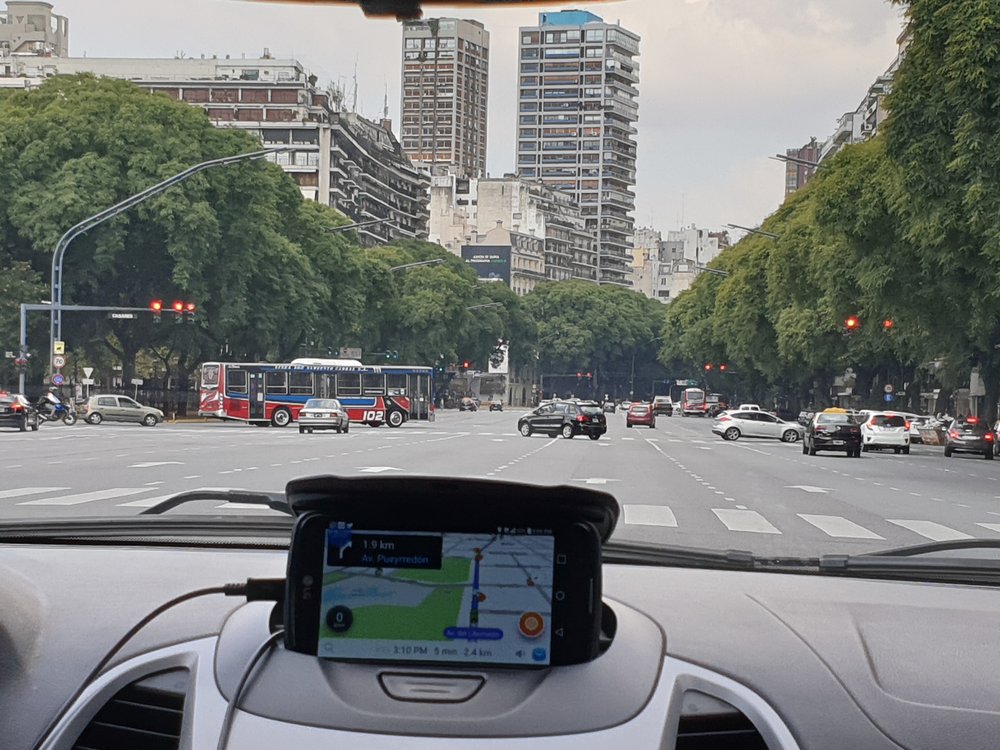 It was Good Friday and so the traffic was light on our journey into the city and to Palermo where we were staying for the 1st night. An eight lane one direction road suggested that it was not always this quiet especially with a population of over 14 million. Once at the hotel we decided against a sleep and after a quick shower set out for some sight-seeing, knowing that we could only scratch the surface of this immense city. Highlight of the day: the Recoleta which is a huge necropolis and where Eva Peron is buried.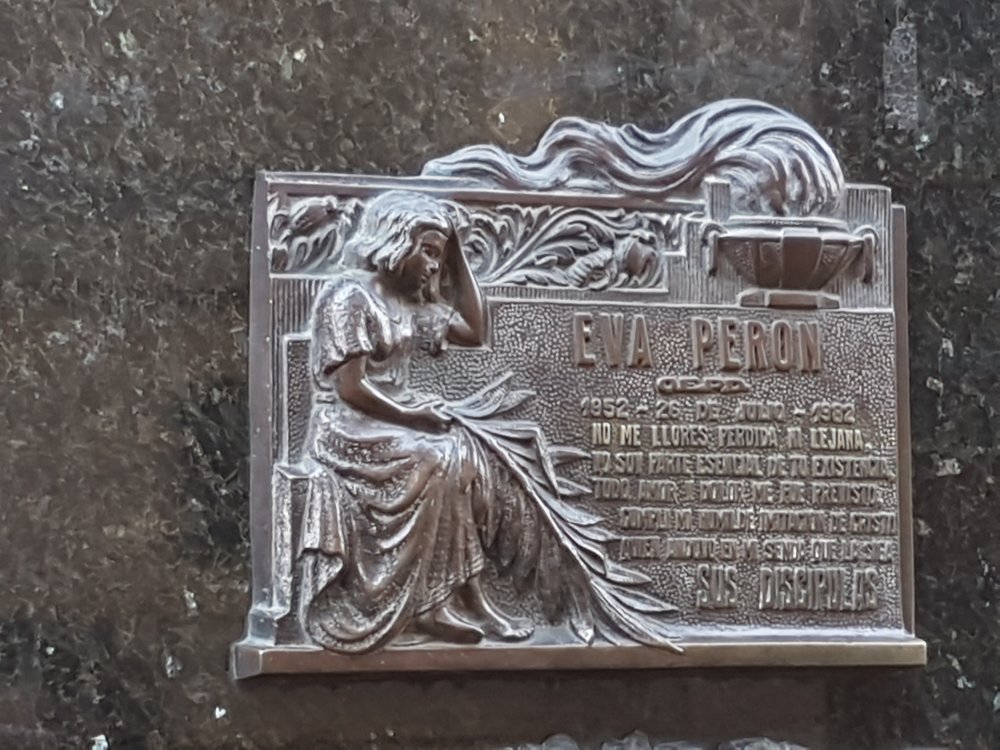 Street after street of mausoleums and monuments in memory of the great and good, the famous and infamous. It was a spectacular display of architecture and wealth.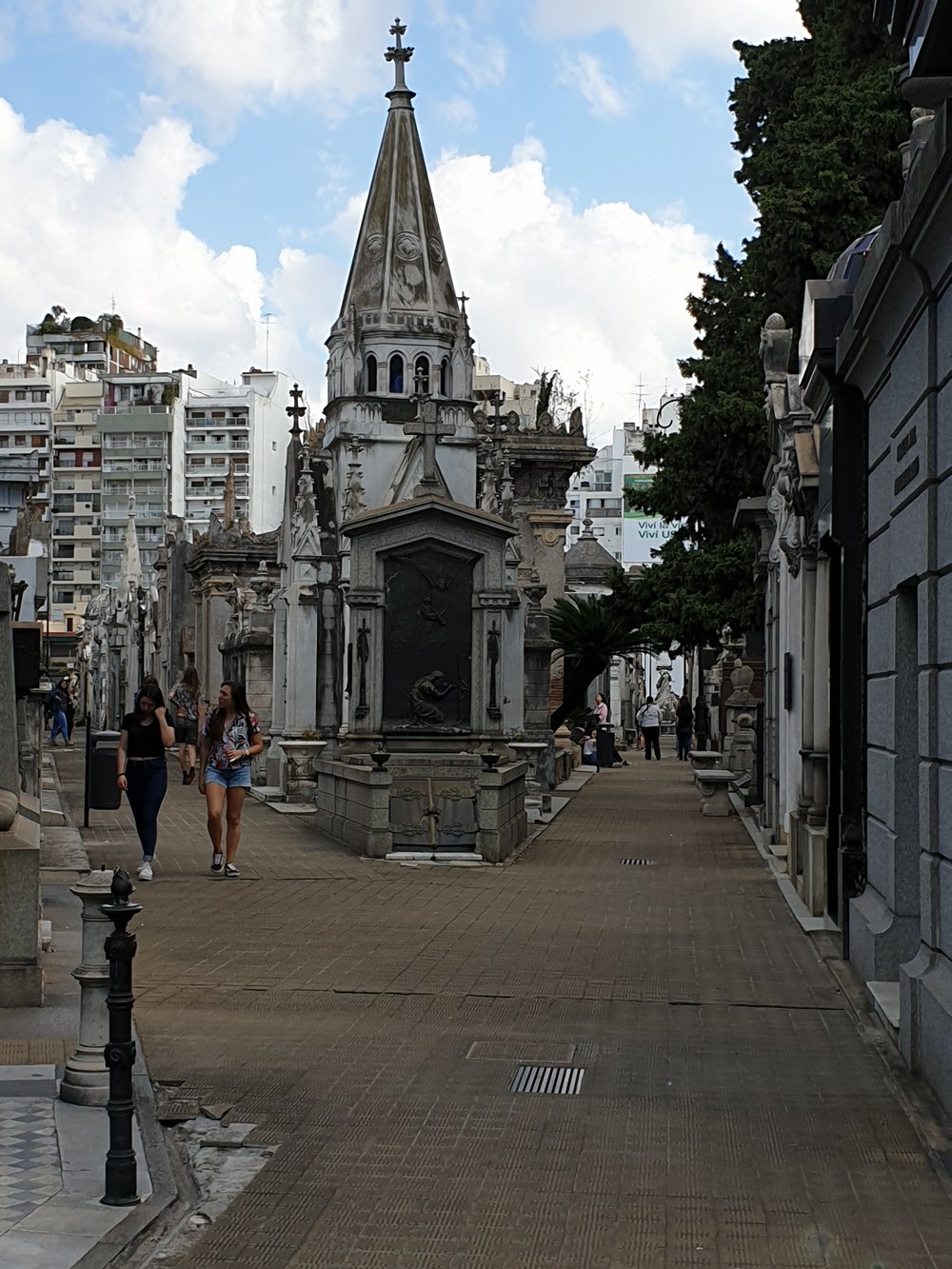 The afternoon was completed when we caught a display of street tango: a taster before our evening entertainment. That evening we all went to a club for a tango show. Whilst we struggled a bit linguistically, and the comedy and humour were lost on us we did get an appreciation for the history of tango, and a fabulous display of dance music and song. The tango culture is more than the dance.
Day 2 & 3 – El Calafate
Our second day was mainly devoted to the journey down to Patagonia, but we had most of the morning free for a leisurely breakfast and walk around Palermo, the district we were staying in. I even had time for ice cream. The Argentinians know a thing or two about ice cream. The sun was setting as we descended into El Calafate, our gateway to Patagonia, and I got my first view of Mount Fitzroy which would be the backdrop to our run.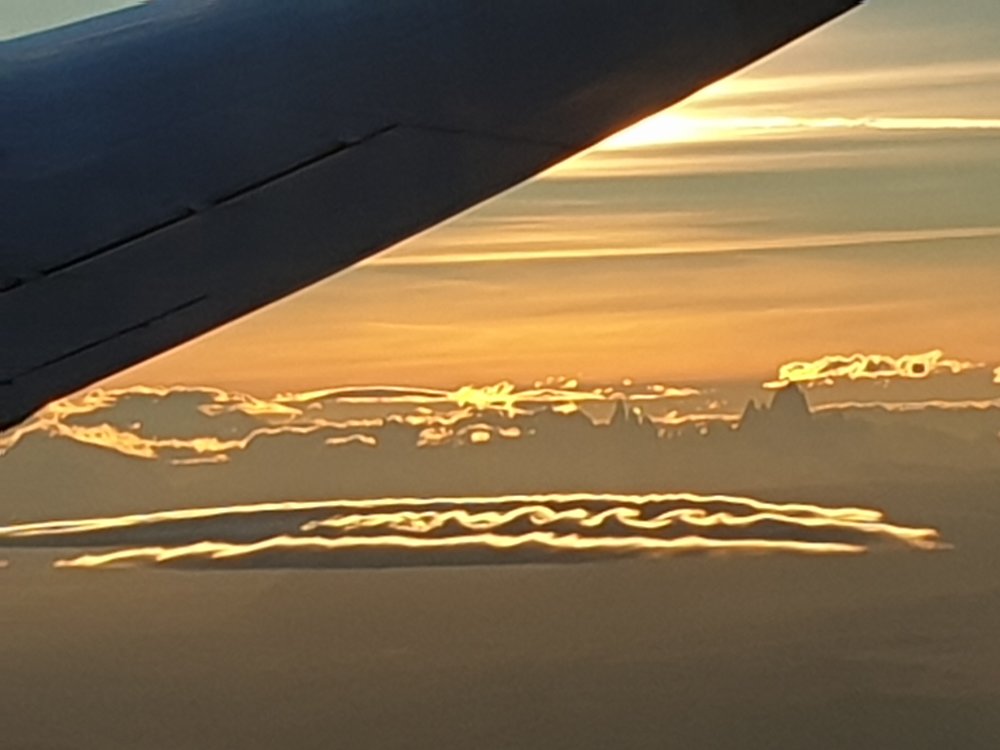 We woke on Easter Sunday to an amazing sunrise over Lake Argentino.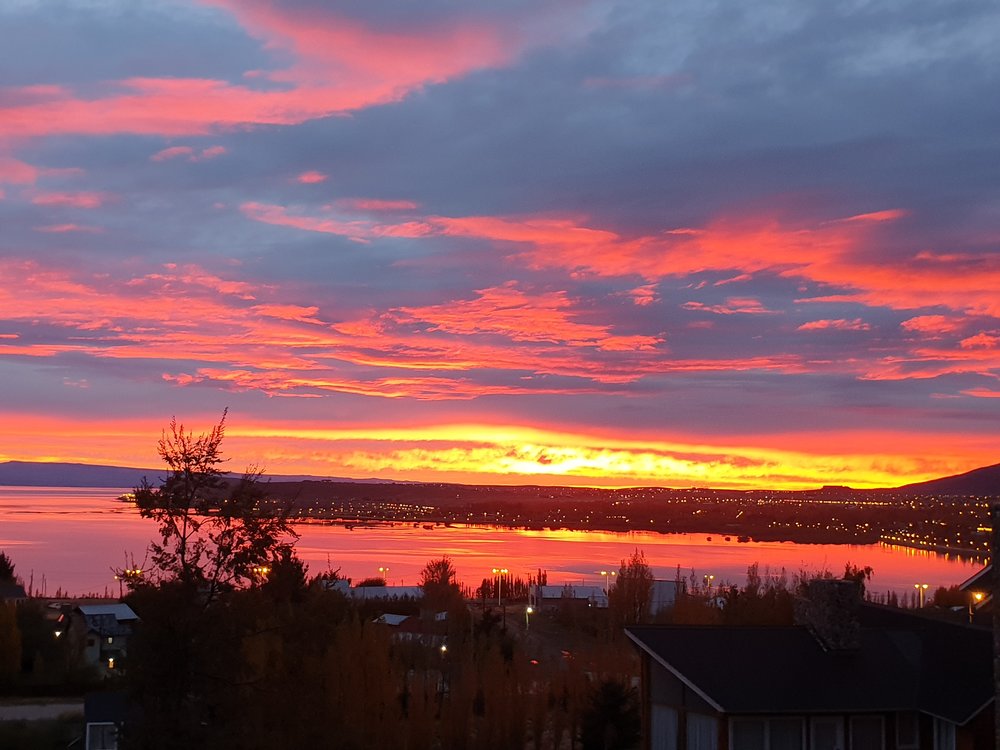 Today were we going to visit the Los Glaciares National Park to see the Petito Moreno glacier. The drive took us through a diverse landscape of plains transitioning to glacial melt lakes and mountains into the park. We then went on foot along undulating walkways that followed the edge of a lake towards the glacier.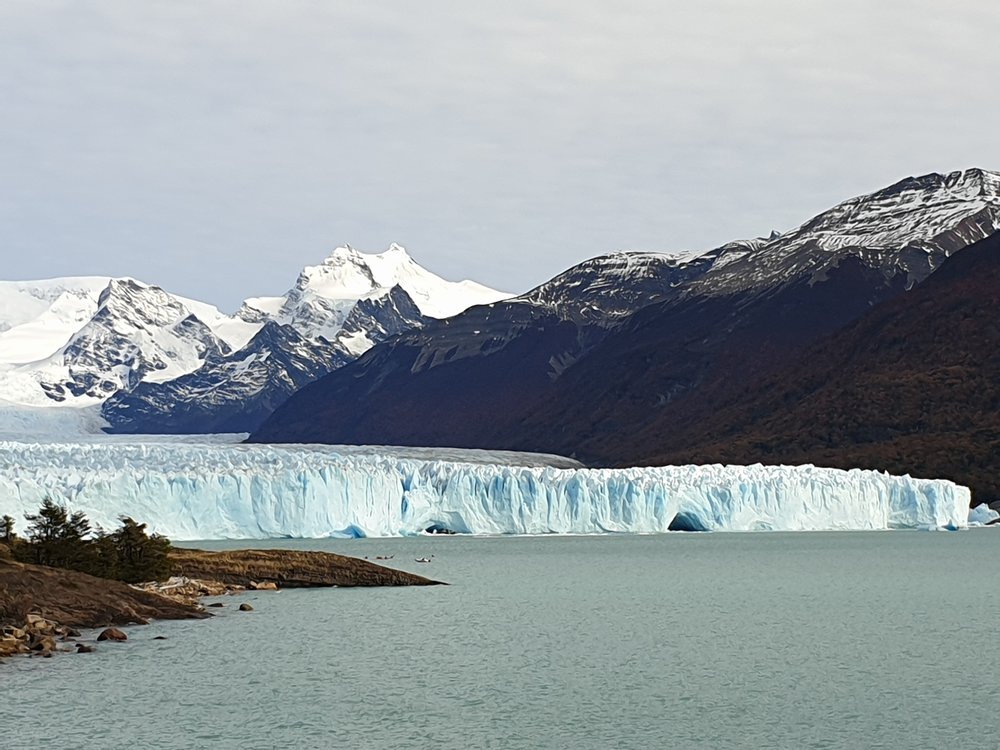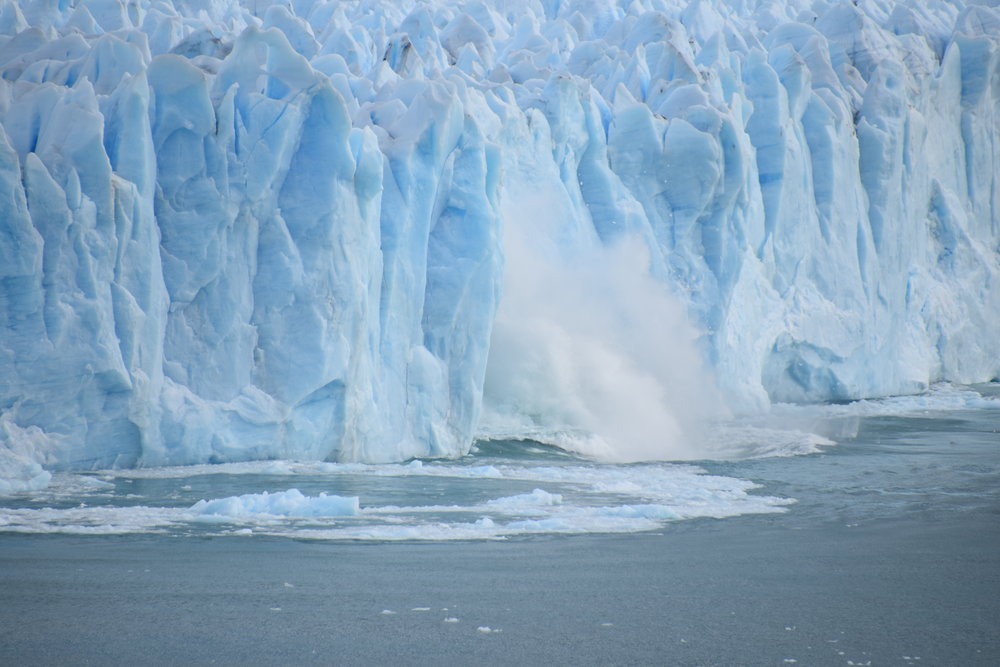 Trite as it may sound the views were superb and the sheer scale impressive. In the first image above the canoes in front of the glacier emphasise the vast size. It was 'booming' and cracking and we were lucky enough to witness several calving events. Before leaving Gordon A could not resist imbibing a whisky with glacial ice.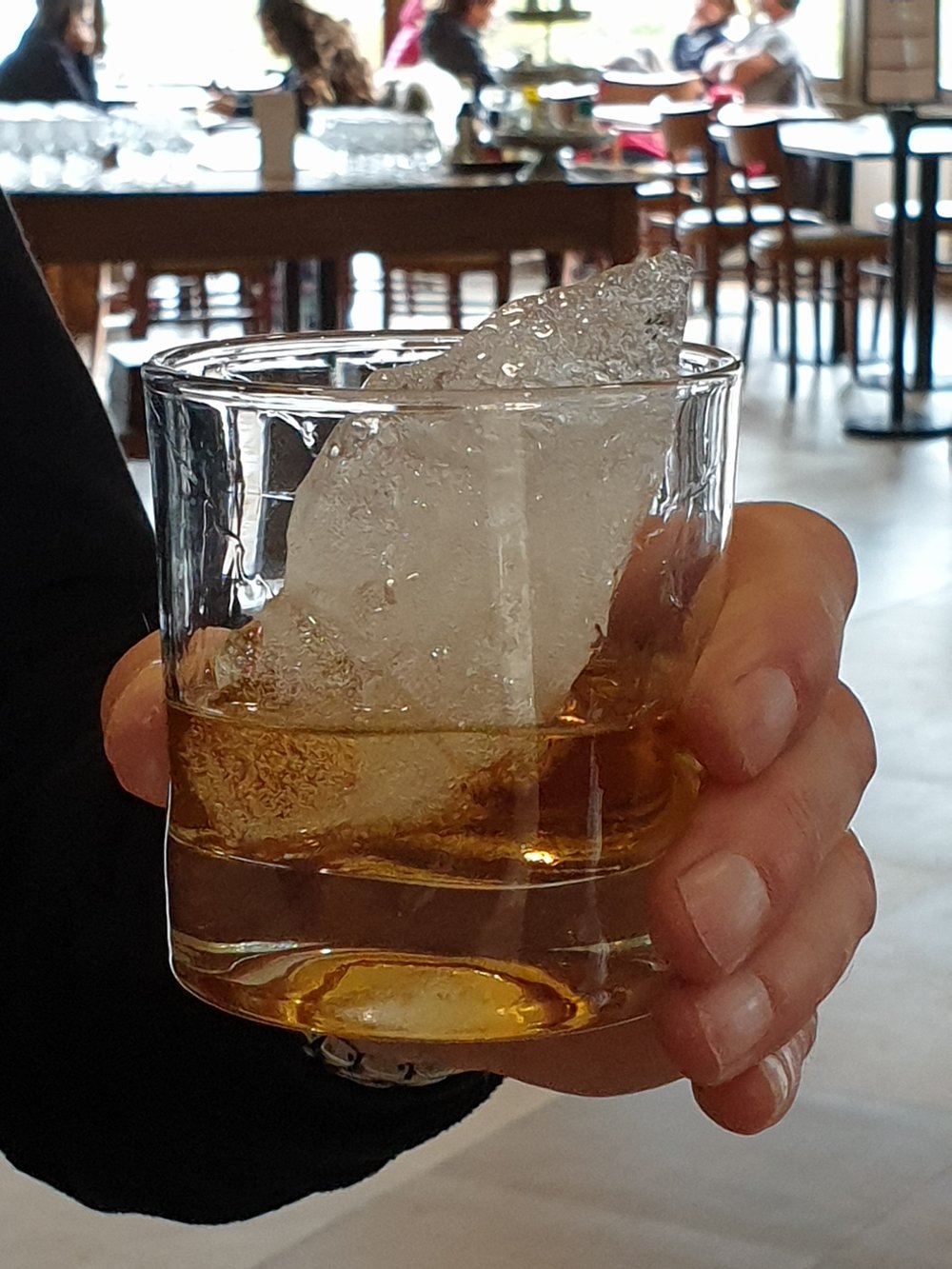 Back in El Cafate we dined on the local speciality of lamb roasted over a wood fire pit accompanied by a soupcon of fine Malbec, just to calm the nerves, of course, because as you know my body is a temple.
Day 4 – El Chalten
The endgame was closing in. After a trawl of the local ATMs for cash, which was not forthcoming due to them being empty after the Easter weekend, we set out on the four-hour drive to the small town of El Chalten that nestles beneath Mount Fitzroy. Alasdair had correctly warned that the towns were notorious for not having cash in the ATMs and could not resist a 'I told you so' and deservedly so.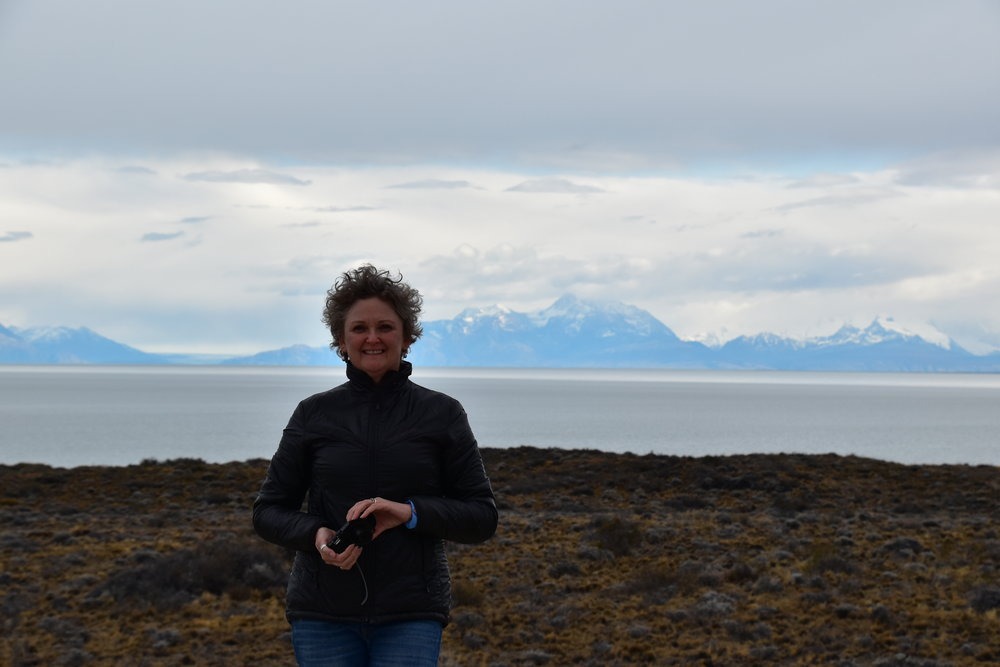 The landscape, like the previous day, transitioned from lakeside to plains, hills and glacial melt rivers as we travelled deeper into Patagonia. Mount Fitzroy was frustratingly coy, invisible, shrouded with cloud. The area is known for its weather; cloud and mist, rain and strong winds. Sound familiar? Why do Scots naturally gravitate to far flung places with 'weather'? Wildlife spotting was the game of the day and the group in the other car had the keener eye. Guanaco's (like llamas) were the first thing we spotted along with plentiful birdlife including raptors, flamingos and rheas. The ever-present condors were frustratingly elusive although the others who were about twenty minutes behind us were lucky enough to spot some on the edge of El Chalten.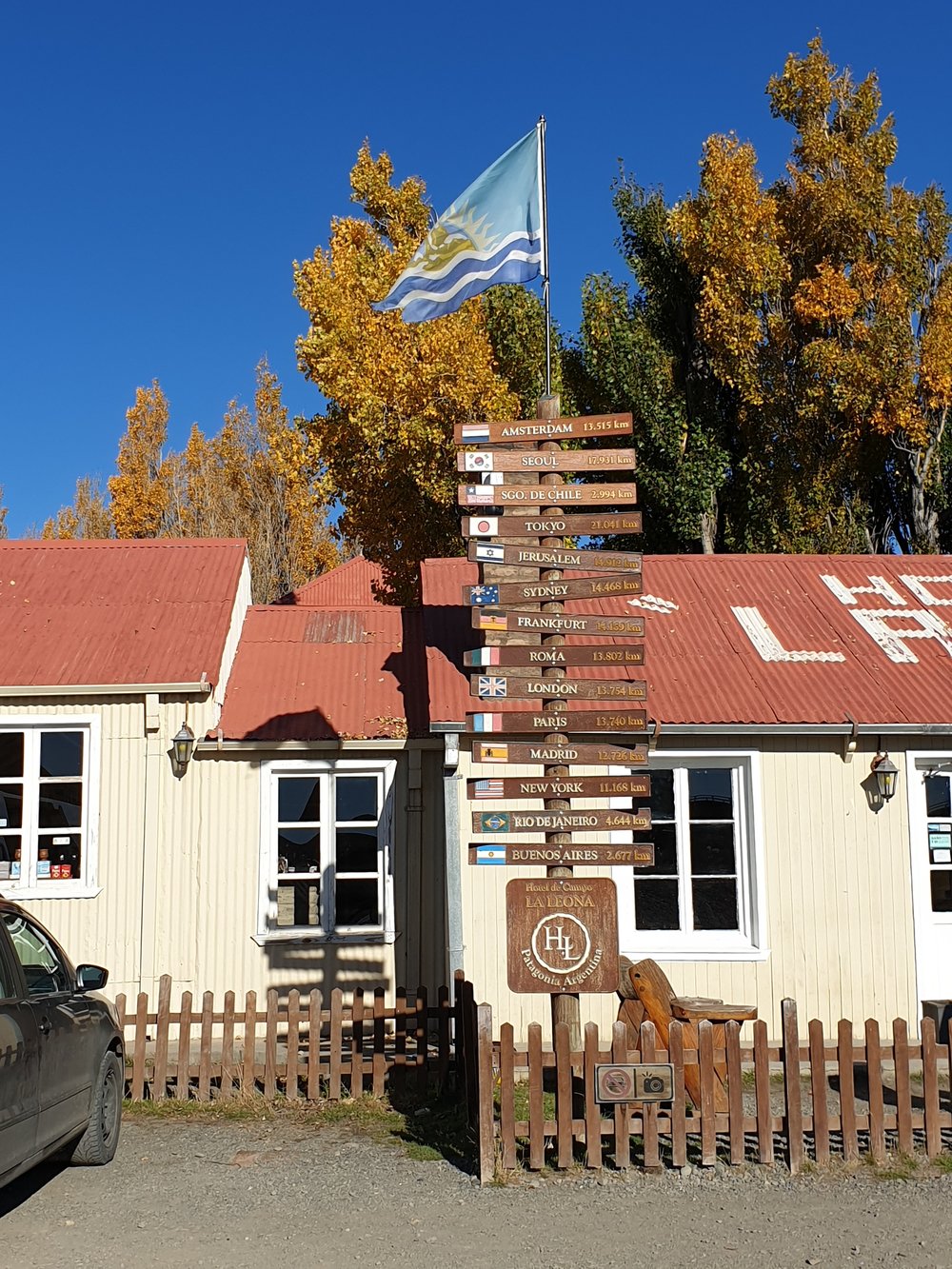 The half way point of the journey was a pit-stop at the quirky Hotel la Leona where Butch Cassidy and the Sundance Kid stayed for a month whilst on the run.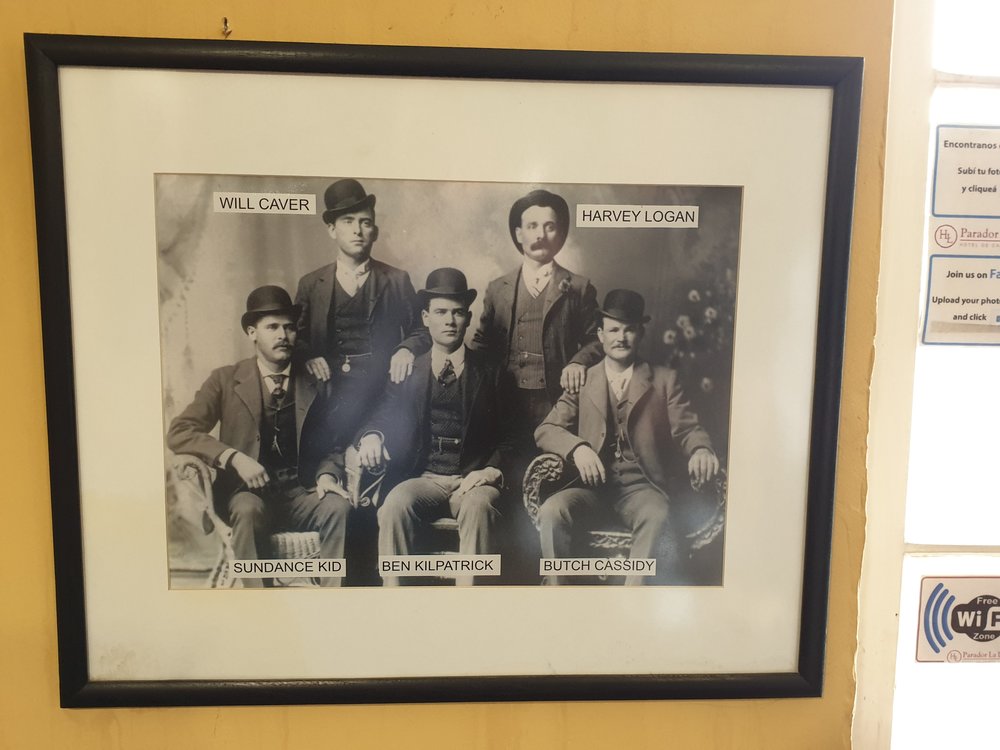 El Chalten was cloudy, breezy and chilly when we arrived and there was still no sign of the mountain that was allegedly towering above. We settled into our cabin and organised the kit for the next day. It was re-assuring to see Jenny and Ken going through the same process of this or that? What if? Do I need this? Selecting and rejecting and re-selecting. Alasdair left us to it and went out for a scout about. When we were done we went out to look around the town. Alasdair gave me the guided tour after which we went into a tiny micro-brewery, of which there are many in El Chalten. Whilst sampling the beer we went over the race plan and route. As we sat, the cloud lifted, and we got our first glimpse of the mountain which did indeed dominate the village and skyline. This was the beast that would be an ever present focal point the next day.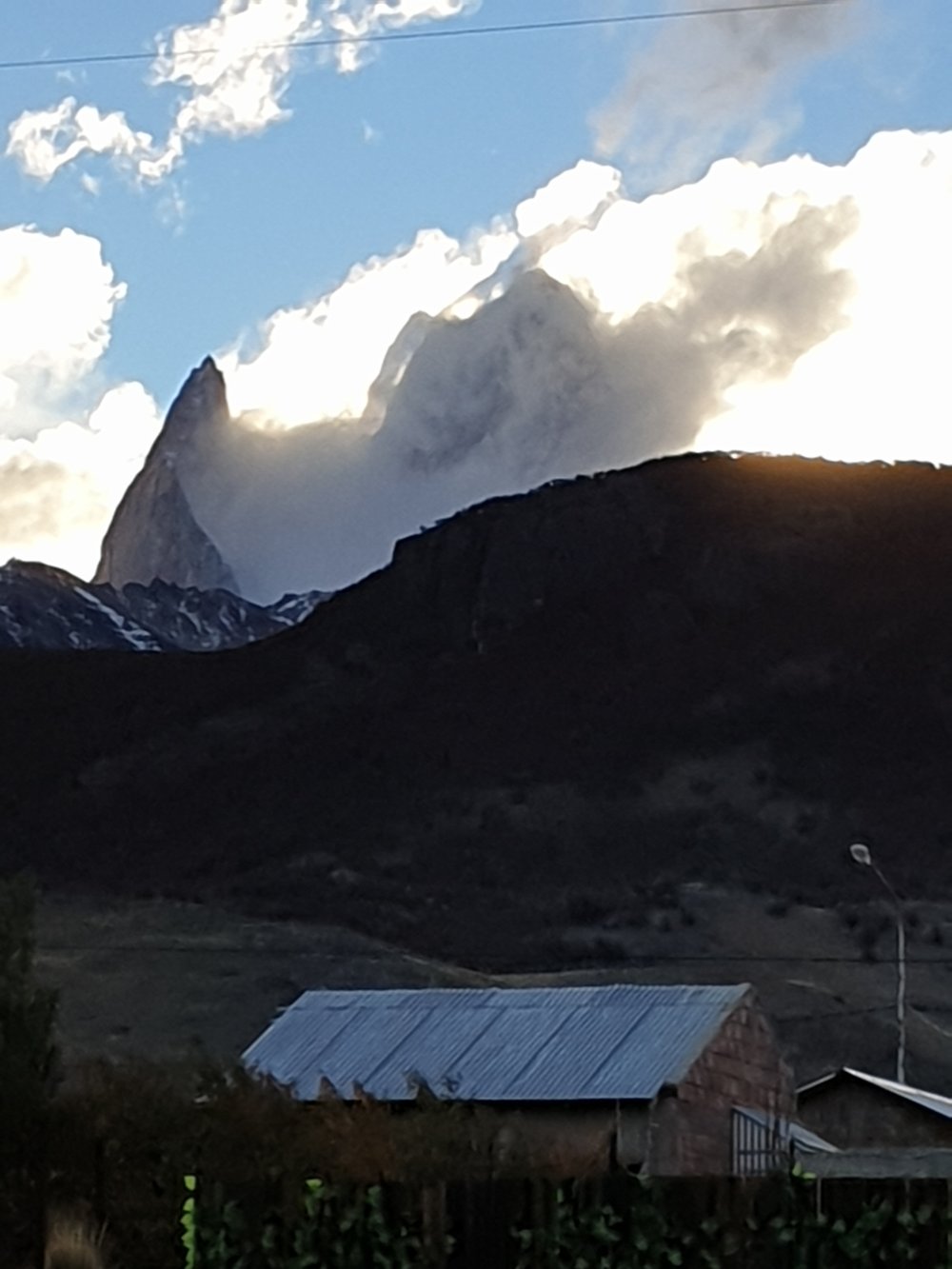 Day 5 – The Global Odyssey 100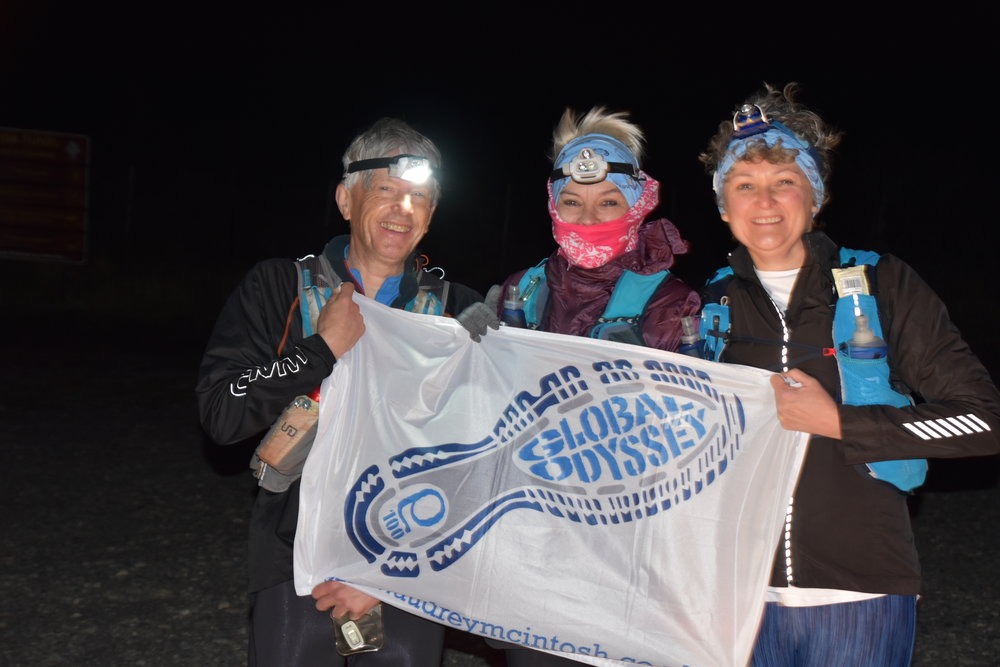 The now familiar routine kicked in with a 3 am rise, breakfast, 4.15 departure to the start, ready to run at 5 or a bit before. The start was at a lake 20k out of town. It was dark, blowing a gale and freezing. No point in hanging about being buffeted and shivering; a quick photo call and we set out along the undulating track back up to the road. Some movement close to the ground and a set off eyes gleaming in the light from the headtorch. What is that? As I drew closer I saw black and white stripes and a familiar looking tail: a skunk! The rear end turned in our direction and tail flipped up. Wide berth required. I did not want to run a 100k covered in 'eau de skunk'. From the track we transitioned onto the road for 10k. There was enough of a verge to avoid the tarmac, but with long inclines and a continuous head wind I decided, unusually, to stay on the tarmac.
The next section was a hefty climb following a trail up a hill and eventually through woodland up to a view point and back. A colleague had walked this trail and had warned that the wind at the top could be ferocious and could literally blow you over. Given the wind out on the road I headed out with a little trepidation. Jenny and Ken were pulling ahead. I was having a real energy dip, that I was going to have fight my way out of. I just couldn't keep up as the path started to ascend steeply. Typically, just at the point when company would have helped.
There was an hour of darkness left: the pitch darkness before the dawn. I was picking my way along the trail path when suddenly and inexplicably my head torch went out. A full charge lasts 5 hours. It had been on for 2 and a bit. It can't be out of charge. I switch it off and on. It lights. I set out and then boom, out again.
To be continued…….