There were demons to be slain at this year's Hoka Highland Fling. I have been open and frank about my experience last year and the wake -up call that it gave me in terms of my preparations for Antarctica, especially in terms of managing hydration and food; knowing how much I need and what I can take and what my body will tolerate. A very different runner toed the start line this year: more experienced; leaner, fitter, stronger, apparently faster based upon my recent D33 time and with nutrition sorted (or so I thought).
The logistics and organisation required for this event are no mean task and once again John Duncan (Johnny Fling) and his amazing and hard-working team of volunteers excelled themselves, and provided the runners with a great experience not to mention a great level of support and encouragement. It was a triumph or organisation. Many thanks for a great day.
The Hoka Highland Fling is considered to be one of the top 10 hardest unsupported races in the world, a fact that I did not know until recently. To be able to complete it in any time is an achievement in itself, and I am totally in awe of the front runners who complete it in just under 7.5hrs as this year's winner did. It is a distance and a course that has to be respected. There is about 6000 feet of climb and some very tricky technical sections that reduce most of us to a walk as we scramble over rocks and tree roots. It is also a course which can throw up surprises. I got off lightly with badly stubbed toes and 2 nail coming off. Others faired less well with a number of falls and one runner who fell and broke her jaw in 5 places. What is amazing though is that she picked herself up and managed to get to the next check point with the help of her fellow runners. Running the Fling is a humbling experience and brings out the very best in the runners.
How did my Fling go? Did I succeed in slaying those demons?
I had a plan this year. I was going to break it down into the equivalent of the laps I ran in the Antarctic 100km. That would break it down in manageable chunks and I would draw on how I felt during each lap and how I dealt with it. Milngavie to Drymen was 2 laps, and would be fairly comfortable. Drymen to Balmaha is lap 3 and getting tough and would be the point when my stored energy would deplete. Lap 4 up to Rowardennan would complete the first marathon and would harder than expected, and would feel long. Lap 5 to Invesnaid getting tough and having to dig deep and keep fuelling, but I can do it. Lap 6 Invesnaid to Beinglas would probably feel more like lap 7 in the 100km, and would be a tough slog that I just had to fight through. Finally Beinglas to Tyndrum laps 7 and 8, all out of energy and reliant on sheer determination and what I can manage to tolerate in terms of fuel, but remembering all the time that it is 2 laps less so I can definitely do this.
The eating plan was simple, tried and tested: something every 15 minutes be it water, energy drink, a gel or a bit of proper food. Major fuel stops at the check points where I would get proper food in. Alasdair had to check my water bladder to ensure that I was drinking enough, and check that I was taking at least 1 and possibly 2 gels each section.
Friday passed quickly as I finished putting my drop bags together and procrastinated over kit. A light relaxing massage; halibut, mash, roasted tomatoes and spinach for tea and soon it was time to head over to registration before it got too late. I had initially thought we would hang about for a drink but as it was 8.30pm when we arrived and we had to be up at 3.30am I decided it was probably best not to hang about; but I did bump into a few of the usual suspects and had a bit of a chat and some pre-race banter. Back home, for a small glass of wine, some chocolate, a bath and then bed. How on earth did it get to 11pm? As often happens the night before a race I did not sleep. The one good thing about going to bed late was that I had less time to thrash about in the bed and worry about not sleeping. Typically, I had just dropped off when the alarm went.
A fine breakfast of green tea, scrambled eggs on toast with extra toast and almond butter, some apple juice and coconut water and I was ready for the off. By the time we got to Milngavie there was a fair buzz going, vehicles full to the gunnels with drop bags, and a very long queue for the toilets. There was a round of hugs, hellos and good lucks and soon it was time for the ding-ding briefing from Johnny Fling and we were off. It was a damp morning but not cold and not raining, good conditions for running.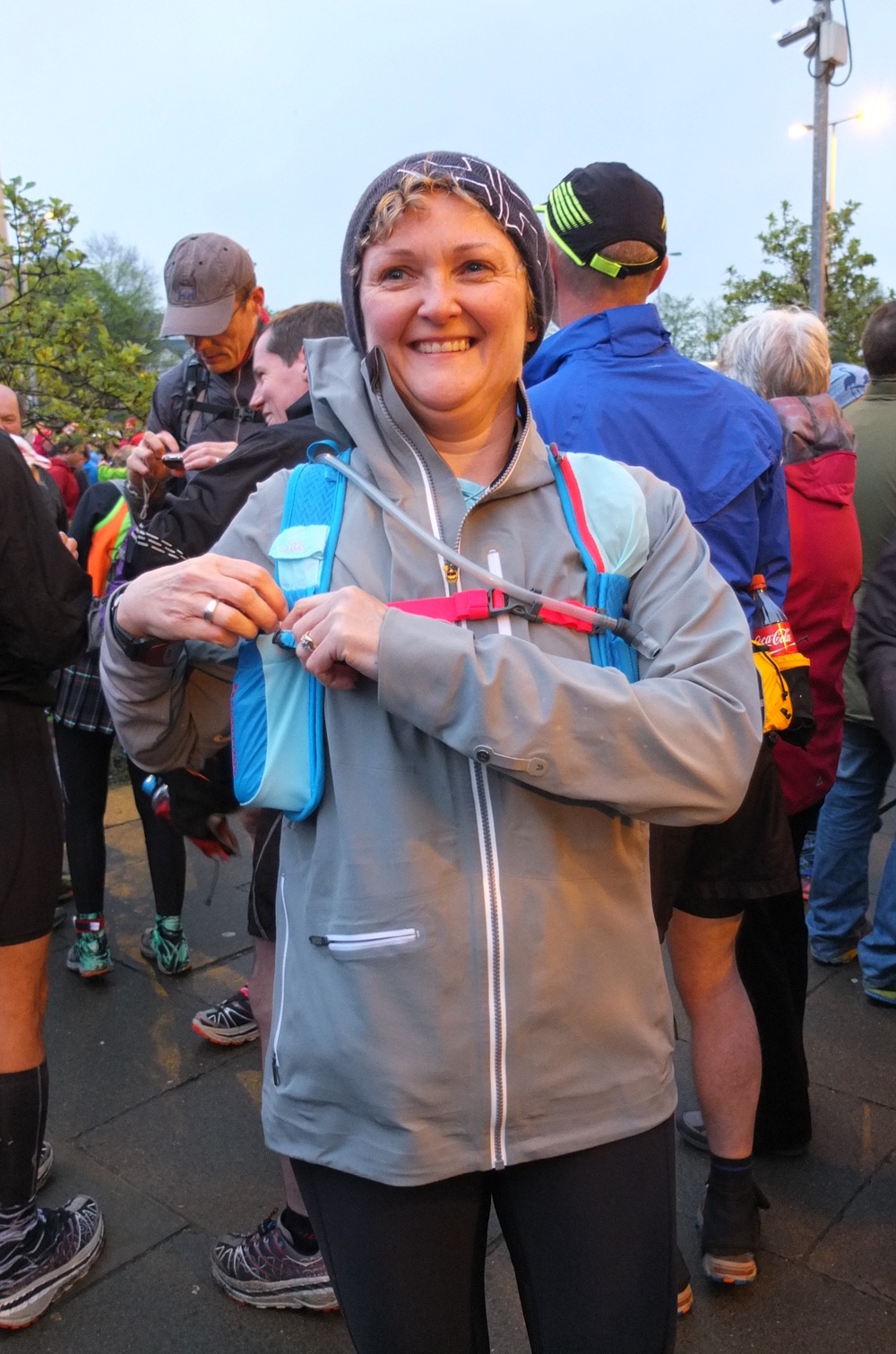 It took a while for me to get going with a few stop-starts, to pack away hat and gloves, take my jacket off (it was very warm) and sort out a malfunction with the tube from my water bladder. The hydration and nutrition plan was going well as I stuck to the 15 minute plan. Alasdair was going to hook up with me in Drymen to pass on more supplies to get me over Conic hill. At about 7 miles, cue the first trip of the day and the first toe stub. Ouch, ouch, ouch: It was my fused arthritic toe too. A fair portion of this section was run in the company of my friend Sue Walker as our progress ebbed and flowed along, chatting amiably at the times we were apace.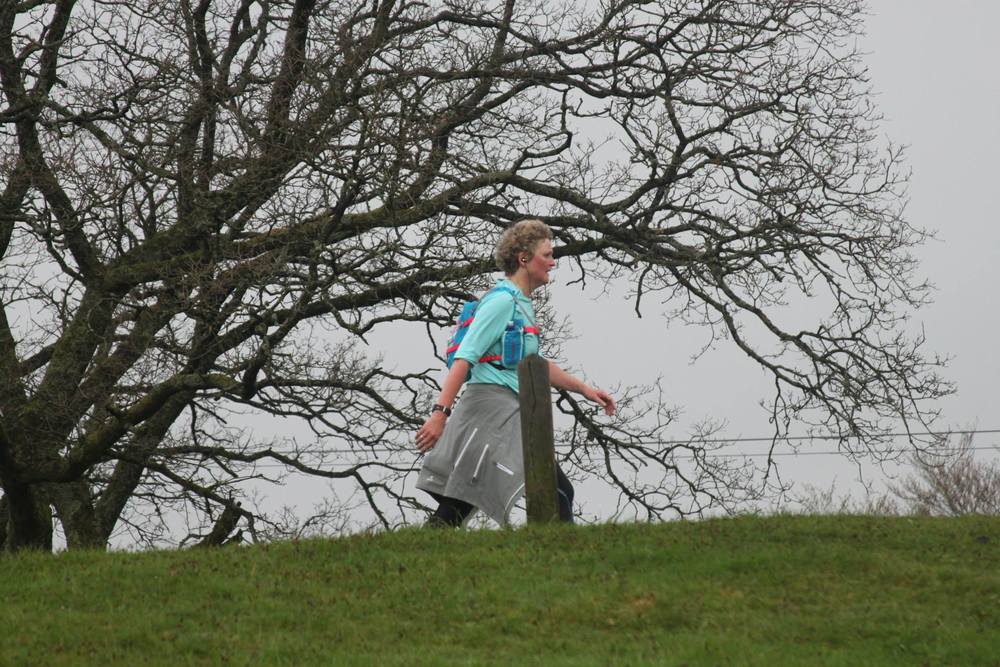 Cue the first snafu of the day. I forgot that last year the route through the village was a temporary diversion. Being aware that the check point would be busy I had asked Alasdair to catch me in the village: oops! Damn! When I realised what I had done I called him and asked him to drive up the Old Gartmore Road out of the village where he could meet me at the point the path crossed the road at the Garadhban Forest parking: easy. But failing to spot the map I had tucked into the food bag he asked for directions and ended up at the check point, just I reached the intersection. We now had a problem. Alasdair would just have to go on to Balmaha and I would have to hope that I could get over Conic Hill on the few rations I had left: it would fine, it would fine I kept telling myself. I powered on and over Conic Hill on a gel and the last few millilitres of my energy drink and got into Balmaha ahead of schedule. Note to self, must work more on my descents, they are terrible. There were a few more toe stubs on the way too. My big toes were really getting a hammering and I was not even half way. Pick up your feet for god's sake, girl!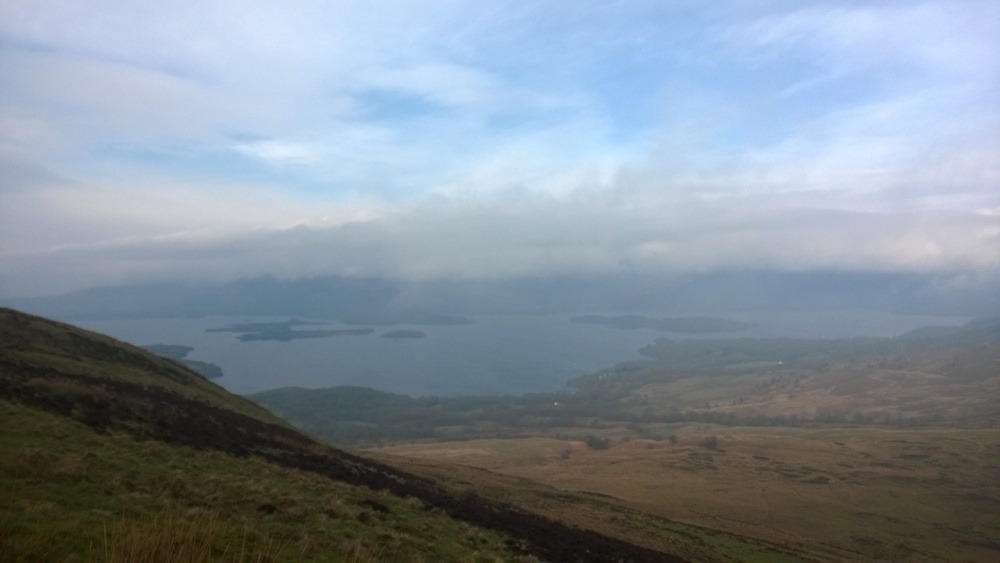 I felt good; my 'visualisation' or lap concept was working. I was really hungry though and it felt like I had started to burn a bit of muscle. Not to worry. All I had to do was pile in the food and keep eating. Cue snafu #2, a sudden dash to the facilities: great, gastric distress. At this point there was no predicting how it would be so proceed as planned. I would press on and Alasdair would see me at Beinglas. Snafu #3 was also happening: I was not drinking enough. The fact that my water bladder did not need topped up at Balmaha should have been the signal and we both failed to pick up on it. That will have contributed to the gastric distress and may well have triggered it.
Right lap 4 and off to Rowardennan. This always seems like a long 7 miles and I always forget that there are wee tricky sections and a short climb or two, but I was going strong and still enjoying the experience, feeling much stronger that last year. I tried to up my fluid intake and keep eating and got to Rowardennan in good time. I had caught up with my good friend Robin Womble about half a mile before the checkpoint and we had a brief chat. What a difference it makes to a race like this when you are able to catch brief periods with friends. So much of my race last year was spent on my own because I was so far back in the field.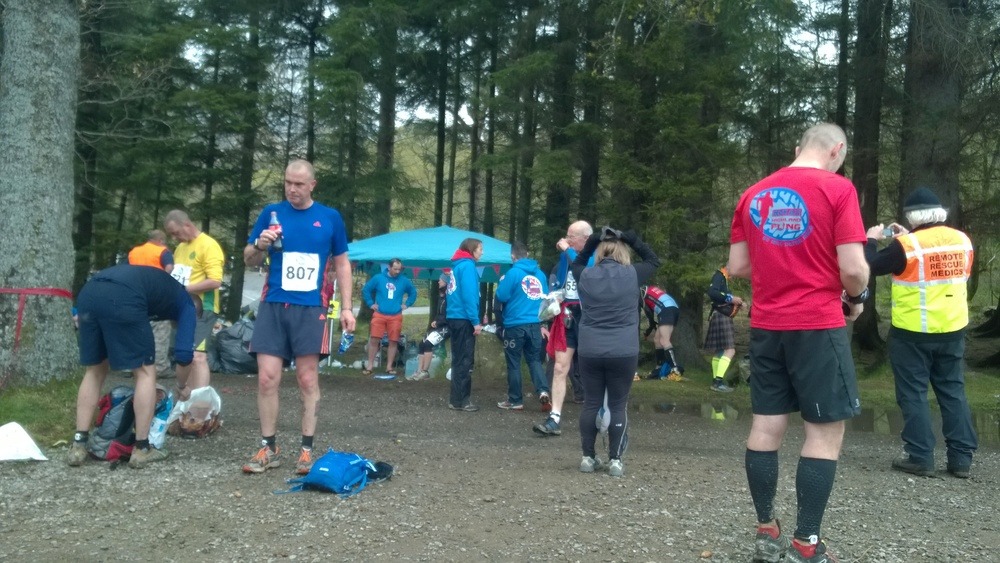 I managed to eat a bit, topped up my water then had to make another dash to the facilities. Yuck. I was also beginning to get cramp and so needed to push salt and water. Lap 5 now, which I was prepared for, knowing that it would be getting tough. I nursed a packet of mini ritz crackers through most of the next section. As ever the last mile into Inversnaid seemed tortuous but it is really not that bad. It is just the contract between that and the track that you have been on for most of the way combined with the fact that you are 34 miles in and tired. This makes everything seem like hard work. I felt Ok though, opened my drop bag and poked around to see what I fancied. I started to eat a tub of creamed rice and almost immediately started to feel sick so swapped to some flat coke which I managed to take, but still feeling really queasy: another dash to use the facilities.
It takes a bit to get going as I head out of Inversnaid, but no worries, progress over the next few miles is going to be slow due to the terrain. I am aware that I need to be constantly sipping at water and trying to get some more food in. Soon there was string of us picking our way along the path. There was a bit of chat and a lot of concentration. Last year I did this section on my own and was so tired and punchy I could barely decide where to put my feet. This year was a huge improvement. As I had feared I got so focused on where I was going that I forgot to eat. Also, I just about had a tumble while taking a gel on the move.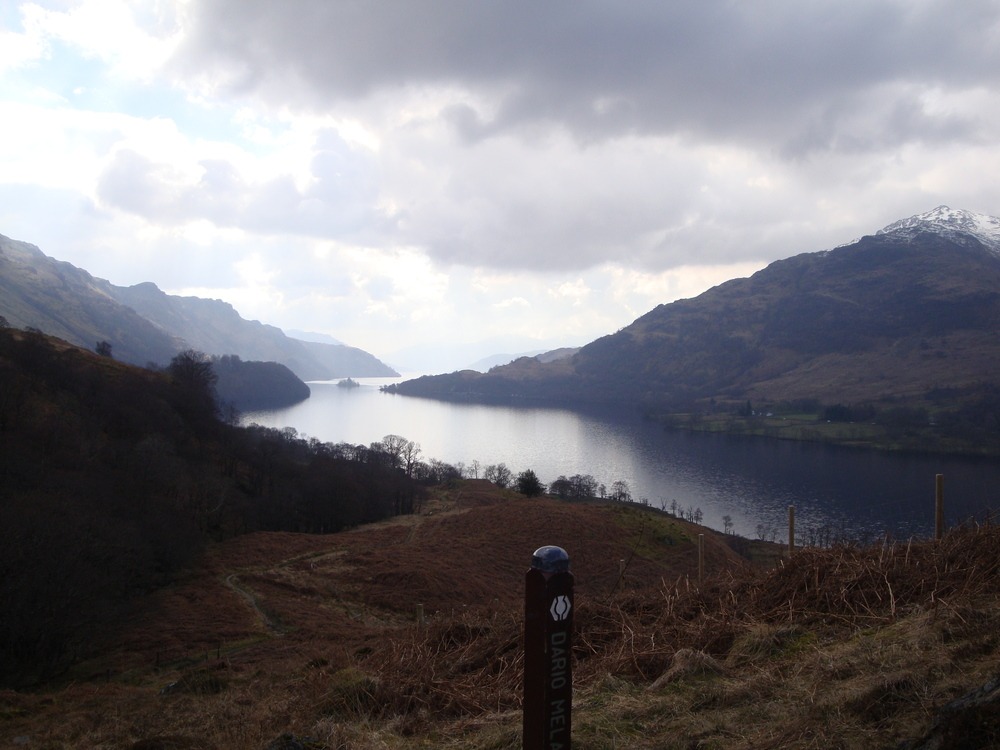 Once onto the easier terrain I picked up the pace, past a few folk including Robin again. I asked if he was Ok and he said he was fine. I powered on. I had a brief pause at the top of the climb up from the end of the loch, at the angel's playground then burst into tears as the emotions of the day caught up with me in the beautiful and special spot. My energy levels dropped really low at this point. That climb took it out of me and I knew that the lack of real, solid food meant that I was getting spikes from the energy gels. I could also feel some bad twinges of cramp. This was the lap 6 that felt like lap 7, but which I was mentally prepared for. It amazing how that keeps you positive and stops the panic or despair setting in. I finally got into Beinglas farm 15 minutes ahead of schedule and almost an hour ahead of last year when I got in only 12 minutes before the cut off. But I was in bad shape and not able to fully appreciate how much better I was doing this year.
I knew I needed fluids, salt and energy but everything was making me feel sick and I was quite agitated. Alasdair told me off:
'You haven't taken enough gels, you need to get a couple of gels down and you need to take at least one before I see you at Crainlarich'.
Solid food was not going down, so I took an odd mix of a gel, some chicken noodle soup and an espresso shot, no wonder I was feeling sick. There were a couple of false starts getting back onto my feet, and the tears started to well up. One of the marshals, Sandra, gave me stern talking to. No tears allowed because that lets the demons in: stop blubbing, take a minute and then set out walking, you have plenty of time.
A few deep breaths later and I was up and walking. Last year I pretty much walked the last 12 miles and I was damned if I was going to do that again. The nausea subsided, the cramps eased and I was able to start running again. As I went I sipped water, tried some energy drink and nibbled on some mini cheddars. The energy drink was making me feel sick, as did the gel I took, so I decided to stop using them. There was a group of us that kept leap frogging each other as our energy and pace ebbed and flowed. There was not much chat, just the odd acknowledgement here and there. We were all feeling each other's fatigue and pain, but also just having to focus the job in hand and get through however we could.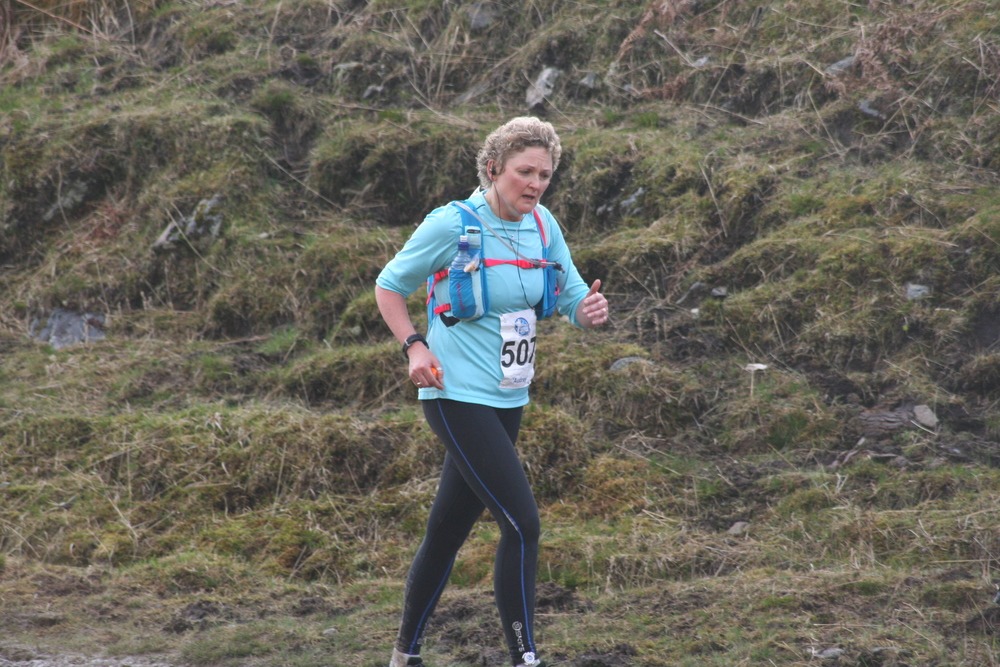 After negotiating a dozen or so cows at cowpat alley with a gentle pat on the rump it was just a short hop to Crainlarich. Alasdair had walked up from the village. I explained that I had been trying my best with the gels and energy drink but that they were making me feel sick. So, no admonishment and he handed me another espresso shot and a piece of chocolate loaf. Those espresso shots were proving to be invaluable: milk, sugar, caffeine, not too sweet and easy to consume. Then it was off again to negotiate the rollercoaster down to Tyndrum after a pause to admire the view.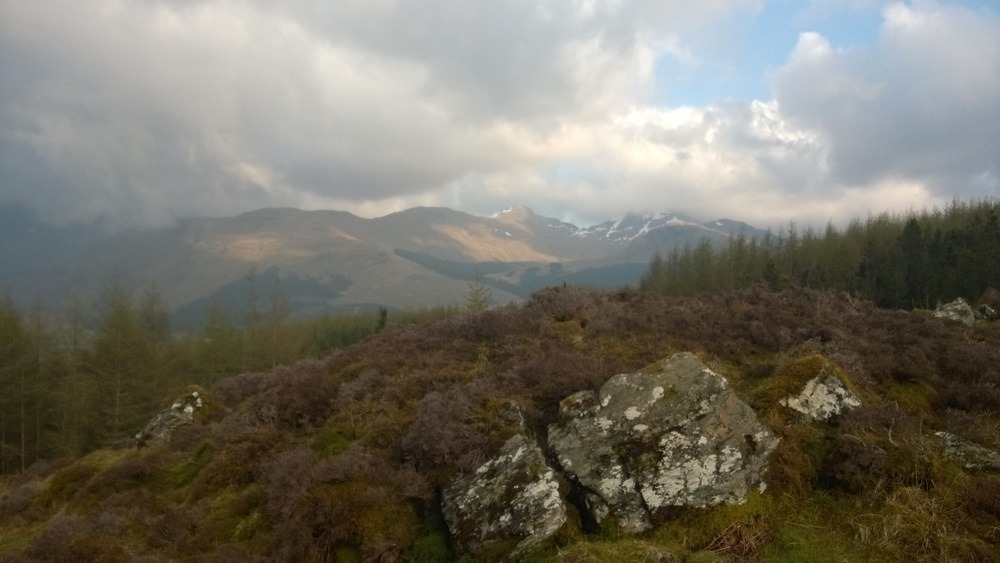 Those descents were killers, worse than the ascents. I could not summon up any speed, my quads were on fire and my toes that had been pounded mercilessly just could not take the pressure. Eventually we reached the road crossing and just 3 miles to. Again a number of us ebbed and flowed along overtaking, being overtaken all just pressing one with one aim to get to that finish line as soon as humanly possible. Crossing the old lead mine and I knew it was not far; one last wee climb and then down along the river, the cottage and the turn to the finish line. I summoned up a last spurt of energy for a strong run to line: 14 hours and 2 seconds, an hour and 3 minute faster than last year.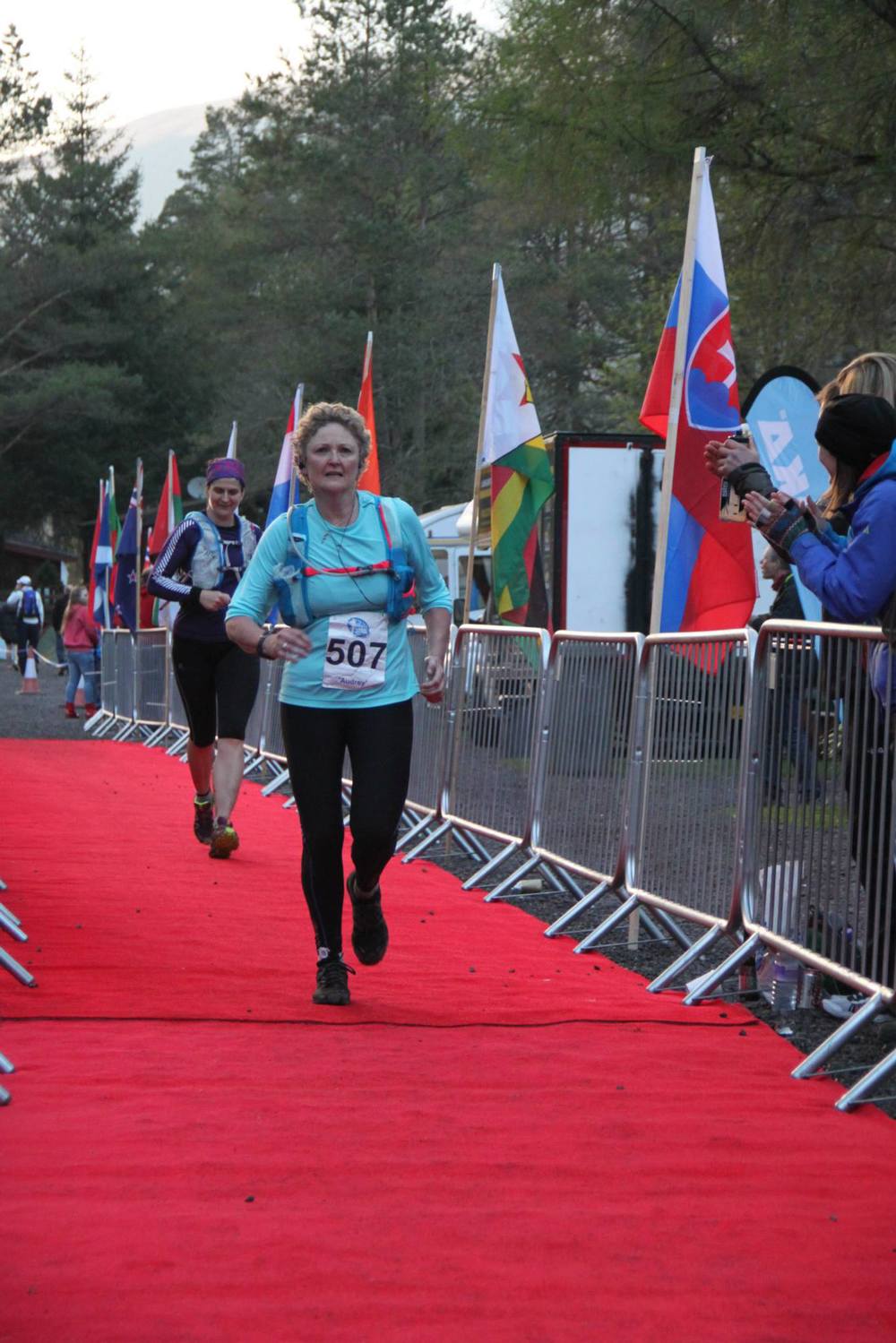 The demons were slain.
But as I recover and reflect I know that there is still room for improvement. I am not sure what potential there is for getting any faster. I could certainly improve my descents and gain a few minutes, and I could probably afford to take the first 13 miles to Drymen a little faster. There is probably the potential to shave up to about 30 minutes off the last section if I can make it into and out of Beinglas in slightly better shape.
Frustratingly, I still did not get the fluids and nutrition quite right and I am a sure that the re-appearance of my old nemesis, gastric distress, played a part. I know that I can get this right and keep gastric distress at bay as was proved in a number of events last year. This is the area that needs most work especially with the Great Gen Ultra coming up: hydration and nutrition will be vital success factors there as is the absence of gastric issues.
Another note: go back to wearing the half size bigger shoes and learn to pick up your feet and stop tripping you muppet!
Finally, Alasdair's objectives:
Do as I am told: partial check. I did mostly, honest.

Eat and drink: partial check. I improved on last year, and was hampered by the gastric issues.
Change my clothes: check. We made a joint decision to leave my feet alone and not face the horror that was my battered toes.
Take enough time at the checkpoints to sort myself out and eat: check.
Finish is a state where I know where I am going: check.
Finish in a state where I know where the finish is: big check.
Not lying on the back seat whimpering on the way home: huge check.
Overall, I am happy with the outcome and result of my 2014 Fling and am looking forward to my next challenge, just as soon as the toes stop bleating.