A not so cautious return from injury.
It's an age old story.
You get injured. It's a bad one, crutches are involved. Painkillers are involved.
Picture a running diva lolling with a 'blanky' and a pile of cushions.
There are weeks (four) of enforced inactivity. Picture diva impersonating a cat on a hot tin roof.
Finally, you get the all clear to ease back into training, but there is a small problem. It is only seven weeks until your next race, a huge kick-ass 100k with ascent equal to climbing Ben Nevis five times.
Aaaahhhhhhhh!
What's a girl to do?
The 10% rule: when recovering and returning to running only increase your mileage by 10% per week. Well that wasn't going to happen. It was a case of '10% rule'; I spit at your 10%. I was going for the high risk strategy: walk eleven in week one, then run six, twelve, twenty, thirty-four. I did say high risk, didn't I?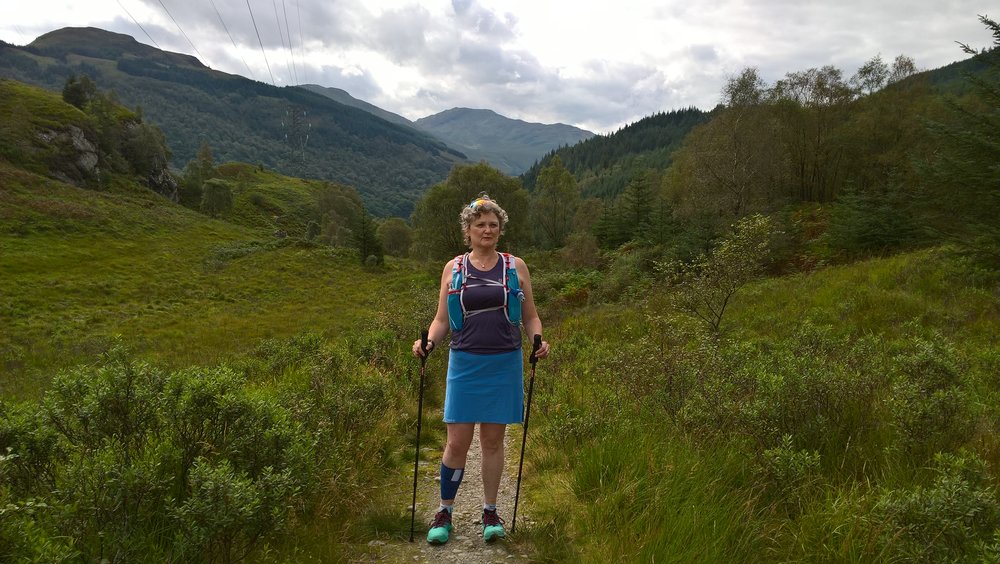 Targets were needed and so two milestones were set. Sweeping for the inaugural Ochil Ultra at the end of September; and racing ( I use that term very loosely and in in its most generic form) the second edition of the Dunoon Presents 55k a week later. If I couldn't bag them then the big one was going to be a suicide mission. I set the bar low. In fact I buried the bar.
My sweep at the Ochil Ultra was from miles 20 – 40 between Glen Devon and Bridge of Earn. I rocked up at Glen Devon sincerely hoping that I could cover the distance and be able to equal the last runner's pace. How embarrassing would that be? The sweeper eating the runner's dust.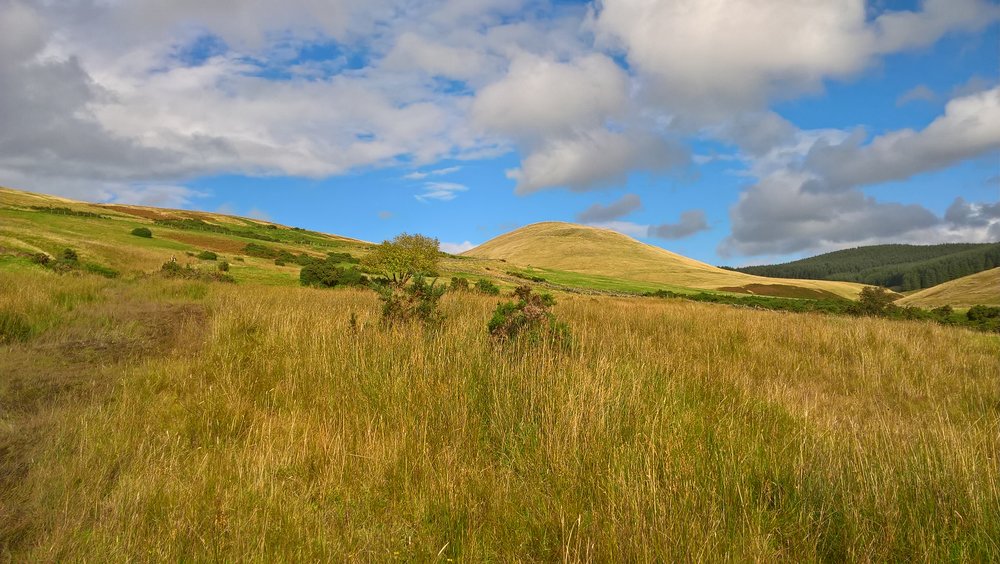 It was a beautiful sunny morning at the Glen Devon check-point where I arrived early and helped out whilst waiting for my shift to start. Runners were coming down off the hill covered in mud with tales of bogs, mud slides, falling over and with the words brutal and punishing on their lips, but all in good spirits.
My friend Sue, also on the return to fitness, was going to join the sweep, but taking a far more conservative approach. Her plan was for 10 – 11 miles; but given that she was already talking of entering the shorter version of the big kick ass race in October perhaps not so risk averse then.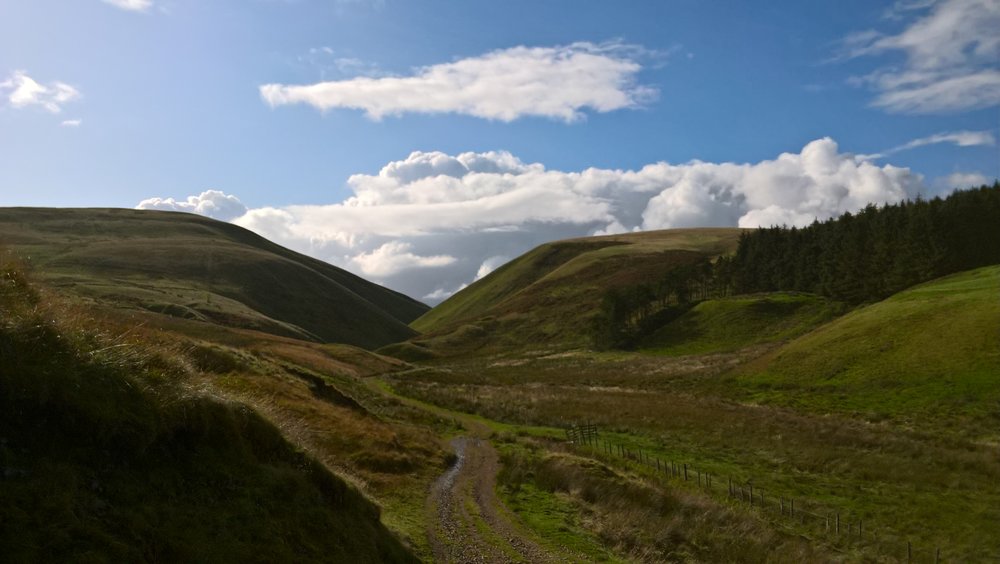 Our runner, Pamela, arrived and we set out. It was a long time since I had been in this area and I had forgotten just how lovely the rolling hills, woods and farmland were. Pamela was probably less enamoured at this stage. We got the impression that she was not up for our doubler act chat or the cattle prod so we hung back admiring the landscape, catching her now and again to check-in. Pamela got a strong yomp going. Blimey, at this rate we would be eating her dust. We undulated along splishing and splashing through bogs and streams. Pamela took a bit of a dip as we approached the 30 mile check-point so we decided to try the distraction tactics with some great chat and a few targets. After the check-point though she picked up a head of steam again. Perhaps our craik was not so good after all; either that or she was determined to make the cut-off at the last check-point. Looked like Sue had flung caution to the wind too and was going all the way to Bridge of Earn and entering that race in Carcassonne.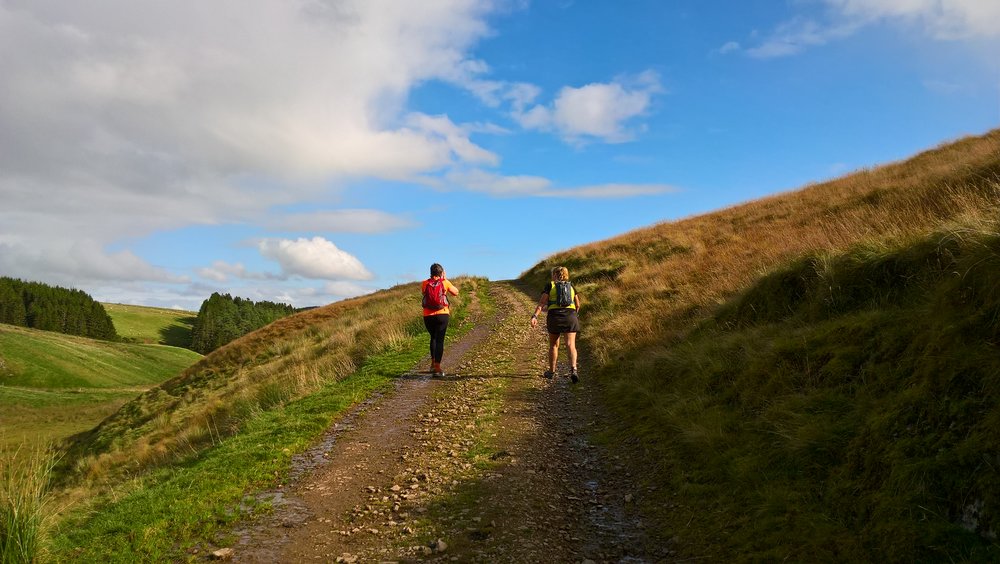 Pamela's determination was impressive and inspiring. I so wanted to take her the last miles to the finish, but that really would be spitting in the face of caution. Having almost doubled my distance I decided to be sensible and handed over the broom to the next sweeper.
It had been a good day knowing that Pamela was going to finish strong, and knowing that taking a risk had paid off. My response: a happy, 'I'll take that'; we were all happy 'to take that'.
The Ochil Ultra is a cracking event over beautiful and challenging terrain, well organised and supported by a team of enthusiastic volunteers. Definitely one for the bucket list.
A week later I was on the first ferry over to Dunoon, fully expecting it to be my turn to have the sweeper for company and hoping to make the cut-off. Nothing like a spot of role reversal to maintain the balance of the world.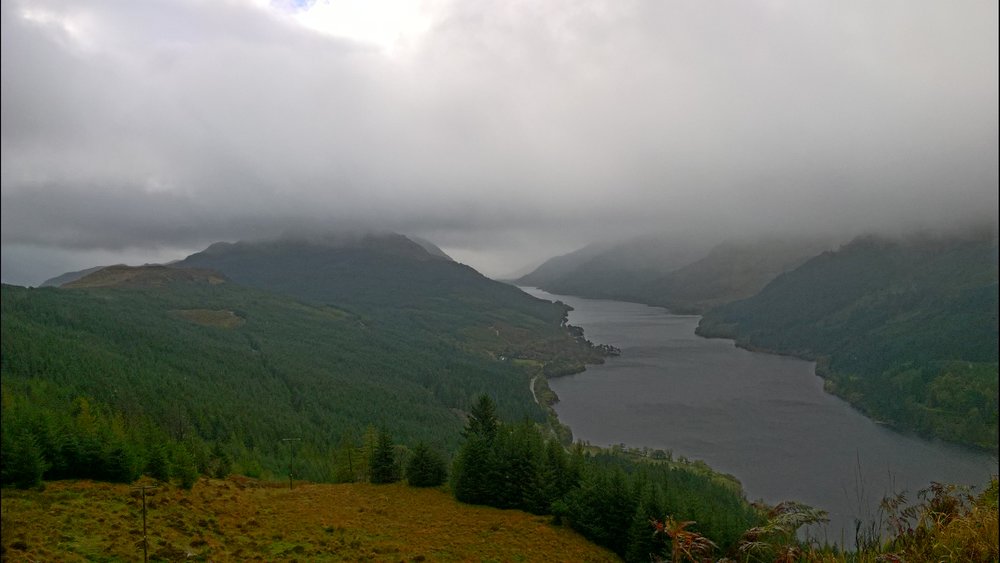 It was a dreich day, with a few showers and wet underfoot after recent heavy rain. It was day for 'steady Eddy': no records being broken today. I mean it wasn't as if I was under trained was it. It was not a day to be mullering myself, it was my last long run before a taper of sorts, so I meandered along comfortably chatting with my fellows. To my surprise I was well ahead of the sweeper and I made the cut-off comfortably, first goal achieved. I took a tactical decision to walk most of the last ten miles after strapping my shin. The last few miles were a bit uncomfortable when the injury felt the need to remind me of its recent presence and chastise me for my cavalier approach. It was a long slow day and I finished a few minutes under eight hours. Not bad, not bad at all. I was most definitely taking that!
I was ready to raid!
I got away with it. The high risk strategy worked. It got me to where I needed to be. I was lucky. It is not a recommended approach. I has got the miles in my legs and proved that I was over the injury. My fitness, however, was not where it really needed to be for the big race, but I knew it would get me by. I had a fighting chance of finishing the Raid des Bogomiles.