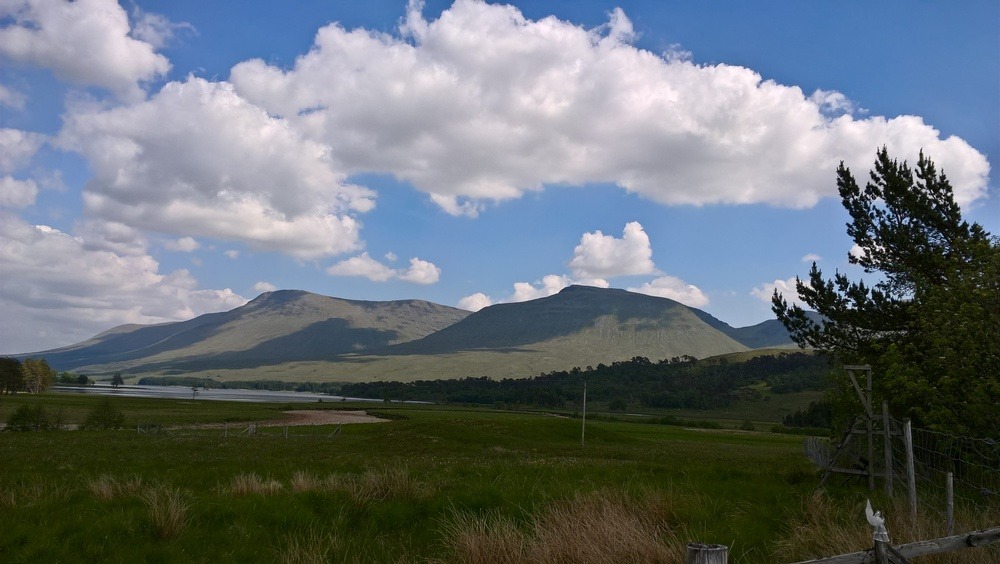 Let's go for a long run, and let's go for a long run on what is probably the hottest day of the year so far, and let's just be a smarty pants and tack on an extra 9 miles before meeting friends for the main event. What a marvellous plan!
I usually set out for runs on the West Highland Way with a boot full of kit to cope with 'weather': that is everything from a bikini to full on Artic gear, regardless of time of year, and the expectation that at some point most of it will be used. Yes, things can be changeable in the Scottish highlands.
It did not seem quite right last Sunday to have a largely empty boot with just a chill bag of provisions and a spare t-shirt & socks in it. Nor did it seem quite right to be standing there in a skirt and vest ladling on the sunblock and donning my shades.
It was over 20 degrees just before 9.30 am when I set out from the Glencoe Ski centre to run the 4.5 miles to the foot of the Devil's Staircase and back for my extra miles. Pushing the pace a bit so as not to miss my rendezvous I barrelled past already weary walkers, (many of them with towels draped over their heads), who looked at me as if I had gone completely mad.
Funnily enough the return was a bit slower especially as my recently grumbling Achilles was starting to bleat a bit. I missed my rendezvous, but after an exchange of texts and a call I could probably catch them on the start of Rannoch Moor. A sweaty, grizzly, red blob arrived at the car to pick up another litre of water, gulp down a carton of fruit juice and apply some tape to the Achilles. Alasdair was cool as a cucumber, strolling along in a loose linen shirt and rather dashing panama hat, waxing lyrical about how marvellous the weather and the views were.
Within in minutes of setting out the tape had come loose and I was sporting a rather fetching bright blue tail. Rule 101 of sports tape: it does not adhere to hot sweaty skin, even if you have cleaned it with a wet-wipe. I huffed and puffed my way up the hill to the top of the moor thinking that Katherine and I clearly had a different interpretation of the word 'bimble'.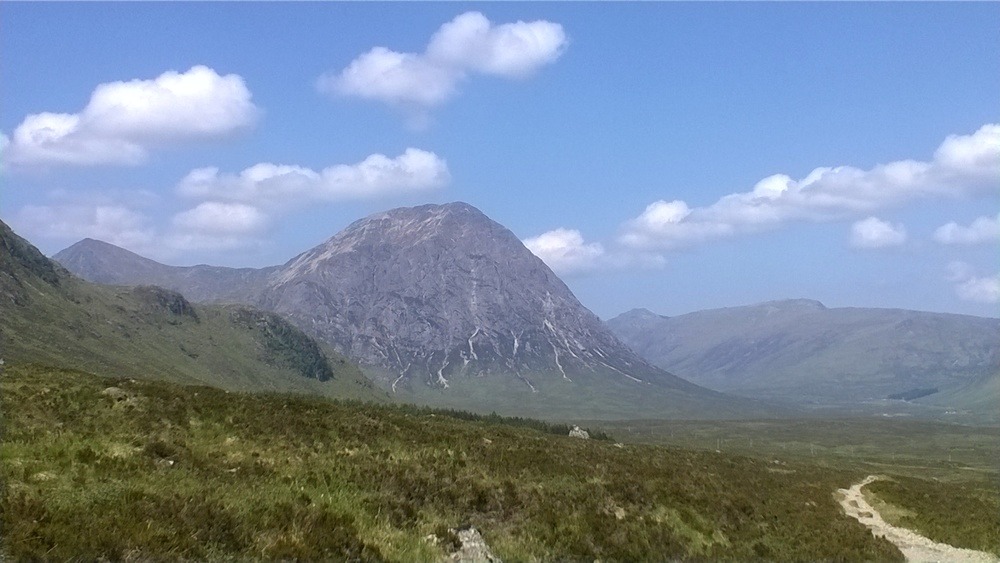 I was beginning to think that my brain was starting to boil and that my arm felt disturbingly hot in spite of the factor 50. Maybe I should slow down a bit and live with the fact that we had missed each other.
As I popped over the top I spotted them and we were soon trotting along together. Saturday's water light and alcohol heavy approach (well, it was my birthday) was beginning to take its toll. A pit stop was needed and so we stopped by a stream: good: and a couple of sheep skulls and assorted bones: disturbing. It was starting to feel a lot like a scene from a film, where the heroes are caked in salt and dragging themselves across the desert with the vultures circling.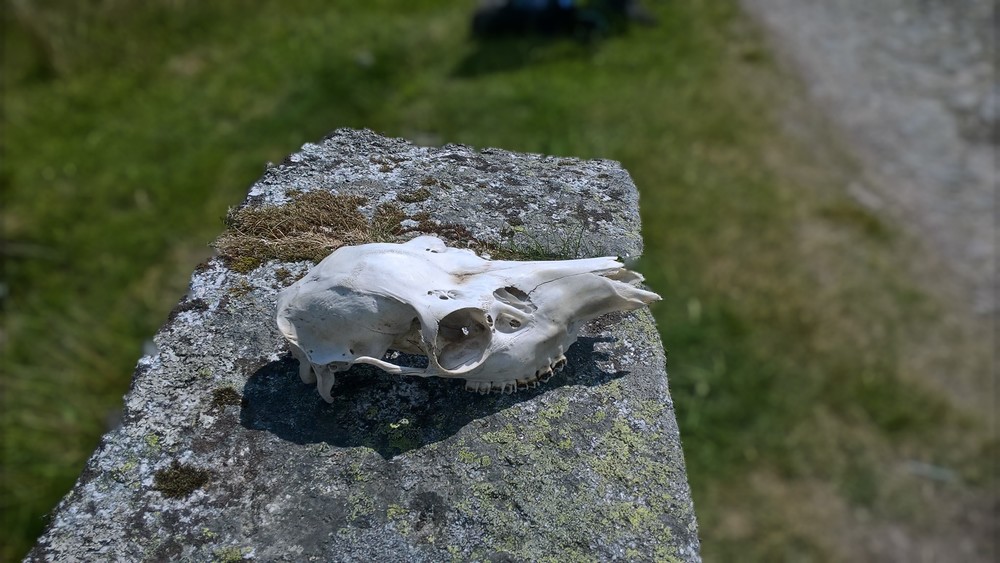 We pressed on, every now and again hitting a wall of heat that drew us up short. We all agreed that the temperate must be hitting 30 degrees. There was next to no shade and if anything the small pockets of shade we found were even hotter! Noel Coward put it so well, 'only mad dogs and [Scotsmen] go out in the midday sun' and we were the classic example.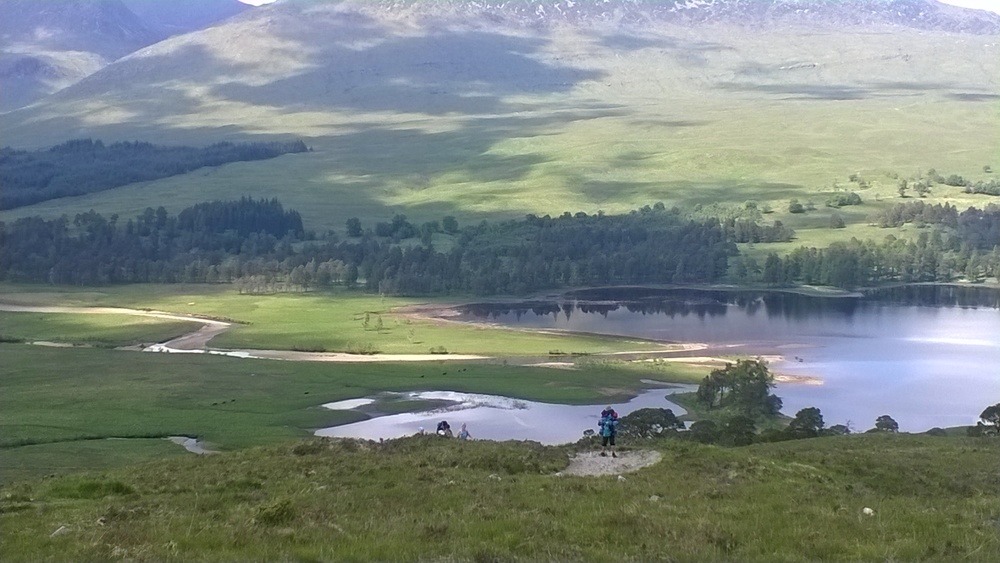 Inveroran and another litre of water and a share of some ice cold coke. None of us was looking forward to that climb up the hill and over to Bridge of Orchy. As we approached the lonely rowan tree we spotted 'Mr Cool' who had walked up from Bridge of Orchy. It gave us a wee boost, especially when he said we had been a lot quicker coming over than I had predicted. We left him to amble back down and pressed on for a quick stop at the car and a chance to raid the chill bag, except it was not so much of a chill bag anymore; but there was juice, coke, water, mars bars (which had at least not liquefied) and Pringles. We were like sponges absorbing the fluids.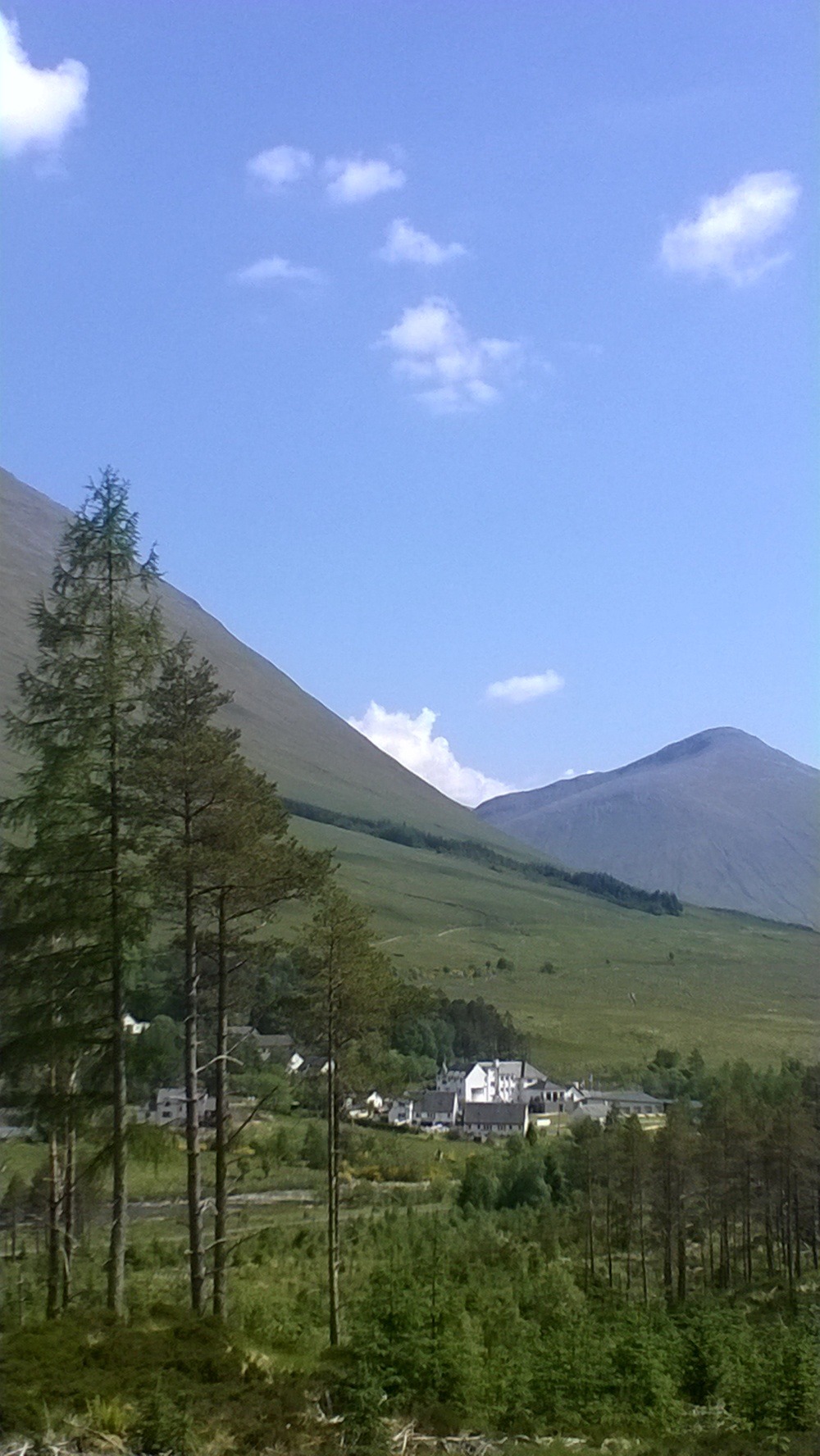 It briefly occurred to us that we could bail at this point: hot and bothered is probably quite mild description of how we felt. Katherine was a hero; she had run 40 miles the previous day, and was determined that she was going to get that last 7 miles to Tyndrum. We set out walking bumbling along reasonably happily before realising that really we should break into a bit of an ultra-shuffle. It seemed to be getting hotter and hotter and we paused at just about every stream and shady spot. The scene from the film Ice Cold in Alex came to mind: when the heroes, suffering great hardship crossing the desert, pledge to meet and have an ice cold beer in Alexandria once their ordeal is over.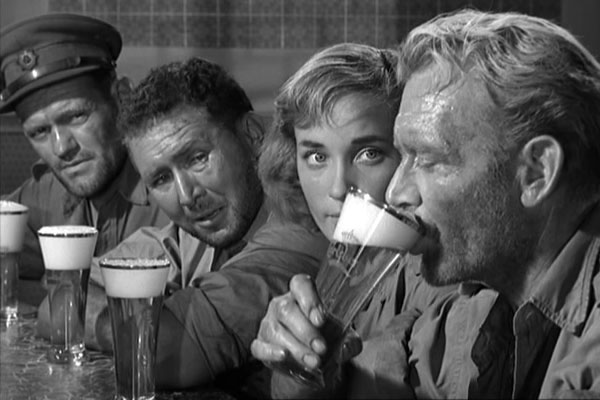 Those highland coos standing chilling out and uber relaxed under some trees next to a burn had the right idea.
There was definitely less chat now and there was a fair amount of determination and silent encouragement in that last 3 miles, with the lure of an ice lolly keeping us going. I was hoping for more choice than the Bubblegum Calypo that I had during last year's West Highland Way race. I was rewarded with a Fab (it's a childhood thing) and oh boy; was that ice lolly good! It was still 26 degrees in Tyndrum.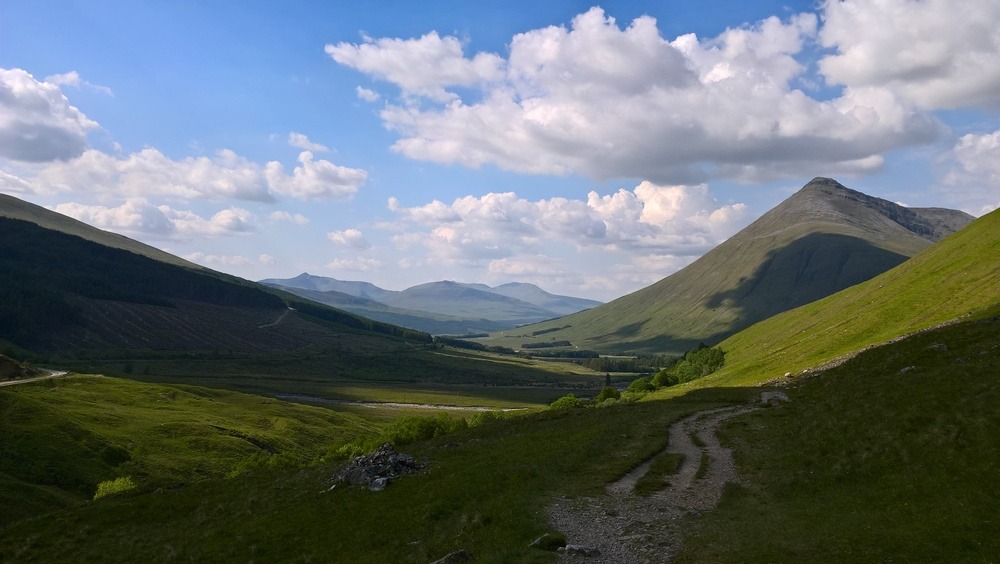 What an epic, amazing day and it was great to share the experience. I have never seen that landscape look so stunning. More used to seeing it shrouded in cloud and mist; moody, bleak and dramatic it was an equally awesome and draw-dropping vista bathed in sunlight and shimmering heat.
It is ironic that it takes a blisteringly hot summer day to fully appreciate just how exposed that terrain is. Three litres plus of fluid, two tubes of sunblock, assorted and salty and sugary snacks, (those giant blue jelly babies were awesome – that could be heat stroke talking), much dabbling in streams, much huffing and puffing, sweat evaporating as quickly as it formed: enjoying the extreme.