'Oh, dear god! It looks like I walked the entire race.'
'And oh, my god, where has my neck gone, and why is my bum sticking out like that?'
I waddled along like some odd duck-tortoise chimera.
The video posted by Pete the cycle sweeper was quite a shock; an embarrassment even. It was not a good way to run. On a more positive note, my day at the Moray Coastal Trail 50 was a success. In spite of appearances and my 'lanterne rouge' position for most of the race I completed it well ahead of plan. I was in control throughout, my plantar fascia held up and I got my fluids and nutrition pretty spot on. This was always going to be a play it safe event and more of a training run for my forthcoming Global Odyssey Greenland 100k.
The Moray Coastal Trail 50 starts in Forres, follows quiet roads to Findhorn and then picks up the beautiful Moray Coastal Trail with a dramatic finish, 50 miles later, under the viaduct in Cullen. It is a mix of trail and road. And en-route the aptly described 'three miles of hell' across a pebbly shore on the section between Lossiemouth and Kingston. Overall, there was a little too much road for my liking. Tarmac is just too punishing on my hips and lower back these days.
The drive up to Forres the day before had a touch of jeopardy added by way of an unplanned stop in Aviemore. I had a sudden and timely realisation that I had forgotten to pack my water bottles.
Alasdair's exasperated response;
'You muppet! Who forgets their water bottles? Didn't you have a packing list? I'd have thought you'd have learned your lesson when you forgot your supplies on that training run?'
It was a fair comment. Luckily, I managed to source two soft flasks. The eye-watering price ensured that the lesson was well and truly learned. A case of looking away and going 'la-la-la' when zapping my card. It still stings. However, the checkpoint marshals really appreciated the clip-top bottle.
Race day dawned.
'Everyone's cutting it fine'
I thought as I observed the quiet registration and the lack of bodies gathering at the start. Then it dawned on me. This was a very small field; and not only that, I was probably the oldest runner. As I crossed the start-line I had a sense of inevitability that I would remain firmly at the blunt end of the race throughout. Whilst waiting I had been chatting with Paula and we fell into step at the off. We trotted along at a fair pace and the effort unsettled my breathing for several miles. We stayed together as far as Findhorn. According to Garmin I achieved a new 10k record! (Not, might I add, in my entire running career; just since bothering to use Garmin Connect.)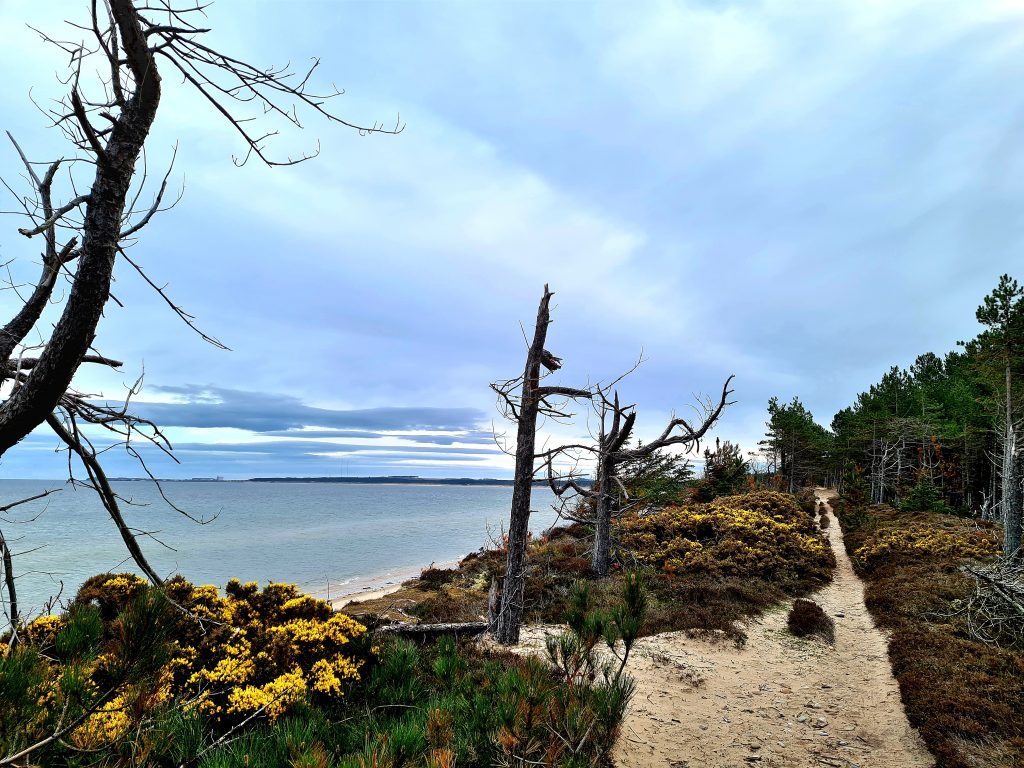 It was time for a tactical decision. I couldn't keep this up, shouldn't keep this up. I had to run my race at my pace so I stopped briefly and dropped back. The route transitioned onto the trail to meander along hugging the coastline. It was a gorgeous, calm, quiet morning. The light was soft and bright creating a wide vista of sea and sky. There was a fresh, salty smell of the sea and seaweed mingled with the sharp pungency of the pines along the shore. I relaxed as did my pace. I settled into a steady trot. Ten miles clicked over and it was sub two hours which was good, but too fast.
At twelve miles I was finally caught by Pete the cycle sweeper just as I reached the first checkpoint at Roseisle. He was kindly encouraging;
'Good going. You are doing well. I usually catch the rear runner earlier than this'.
The lady who re-filled my new bottle was quite taken with the not seen before clip top: 'so much easier'. That almost justified the cost. It was a quick transition and I set out at a walk munching a sandwich. I was hungry. It was tasty and I was glad of the last-minute decision to include it.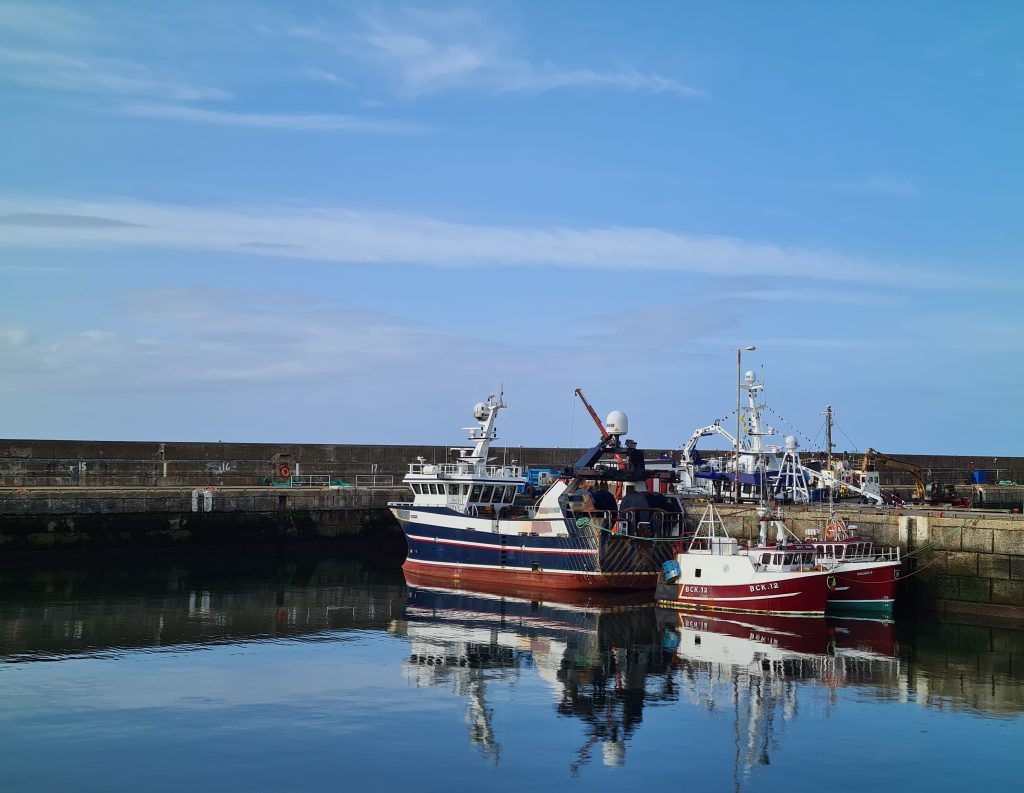 As we chatted, I told Pete that I would be slow, but that the pace would be consistent. The route continued to pick its way along the coast dotted with tiny picturesque villages and harbours. At Burghead I got a lovely surprise when Alasdair appeared. As I sauntered along looking at the boats and happily snacking, I heard a familiar growl of an engine behind me as he pulled up in the car.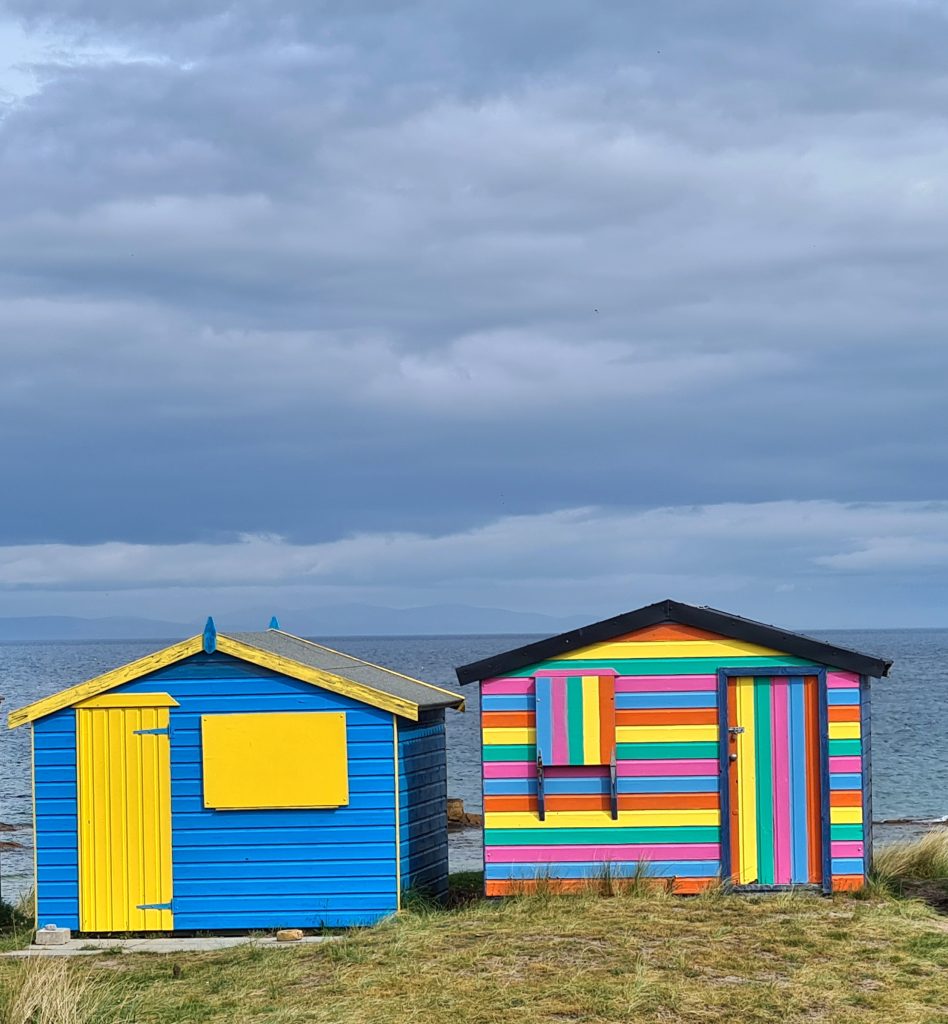 I was on my own when I reached Covesea on the west side of Lossiemouth. I paused, usure and there followed some unnecessary head scratching. Did I go along the beach? Was there a path through the dunes? Or did the route cut away from the shore? It didn't matter. The aim was to get to the other side. I started on the beach, cut back into the dunes, then saw another runner appearing from the holiday park then onto the beach. That was odd; where had he been? When I reached it became clear he was having a bad day. He had gone off route a couple of times and just wasn't having a good time. He had decided to call it a day at the checkpoint. I commiserated before pressing on.
At this point I would have to say that the route marking would have benefitted from a few more markers in some spots. Especially where the official coastal trail marker posts were less obvious. There were a few ambiguous markers too. Clearer marking would have helped runners who did not know the trail or who did not have the GPX. I went off piste a couple of times and had to open up and refer to the GPX on my phone to check. I am a firm believer that there should not be an assumption that or reliance on runners having the GPX. For one thing, it eats device battery even when using offline maps.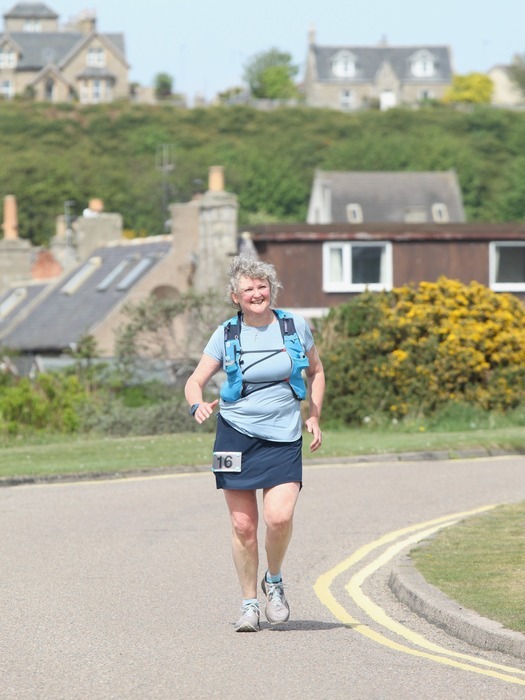 Alasdair was waiting for another check-in at the Lossiemouth checkpoint along with the welcoming and cheery marshals. I took a longer stop to refuel, have an espresso, and scrounge some sunblock. IT was then time to head out and tackle the second half before I got too comfy. The lovely, chatty Arash was on sweeping duties from here and picked me up in the wood half a mile on from the checkpoint.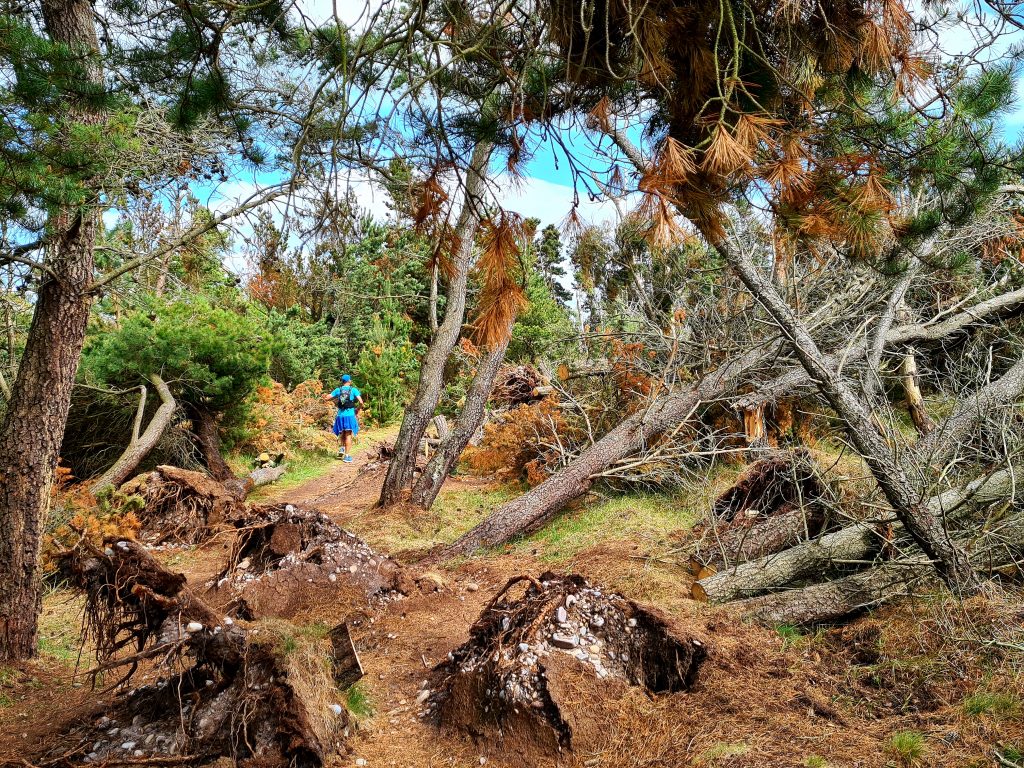 In this half of the route the scale of the destruction caused by storm Arwen was never more evident. So many trees felled; lying this way and that, with broken jagged limbs and root beds upturned and exposed. It had to be seen to be believed. Arash encouraged me keep the pace up saying,
'You will be walking soon'.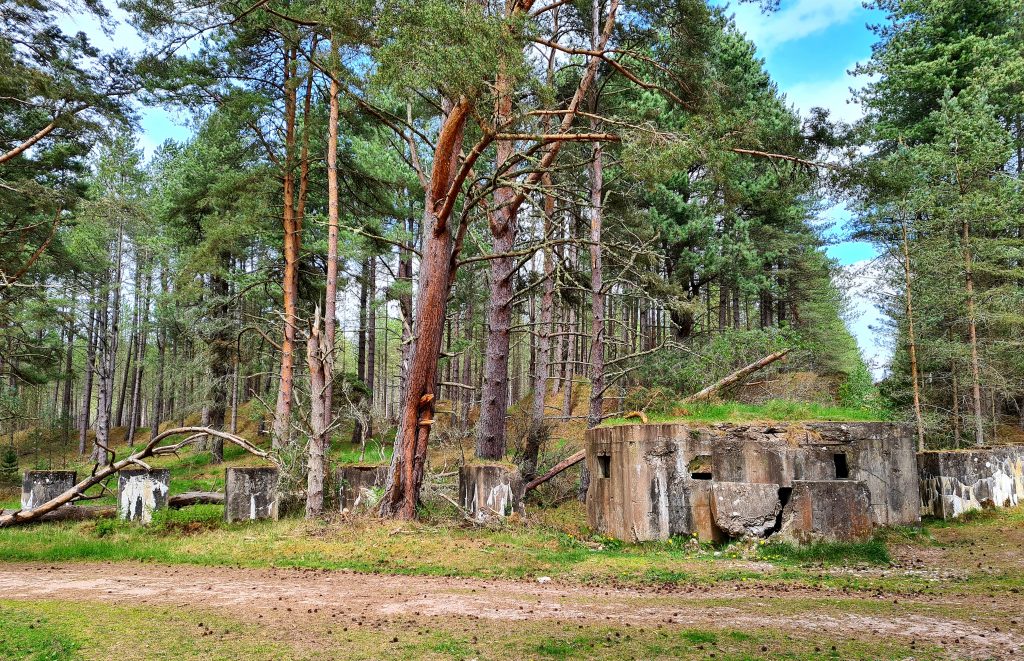 The trail led me past some WWII pill-boxes and anti-tank blocks to emerge on the beach. The sea was hidden by dunes of pebbles piled high by the tides. This was the three miles of hell. Its length guarded by the anti-tank blocks and gun batteries. I took a breath, pulled up my big girl pants and set to it. It was hard work, but I managed to summon a slow jog on less pebbly sections. It finally transitioned onto road which for once I greeted with relief.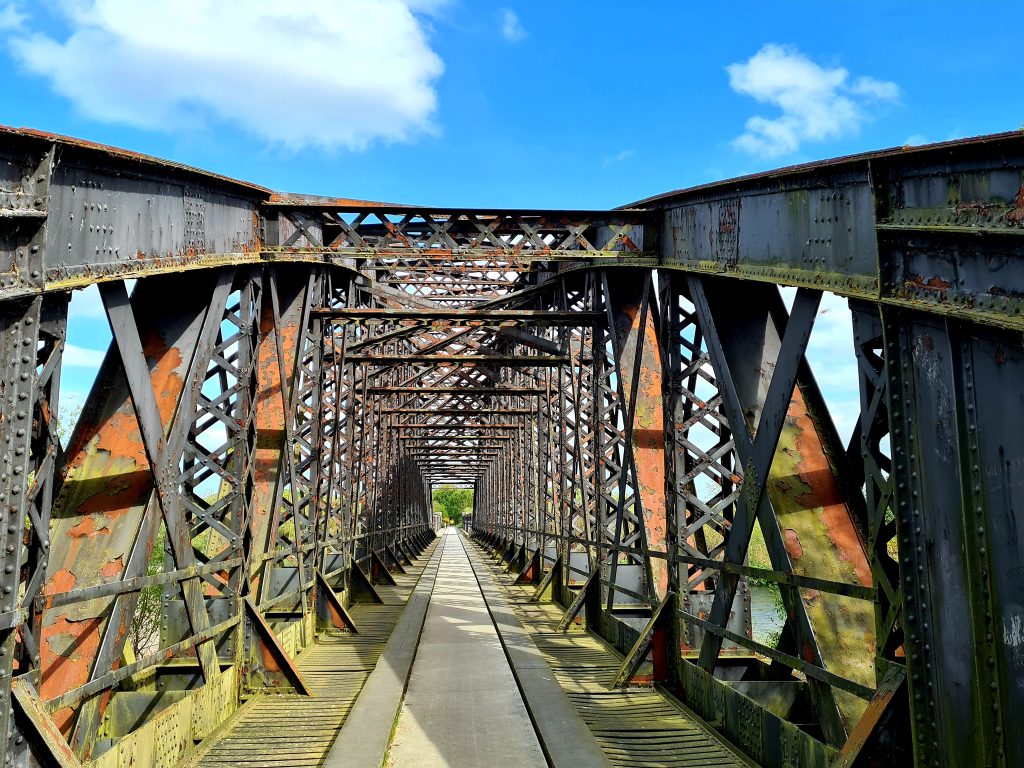 Through Kingston next, then Garmouth, over the river Spey and on towards Buckpool and Buckie. At Portgordon I, unexpectedly, spotted another runner in the distance on a bench, but she set off before I reached her. Pete and Arash suggested I might catch her. I observed her progress for a bit. The benefit of her rest stop was clear. It was a good and strong pace. It would be too risky for me to attempt a catch. Less than ten miles to go now. At the last checkpoint the marshal said there was another runner ahead who was walking. Within a mile I ceded my lanterne rouge position and the company of Pete and Arash.
The Roberta who had been patrolling the route back and forth appeared and joined me. She distracted me with excellent chat. I was tiring but not to the point of the 'death shuffle'. Although there were a few more sneaky walking breaks. Through Findochty and I started to smell the finish. The amazing fiddler's bow rock came into view and I knew I was getting closer still.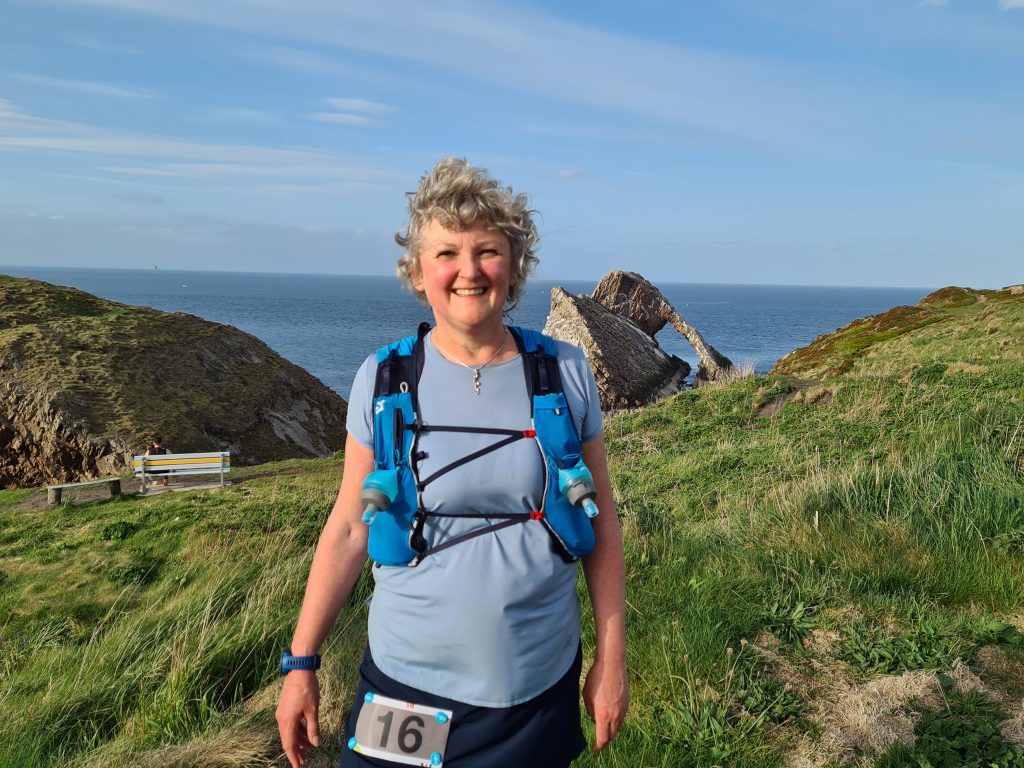 I spotted a village in the distance.
'Please tell me that's Cullen', I pleaded to Roberta.
'It is. It's maybe a couple of miles to go. There's a bit of steep path down the cliff and then along the beach'
I picked up the pace.
Roberta was not joking. It was a steep narrow vertigo pinging path down the cliff and some cruel steps thrown in for good measure, then a final sapping, pull along the beach. Some more steps and a short run to the finish. Done: 12:07:30. Somewhat faster than my planned 12:30 and predicted 13:00. That'll do.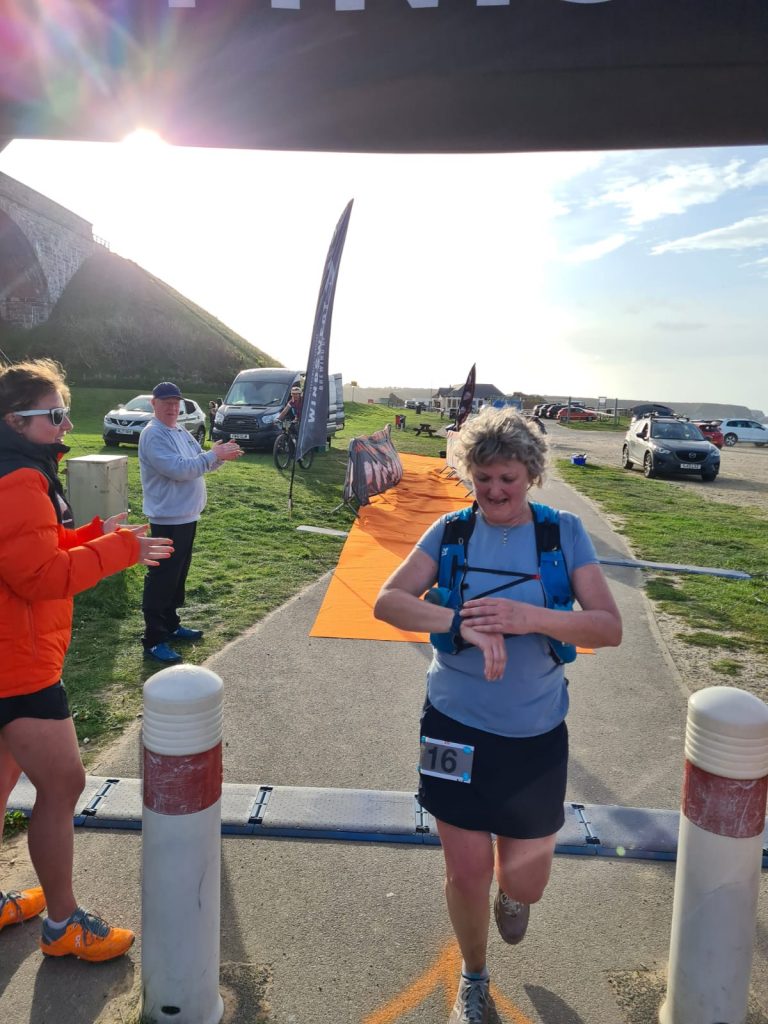 Many thanks to the organisers for a good event and beautiful route that showed the Moray coast at its best. A special thank-you to all the cheery, encouraging volunteers at the checkpoints and Pete, Roberta and Arash who swept and accompanied me to the finish.
The take away from the event; because there is always a take away. For that, I go back to that video. I need to work on my posture. There is no excuse for it. I have a strong core capable of holding me up straight. It is just a bad habit that I have fallen into. Fatigue will often affect posture, but my mine was bad from the off. I need to tuck my bum in, lift my feet, engage my core, keep my back straight, drop my shoulders and start to run tall again. Who knows, the improved form may result in a small performance gain.
Photo credit Meeshee Cumming Photography