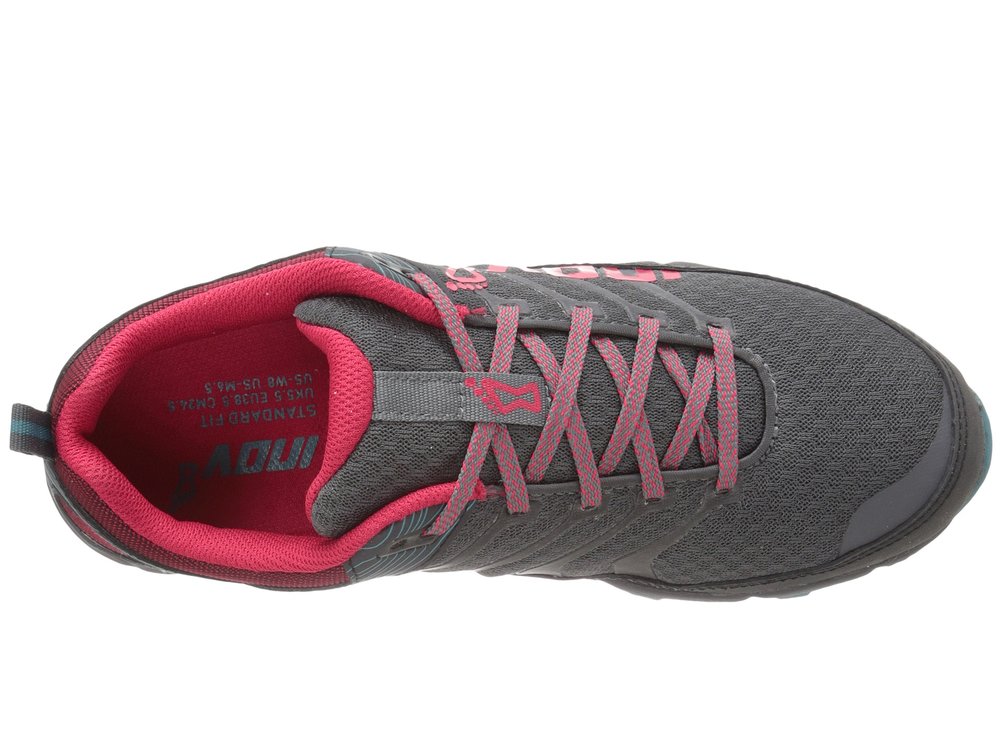 Should I be worried that my trail shoes have increasingly extreme names? Grit, Fellrasier, Roclite, Terra Claw, Arctic Talon.
It's a case of horses for courses, or rather shoes for courses. Unlike road shoes, where I have a single brand and model that I run in; I have learned that one shoe fits all does not necessarily apply to trails where the underfoot conditions can vary greatly. I learned to my cost in April when my chosen and only shoe did not cope with a technical downhill involving damp and wet conditions over leaves, rocks and tree roots. A number of slips and falls, and a wrenched ankle later I withdrew from the race.
After that the search was on to expand my selection of trail shoes from one. The choice and fit of shoes is a very personal matter. What works for one person does not necessarily work for another. So, canvasing opinion and recommendations via Facebook was not really a wise a move. It resulted in large number of conflicting opinions, however, it did provide me with food for thought. As I started to review a number of brands and models I quickly realised it was going to be hard to satisfy my requirement for a low drop shoes combined with the various technical capabilities I encounter: rocky, wet & muddy, wet rock, sand, snow and ice.
Inov-8 emerged as a bit of a contender. I purchased a pair of Terra Claw 220s and then put in an enquiry for some advice regarding shoes for ice and desert. We settled on the Arctic Talon for the ice and the Roclite 295 as a good all round trail shoe.
Here is my product review of the Roclite 295 (further reviews of my other Inov-8 shoes will follow). I have an older model of a Goretex Roclite that served me well in the snow in Antarctica and the North Pole and so a certain familiarity with the brand and model or so I thought. When I pulled on the 295 a realised it was quite a different beast. The toe box has a lot of room, probably a little too much for my slim foot, but I find that to generally be the case with Inov-8, and to date it has not been an issue. You just need to get used to the feeling.
I was immediately aware of the low profile and flexible fit. They felt comfortable and light at just 290 grams, with a very breathable mesh and straps to support the foot. My orthotics sat well inside them which is always a big consideration for me. They are designed to be a good multi-terrain shoe and for me, an alternative to the shoe that I have used for this purpose for a number of years.
How have the tested so far? The first outing was along a stony track, a short section of tarmac followed by a grassy path and onto some pebbly beach. I got a comfortable and stable ride with just enough cushioning to cope with the stones. The lugs are not particularly aggressive but certainly provide enough traction on wet grass, a bit of mud and loose stones. All good so far.
The next test was on the beach and sand dunes. No shoe is going to give you great traction on loose sand dunes. By our nature we are not weightless and insubstantial and short of having enormous webbed feet we are going to sink and slide in loose sand. Yes, with the breathable mess and no gaiters they quickly filled with sand and I was soon an extra couple of kilos heavier. But by the same token a reasonable amount of the sand worked its way back out. Once back on the beach I ran on soft and hard sand and plashed through a couple of shallows streams/rivulets. Again it was a good ride and the shoes dried quickly.
A 13 mile run forest track and trail gave me a real sense of how the shoe will be over longer distances. The ride remained comfortable and the lugs fared well on mud and wet stones which is all you really ask of a trail shoe. As on the beach a fair amount of grit got into the shoes but not so much as to be troublesome and a set of gaiters will deal with that.
The thing that has made these shoes a winner was the immediate sensation of familiarity when putting them on for the first time. They felt like an old friend or an old comfortable jumper which inspires confidence. It is always difficult trying and finding new shoes especially after a number of years with a particular shoe. I still love my old favourites, but the need for a bit more aggression has forced me the look further afield and the Roclites are good transition.
I anticipate that these shoes will serve me well and will be ideal for the mixed terrain that I will experience on 6 out of 7 continents for my Global Odyssey.