Second instalment of my Arctic Odyssey.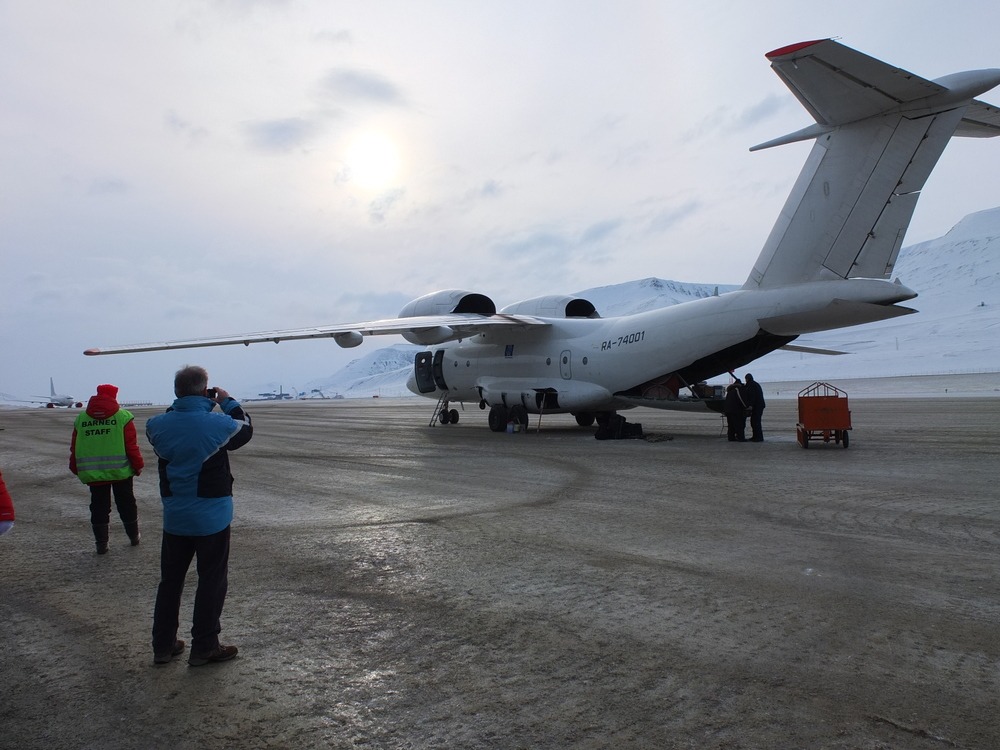 No further delays. The bus arrived, we piled on, and 15 minutes later were deposited in a hanger at the airport bypassing security. The Antonov was sitting outside on the tarmac ready to be loaded. It seemed to take a long time to load the hold, giving plenty of time for photos. Eventually we were called to board. The Antonov is a cargo plane designed for flying in these conditions and can land and take off on just 800 meters of runway, which is pretty impressive. It has no windows and the cargo is loaded up behind the passenger seats. Luxury: there was a toilet, so no worries about continuing to hydrate. There was no safety briefing and no specific requirement to wear a seat belt, it certainly was not checked. The Antonov engines are loud belying their and the plane's size, but not quite as eardrum bursting as the Ilyushin. The take-off was quick and smooth. They really do lift off quickly at about 400 – 500 meters down the runway.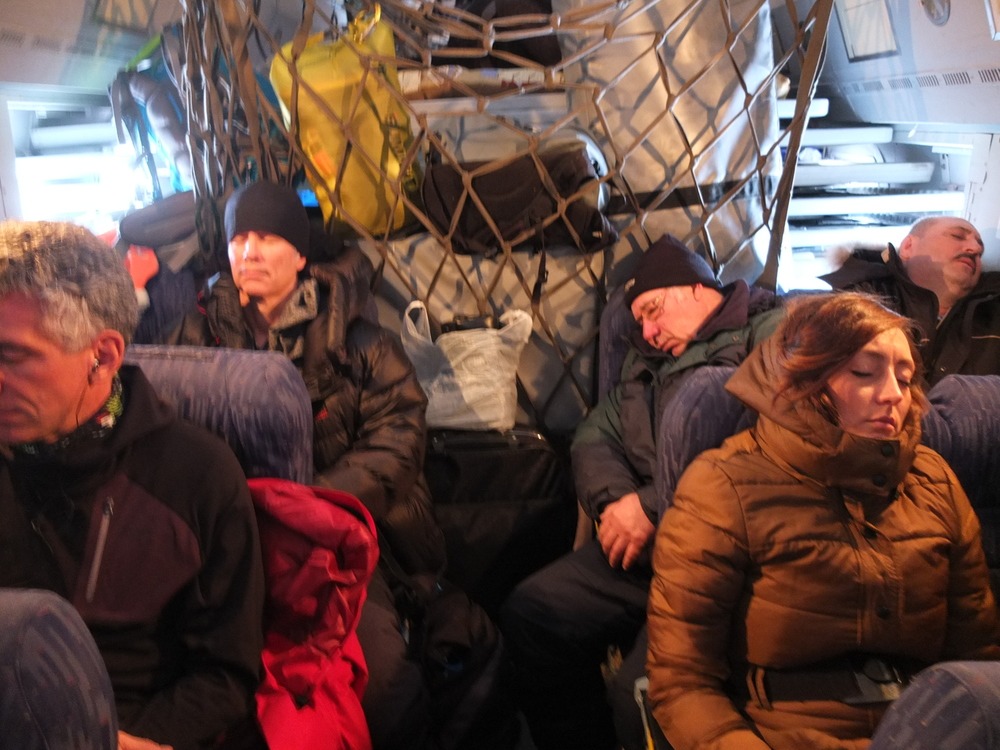 Once en route we were able to go up and visit the flight cabin and view the polar ice floes as we travelled north. My little polar bear mascot, Paula, who had been getting a lot of photo opportunities muscled in for yet another one with the flight navigator: so pushy.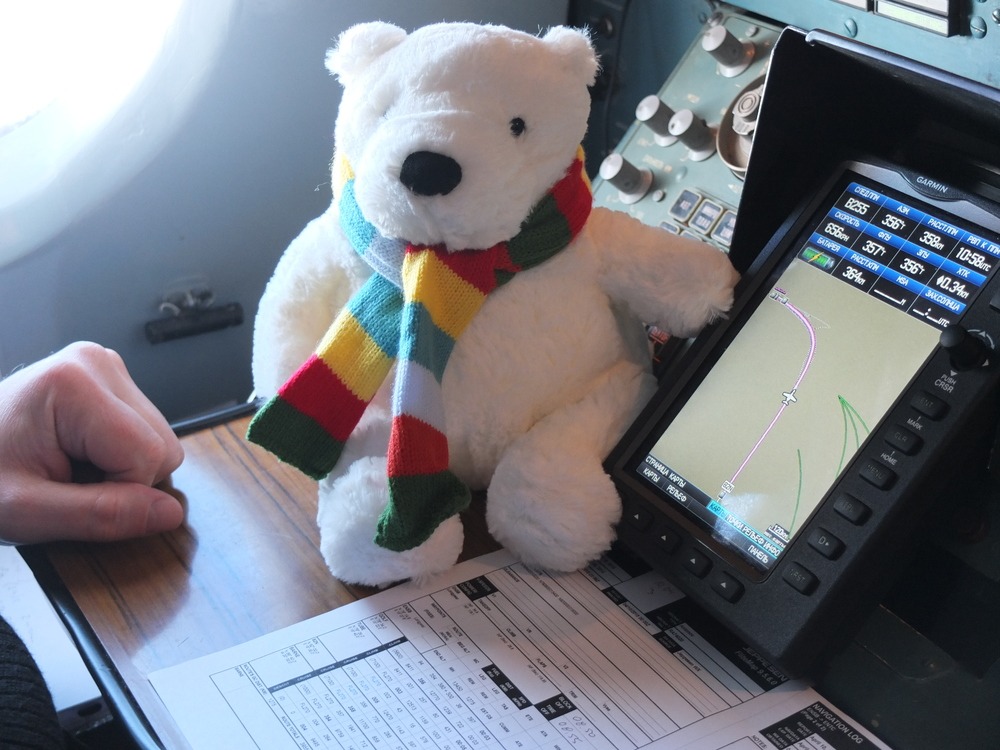 Back in my seat I became aware that we were beginning to descend, we then lifted again quite rapidly and I had the sense of us circling around and another tentative descent before finally landing, with a huge roar of the engines and a lot of reverse thrust. We are at the pole.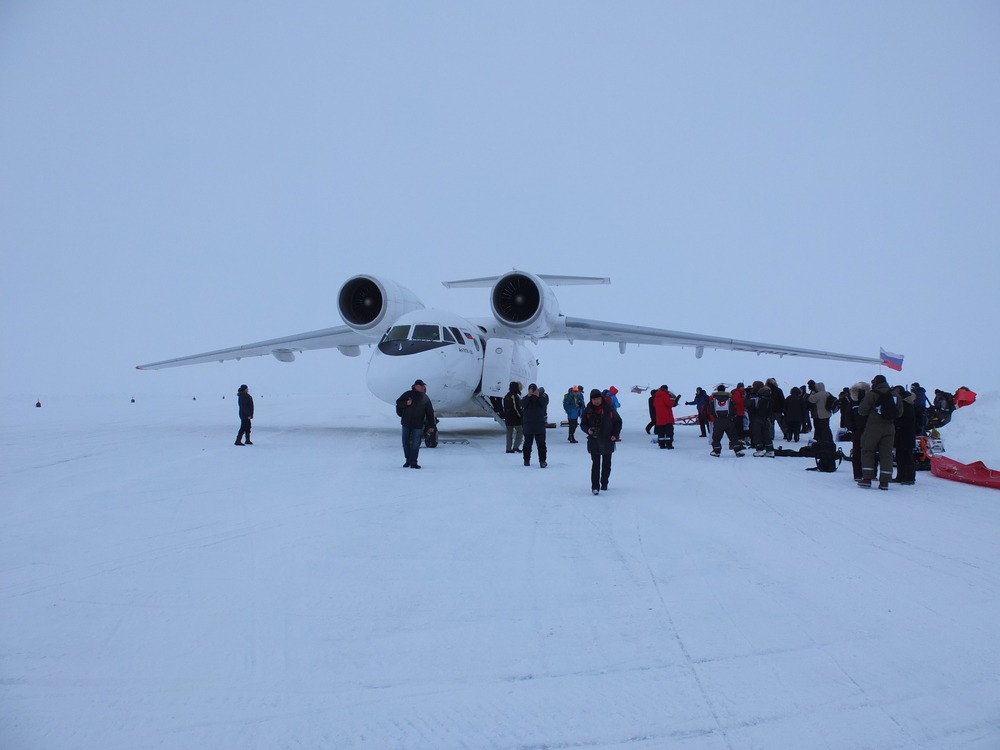 There was a lot of cloud cover and visibility was not great, so when we disembarked we were not greeted by bright snow and ice and blue skies, but a bleak, desolate landscape that merged with the clouds. This resulted in a lack of definition and depth giving the environment a strange unearthly feel. I was pretty impressed that we had landed and not surprised that it had taken a couple of approaches to get it just spot on.
God was it cold! Hell's teeth! I had been told that the cold at the North Pole was different to the south and it was. It was far more bitter and biting, quickly causing exposed skin to nip, and quickly penetrating deep into your bones.
Time to explore camp Barneo.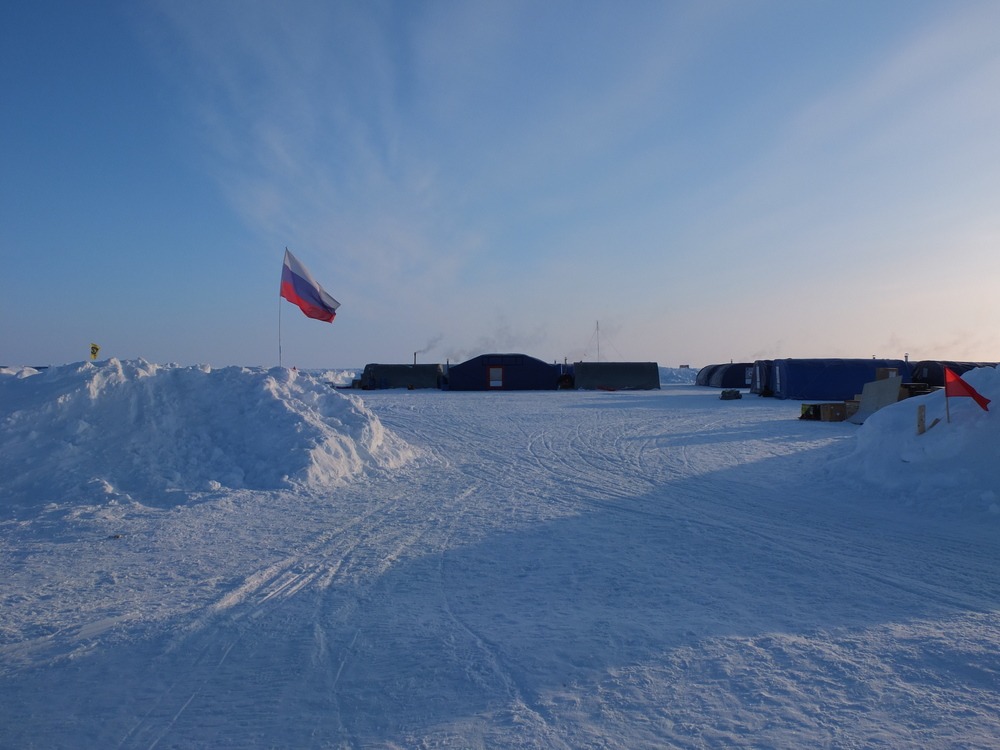 The camp was small made up of a number of accommodation tents and a mess tent set back from the runway. It was surrounded by a redoubt of snow providing some shelter from the wind. Within a short walk of the camp there were 2 areas where the helicopters stood and flew from. The latrines were set back from the camp (just as well really given the whiff and rather insanitary state of them). That was Camp Barneo.
Most of the women were assigned to one tent. It consisted of 10 camp beds with mattresses and sleeping bags and was heated: bliss. There were other similar tents for the guys, the crew and couples and the mixed groups.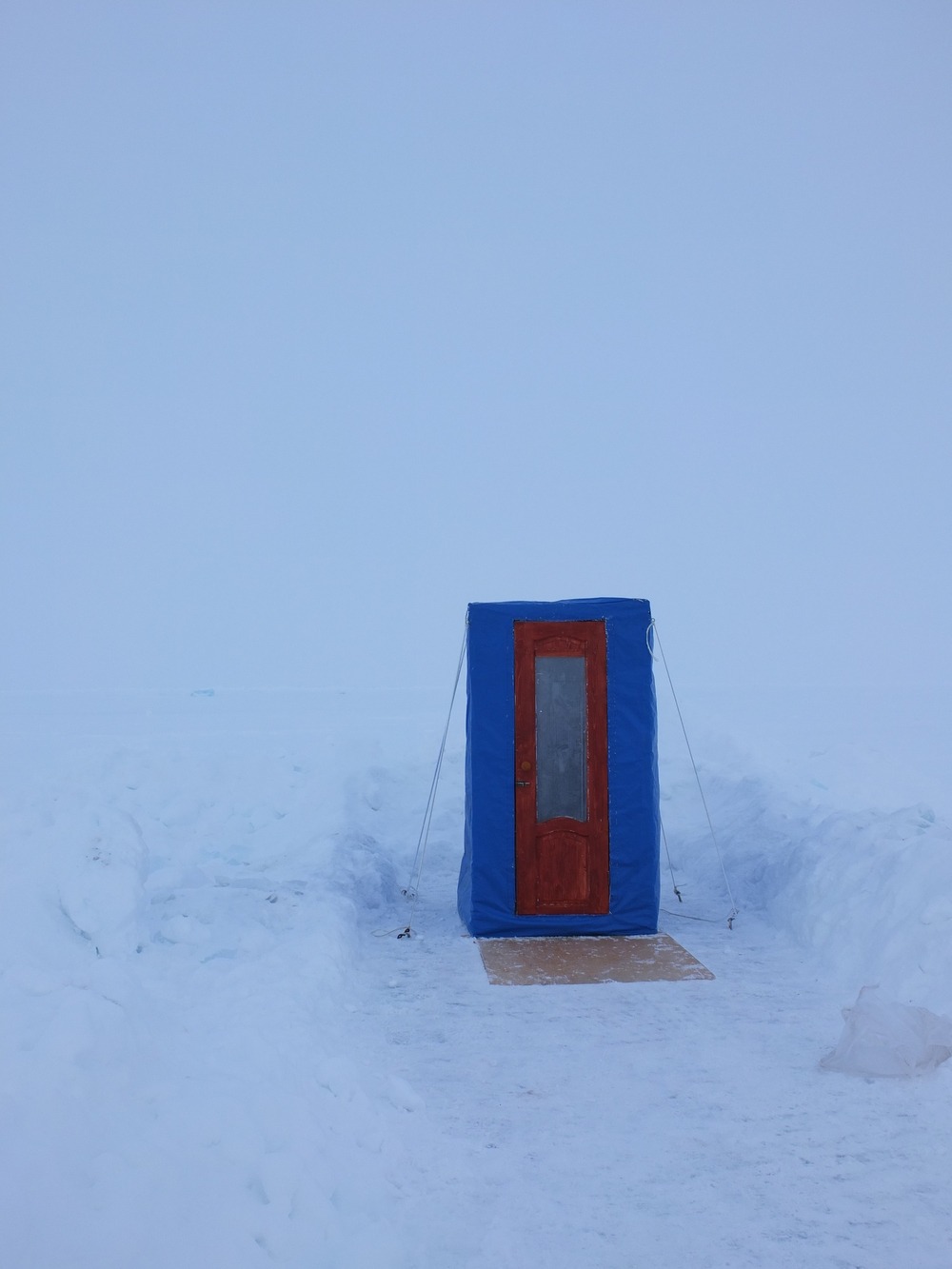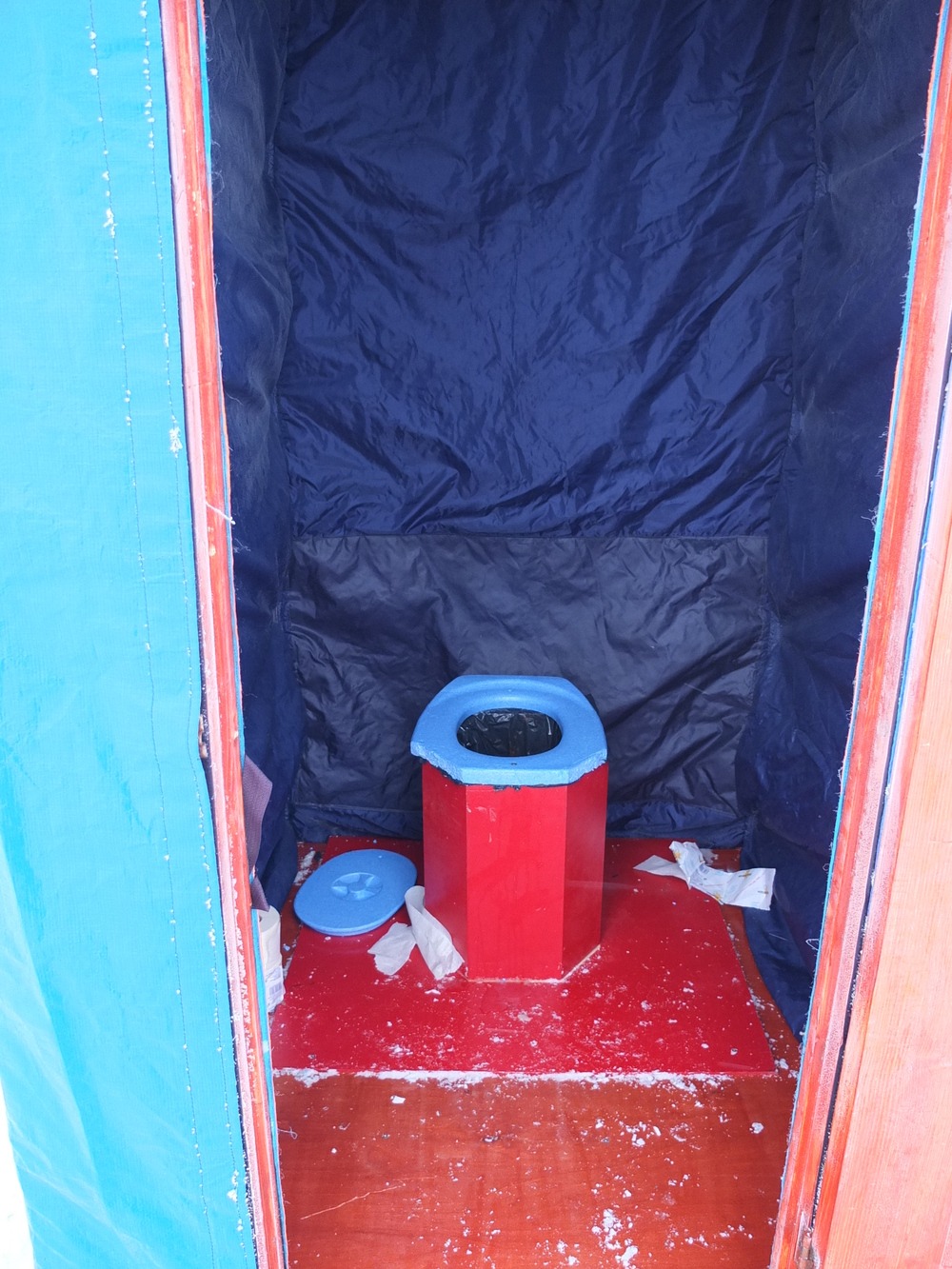 Also in residence there were helicopters crews, the camp staff, some researchers and scientists by the look of it. The Russian Paratroopers were in the process of shipping out as we arrived. A group of trekkers were due back after trekking to the poles at some point during our stay.
After a quick walk round camp we went to the mess tent for lunch as instructed, only problem was that there no lunch other than under cooked rice. Well, we had been warned. A couple of geo-scientists (I think) offered a traditional Russian fruit/herbal tea and crystalised ginger both of which were delicious. They made us feel welcome and chatted with us for a while about running and where did we hail from. Some of my fellows were a little doubtful and there were several conversations that ran along these lines:
What are you drinking?
I don't know; some type of Russian tea?
What's that in it?
Don't know; some type of berries and botanicals?
Should you be drinking it?
Yes, why not.
I am always up for trying new things and Russian tea is legendary. What was the worst that could happen? For me it was a no brainer. Hospitality and friendship were being offered and it would have been rude not to accept. After all, I do hail from the land of Highland Hospitality, and we take it pretty seriously. The tea and ginger were delicious, fresh and warming. The ginger was perfect: an anti-inflammatory that also settles to stomach and loaded with sugar.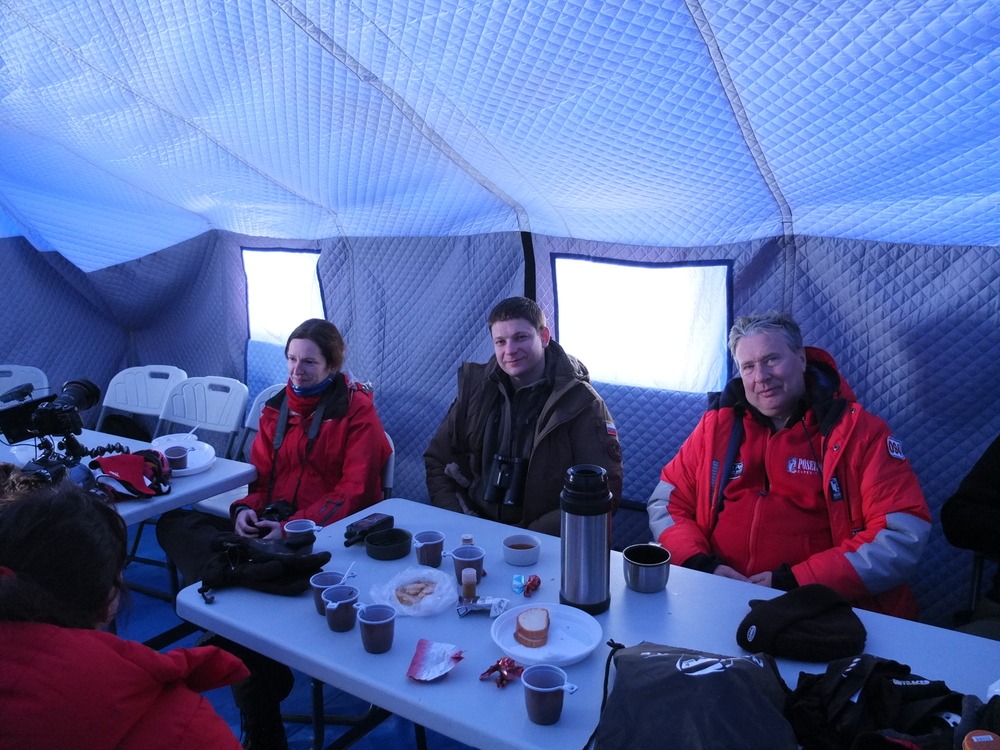 Some of us doubted if the next flight would get in, but until we were told otherwise we had to assume that the race was going ahead at 9pm. Several of us decided to have a ration pack on the assumption that we may be running that night and we were hungry. There was a bit of a wait for hot water, but once the pack was ready I was surprised just how good my Fuizion Kung Po Chicken and noodles was. It looked and tasted like real food: result! My daughter Briony had warned me to set my expectation low and this was way above expectation. She had also teased me about my 'very middle class' choice of packs: justified I think.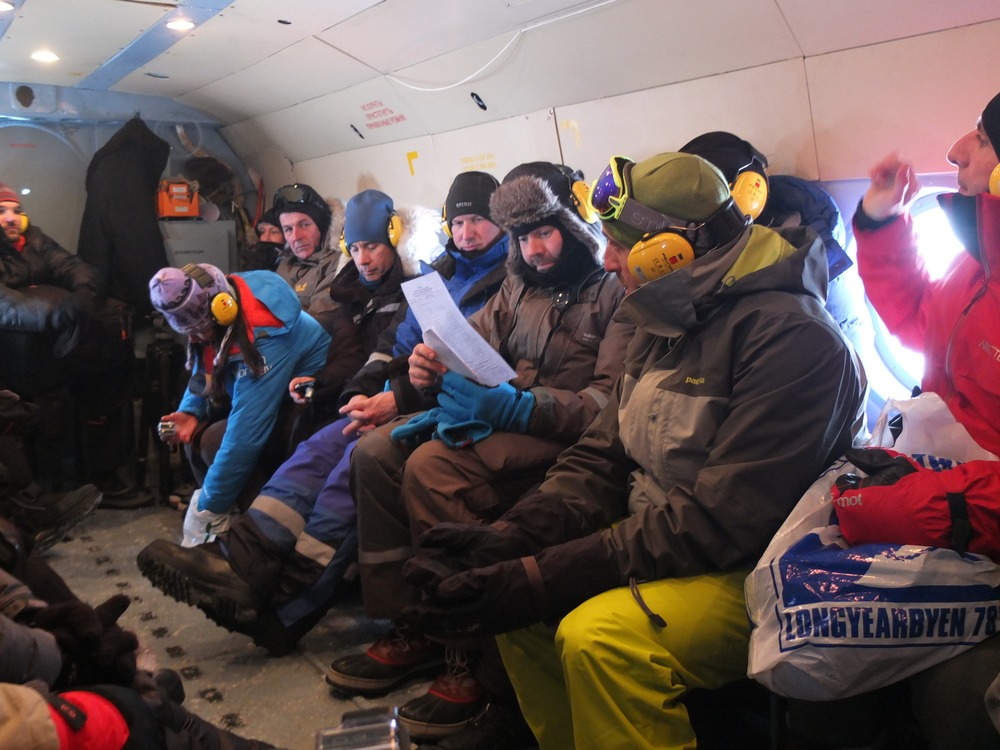 Whilst eating the word came round that there was going to be trip to the pole leaving and did we want to go. Most of us jumped at the chance. A little while later twenty-five of us were bundled into a large very loud helicopter for the short 20 minute flight, plus a bit of flying around time, to the geographic pole. We landed about 800 meters away.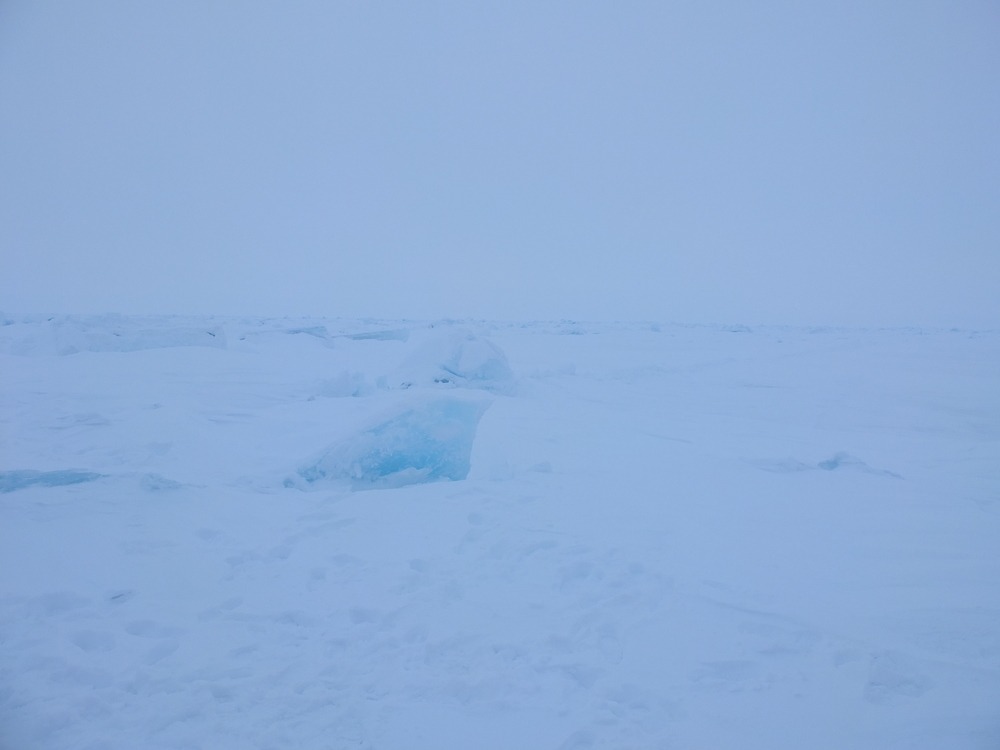 Dear God, it was even colder and windier up here. You could quite literally only take your gloves off for about 20 seconds at most to take a photo before your hands started to nip and burn, so getting photos was a bit of a challenge and the visibility was a bit of a challenge too as it drained photos of all depth and definition (as can bee seen in the photo above). It did seem strange to think that here I was at the top of the world and there was no tangible or distinguishing landmark, but what a privilege to be stood at this amazing spot. Paul had his GPS with him, and in the time that we were there the movement of the ice took us onto 90 degrees: what luck. A tripod was hastily set to mark the spot and we were able to be photographed standing quite literally on top of the world and, of course, circumnavigating the world.
It was so cold it was almost a relief when we were told that it was time to go. The cold had managed to creep through my snow boots, insulated to cope with -40, and a double layer of merino socks and my toes were getting really sore. This had already happened to Kate and a couple of the others.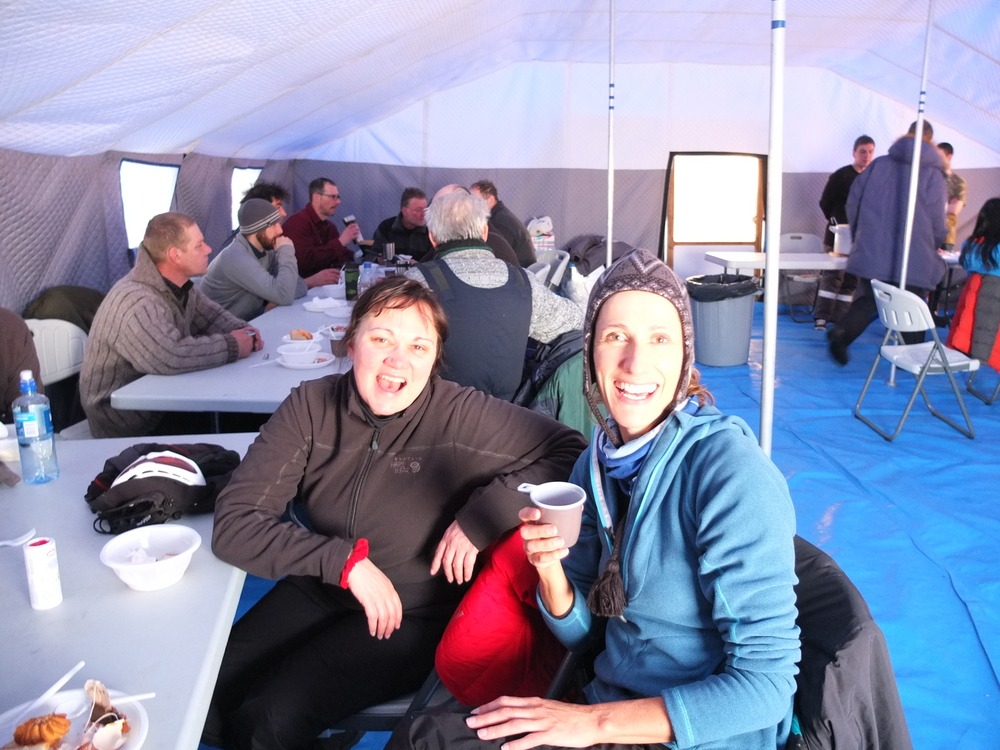 Back at camp it was confirmed that the second flight would not be coming in that night. We were disappointed but not surprised. Time to get some supper and some sleep. Supper was pasta and a beef pattie, and the 'a' should be noted, as well as the lack of any sauce. Not a lot and pretty bland, but it was food. Time to then to go back to the tent and get some sleep ready for race day tomorrow. Some of the girls were already settled and the rest of us quietly sorted ourselves out and slipped into our sleeping bags. We were able to take of all our layers and sleep in our undies and t-shirts which is not what you expect at the North Pole. In Antarctica in the unheated tents I had slept (badly) in 3 layers and was still cold. I drifted off to sleep and had a comfortable night and a reasonable amount of sleep.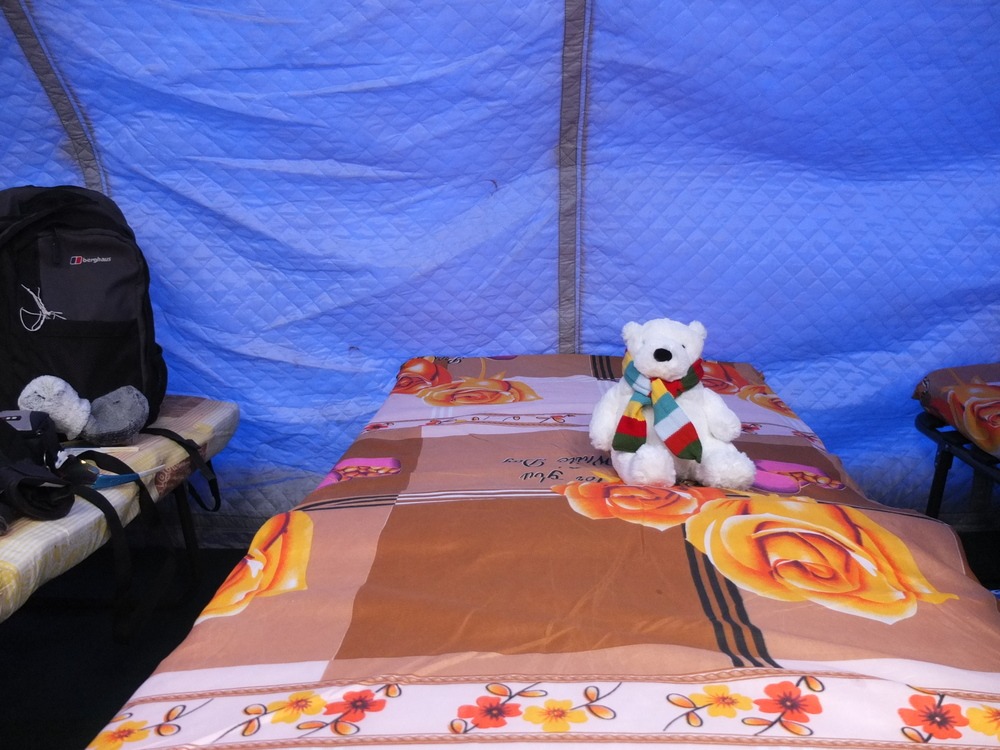 We would see what the new day would bring: hopefully some visibility, sunshine, a plane and a race.