We are easing ever closer to pre-pandemic activities; group running is back, live events are back albeit with some restrictions still being required: we have the freedom re-join our running family, meet up, train together, run socially, race together.
In June I participated in my last virtual event, the Virtual West Highland Way Race. Having done it in 2020 it was a no 'brainer' to continue to support the event and it's community, to support each other running however and whenever we could to complete the 95 mile distance in 9.5 days. I said it last year and I will say it again: the inclusiveness of the virtual event is incredible. People who might never contemplate the live event were able to sign up and get a taste for it and perhaps the inspiration and motivation to one day enter the live event. The other thing is even over 9.5 days it is a huge challenge especially fitting it around daily work commitments. Running twice sometimes three times a day is hard and in many respects harder than a longer single effort.
Returning to inclusiveness. As I signed up Alasdair (non-running, not very fit, long suffering husband and support crew) asked what the rules were and who could sign-up. Long story short he entered with a plan to walk it. It would be the furthest he had walked and the furthest he had walked daily. In fact he had never previously walked long distance on a daily basis. I saw a strength and pig-headed determination that I had never seen before. He consistently walked more than his planned distances and finished 24 hours ahead of the cut-off.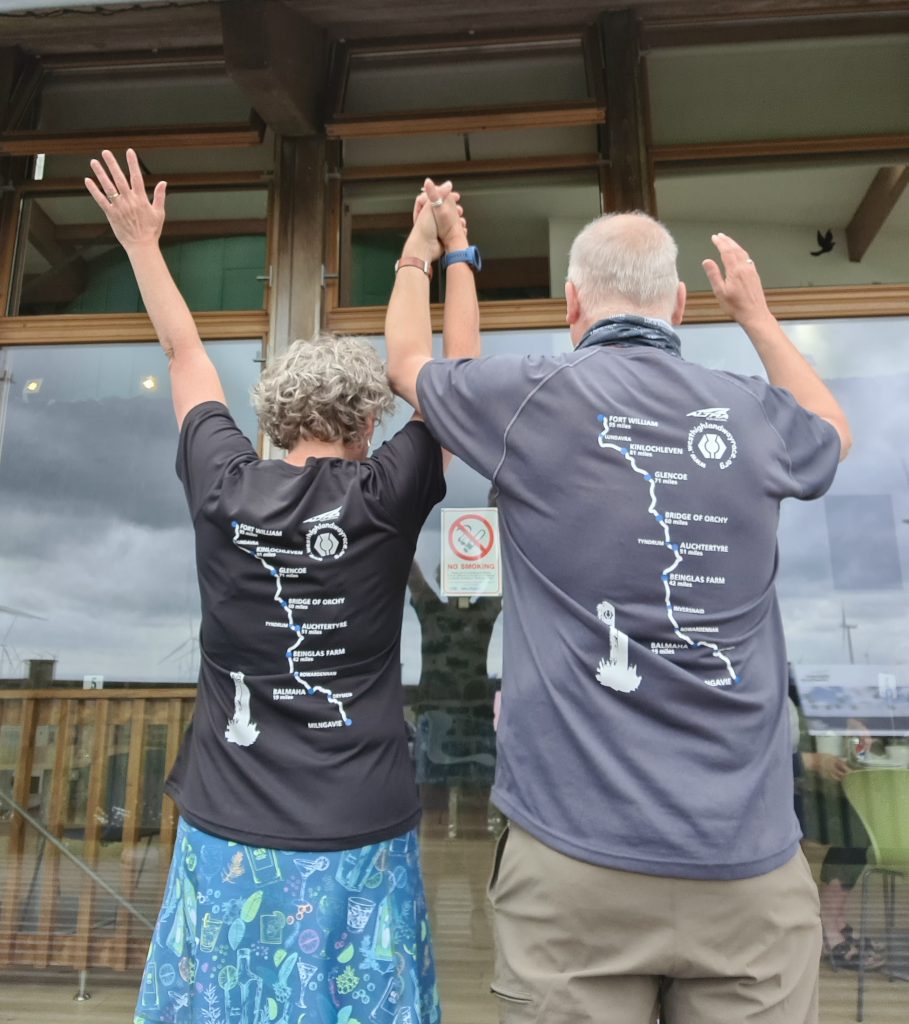 For the first, and probably the last time, we participated in an event together, shared our experiences and supported each other. In fact Alasdair inspired me to stick with it and keep going after a severe stomach bug wiped me out for two days. I could not drop out when he was showing such determination.
The value of virtual events during the lockdowns was significant. They inspired people to try things out, consider things they may not have thought about or thought themselves capable of. They brought new members into the running family.They also provided experienced runners with motivation and structure and goals to work to and achieve.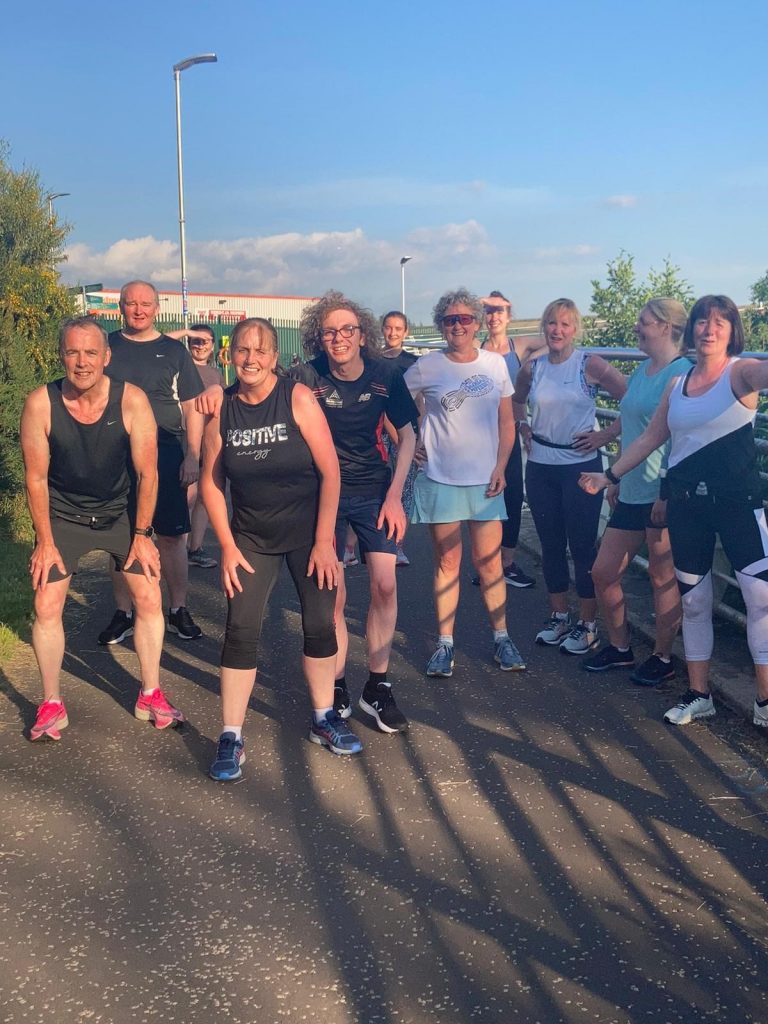 Shortly after VWHW I was invited to join a group of runners for my first social group run since I met a few friends last summer between the lockdowns. They are small group called The FIT Group who meet weekly, running to improve mental well-being and are a mix of ability and age. The session can be a socila run, a speed or interval session. You decide in the night which you want to do. I did a short talk and Q&A before joining their social run. As content as I am running solo most of the time it felt good to join a group and have that social contact with like-minded people who share a passion for running. It felt like the first baby steps back to some form of normality.
Next steps for me on the road back to normality has to be a live event. I noticed recently that as entries have opened up for events there has been some discussion about numbers. Events have not sold out within minutes of entry opening as they often did pre-pandemic. I can understand this: there will be doubts about fitness, maybe the miles aren't on the legs, maybe the race head is not there. I think that many of us won't have the confidence or desire to jump straight back in at our pre-pandemic level and we may want or need to build up to get back to that place.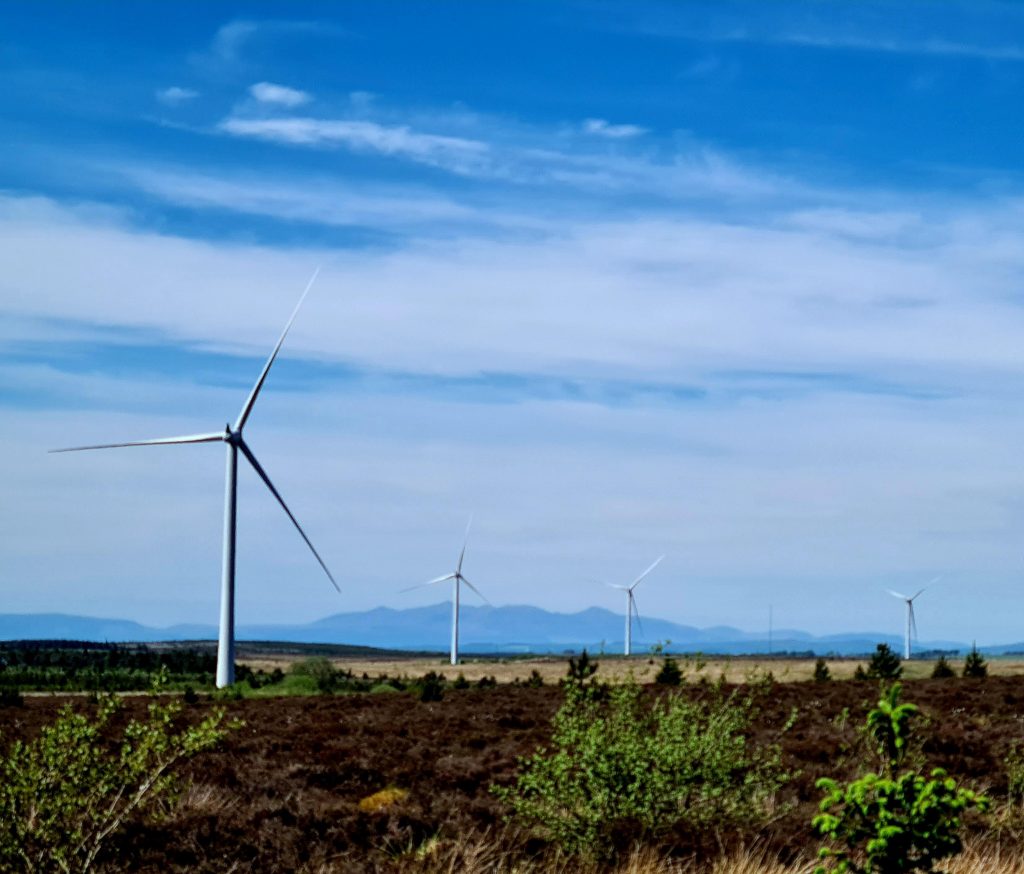 I am entered into a local 50k at the start of September. I wanted the goal and the focus to build on my base fitness and increase my miles back up to ultra. It's a safe option in terms of distance, terrain and locality. I would be lying though if I were to say that I don't have doubts. It took a while to recover from the VWHWR and I have had to contend with an iron and magnesium deficiency that have affected my energy levels and training. I am behind with my long runs, the miles have not built up as planned.
What do I do? The demon in my head is saying don't do it. The angel is saying stick with it, build as best you can, give it a go, you don't have to finish and it doesn't matter how slow you are. It's about taking that first step back. If you don't take that first step now, when will you.
I know that I have to, and I know that I should do a few events before tackling the last Global Odyssey continent, but I realise that I am, basically, scared. The confidence is not there. The hunger is not there right now and that is the worrying thing. Somehow, somewhere I need to find that appetite and the only way to do that I think is to pull on the big girl pants and get myself back out in the field. Put myself at the back of the start, don't let the fast, hungry lanky lads at the pointy end freak me out and just run my own race which I will either complete or I won't. The success criteria for this should be; you had a go.
Group photos courtesy of Anne-Frances at the FIT Group