Beinglas to Auchteryre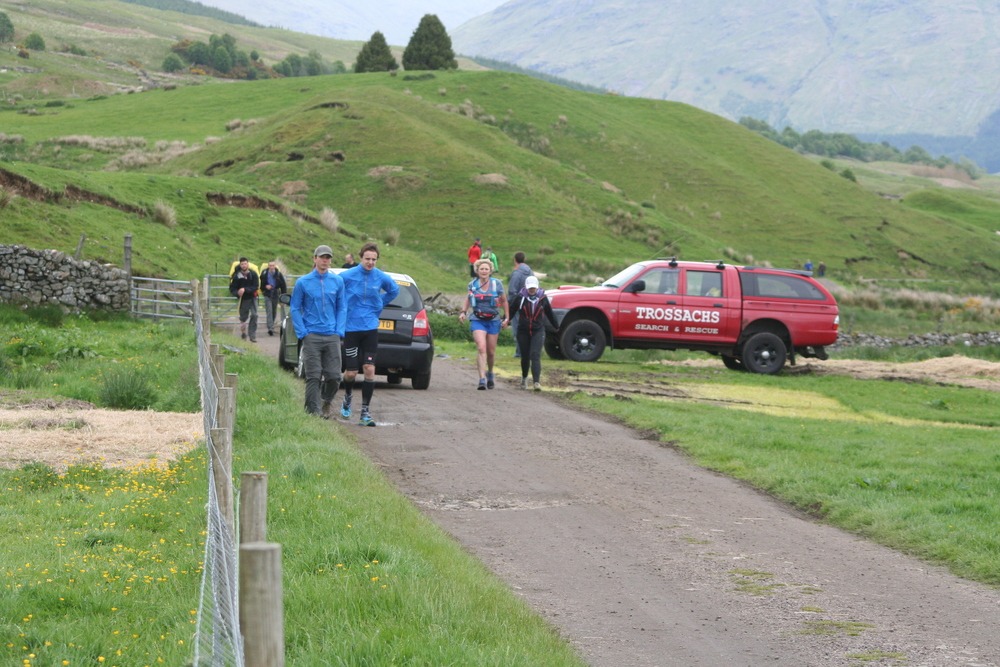 It took a few minutes to get going as my sore arse and elbow realised that they were not getting any sympathy or respite. More steady progress and passing a few people. This is an easy leg with just enough pretty sections to break up the overall ordinariness. Through the sheep tunnel and up the hill and just as I was approaching cow poo alley I caught my toe and down I went sliding along the track: ooft. I lay there for a moment winded and shocked then heaved myself up onto my hands and knees still not able to get back on my a feet. A guy on a bike that I had passed just before came over to ask if I was OK. 'Yes' (no), 'you sure?' 'yes' (no).
I pulled myself up onto my feet and checked out the damage: grazes and bruises on my hands, left elbow and left leg. A huge swollen lump had formed on my thigh. Well, I suppose it balanced out the damage to the right side that I got at Beinglas. There was grit and mud, and or cow poo, all over me and in the grazes as well as covering the mouthpiece of my water tube on my hydration vest. I dusted myself down as best I could and started to move hoping that I might catch Fiona who I had spotted and who was not too far ahead. What is it with me and the WHW and falling?
At the Glen Bogle gate I was officially half way: half way, and apart from the falls I was feeling good. It was a real mental boost knowing I was half way. The marshal at the gate did not have any water or anything that could clean me or more importantly my water tube, but Fiona was just ahead on the first climb of the roller coaster. I headed up after her and called out. She had some antiseptic wipes: life saver. We continued on together for a while chatting before both having to take a pit stop from which I emerged first. There was a bit of pattern forming here.
After safely negotiating and enjoying the roller coaster I reached the road crossing with Auchtertyre not far now. Auchtertyre was a really significant milestone for me and my race plan, as I am sure it is for a lot of people. I began to feel quite emotional and teary; overwhelmed. Katherine was there waiting for me, she took my hand and jogged me in to the weigh-in and then led me over to the car. I had lost a kilo, but that was fine. Thankfully, Alasdair had decided to turn up forgiving my horrible behaviour.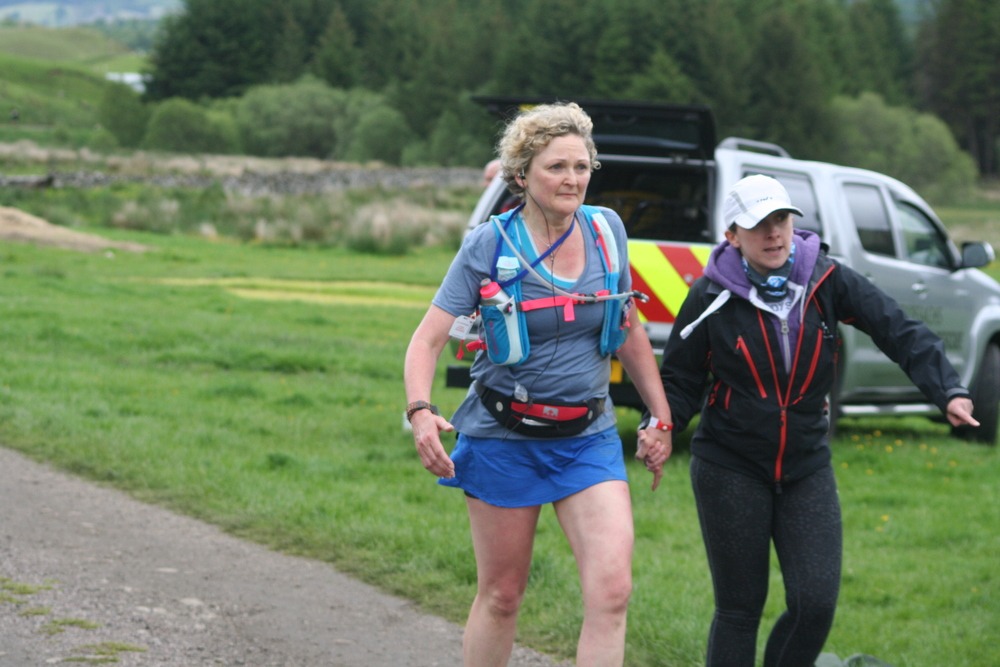 After the falls and the less than smooth transition at Beinglas I decided to take my time and not rush this stop. If it meant more time than planned then fine. I was pretty much on schedule and reckoned I could afford to. I also needed to behave myself and keep both the diva and the chimp at under lock and key.
Some risotto, coke and tea, a nibble on something sweet, a change of socks and shoes and failure yet again to look at what was going on with my heel. As hungry as I was I was starting to find it hard to eat more than a few mouthfuls, but I persevered as I knew I needed the calories. Katherine also insisted on cleaning my grazes, ouch, nippy: please stop.
Katherine was my first support runner, taking me to Bridge of Orchy. I was ready for some company and a bit of distraction from the task in hand. Katherine now nudged me gently; time to get on the move again. We set out slowly taking a few minutes to get me moving comfortably and easily again.
Auchtertyre to Bridge of Orchy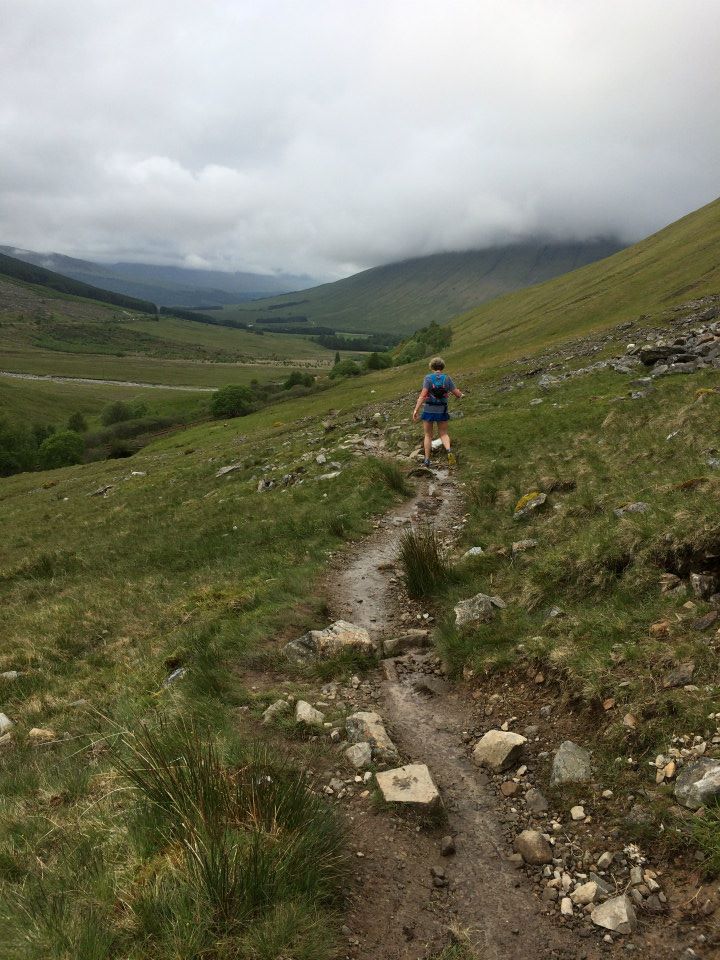 In my head this section was going to offer a bit respite. It undulates gently along with good path and track and so does not need much attention and focus and I love the views. You can just get on with it. Andy and Sarah were at Tyndrum and they got me an ice lolly. It will be the first and last time I eat a bubble gum flavoured Calypo: yes, I kid you not and I was not hallucinating, they do exist. It was appreciated though and under the circumstances tasted pretty damn fine.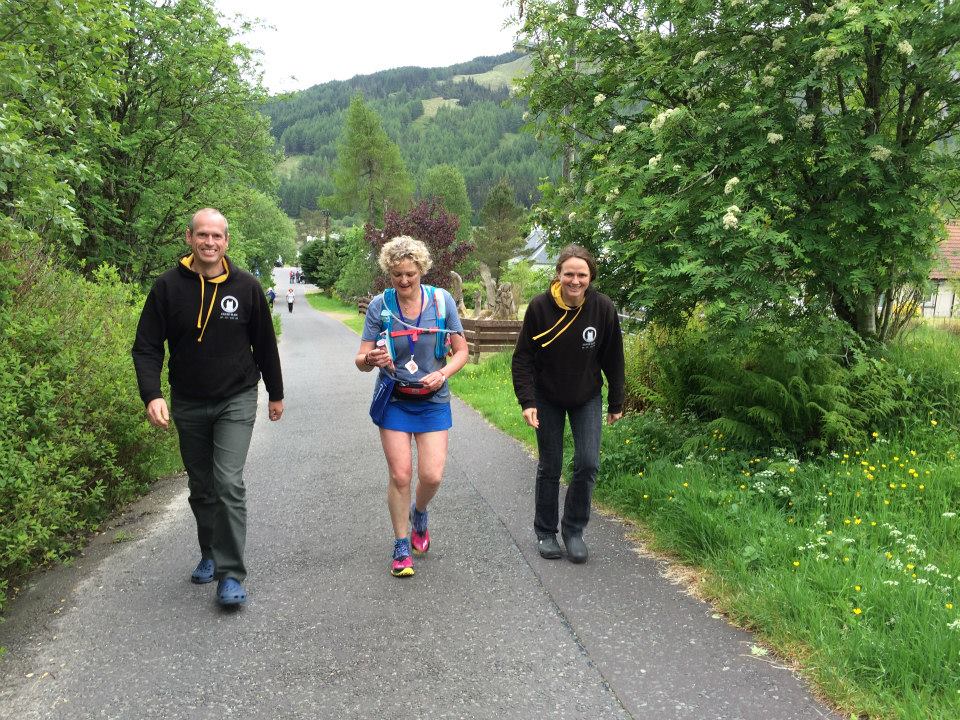 The weather had been shaping up well since Beinglas; being quite warm with sunny spells, but it was dry and less humid than earlier which was good. It was warm and sunny along here. Katherine intuitively knew what to do: at times taking the lead and at others dropping back level with me or just behind me letting me take the lead. She chatted away not expecting a reply but knowing that I was happily listening and enjoying the company and comfort of the voice.
About halfway we passed Katie. I was concerned and Katherine noted it in my voice. She re-assured me that Katie had a great support runner with her and would be fine.I must not get upset for her and must focus on myself and my race. We continued on Katherine checking that I was drinking and eating, and checking how the chimp was doing. Was he behaving? She decided that this was a good time to bring out my chimp treat: chimp treat? Foam bananas: that was funny and I chuckled. I had never eaten foam bananas before, but I had never eaten a bubble gum flavoured lolly either. They were strangely good. We passed another runner and then paced along with another runner called Susannah for the last couple of miles chatting amiably and enjoying the sunshine and views.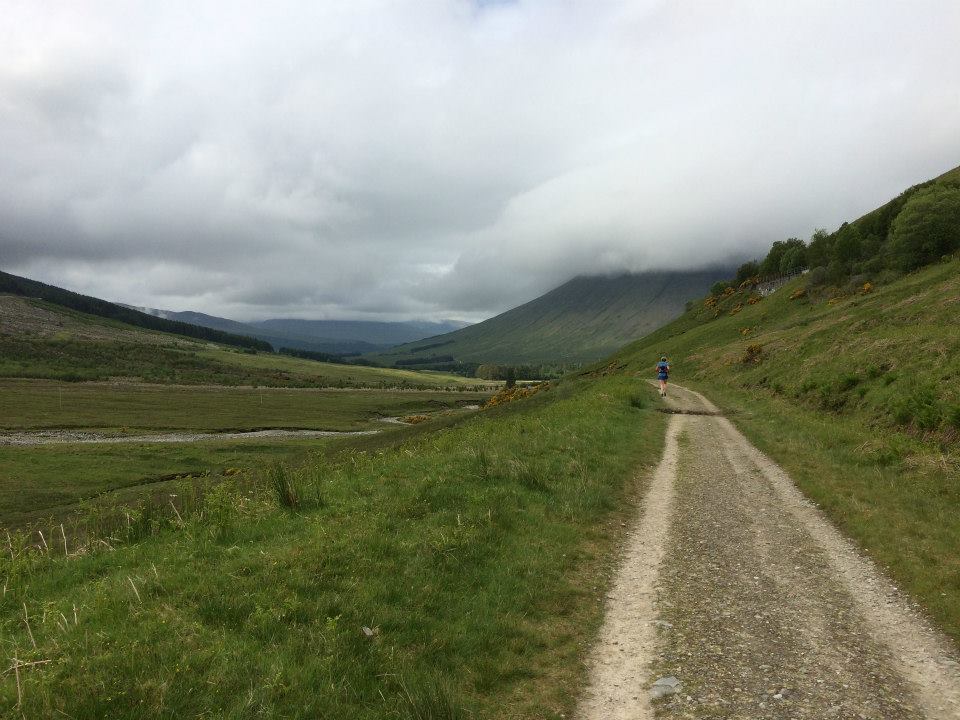 Andy had jogged out to meet us. Had I been that slow I asked? No, he just felt like jogging out to meet us. As I dibbed in the marshal told me that we had to take wet weather gear with us from this point. I was surprised as the weather was still good and we were not expecting the rain to appear until Glencoe or Kinlochleven. I am pretty good with weather and was fairly certain that the weather would hold until Glencoe. We stuffed my windproof shell which is also shower proof, into the bungee on my vest. I was still feeling good, but definitely tiring now and struggling to eat so just picked at this and that: some fruit salad, some Pringles. Andy was taking over support running now to take me over Rannoch Moor to Glencoe. He was keen to get going and urged me to make a start.
Bridge of Orchy to Glencoe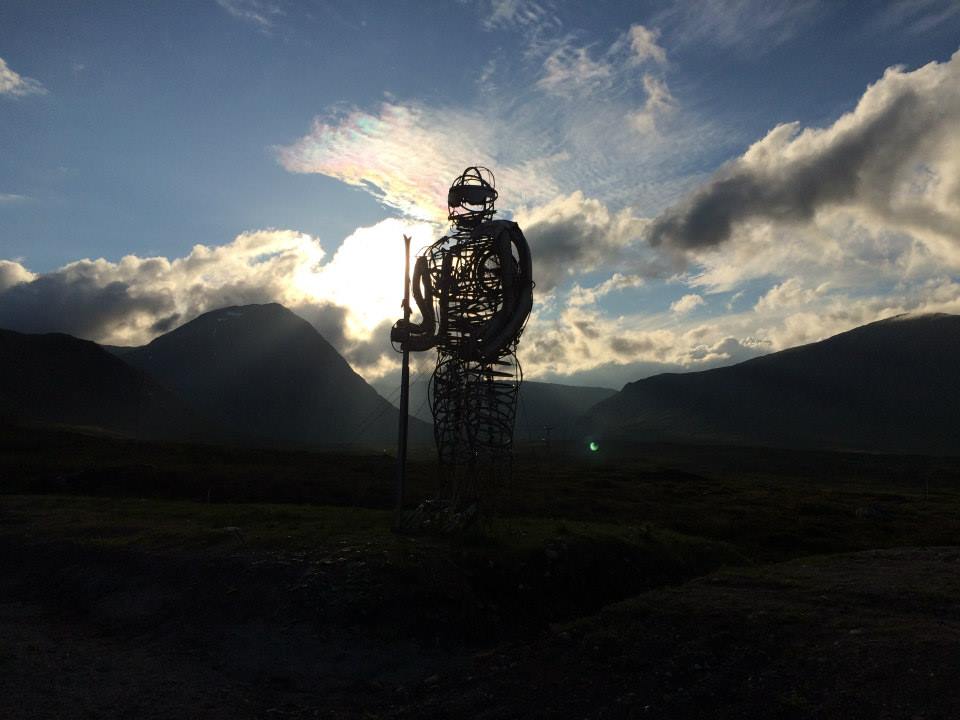 We started the climb up out of Bridge of Orchy with Andy taking the lead and keeping the pace brisk as we headed for Jelly Baby Hill. He had a rein back a couple of times. There was a bit of banter about what constituted acceptable humour as Andy sussed out my frame of mind figured out how to play this section. On the way we caught David who I had not seen since before Beinglas. Was he paying for his earlier pace? It was looking that way. A jelly baby and decent trot down to the Inveroran. I was able to keep up a respectable pace until the first incline heading up onto the moor. At this point I was having a real energy dip and told Andy that it would be slow progress and that I would probably have to walk quite a bit. We pressed on with a bit of chat but Andy was not going to let me slack; he kept nudging the pace giving me no choice but to keep up, and he even had me running some of the gentle inclines, but I was feeling very tired and sluggish.
The problem or maybe advantage of Rannoch Moor is that you can see a long way ahead. It was either going to depress or encourage depending on how you felt and how you were going. We passed several others and this seemed to be Andy's plan, to keep me motivated and confident by spotting catching and passing whenever the opportunity arose. I had spotted someone way in the distance who looked familiar even from afar. I could not be sure but it looked like Lois who I had not seen since Carbeth.
As we gradually drew closer I realised that it was Lois. I was surprised. We drew level just as the drop down toward the ski centre started. Like me she seemed to be having a major dip, but she seemed cheery enough all things considered. We were all finding it tough now. We came into the centre together with me just slightly ahead. I dragged myself up the short incline to where we had to dib in and Alasdair was parked close by. Andy reckoned I was in better shape here than I was last year when I had supported Sarah. I think I was, but it did not really feel like it.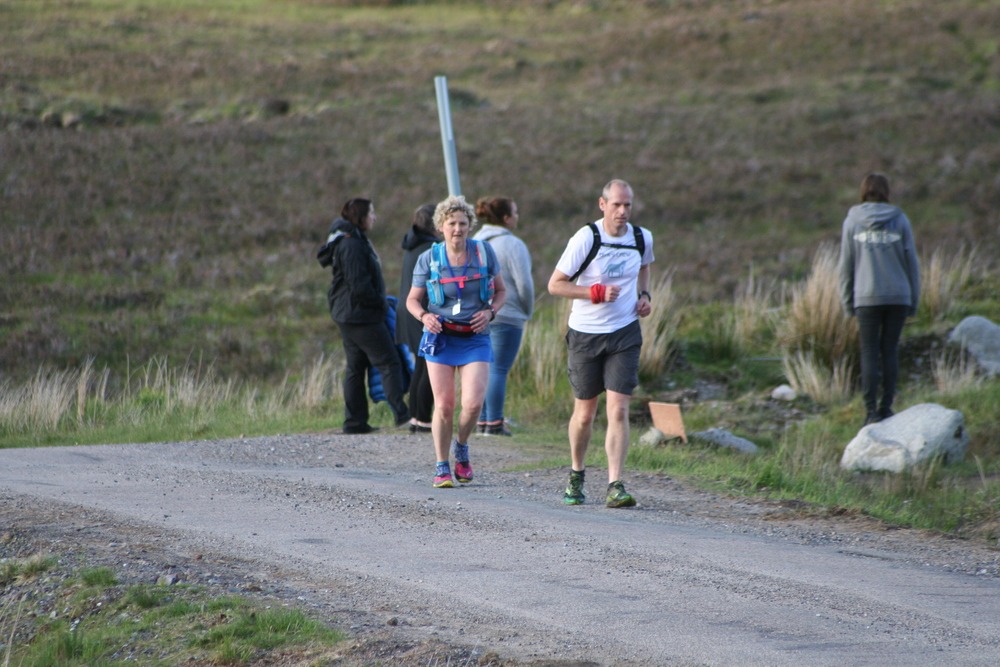 I think because I was so tired and low in energy and so frustrated with my perception of how slowly I was going I panicked at this stop and let the chimp get out of control. He was running around the car screaming and throwing stuff about. The reality was that I had covered this section several minutes faster than my estimated split. That sense of panic, however, seemed to spread through the crew and so it ended up just a confused muddle. I cooled down very quickly and had to get into the car and decided to change into tights and a long sleeved top. In spite of the fact that all my bags were labelled there was much rummaging about to get what I needed. There was a muddle with the head torches too. The batteries had not been checked and were not ready to go so there was a bit of panic and much fiddling about that resulted in the battery cover of one torch getting broken.
I was struggling to get my food down and thought I was going to be sick at one point. But cheesy mash, coke and a mini pork pie went in and stayed down and we put some mini scotch eggs in a bag for me take with me. Time was marching on and we needed to move as I knew that the light was not in my favour. It would get dark earlier due to the cloud and weather conditions. Katherine was taking me over to Kinlochleven. She urged me gently to get going: we could walk down the road and ease into a jog.
I had my windproof shell on and pulled on a hat and gloves. The waterproofs were stashed.
Glencoe to Kinlochleven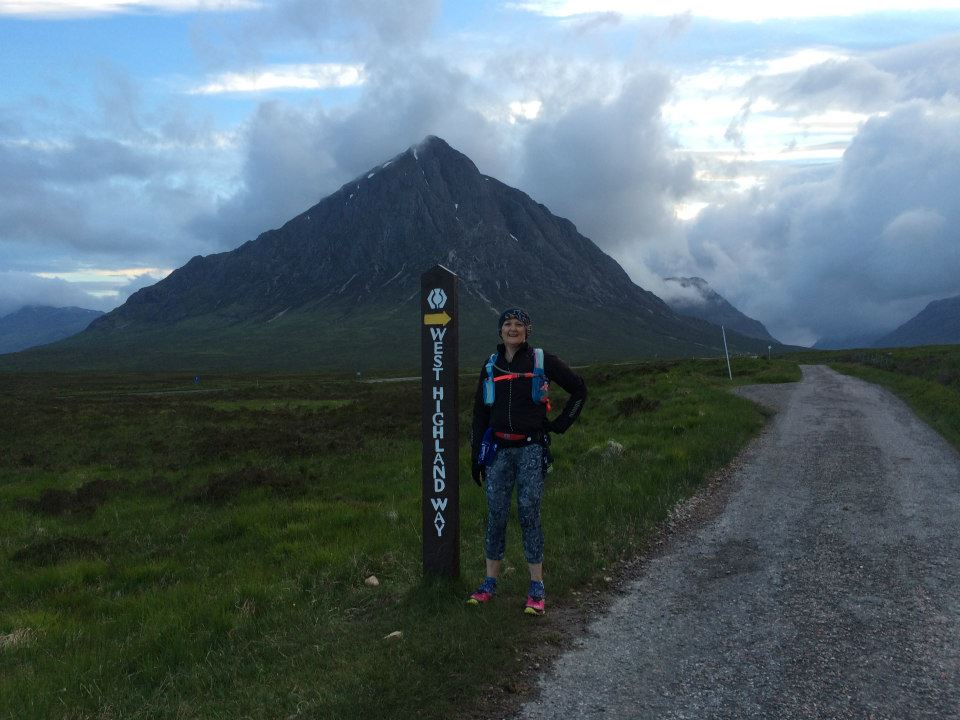 I did get moving again and we made good steady progress to the Devil's staircase, Katherine taking it steady and picking a route carefully over uneven sections to ensure that I did not fall again, something that could easily happen as I got progressively tired, and I could not afford another fall.
Katherine took the lead striding out up the staircase. I was struggling to keep up. She urged me firmly to keep moving and not to slow. Did I want some coke or espresso shot? I was saving it for the top. She advised me to take something; I needed the energy. I took some sweets and flapjack. I could see her glancing behind us as she urged me on, to keep moving and to keep the pace up; not stop. I sensed she was nervous that we would get passed. I had spent all day passing people, not being passed and she was keen to keep it that way. I glanced back too and there seemed to be a lot of people there all of a sudden and some were quite close. Each time Katherine glanced back so did I and I saw people gaining and whilst that made me nervous it gave me the drive to press on. Eventually we reached the summit. The pace could pick up now and would need to as the light was definitely going. I had hoped to make it down to the track before it got completely dark and briefly toyed with that as a possibility, but that was unrealistic: it was not going to happen.
After taking my espresso shot we started on the path down, taking it at a steady pace. The turbo kicked in and almost subconsciously I took the lead and cranked up the pace lolloping along at a fair lick. Katherine called out to me; 'I think the caffeine has kicked in Mrs: you are going pretty fast. Maybe slow it down a bit'. She was right, I slowed. I worried that we would get passed as I am a slow at the descents at the best of times, but realistically, with the failing light it was unlikely: the status quo would be maintained. Soon the head torches were on and that was our pace right down. Picking our way over the stony section before the track seemed to take forever and was incredibly frustrating, but there was nothing we could do to go any quicker I just had to accept the situation. We passed another runner at this point.
Once on the track we were able to pick it up again and make half decent progress into Kinlochleven. It was very warm and muggy as we dropped down into the village. We finally made it through the swarms of midgies and popped out onto the road next to the Trail Race Inn and jogged round to the community centre. I dibbed and weighed in. My weight was fine. Alasdair, Sarah and Andy were waiting up near the kitchen area. Alasdair sorted out my food: more yummy cheesy mash and Andy sorted out my vest. Whilst my legs were fine and my energy levels OK albeit a bit erratic; I was mentally tired and the lack of sleep was beginning to have an effect. Alasdair wanted me to take more food, and I should have.
It was time to make a move. I went to toilet and George chastised me gently with a; 'Are you still here?' I assured him that I was about to go. We had been reminded that we needed to carry wet weather gear. It was so warm, but I put on my wind shell, packed my hat, and made sure my waterproofs were stowed.
Everyone says that when you get the Kinlochleven you can smell the finish. It was not that way for me. All I could think about that how tired I was and how long it was going to take to negotiate that long haul of a climb up to the military road and the Lairig Mor. Then, what would the Lairig Mor hold for me?