Kinlochleven to Fort William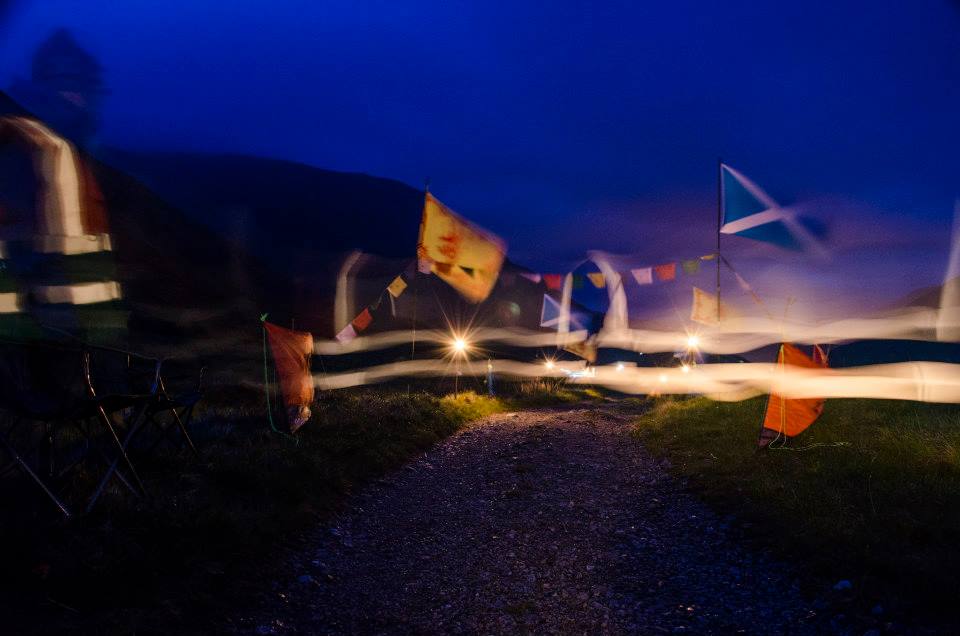 Sarah was supporting me for this last section. I knew as we set out that she would definitely be taking the lead and that her quiet strength and determination would get me through it. During the decent to Kinlochleven and whilst I was in the centre I had been mentally adjusting my expectations and frustrations. Pace had slowed dramatically and time at checkpoint was longer than I had planned. My hopes of 28 hours had faded but I knew that I had to remain positive. Finishing this would be an achievement in itself and I knew I was going to finish, and that was what I had to focus on. If I could now get in for roundabout 30 hours I would be happy. I had absolutely no idea what time it was or what my time was. My Garmin had run out of power and although I had started and put on another one, my brain was just not up to the mental calculations.
We set out and picked up a jog along to the foot of the climb. I was incredibly warm, too warm, but just could not be bothered removing my wind shell. Whilst I knew that my pace on the climb must have been frustratingly slow for Sarah, I was quite happy that I was managing steady progress and before I even had time to whinge about the top never coming we were there. It was a lot cooler up here and breezy. I was glad of the wind shell. A brief pause and we continued on our way with Sarah suggesting that I we try to pick up the pace to a jog or slow run. In theory I was happy to do this, but I suddenly started to feel lightheaded and dizzy, and the ground started to move and swim about. Whoa!
I called to Sarah and she suggested that I eat something. I fired in some flapjack and we started out again. It was about this time that the rain started, and the water proof came out and was put on over the wind shell. There we were in the pitch black with only the light of our head torches trudging along in pouring rain and wind, with me still feeling dizzy and struggling to focus. It was going to be a long night.
They say that what happens on the Lairig Mor stays on the Lairig Mor, and I know why. It was not one of my finer moments. I was surrounded by darkness and my mental state was getting pretty dark too. It was grim. Thoroughly soaked and getting colder it felt as if the water was getting through the water proof, and I was beginning to worry that I might be getting too cold. Dejected I staggered on, and I literally staggered all the way to Lundavra.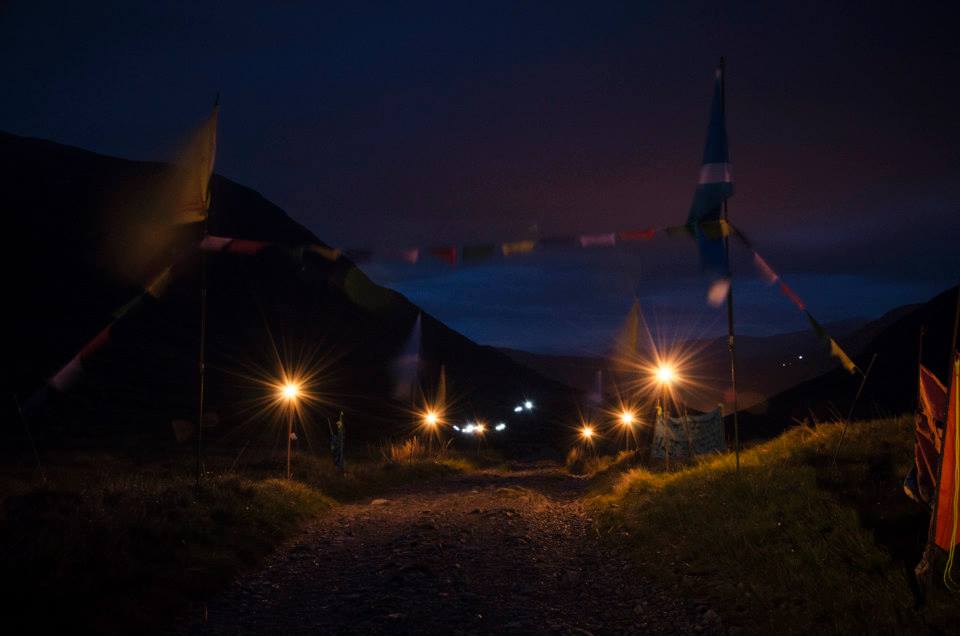 The little unofficial checkpoint about 3 miles in that I was looking forward to and which was keeping me going had been abandoned. All but two of the firebrand torches had gone out. It just added to the sense of desolation. There were a few cups and a couple of bottles of fizzy juice on the table. Sarah spotted some 7 Up and suggested that I have some and get some more sugar in.
The night was interminable, the track was interminable and all I could do was stumble blindly on knowing that at some point it would have to get better, and I certainly could not stop here. I was having mini black-outs which were quite distressing. It will have been down to lack of sleep and lack of energy. Every couple of minutes I would become aware of staggering to the side and realise that my eyes had closed and I had blanked out momentarily.
Dawn, surely it would be dawn soon? I kept peering around me looking for some sign that it was getting lighter. And what the hell was making those strange sounds? It wasn't sheep and it wasn't deer. The murky daylight appeared and I found that my visual disturbance improved, but I was still blanking out. Eventually we spotted someone standing with an umbrella: an umbrella? Was I hallucinating now? But it was indeed someone standing with an umbrella. We were at Lundavra. The rain, wind and cold had killed the famed party atmosphere here too. I think the marshals were as miserable as I was. Sarah must have quickly assessed the situation and decided that that the best thing was to crack on. She was taking no nonsense and I was not to stop. Although I did not question it or complain openly, there was a voice in my head complaining vociferously: the chimp did not like this at all.
Only 7 more miles I kept saying to myself and I finally started to get a sniff of the end. The dizziness finally cleared and the little black-outs stopped about a mile or so out from Lundavra. I began to pick up mentally and physically. Also, having hardly peed throughout I was suddenly making frequent stops. Sarah must have wondered what on earth was going on but she never queried and never complained. Looking back it was really quite comical.
My brain kicked in and began to recognise parts of the route and was holding out for that last climb that takes you up onto the fire track. We passed a few others. Then there it was that last climb up to the track. Once on the track it would be easy underfoot and a steady downhill to the finish, I dug in and ploughed up the climb. Once on the track I walked to the wide curve where the signpost for the Braveheart car park is to gather myself together mentally and physically before breaking into a slow run.
I ran, and I ran: definitely smelling the finish and just wanting to get this job done. Sarah encouraged me to keep it up for as long as I could. We passed quite few others on the way down and whilst this made me feel good and spurred me on I also felt quite guilty about it. Sarah texted Andy to say that we were approaching the car park and it occurred to me that maybe some of the crew would join us there, but no, and did not matter. I had a mission and was on a roll now and nothing was going to stop me.
Out on the road and I passed a couple of others and a couple of supporters who commented on how well I was doing running at this stage. Sarah told me that if I kept this up I would finish sub 29: sub 29? What? I could not believe it! I was convinced that I was approaching if not over 30. It turns out that Sarah misread my incredulity and thought I was unhappy and really disappointed in my time, but quite the opposite.
The roundabout and then the last metres to the finish and I was done. I was so happy, but so tired that I could not express just how elated I was. My finishing time was 28:56, slap bang in the middle of my predicted time of somewhere between 28 and 30 hours.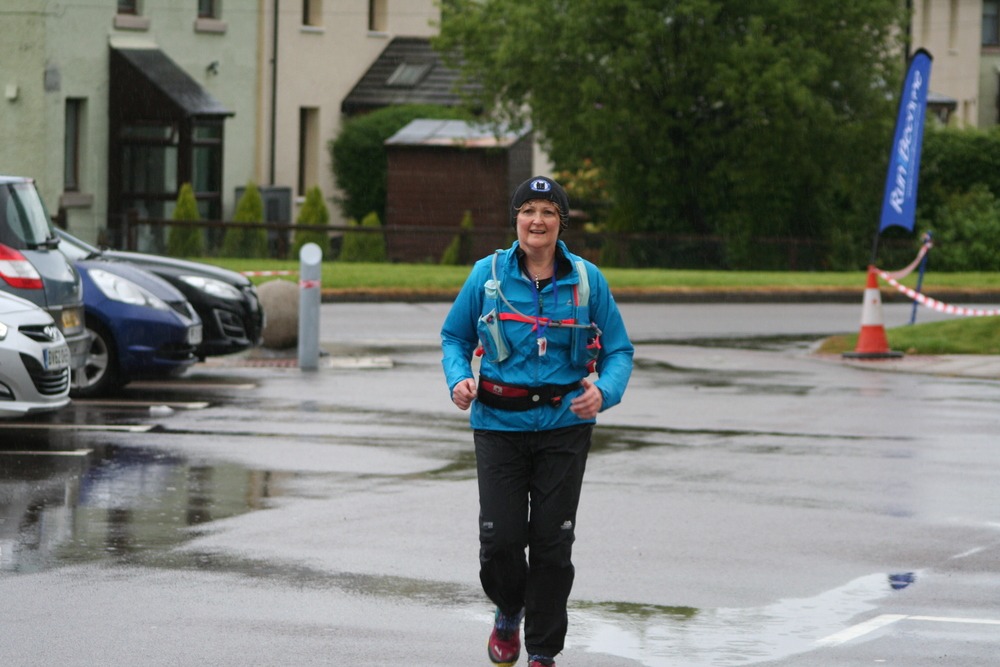 The Aftermath
One of the first things I asked was for news of Paul Giblin and confirmation that he had won for the 3rd consecutive year and had broken his own course record again finishing in 14:14:44! I was and am in total awe.
After that I fell into the post race cycle of I want to eat, but don't know what? I want to shower and clean up because I feel disgusting, but uh oh, I am feeling dizzy. That will be why the race brief says you need a member of your crew in the changing room with you. A lie down in the first aid area, a confusing conversation about a 'cow biscuit': what the hell is a 'cow biscuit'? A malted milk. We all laughed. Finally, into the changing rooms and success with attempt number two. It took a while though. I had some horrible chafing on my back and in areas you do not want to know about. I also discovered why my heel had been so sore. I had the mother of all blisters running from the underside of my heel up round the outer edge and it was deep and full of blood. Wowza!
As I finished Sarah came in to say that they would head off as they needed to get back down to Leeds: hugs, thanks and good byes. It was a shame they could not stay for the presentations but understandable. It had been great that they were able to come and crew and support me so well. I felt privileged to have them in my crew.
Breakfast was going to be my treat so we agreed to regroup about 10 am at the Nevis Sport café. Alasdair and I went to the car where I promptly demolished a cheese and ham sandwich and a few other snacks. I failed to nod off which surprised me as that was all I had wanted to do when lying down in the first aid area. Alasdair pointed out that the car park looked like a zombie apocalypse with cars full of slumped unconscious bodies and other bodies shambling around outside. It really did.
It was a gallon of coffee and cooked breakfasts all round at the café which was gradually filling up with other runners and crews. A bit of reflection, a bit of did we really just do that, a lot of smiles, and a bit of a catch up and banter with other people before negotiating the stairs at the entrance to then go to the presentations.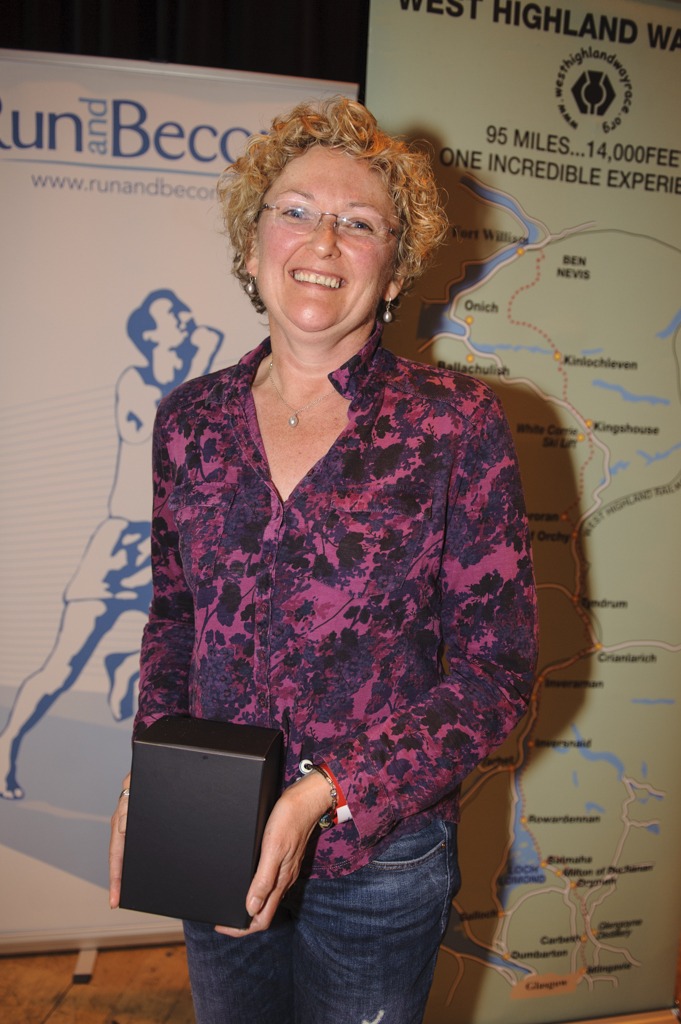 It is quite amazing how so many exhausted people can generate so much energy and excitement. The hall was a hub-bub of excitement: happy runners and happy crews who like us, having had some food and bit of time to adjust were just realising what an amazing thing they had achieved. The hall was full and the presentations began. Such a great way to celebrate the event at all levels: everyone acknowledged from organisers and marshals to crews and the runners, celebrating outstanding performance, grit and determination from winner to final finisher, each having their moment. Smiles, tears and a few laughs at the display of funny walks.
Afterwards we sorted out the shambles that was the car boot and set off for the journey home. Alasdair managed to Bridge of Orchy before tiredness kicked in and the car began to drift occasionally. Did he want to stop at the hotel? No he could make it to Tyndrum where we stopped at the real food café. It seemed to be entirely populated by runners and crews, as if we had simply decamped or teleported there. We spent a bit of time chatting with Robin, who had been supporting another runner, before setting out again. As we walked to the car I said, 'I feel great. I will drive.' Alasdair was a bit surprised and asked if I was sure, and was I actually physically able to. 'Yes. No bother'. I got to just south of Crianlarich before I started to nod off. We pulled over and swapped. Alasdair drove the rest of the journey which had to be done in short stages with frequent stops to get some air to keep alert. A week earlier I had responded to a Facebook post asking what we would be doing this time the following week with 'Trying to get home without crashing'. I must be psychic.
The girls were waiting for us when got home with a meal all prepared. It was Fathers' Day and Alasdair definitely deserved some pampering. We actually managed to stay awake until about 10pm, which was pretty impressive given that I had been up for about 65 hours and Alasdair for well over 24.
After time to reflect how do I feel about my WHW experience? I have bagged that jewel in the crown, and I am proud of what I achieved. I am proud of my support team who helped me to achieve it and who tirelessly and admirably coped with me during my less than fine moments. It went pretty much to plan and as expected it threw up the unexpected: stomach upsets, falls and mini black-outs.
Could I have been faster? Could anything have been done differently? Possibly. I could perhaps have been a bit more disciplined about how long I stopped at the check-points, but then some of the longer stops were unavoidable due to the stomach issues and the falls and the inevitable tiredness. My pace may have been conservative, but it was steady and I was able to keep going without long breaks and I spent the whole race passing rather than being passed. If I had gone faster I might have jeopardised my finish and my aim was to finish and finish well. My hydration could have been less erratic and I certainly should have eaten more. My total calorie consumption during the race was in the region of 2,300 calories, not a lot really when you look at a total burn in the region of 12k -13k.
I am content and happy with the way my race went, and know that I acquitted myself well.
At the outset I said this was a once only for me, and I know that you should never say never, but at this point I am happy to rest with that decision especially as I achieved what I set out to. Assuming I complete the Devil 'O the Highlands in August and get the 'Triple Crown' I shall take a rest from the WHW for a while. I love it, but I don't want to get tired of it: there are other races in other places that I want to do. I will certainly crew and marshal; and maybe one day I will do it again if that is what the future holds for me.