My journey to the West Highland Way Race has been a long one, and there have been quite a few races, many miles and a few life changing experiences since I first considered it as a possibility back in 2012. But I am finally here.
It seemed fitting that my last long training run for the West Highland Way race should cover 24 of the last 25 miles of the West Highland Way from the Glencoe Ski Centre to the Braveheart Car Park. This was the first time that I had run beyond Kinlochleven. It was important to me to know that I had covered the entire route, especially the last section which I will be running in the dark. Kinlochleven to Fort William is stunning, and I am so glad that I was able to take my time running it in the daylight relaxed and enjoying the magnificence of the landscape. Due to the changeable weather conditions I was saw it both dark and brooding with squally showers, and lit in brilliant sunshine with everything in between.
We had been promising ourselves a stay at the Bridge of Orchy hotel for a while and this seemed like the perfect time to do it: travel up on the Friday, run Saturday and take Sunday as it comes. Having managed to get a quick getaway on Friday I was able to fit in a run from Tyndrum to Bridge of Orchy and earn my supper. I had a brisk headwind and squally showers all the way along and there were a few sections that had quite a bit of water underfoot. That was to be something of a theme for the weekend.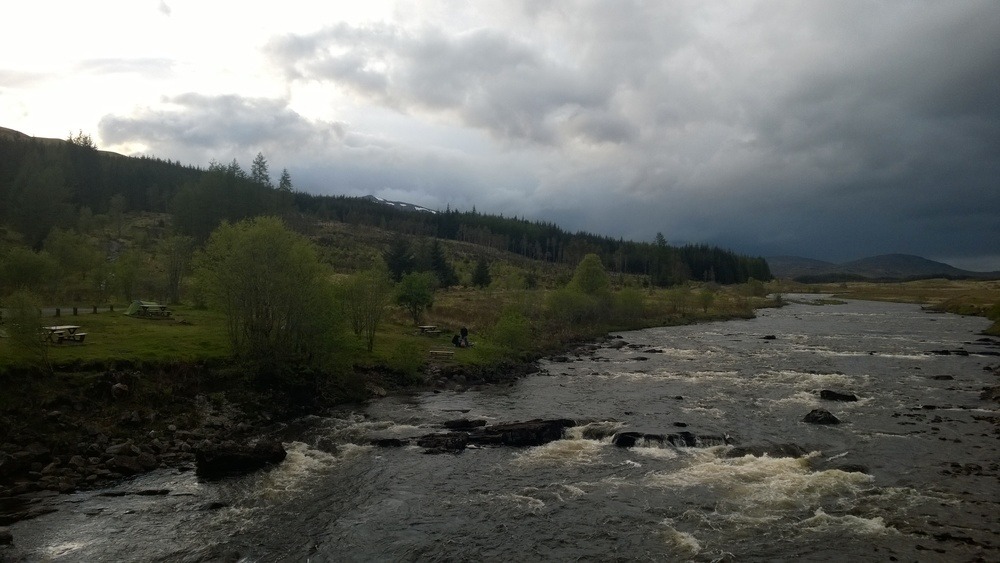 I timed my arrival perfectly. Alasdair had checked us in, unloaded the car and was just coming in to the bar as I was asking the reception which room we were in. We were in a courtyard room which had a lovely view over to the stone bridge where the checkpoint will be on race day. A couple of pints and good feed and I was set up for the next day. We retired to our room, lounged about on the very large bed and then settled down. Not sure if it was some of sub-conscious race conditioning but neither of us slept well in spite of the comfy bed.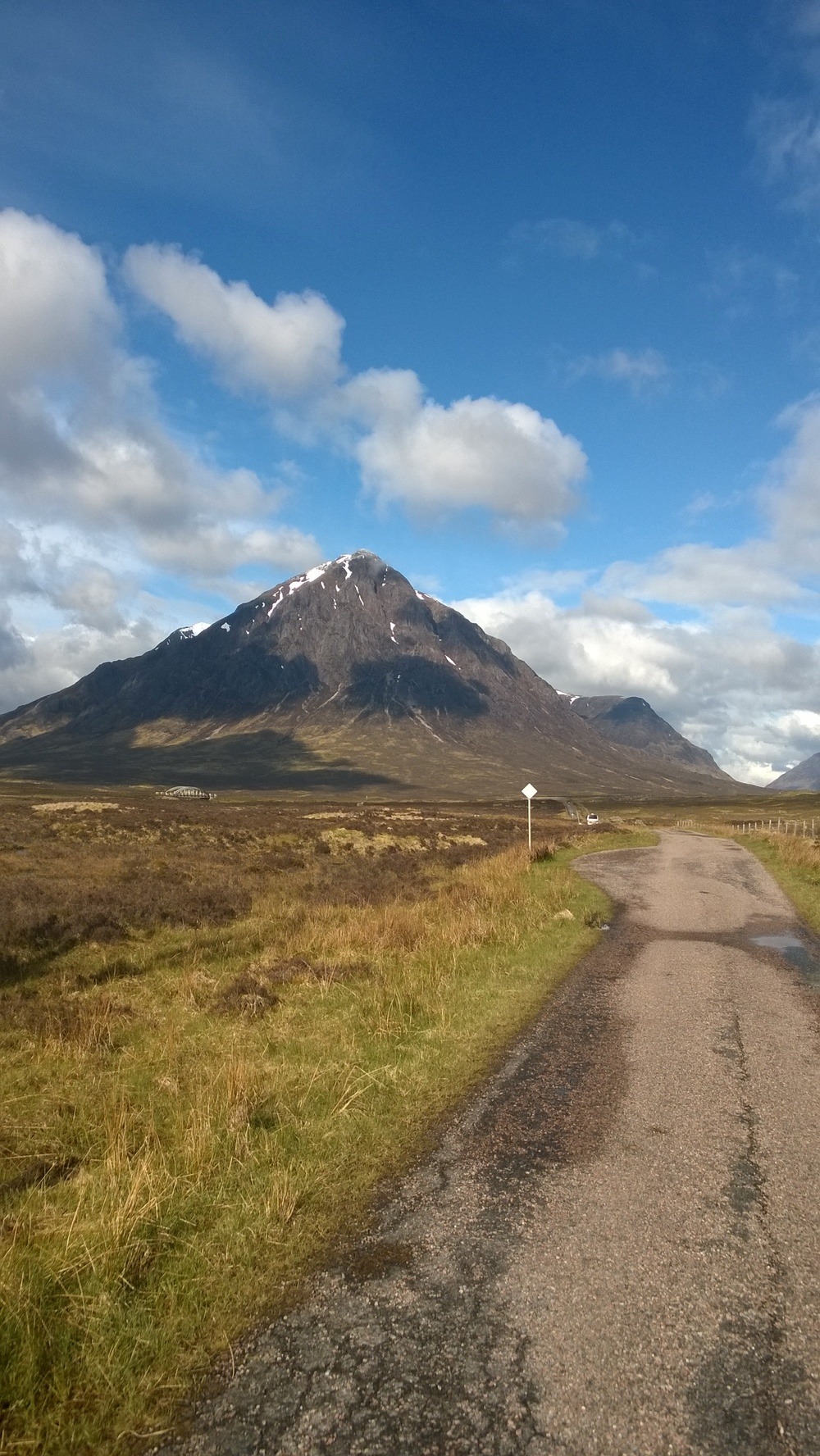 Next morning after a hearty breakfast of fruit, eggs Benedict and coffee we set out for Glencoe in the chilly sunshine and brisk breeze. As we approached Glencoe it clouded over and just as we arrived the wind whipped up and it started to rain: nice. I sat in the car for a few minutes as the rain battered off the windscreen and then Alasdair told me to man up and get on with it. So after a bit of rummaging in the boot, two extra tops, waterproof, a hat and gloves later I set out. The rain stopped just as I got past Kingshouse and shortly after that the hat gloves and waterproof came off.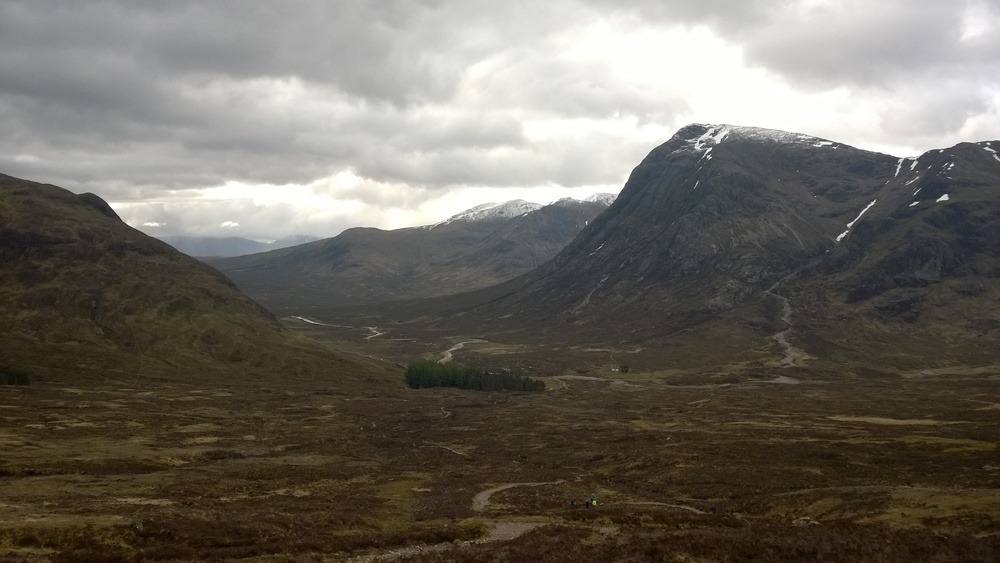 Soon I was at the foot of the Devil's Staircase and powering myself up it, barrelling past quite a few hikers who must have wondered what I was doing. I certainly will not be attacking it with that level of gusto on the 21st. I stopped briefly to take some photos and chat with a group of hikers before tackling the last short climb to the top. More photos, and then off at a decent clip to make my way down to Kinlochleven. It was still cloudy and a bit heavy, but dry. There was quite a lot of snow still on the hills which was really quite impressive at this time of year.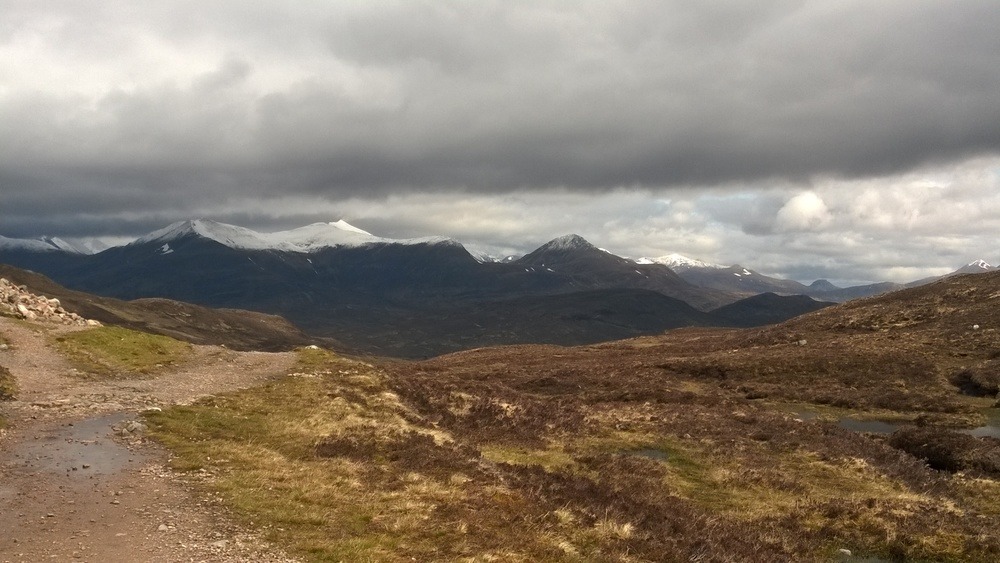 I reached Kinlochleven in exactly the time I said which was good and rather atypical. Alasdair had been hanging about for a while not trusting my estimate (and with good reason based on some past experiences), but I had been pretty sure how long it would take me, and I was not pressing the pace: there would be nothing to gain from that. Far better to keep the pace within the range that would expect on the day.
I took some rice pudding and a carton of juice, ditched the waterproof, hat and gloves, lifted a couple of snacks and set out. This was new territory for me now as this was the section that I to date I had not covered.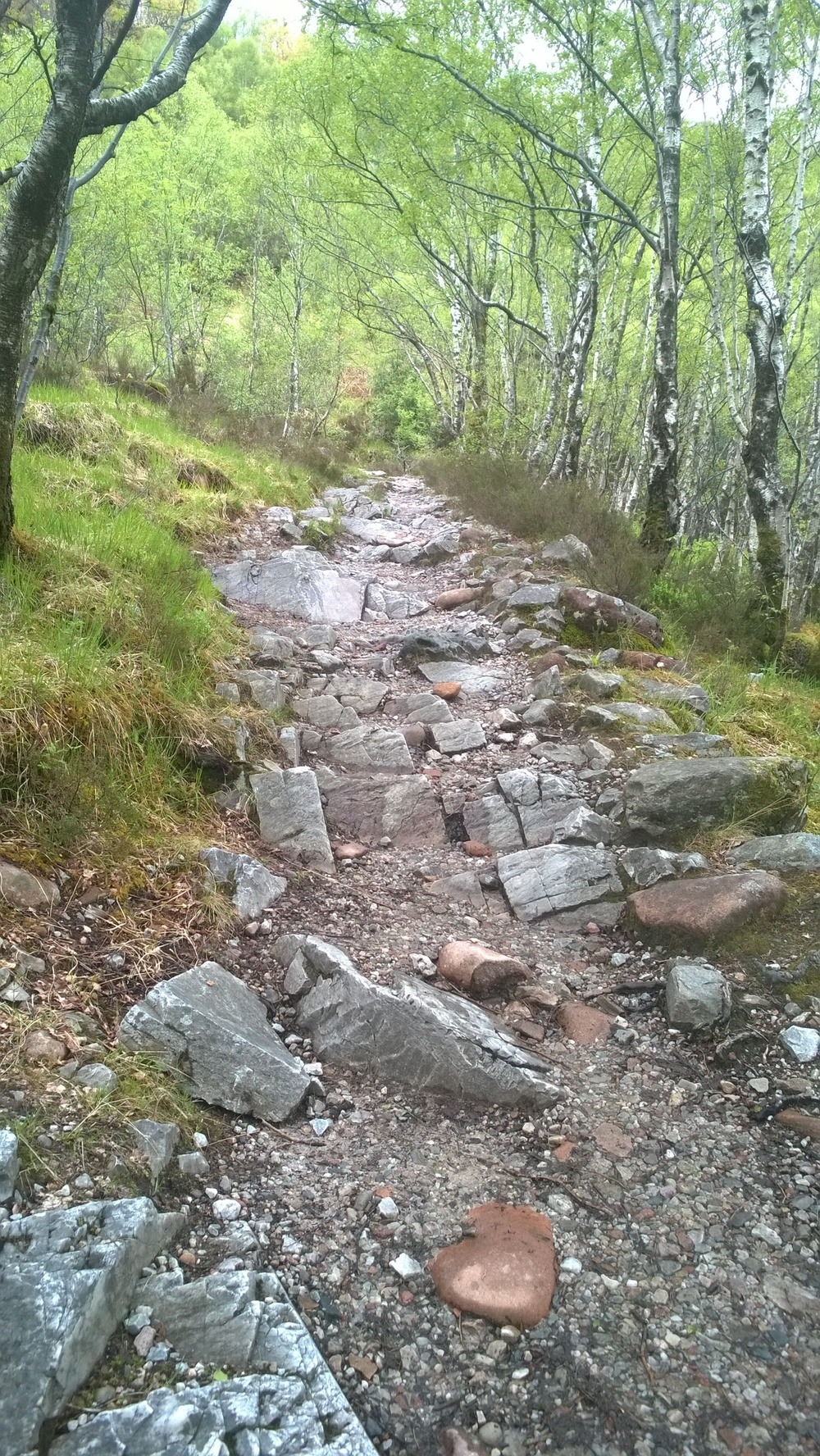 Soon I was on the pull up out of the village to the Lairig Mor. It is very pretty, but goodness me, my heart sank. It is long and steep and in my opinion a lot harder than the Devil's Staircase. Tired and in the dark that will be seriously tough; SERIOUSLY TOUGH. Eventually, I made it up onto the old military road which undulates over to Lundavra. Now there is a perception that once you are on the road life gets a lot easier, indeed the hikers I spoke had said this also. Setting aside that I had a bit of an energy dip, because my food had not kicked in, which meant I was very slow and walking a lot over the first mile of the road I found it to be generally quite tricky.
I was having to take care that I did not trip or stumble over the rocky surface, and not progressing at the rate I had hoped. This was not the smooth ride I had been expecting and a touch of frustration began to niggle away at me. It will be interesting in the dark too. I pressed on. The Lairig Mor is quite awesome especially when the light was shifting between grey and cloudy and bright sunshine. The weather really was not sure what it was doing, but it was good distraction watchinghte light play and change over the mountains. The forestry towards Lundavra was truly bleak: the entire area felled and looking like a battle ground; a bit depressing really.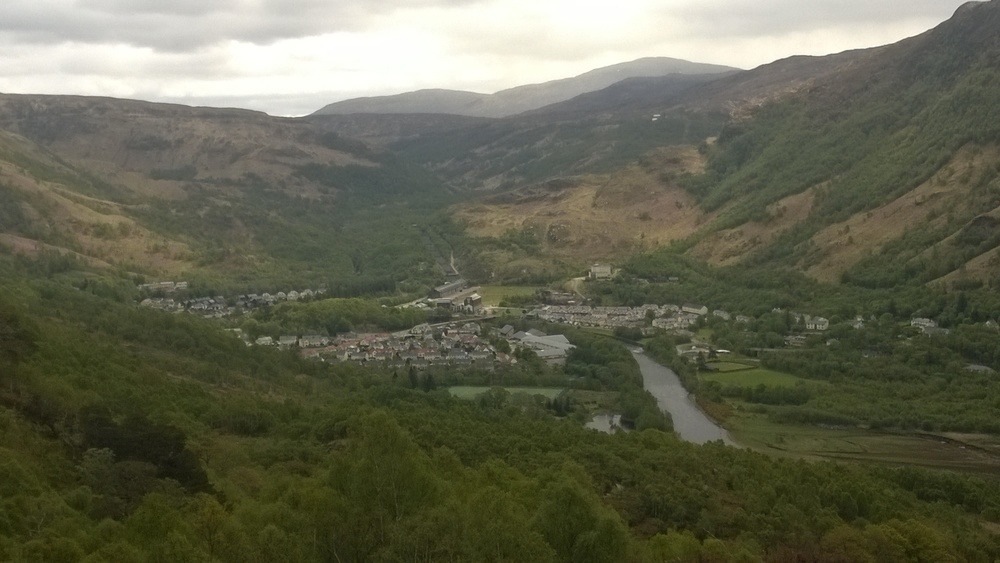 At Lundavra I stopped for about 10 minutes and sat drinking an espresso shot can and having a snack. Another climb up and away from Lundavra and then into more forest. This was a lovely section if a bit tricky, especially as the sun was out to stay now and it was getting rather warm. I enjoyed the closeness of the woods, the earthy green scents and the dappled sunlight. It is a strange feeling when on a trail for the first time, that sense on not quite knowing where you are or what's coming. Again, I noted that this section was going to be slow overnight especially as I was making slower than expected progress in the daylight.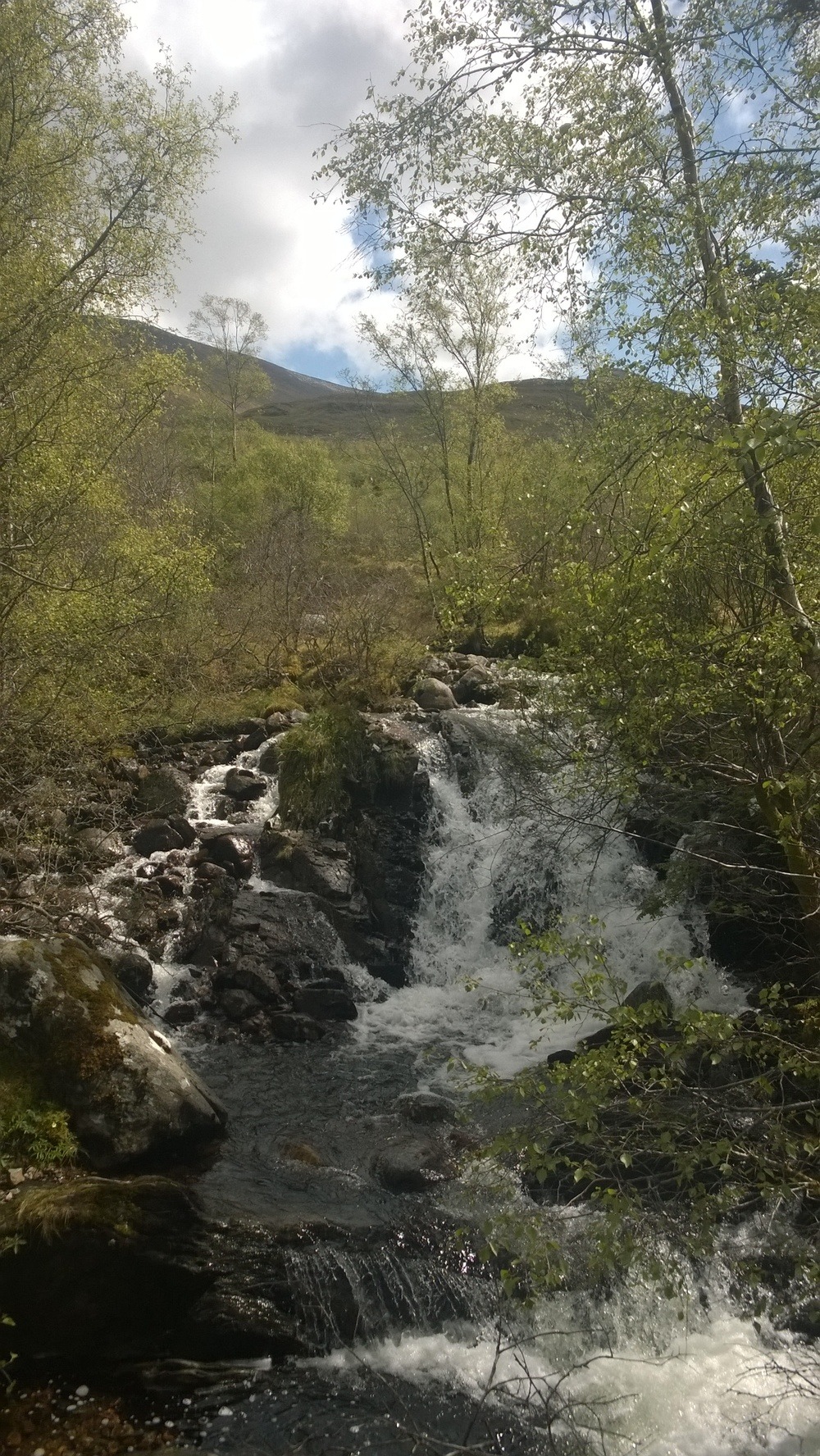 When I eventually popped out on the final section of forestry track that runs down to the Braveheart car park, I got a bit more of a sense as to where I was. This will be a real motivator on the day: a smooth steady downhill into Fort William. Just as I got onto the track my phone went. It was a message from Alasdair reporting that he was in Nevis Sport café and would see me there. A quick call back to say: no, meet me at the Braveheart Car Park or the leisure centre. But you will come past here, er no, the finish is at the leisure centre so that is as far as I will be going. How long would I be? No idea: half an hour or so. I made quick progress and was soon at the car park job done.
We had a quick snack, and I changed my top and then we set out back to the Bridge of Orchy. It had been a good day. I had loved the run and was really glad that I had done it. I now know the entire WHW, and I think it was essential to gain an understanding of the terrain in daylight.
I had really earned my supper today! A lovely long hot shower and then over to the bar where we indulged in a beer before treating ourselves to a bottle of wine and full dinner, although we were relatively good and shared a single dessert. We then sat soaking up the atmosphere whilst reading and having a nightcap.
Sunday dawned dark windy and raining heavily. I decided to pass on a run as it was always an optional extra. We had a leisurely breakfast feeling a little sorry for the hikers who were about to set out for the day. We set out for home deciding that in light of the weather we would just go straight back and relax at home for most of the day.
As I post this I have a week to go, and am in the middle of a metaphorical final long run: the old taper and logistics. As ever I have a niggle, or think I do. I am getting a little bit of intermittent pain at the front and below my knee potentially a touch of tendonitis. I have made the decision to not run now, but to cross train and stretch lots. The leg with the niggle is tight, and I suspect that some rigorous stretching will do the trick.
My race plan is finally done, but undergoing constant tweaking largely down to taper nerves. My crew is organised, I think. That seemed to be particularly hard work, but I think we are all happy with the plan. I have lots of zip lock bags labelled and ready to be filled: a bag for socks, a bag for t-shirts, a bag for buffs and so on. The ice packs for the chill bag are in the freezer. There is an assortment of food being gathered together in the dining room: far too much as ever, but you know what, as long as there is room in the car why not? We all know that what I say I will want at 11pm in Kinlochleven now, will most likely not be what I want when the time comes.
And the chimp? Touch wood he is fairly quiet at the moment whether or not he will stay that way remains to be seen. He is voicing his concerns periodically, mainly along the lines of;
'so you really think you will have another 43 miles in you after Tyndrum? Look how tired you are when you finish the fling.
(although he is not as polite as that. I have removed the expletives).
I am very aware that I have not put in anything like the number of miles that some of my fellow runners have, but then by comparison I never do. The decisions around my training regime this year were tough. Doing the North Pole Marathon and the Highland Fling within two weeks of each other was always going punish my body and take a toll. I was not able to ramp up my training quickly after the Fling, and made the choice to allow my body to recover rather than trying to log a lot a miles. I opted for fewer quality miles and, hopefully, a well recovered and rested body. The one thing that I could not risk was injury or over-training.
This is not just about the training I have done since last November (when I entered) and my current fitness. It is about the experience gained over the last two years, the fitness and credentials I have gained from that experience. During that journey I have: covered the same distance in a single effort; I have raced sleep deprived and for 24 hours; I have learned climb and have done it at altitude; I have gained metal strength and learned how to push through pain and fatigue, to keep going; I have learned to not fight the terrain; and I have learned to treat any distance and race with the utmost respect.
Have I made the right choices? Have I got it right? We shall find out on the 20th / 21st June.
Regardless of how well prepared I am I will not be able to do this without my crew who will support me throughout the race and are in for a long haul. Alasdair's comment on that, which I hope is not a prophetic one:
I think that you are going to be quite stressed during this race. It won't be because of the race or your performance, but it will be the herd of cats following you, getting in your way, tripping you up and offering you a dead mouse at just the wrong moment.