As they inevitably do.
I have run Baxter's Loch Ness Marathon on 7 occasions now, and it is the marathon that I have run most frequently. Bearing in mind that this is my most frequented marathon and the law of averages, this event has provided me with my 3 best times and my worst time, and been the scene of some major highs and major lows. Sunday 28th September 2014 was not to be one of my best times or a high. The wheels well and truly came off and rolled away into to distance leaving me utterly broken.
It was not to be my day. To put this into context I toed the start line just 3 weeks after running the Glenmore 24 hour trail race, and whilst I felt strong and rested I was in no way fully recovered. That sense of strength and energy were mainly the result of having done light training in those intervening weeks. Also, coming back to the law of averages: I was in a sense overdue a 'bad one', rather like an overdue earthquake or volcanic eruption. I have had an unbelievably good 18 months and with the exception of the 2013 Hoka Highland Fling had not had a bad race, with my performance being strong and consistent with times improving and distances extending.
It was perhaps ill advised to enter a marathon just 3 weeks after a hard ultra, but I had not run a standard marathon this year and wanted to do one before the Volcano Marathon. My Loch Ness plan was to take it easy and just bimble along – enjoy the day – but things did not quite go to plan.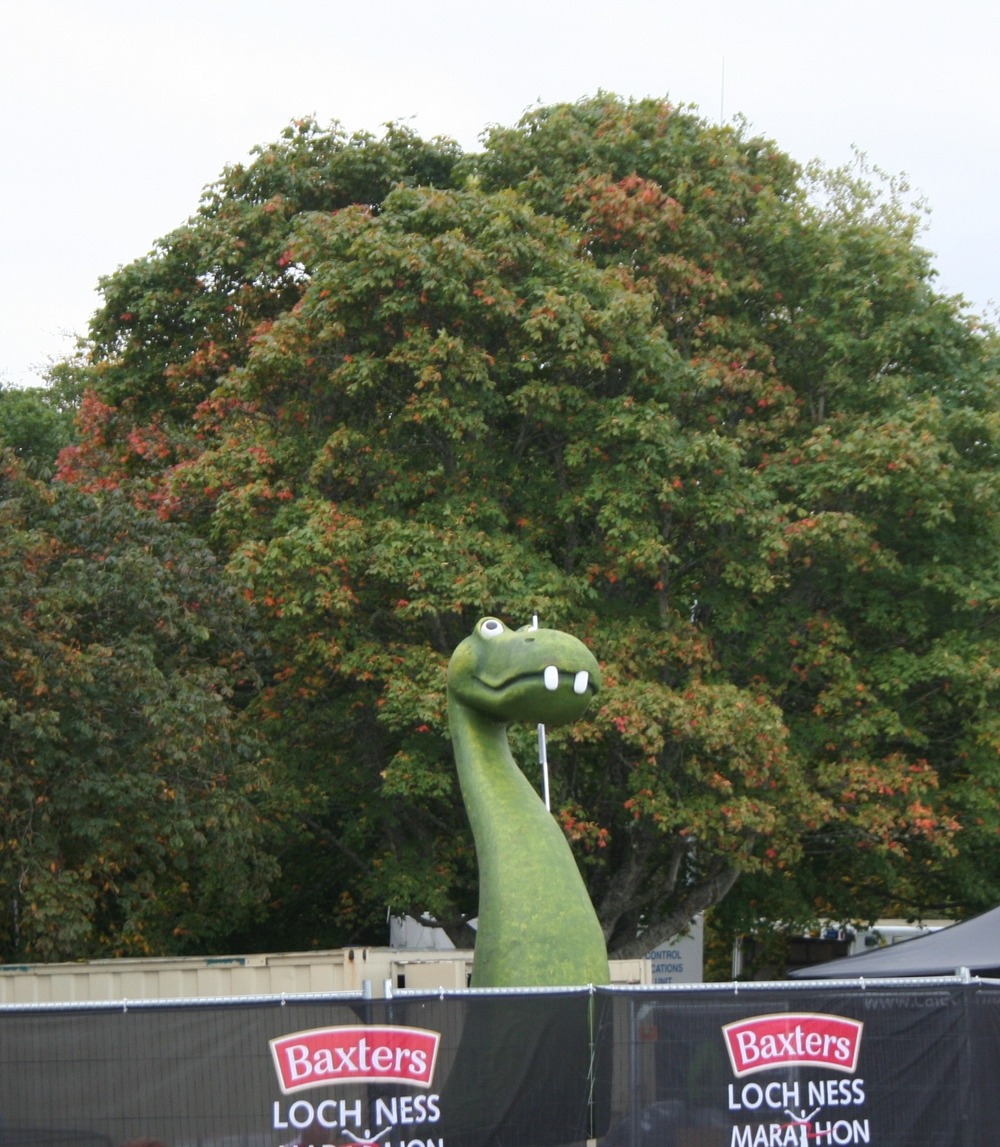 On Saturday we got an early start from Glasgow, but late enough to avoid the Ryder Cup traffic, thank goodness. After out now customary stop at the Watermill in Blair Atholl we arrived in Inverness about 2.30 pm, checked in at the B&B which was a bit Fawlty Towers, but would do for a night. Alasdair headed off to Leakey's second hand bookstore whilst I went to register. Once registered I wandered through the expo, bought some new socks, chatted Pure Project shoes with Brooks, Garmin's with the Garmin guys: and got my right ankle taped as it was still a little grumbly after Glenmore. I bumped into a few friends chatted to a few strangers and then went to meet Alasdair. Neither of us was inclined to go back to the B&B and so we ended up in a bar to kill some time before dinner, probably my first mistake. We bumped into some friends and so whiled away a happy hour or so. After dinner at The Kitchen we went back to the B&B where I got organised for the morning before an early night: nothing out of the ordinary.
Sleep had been in short supply over recent weeks and especially in the week before the event. As ever before a race, I slept very badly that night. I then woke up with an upset stomach, not uncommon for me, but this was a particularly bad bout. Possibly triggered by the ill-advised consumption of 2 pints of a wheat beer the previous evening, which may have triggered my slight (and I do mean slight) wheat sensitivity that develops when I am fit. Not a great start to my day. The B&B did not supply an early breakfast so I had a pot of instant porridge, some apple & ginger juice and green tea for breakfast. With hindsight, probably not enough, and it did not include the protein and fat that I now generally take before an event. I had a tub of creamed rice and an espresso shot can that I would take whilst waiting at the start.
At 6.30 am I left the B&B and walked over to Bught Park for the bus to the start, trying not to focus on the headache and slight stomach cramps. I decided to get onto one of the front buses to ensure that I had enough time to sort myself out and settle at the start. It was a dry morning and although breezy not too cold. I chatted a bit with the runner sat next to me who running his first marathon and cautioned him not to be tempted to go too fast at the start, especially as it is downhill and easy to get carried along. It is a lovely scenic drive down the Loch, through For Augustus an across moorland to the start. When the bus arrived I was so desperate for the toilet that I headed straight for the trees.
Whilst sorting things out and sitting around I had a similar conversation to the one on the bus with a couple of other first timers at the start area too. I debated whether or not to change into shorts, but stuck with the tights. I also kept an extra top layer on. Mistake number two. I ate my rice and drank the espresso shot can, as well as sipping at water and energy drink. For some reason I was peeing even more than usual and making frequent trips to the trees.
I knew that I had a lot of friends running, but somehow managed to miss most of them, and unusually found myself on my own in the starting pen. This may well have been mistake number three.
This race just seems to get bigger and bigger and there start was very crowded and it took a good 3 miles before we began to spread out a bit. Mistake number four was failing to heed my own advice. I set off far too fast and I kept going far too fast, but I felt good, strong and comfortable and there was no one to rein me back.
It was good running weather. The brisk breeze dropped back, it stayed dry and it was quite mild: ideal running conditions. We even had a spot of sunshine. This race is atmospheric and beautiful regardless of weather conditions, and I settled comfortably, or so I thought, into the familiar route, autumnal scents, the views, and the groups of enthusiastic support that pop up en route.
After two miles I was over heating and realised that the tights, vest and long sleeved top, light weight windstopper jacket, hat and gloves were overkill, to say the least. The hat and gloves had been pocketed after a mile, the jacket after 2 and the long sleeve top after 3 by which time I was uncomfortably hot. It was just as well I had opted to use a small backpack that everything could get stuffed into.
On the plus side though, I did stick with the nutrition plan, taking 1 gel an hour, with slugs of energy drink or sweets at the half hour and taking water at every available water station.
I was wearing a heart rate monitor for the first time in years; Nairn who is working with me on my hypoxic training in readiness for Chile was keen to get some HR info from running a 'normal' marathon. We had had a conversation earlier in the week about lactic thresholds, heart rates and speed, and the need to moderate speed to ensure that I do not run over my lactic threshold or over 85% of max heart rate. Cue mistake number 5: ignoring the HR data that screaming out to slow down, in spite of the fact that I was feeling comfortable. My heart rate sat at about 162 – 166 for the first 10 miles, then increasing to 172 and then up to 177: my theoretical maximum heart rate is around 169.
I clipped on, walking the longer and steeper inclines and gliding at a good pace down the descents, then taking a slightly faster than normal steady pace on the flats. I went through 6 miles fine, 10 miles, and then half way in 2.08. That was definitely a tad fast. I had tried to slow a bit after 10 miles, but at 2.08 I was close to PB territory, which had definitely not been part of the plan. Oops! But I was enjoying myself, drinking in the fresh air and atmosphere and enjoying the scenery.
At 15 miles, I was starting to feel it and my HR had been hovering around 177 for a while, even when slowing the pace it was not dropping by much. I decided to push on to 19 and then walk all the 'the hill'.
My body definitely wanted to slow down by the time I got to 19, and as I walked my heart rate settled down in the mid-140s. When I reached the top of the hill I felt better and ready to get going and started to motor along again from 20 miles to 23. The heart rate was right back up there at 177, and just after 23 miles I started to feel nauseous so walked briefly and when I got to the next water station I took another gel.
Then it all went spectacularly wrong at about 24.5 miles. Dizzy and light headed I slowed to a walk again. My legs were like rubber, wobbly and refusing to move one in front of the other. My vision started to go black and close in. I stopped and staggered and was about to go down when a motorcycle marshal pulled up and came my assistance, guiding me to the pavement as I crumpled. Thankfully I did not pass out: that would have been game over. After some water and another gel I decided to MTFU and see this race through. A couple of other marshals had appeared. The hoisted me back on my feet, steadied me and I set out with the motorbike marshal escorting me. Pain flooded through my legs and I could barely walk. It was one of those horrendous wobbly shuffles that we all find so amusing on You Tube: the crawl. The supporters lining the route could see my distress and urged me on.
Just past the 25 mile mark just as I was starting to sob pathetically, my friend Sue, who I had motored past at about 13 miles, caught up with me: a saviour. She grabbed my arm firmly, told me to pull my shoulders back, stretch my gait and breath; no not that quickly or we will need a paper bag. She dismissed the bike, chatted away and re-assured me. Soon my colour was back and I was walking normally, we crossed the river and were into the last half mile and miraculously I was able to start running again with about 1/3 of a mile to go. As we approached the finish I waved Sue forward as she had sacrificed her own time to help me, but she said absolutely not, grabbed my hand and we crossed the line together. What a star and what a friend.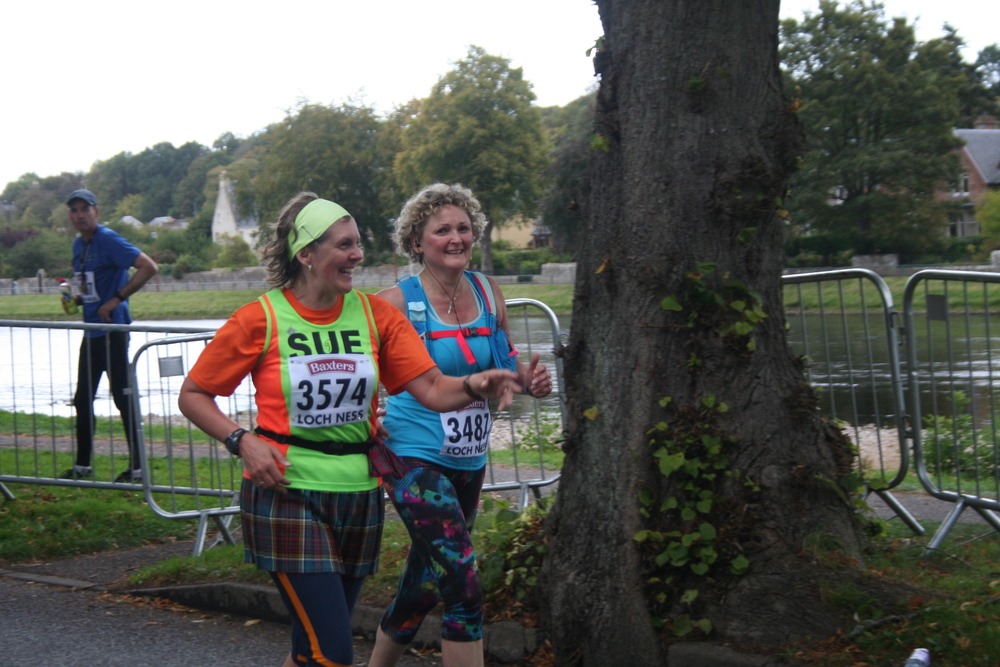 Time to assess what went wrong. After some thought and a chat with my friendly sports scientist at Glasgow University (where I am doing my altitude training), it would seem that I set up the perfect storm. I made a series of school boy errors and, frankly, should have known better.
Not hydrating enough after the upset stomach, and probably the alcohol too.
Not sticking with my usual breakfast routine (which was not possible) and not eating enough of what was available.
Overheating and not taking enough fluids to compensate.
Pushing too hard in light of the above, and pushing too hard too soon after Glenmore 24
Running at my maximum heart rate and over for too long
I was lucky I lasted as long as I did.
But I got back on my feet and I finished, and thanks to Sue finished better than I should have or deserved to.
It perhaps as well that this happened now, and not in Chile at the Volcano Marathon. I have been taught a lesson: always respect the distance and my body. Also, that even experienced runners can have bad days and make mistakes. Hydration, nutrition and heart rate will be my top priorities in Chile and I will be aiming to go steady and finish well in all respects.