No one ever really knows how a race will go for them. They will have hopes, expectations and confidence from knowing that they have trained and prepared. There will probably be a certain amount of nervousness and there will almost certainly have been the nagging doubts resulting from 'taperitis'.
On the morning of April 25th, as I stood at the start line of this year's Hoka Highland Fling in Milngavie I had no idea how my race would go. It was just 2 weeks since I had completed the North Pole Marathon: I had only done a single recovery run and cycle session in that time; my frostbite was still sensitive and requiring care; and I knew that I was still very much in recovery. One thing for sure; I expected to be slow and would not be surprised if I only just made the cut-offs. I think that was probably everyone else's expectation too.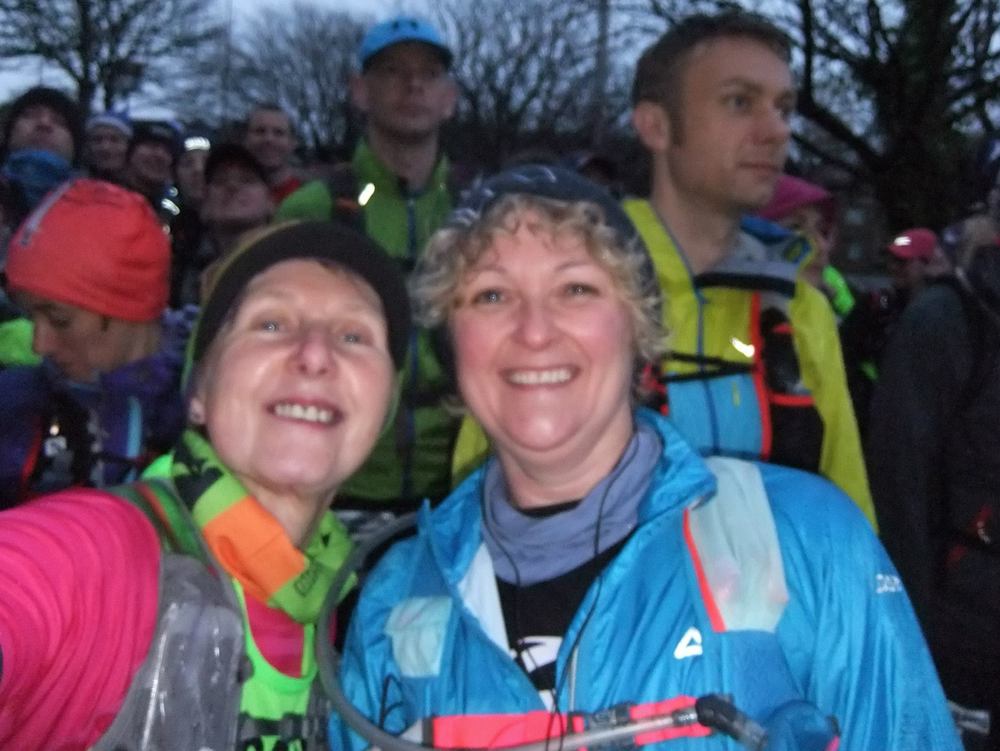 I deposited my drop bags, caught up with friends, had a single trip to the portaloos, which was most unusual; before depositing myself in the last start pen, the party pen, as we dubbed it. I was in fine company at the back with quite a few friends around me including Fiona and Lois.
Now, my Garmin has been playing up recently and it gave up the ghost in the Arctic after 25 minutes. Once back home it had sprung back into life, or so I thought, but I now realise that was a final death twitch. It refused point blank to switch on at the appointed time. So, I would be running blind as it were. This might not be a bad a thing as I would listen to my body and pace accordingly. I did have my phone if I really felt the need to check.
A few minutes after 6am our pen was opened and we eased forward and towards the timing the mats. The steady rain that had been coming down as we had arrived had been easing off gradually and within about ten minutes of starting had stopped. The day was then to defy the poor forecast for a wet and cloudy day and turn out to be mainly sunny with a light breeze: perfect running weather.
I had originally thought to do this unsupported, as there is a perfectly good drop bag system. But Alasdair had persuaded me pay for a support vehicle as he thought it wise to check on me at a couple of the check-points when with the race being so soon after the North Pole. He then promptly arranged to go down to London for the weekend, relishing the thought of a running free weekend. That was until he realised that it was London Marathon weekend: karma? The wonderful Janice Miller stepped up and offered to support and Liam McGregor kindly offered to run me to the start, and yet another friend offered to get her support to pass a bag to Janice at Balmaha the first point where we would meet. All organised.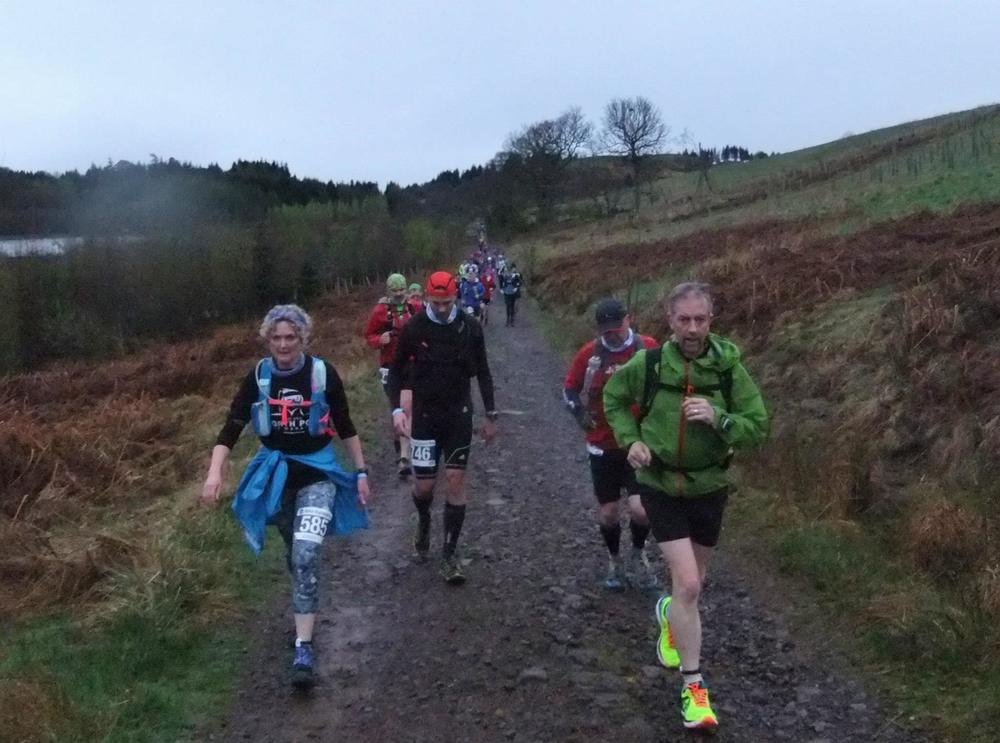 I trotted along comfortably falling into step with Fiona for a while before gently pulling ahead. As it turned out we were pretty even paced throughout race. I did not tarry at Drymen and pressed on towards Conic Hill and Balmaha. As I came over the top of Conic Hill the sun came out and I paused to take in that stunning view that I don't think I will ever tire of. I managed a reasonably quick descent, for me, and as I came out of the woods there was Janice waiting with my drop bag, handing me my espresso shot can which I was able to drink whilst covering the last few yards into the checkpoint area.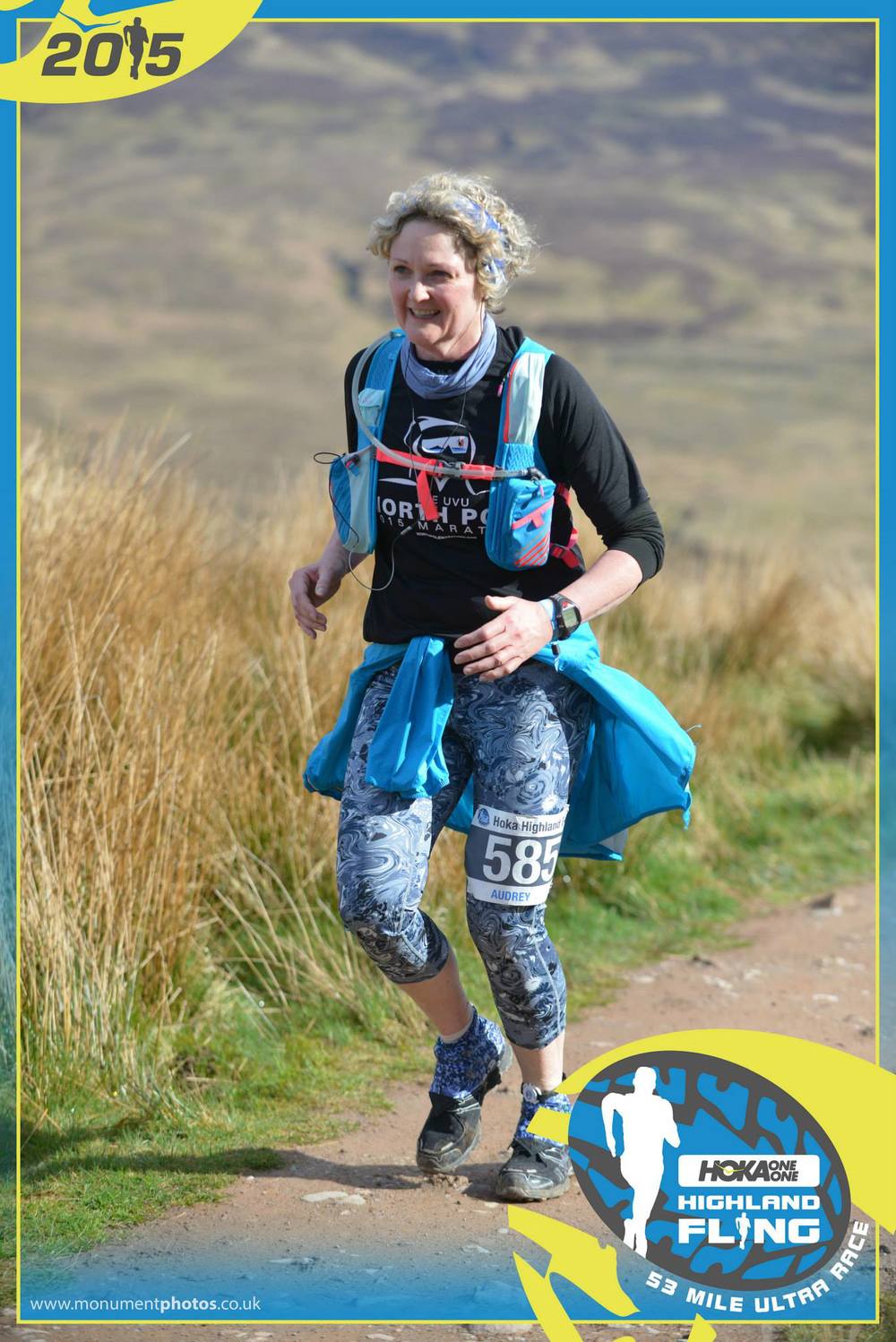 Janice informed me that I was ahead of schedule by about 30 minutes! She had actually gone to Drymen only to find that I had been and gone. I was now at Balmaha in just under 4 hours. I was going way too fast. Once in the checkpoint area I was greeted by the lovely sight of George Reid and we had a lovely big bear hug, closely followed a hug from David Hall. There is nothing like hugs at checkpoints. Janice was doing a grand job, efficient pro-active, checking what I would want at the next check-point.
Off to Rowardennan. I continued at a steady pace coping well with the undulations; the controversial improvements to the path definitely helping. I have no strong opinions on this. I can see why many runners preferred the older more technical and challenging pathway, but equally, with the amount of traffic on the path I can see how these will reduce erosion and make it more accessible to less fit and able people.
I always forget how hard this leg is as it winds and undulates its way up the loch side. It also seems to go on for ever, but I am always spurred on by how lovely some of the sections are, especially when bathed in sunlight and when you have the smell of the warm earth and woodland flooding your senses.
Janice was once again waiting for me with my drop bag, but I wanted to change my top, so she kindly went back to the car. I took a slightly longer stop having a brief chat with Al Running Gannet and Aurel. We replenished my water and I struggled a little bit with my food. The sandwiches were hard to get down. But I was soon on my way again with a carton of juice and a snack in hand. Next stop Inversnaid. In previous years it has been over the next 2 sections that I have struggled, and indeed I started to slow coming up out of Rowardennan. Fiona caught up with me just towards the end of the track section: I was definitely slowing. We ran together from that point to Inversnaid stopping to take some photos and admire the views. I think that it is important to take the few moments to appreciate and admire the environment that you are in and to realise just how lucky we are living and racing in such a beautiful country. I had a bad stumble just short of Inversnaid which left me feeling quite nauseous, probably from the fright.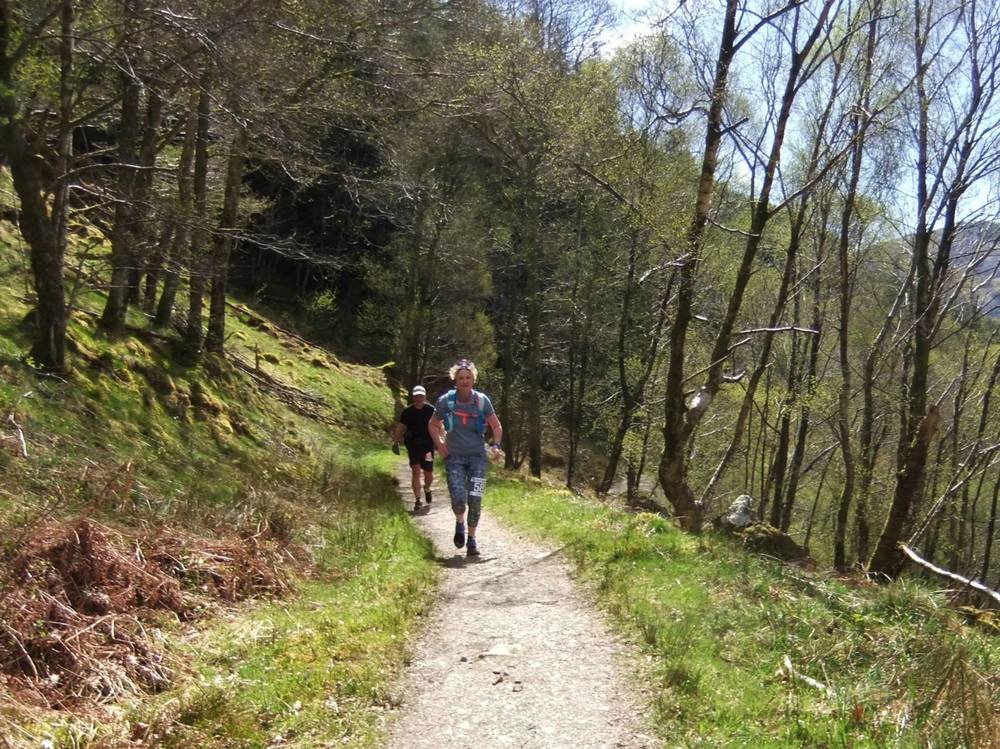 So, not feeling great as we entered Inversnaid between the nausea and quite a dip in my energy levels, but Dave Ross was there to offer assistance, but also to firmly kick me out again. Fiona shared her coke with me assuring me that it would calm my stomach which it did. She then transitioned out telling me not to stop too long. Dave was the same encouraging me to get out and on my way. Fiona is amazing at the checkpoints. She transitions through quickly and efficiently wasting no time. She also has the nutrition down to a fine and minimalist art: amazing.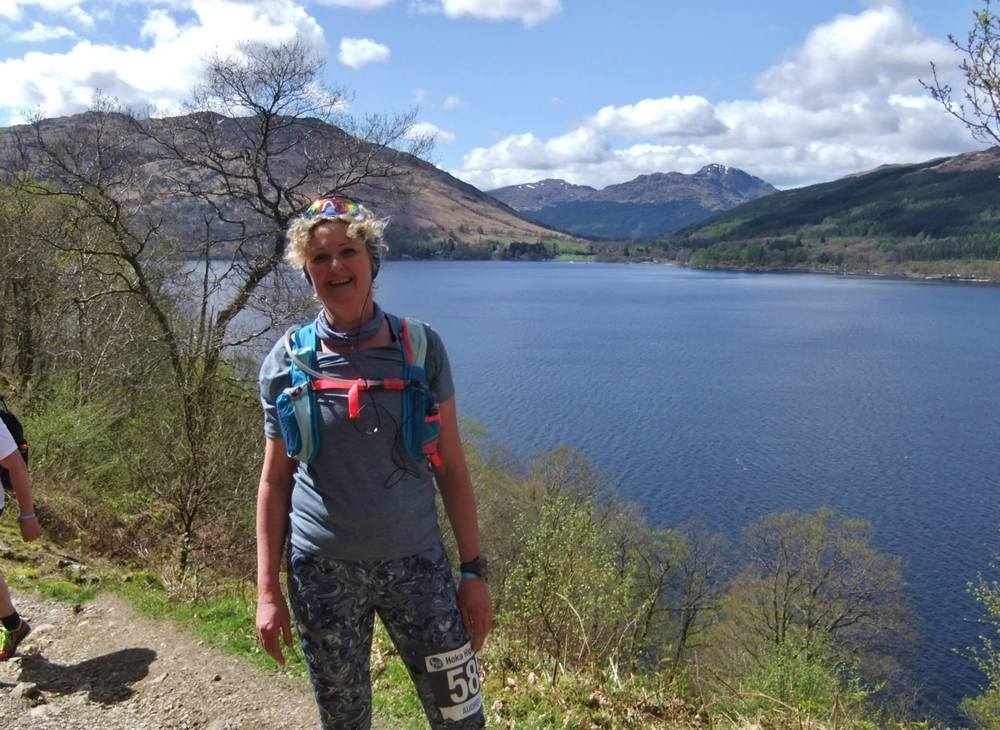 Inversnaid to Beinglas the technical section where you just can't fight the terrain, and if you do you are wasting valuable energy that you will need for the final 12 miles. I was on my own initially, scrambling, stumbling and with a major case of running Tourettes, swearing with monotonous regularity. I caught up with a little train of runners including Mike Adams and Fiona. Mike pulled ahead and the rest of us continued quite close together. We eventually emerged out of the technical section and established a steady pace ebbing and flowing with the landscape. I was just behind Fiona as we approached Dario's post in the Angel's Playground at the top of the loch and for some of us a point to pause and reflect. Fiona pulled her miniature hip flask from her pack and we took a moment to make a toast and be at one with our thoughts. Back to the job in hand and off to Beinglas.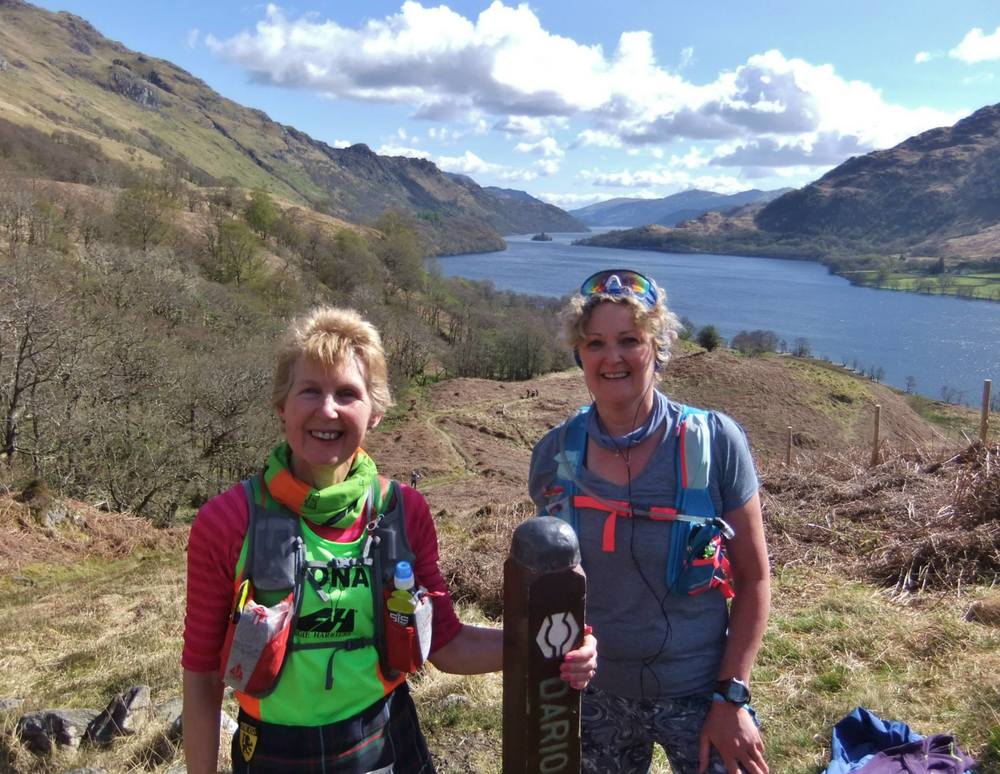 Ironically, having made it safely through the technical section, I chose the path down through the woods to farm to take a flier or to have a wee lie down as Fiona so aptly put it. I caught my toe and pitched forward going down hard, bang! Ouch, ouch, ouch. I don't know what hurt most; the grazed knee, the torn hand, the staved wrists, banged funny bone or the spasm of cramp that took hold of my left leg. Everyone was so kind. Our wee train came to a halt, someone massaged my leg and they helped me back to my feet. As I started to get up I apologised for slowing them all down and said for them to go on, but they generously waited and then slotted me straight back into the train for the last short drop to the farm; Fiona all the while checking I was Ok and telling to just take it steady.
Apart from the fall I was in better shape than I have ever been coming into Beinglas, but I was going to lose some time as I needed to get patched up and I wanted to change my socks and shoes, as well as get a decent amount of calories on board. I saw Fiona head out with that enviably quick smooth efficiency. Janice helped with my socks and shoes, replenished my water and made sure that I was fed and good to go. She had spotted a small nick in my running tights, and later said she knew there was no doubt that I would finish when I started to swear, annoyed at tearing my brand new tights.
It can be easy to delude yourself into thinking that the last 12 miles to Tyndrum are pretty easy, and in one sense they are. There is no technical ground, good path and track and the 6 miles to Glen Bogle/Crianlarich are fairly easy if a bit undulating. But, on my two previous Flings this had been where the wheels came off the bus, not least because I had overcooked it earlier and been in bad shape at Beinglas. This year it was different. Although I left Beinglas with a slow hobble, I soon picked up the pace and started to make steady progress once more passing a few folk on the way.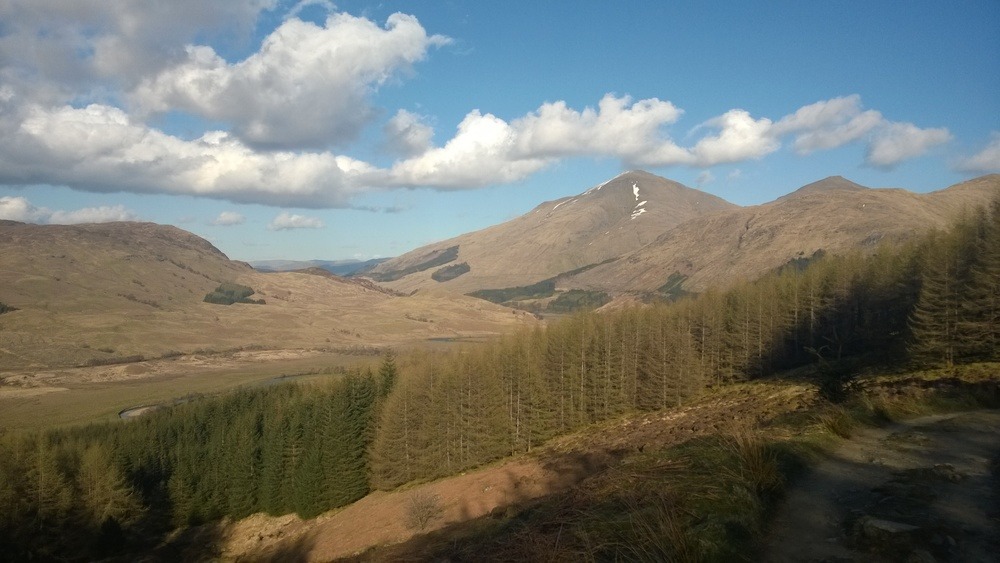 I had a quick pit stop at Glen Bogle where I changed my top, picked up my jacket and drank one last espresso shot can before setting off up the rollercoaster. On my first Fling I walked this whole section down to the road crossing because my tank was empty and I was having issues with cramp. My second fling was not much better either, due to my quads being very sore and my toes being completely mashed from numerous trips and stumbles. This year was totally different. I could power up the climbs and get a reasonable lope going on the descents and I was still overtaking people, which is always a boost for morale.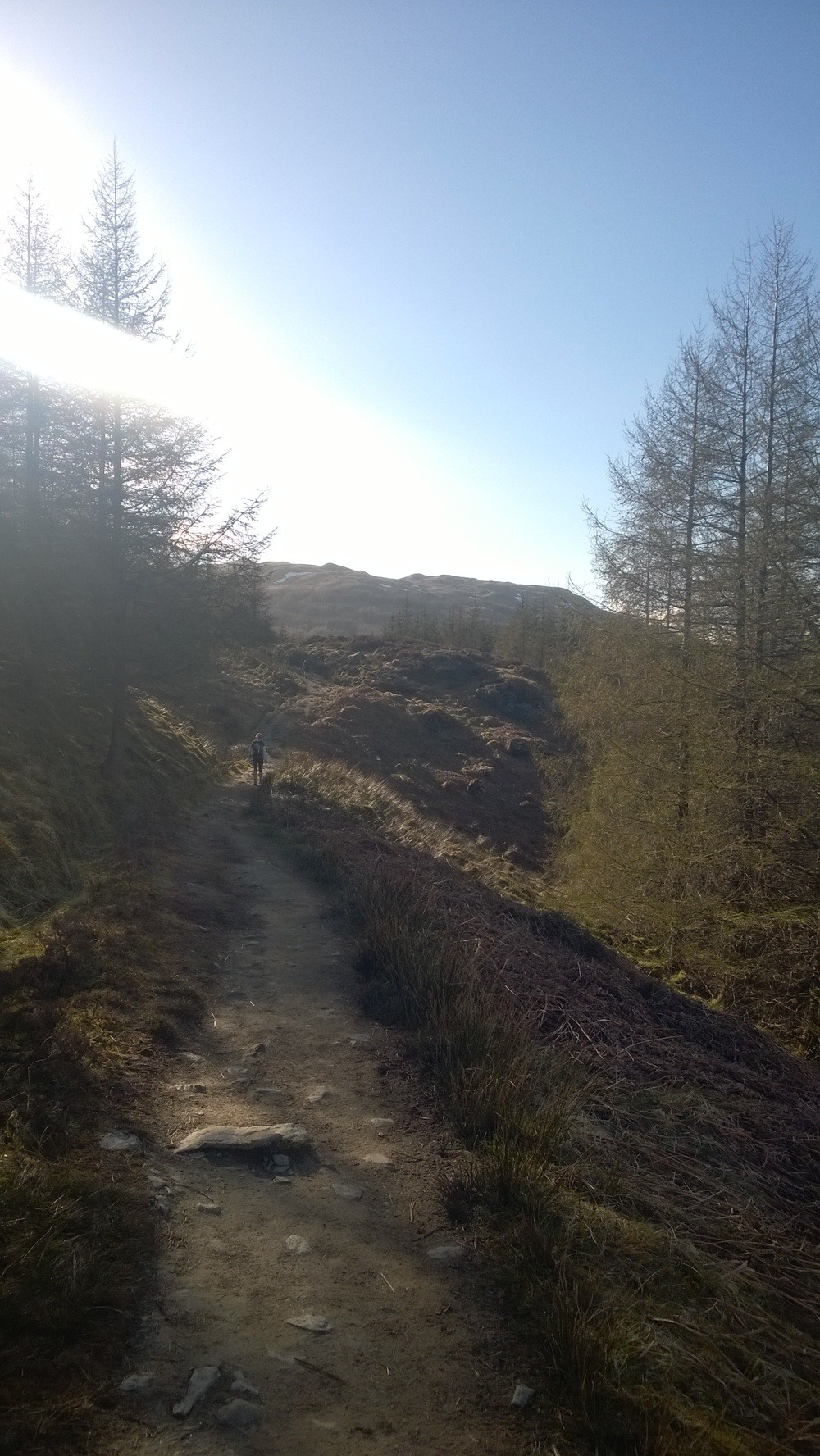 Once over the road I was able to establish intervals of running and a fast yomp which would have impressed the queen of the yomp; Lois. I just wanted to finish now so powered on knowing it was just under 3 miles from Auchtertyre farm. It seemed no time at all before I saw the old lead mine and it was then just 400 yards or so to the finish. And there I was, on the flag lined red carpet, the best race finish line ever, the cow bells ringing and people cheering me on.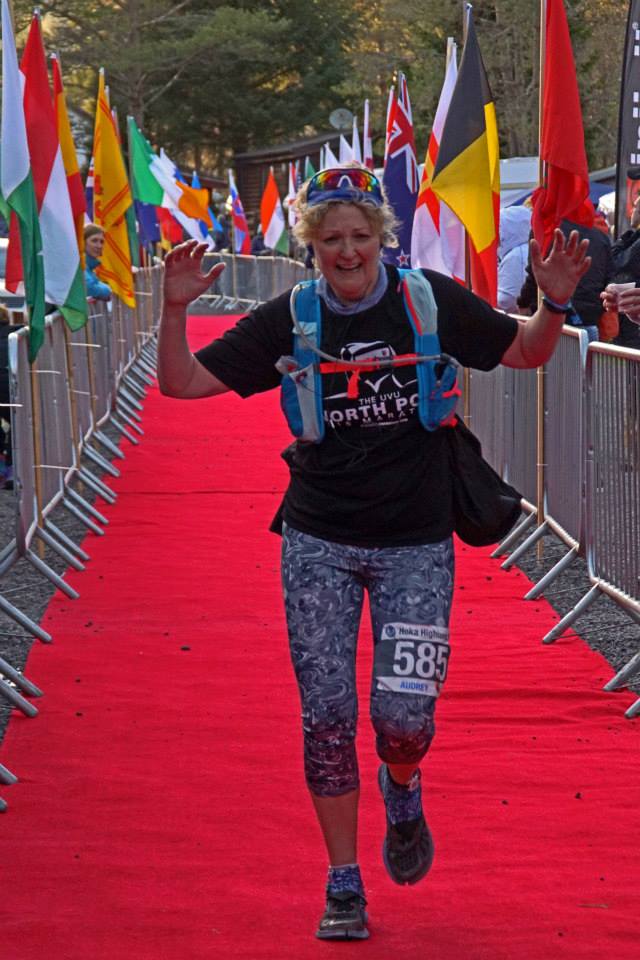 The emotion bubbled over and as much as I wanted to grin I started to sob as approached the finish line raising my arms in triumph. I crossed the line half crying, half laughing and into a mass of hugs from so many people including Janice, my ace support. I had finished, and I had finished strong and was pretty sure that I was faster than last year. I was indeed. Janice confirmed that it was 7.25pm just after I finished, a 30 minute PB? I could not quite believe it. How could I do that so soon after another punishing event? Later on it was confirmed. I had finished in 13.18.04, a personal best by 42 minutes. I had exceeded all expectations. The improvement in time between Beinglas and Tyndrum was exponential: 3rd time lucky, I had finally got the pacing right.
It was a good solid race for me and a good benchmark for when I attempt the full West Highland Way race in June. I admit that I spooked myself a bit at Inversnaid and some doubts and evil little voices started in my head: the chimp. These can be dealt with. I know that I am strong, I know I can cover the distance and I know that I can climb. The doubts are there for a reason, to stop complacency and to ensure that you remain focussed on the task.
Many thanks to Janice, who was a truly excellent support, and especially her motivational notes which were brilliant when things got tough and I began to flag. Thanks also to the many wonderful smiling, hugging, encouraging marshals along the way, and to John Duncan for yet another outstanding Fling.
Frostbite to sunburn, you ask? Yes, indeed. Whilst carefully covering the frostbite and tolerating the burn and tingle as it got warm I failed to notice that other bits of me were catching the sun as I bumbled my was up loch Lomond thinking how glorious the loch and the landscape looked in the sunshine. Will I ever learn?