Day 5 – The Global Odyssey 100 continued.
The head torch is out.
A slight edge of panic sets in. I do not have spare batteries with me because I knew that I only needed the torch for 3 hours or a bit over. Idiot! What am I going to do? I can see Jenny and Ken's lights ahead. I try to catch their attention flashing my head torch with the dregs of power remaining. No luck. Breath and stop panicking. There is a two-thirds moon and I know that my eyes can adjust; I have run in the dark without a torch often enough at home. It just means I will be slower, and I can try and eat and boost my energy levels as I go. Calm needs to be the order of the day.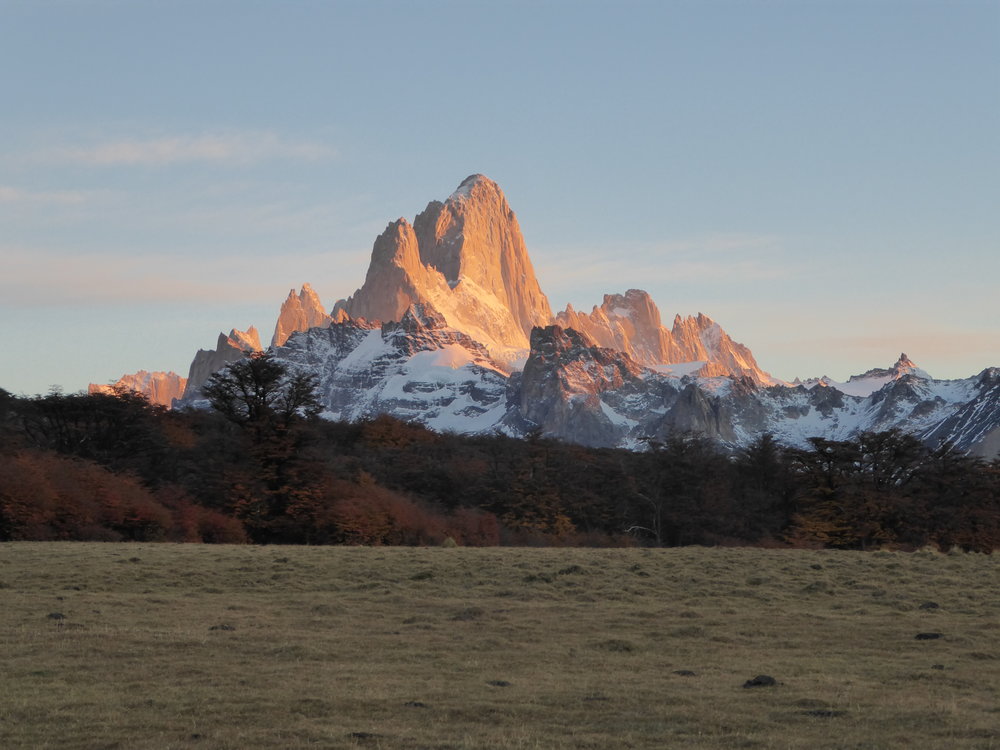 Onward and upwards I go, my eyes adjusting well enough. Soon dawn was breaking the sky and it was light as I reached a short flat section before the final climb up to the viewpoint through the most amazing woodland displaying rich autumnal oranges, browns against grey wood. My positivity had returned with the light.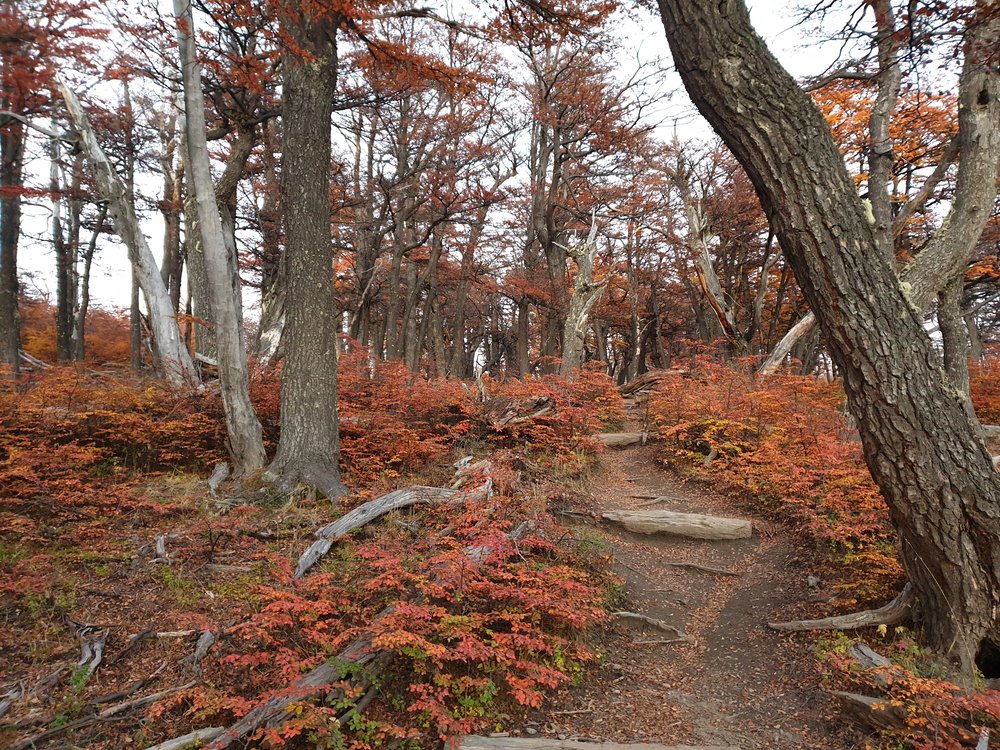 Just as I reached the top I met Jenny and Ken on their return. The view of Mount Fitzroy and El Chalten in the early morning sun was spectacular and there was not a breath of wind, so I could take a few minutes to appreciate it. The trip back down the trail was a lot more fun than on the way up, and a lot quicker as I loped down trails.
As I arrived back at the check-point there was no Alasdair. Dave and Steve said I should have passed him, he went up the trail to take photos. Dave pondered for a moment and then suggested that he had maybe gone up the wrong bit of the trail. I point out that Alasdair has a bit of a reputation for getting lost when out for walks. Damn, missed opportunity. That would have been a great spot for photos with the mountain and morning light as a backdrop. Cue a bit of a diva strop. Turns out I was too fast (again) and that he was not looking over at the trail I was on when I passed. Sound familiar? (Morocco)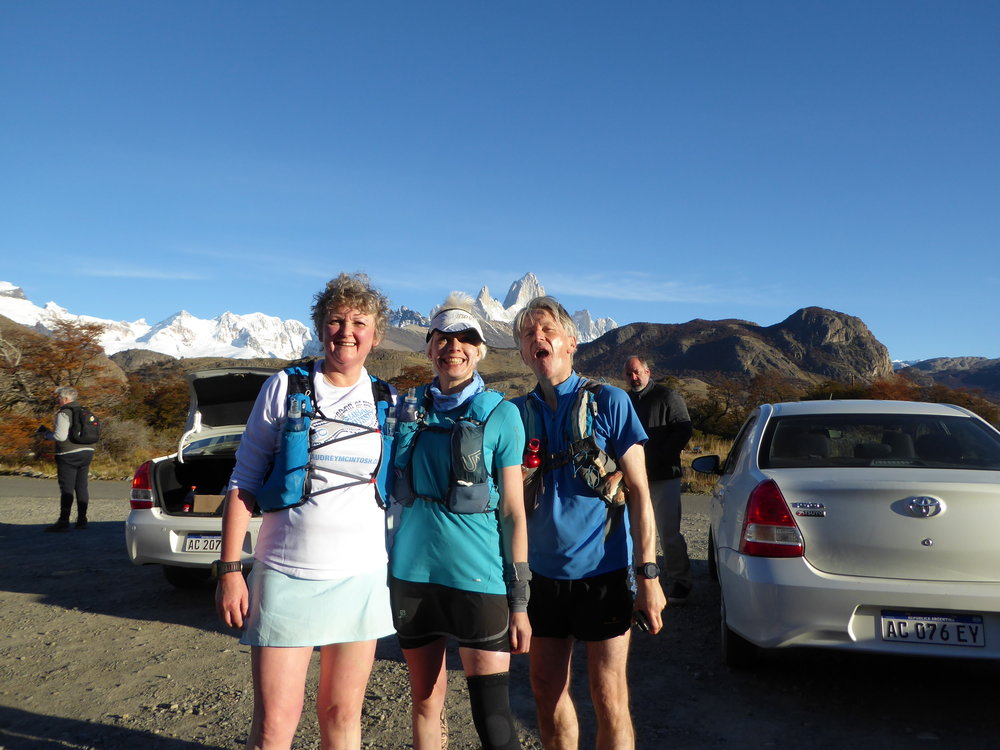 I sorted myself out quickly so that I could leave along with Jenny and Ken for the next long section which would loop up and round the massif that sits in front of Mount Fitzroy. Steve advised us that this was the toughest section of the route and to take it slow and steady. As we started the climb up out of El Chalten Jenny and Ken pulled ahead again, and I would never catch them.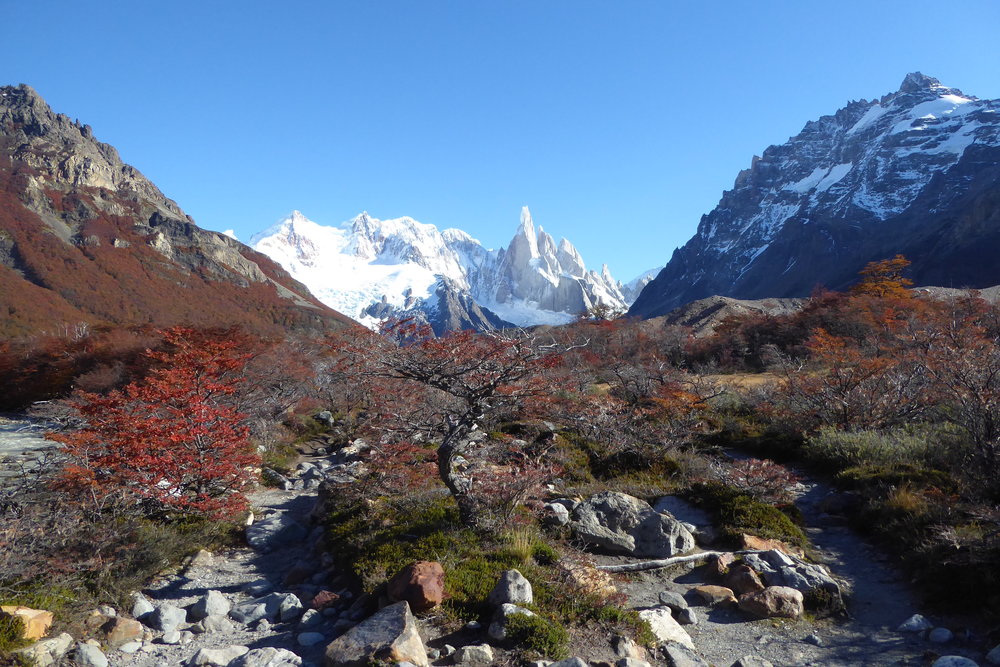 What a trail. It was hugely challenging but absolutely stunning with breath-taking scenery and views at every twist and turn. The trails picked through rocky outcrops, through a variety of woodland, along river banks and lakesides. The top end of the loop was a glacial lake below Fitzroy.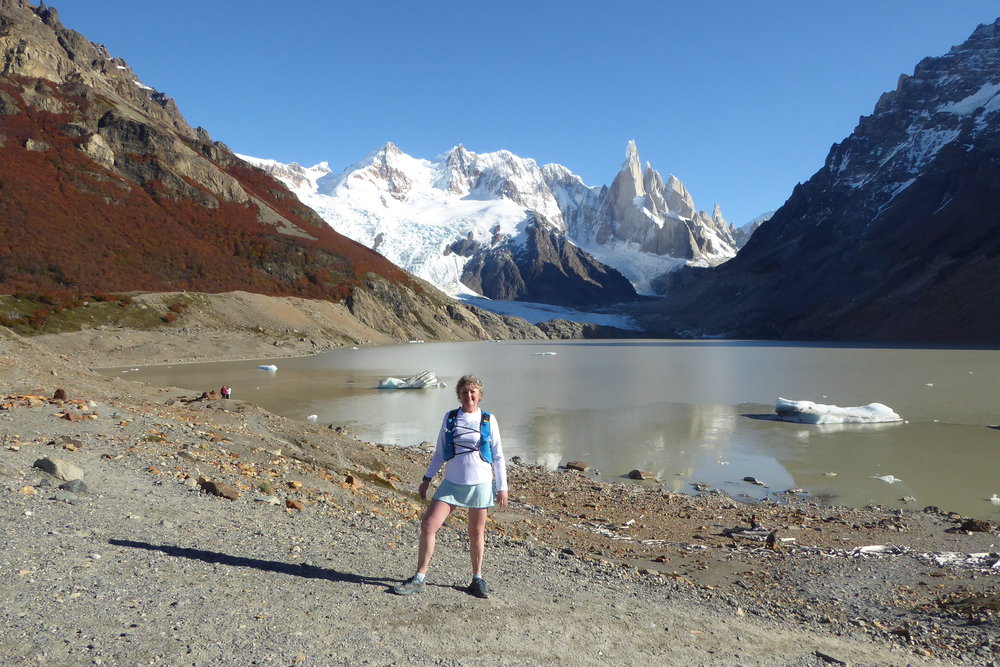 After dropping back down from the lake there was a monster climb through woodland to another lake. I saw woodpeckers and a myriad of other birds.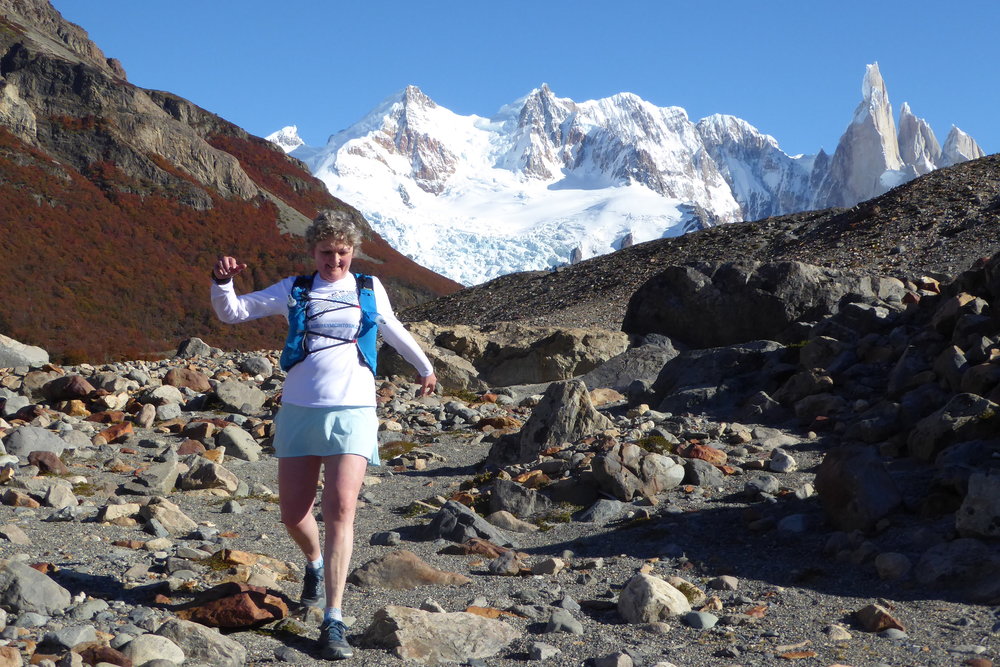 For some strange reason I got confused with the route. I didn't get lost but thought I was a lake further on. It was beautiful as I had been told to expect, but then all the lakes were beautiful. I didn't even realise my confusion when I met up with the marshal keeping us on the right route.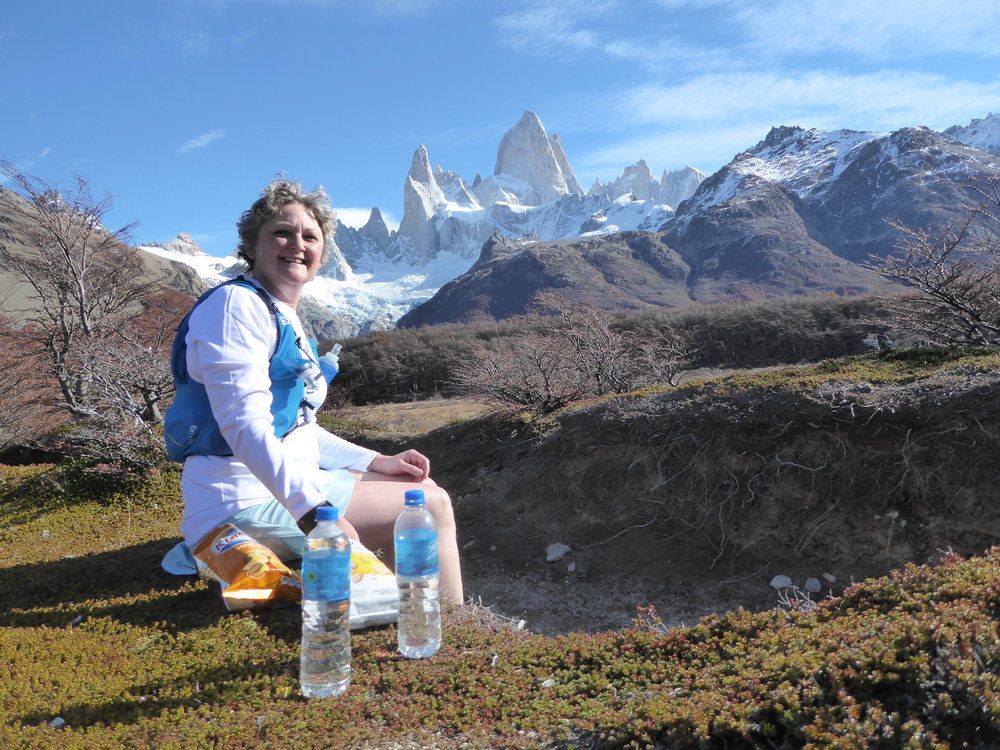 I was getting pretty 'punchy', when I arrived at a fork in the path that I was not expecting, as I thought I had already done the fork at the previous lake. So, after much dithering I went left rather than right (which had been agreed). Theoretically not a problem as the two paths came back together and were equidistant. I took the harder less scenic path and the big problem was that Alasdair had made the long climb up and was waiting for me on the lake path. He saw Jenny and Ken, but we missed each other and he hung about waiting unaware that I was on the other path. Soon I was gathering a bit of pace as I started the steep decent to the check-point, totally oblivious to my mistake. For a less scenic route it was pretty impressive with views along the valley that would be the next section of the route.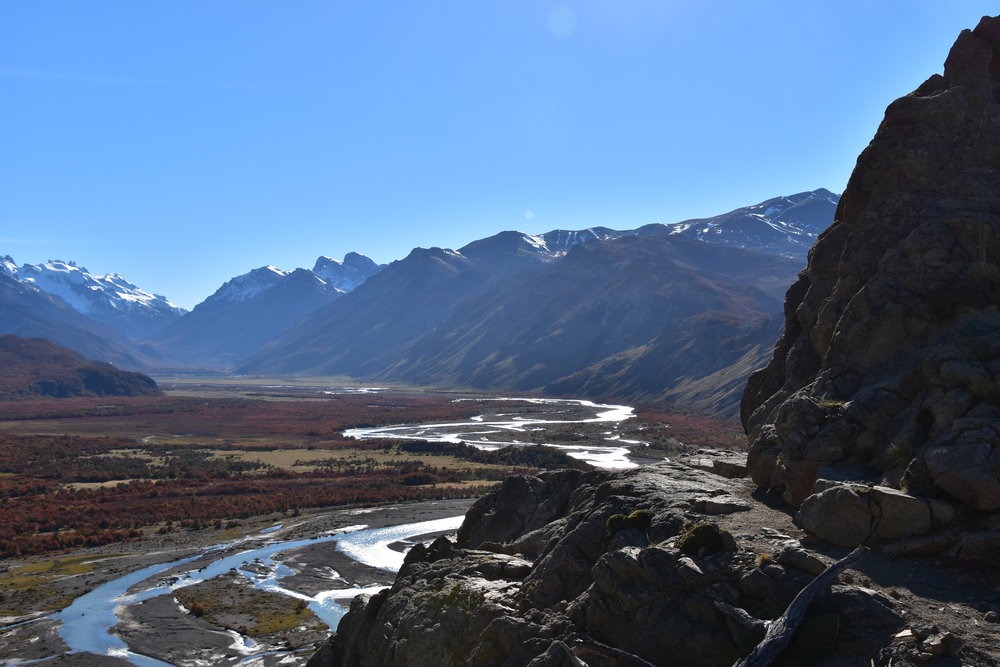 Cue a massive diva strop from the 'hangry' bear down at the check point, and much confusion from the team trying to work out how I had missed him and why I kept asking about the second fork in the path. Dave and Steve had to do some on the spot support vehicle re-planning to ensure that all three runners had support over the next section whilst Dave went out to find Alasdair.
I set out in high dudgeon and still hangry because instead of a calm take five, eat, drink, freshen up, restock there had been an angry, frustrated, 'stompy' disorganised rammy. The last section was 40k on a dirt road through a river valley to finish at, yes, another lake and viewpoint. It was hard, stony and tough going, but the wide valley with the river meandering through it provided some much-needed distraction. The first 10k on the road was unbearably slow. I was suffering physically and mentally not helped by the fact that I was still spitting nails. But I got a real boost bumping into Gordon and Morag returning from their day's cycling that had started at the lake where we were due to finish. They were so supportive and encouraging that my mood and pace lifted.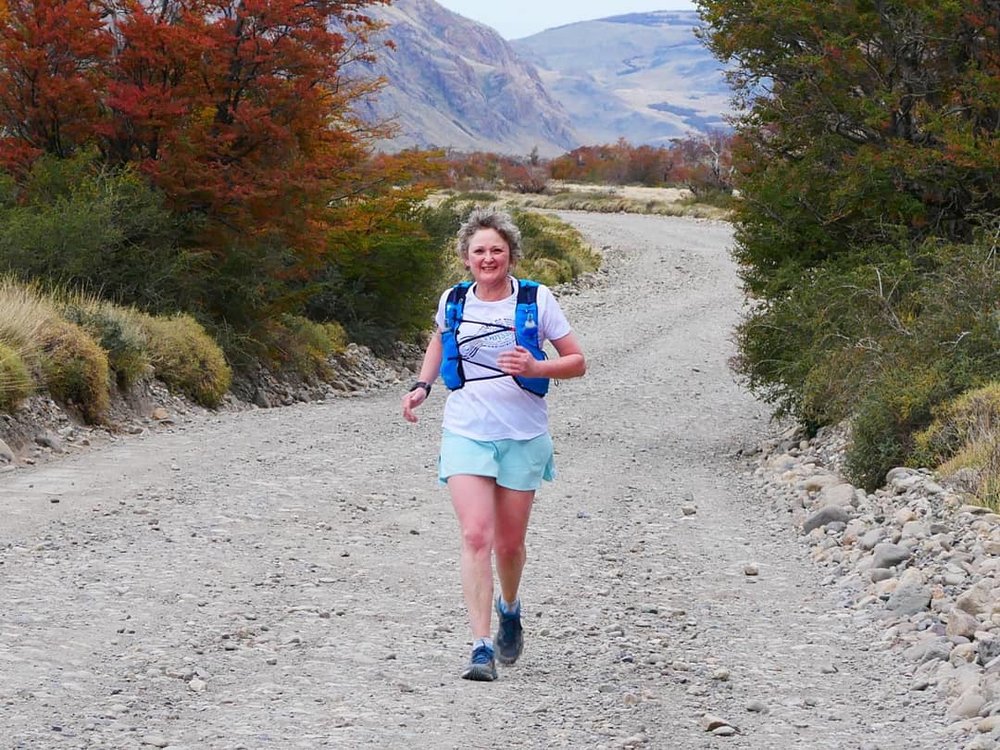 Clouds moved in and the sun disappeared, the light was beginning to go. The mountains became oppressive, I became weepy and I kept desperately looking behind for Alasdair just wanting him there. When they eventually appeared, instead of asking for the huge hug that I wanted I had another full-on, unreasonable rant and it took several kilometres to calm down. It was not until the next day that I realised the mistake I had made with the route, which I admitted to and ate large amounts of humble pie.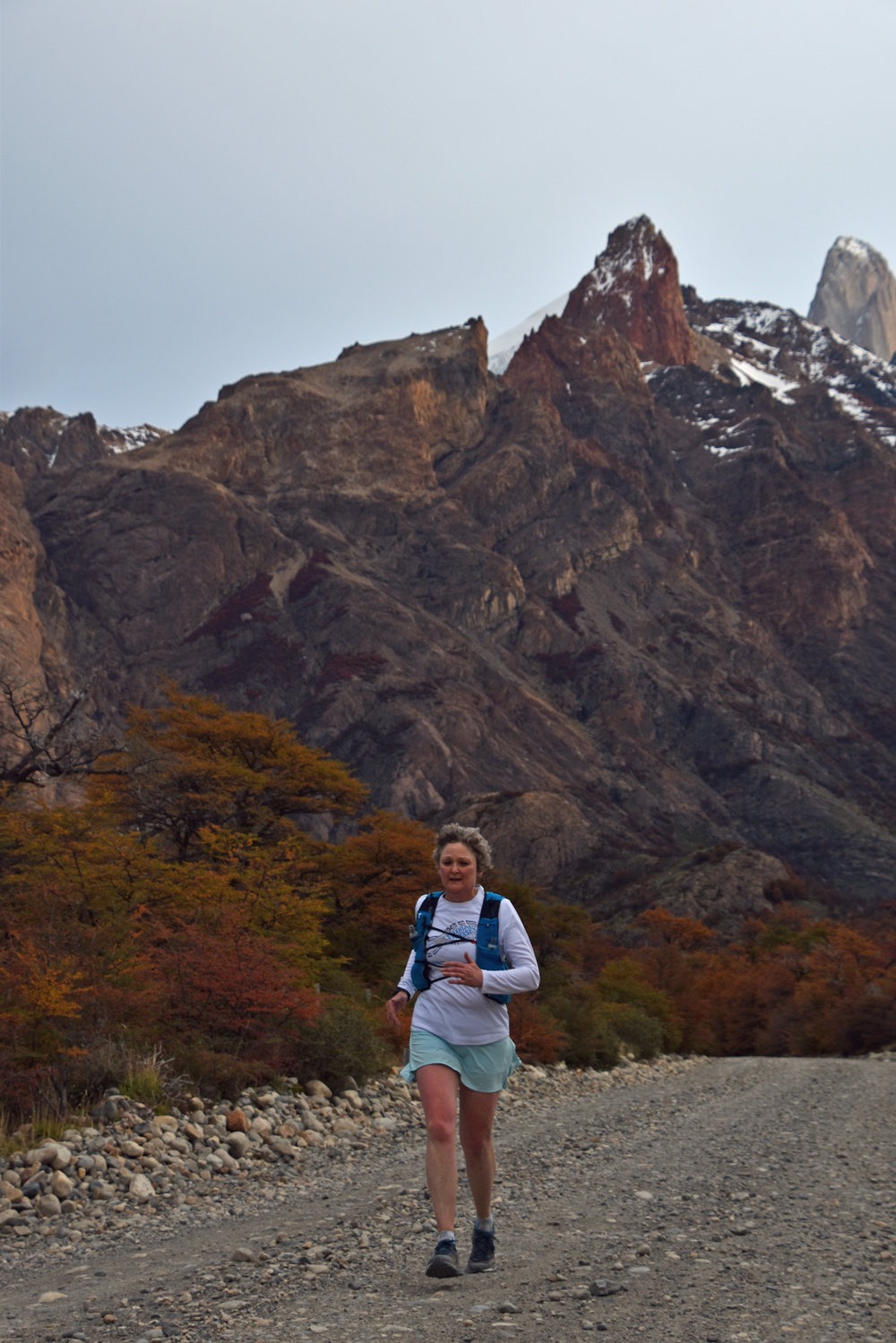 It is never good trying to get a tired and emotional ultra-runner to make a sensible decision. Discussion started about changing the route plan. Instead of continuing out to the lake, we should turn at 80k and return along the road finishing close to El Chalten. Dave fed back that Jenny and Ken were keen to do this. With an astounding level of irrationality, I decided I did not like this plan. The thought of re-tracing my steps over this hard road was unthinkable. But you will running through trees in the dark, won't see the lake and this surface doesn't change they reason; and it will take over and hour to drive back instead of a few minutes. I will think about it. You could see the look of puzzlement on the faces. Has she gone totally mad? Why? It took another kilometre or so before I saw sense and agreed to the revised route plan.
In the last of the light I saw Jenny and Ken on the return. They were strong being buoyed along by the great experience and in spite of Jenny having taken a hard fall and cutting her knee. Words of encouragement, not far to the turn. When I reached the turn I took some time to eat and have a cup of coffee; change into warmer clothes and put on my freshly charged head torch. I was spent, but determined to try and keep the pace up and to get the job done. There was a bit of stumbling and weaving along the way but the finish got ever closer. They had, of course, been right. It was dark and all I could see was the pool of light from my torch and support vehicle headlights, and I was past caring which bit of stony road I was on.
When Jenny and Ken had finished Dave drove them back out to meet me and the two support vehicles followed me calling out encouragement for the final push. My Garmin clicked over and it was done. The South American Global Odyssey 100, my 5th continent completed with strength, determination and a few strops and tears. Hugs all round, another photo call and a thankfully short drive back to the cabin: the crew had been right about that too.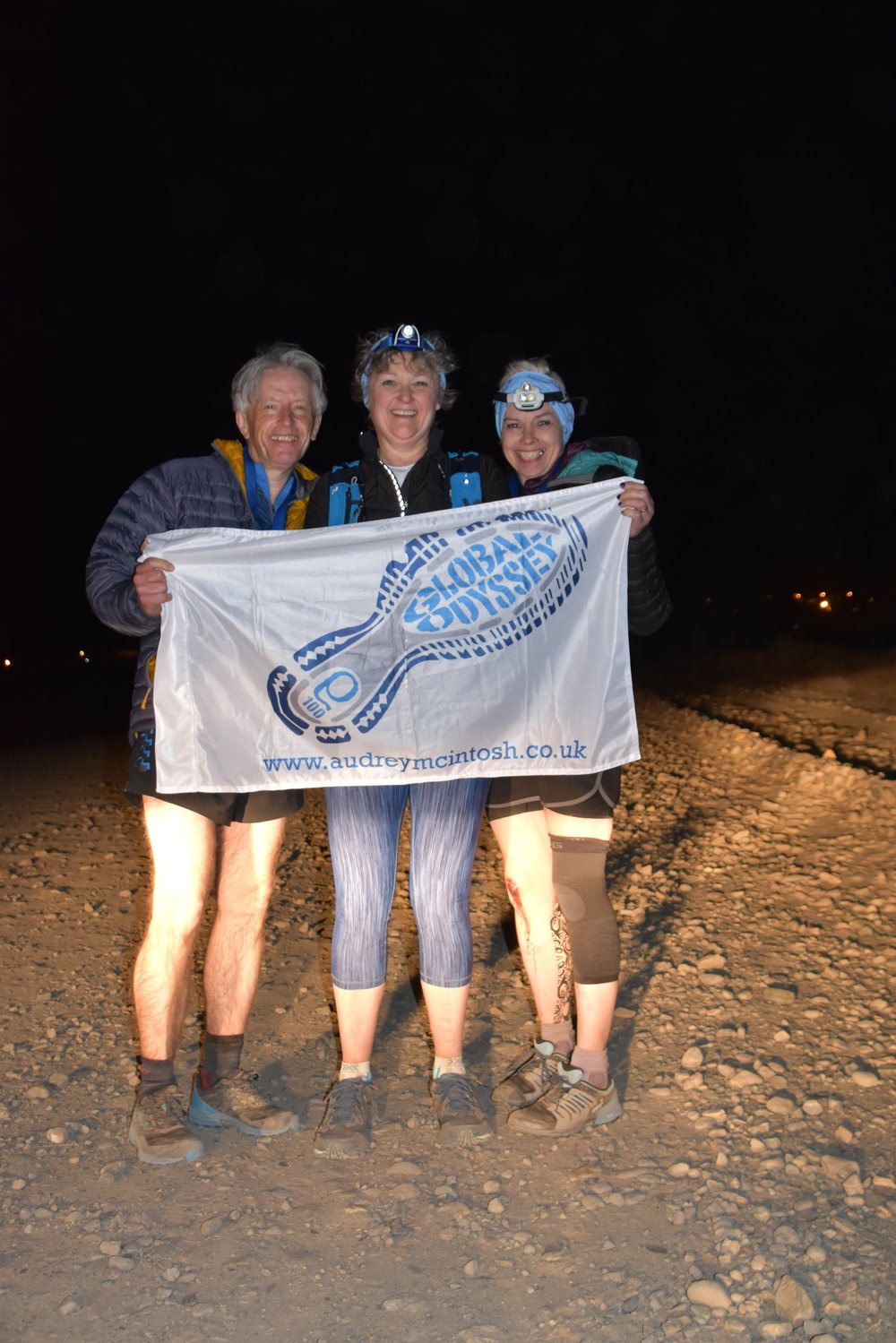 Just after we arrived back I started to be violently sick, turning myself inside out, unable to stop, my skin grey and clammy. I have never been so sick after a run. Morag kindly soothed me, rubbing my back and doing all she could before she and Alasdair bundled me into bed, unchanged and un-showered. After a while I was able to take some fluid and food, but sadly not my customary beer, and finally have a shower before settling down to sleep (of a fashion). The night time silence was punctuated by male snores and muttered 'ouches' and winces of pain as Jenny and I turned painfully in our beds.
Day 6 – Recovery and return
We all woke refreshed if a bit stiff and sore but marvelling at how amazing the run had been and how the route and scenery had exceeded all expectation. Sadly, and all too soon, we were splitting up today. Whilst Gordon P, Dave, Alasdair and I were to drive back to El Calafate and a flight back to Buenos Aries; Jenny and Ken, Gordon and Morag were staying on to do a three day trek to one of the glaciers. A bit of me regretted not extending the trip, but with other Global Odyssey trips this year I had to be mindful of time off work. Anyway, it gives us the perfect excuse to go back.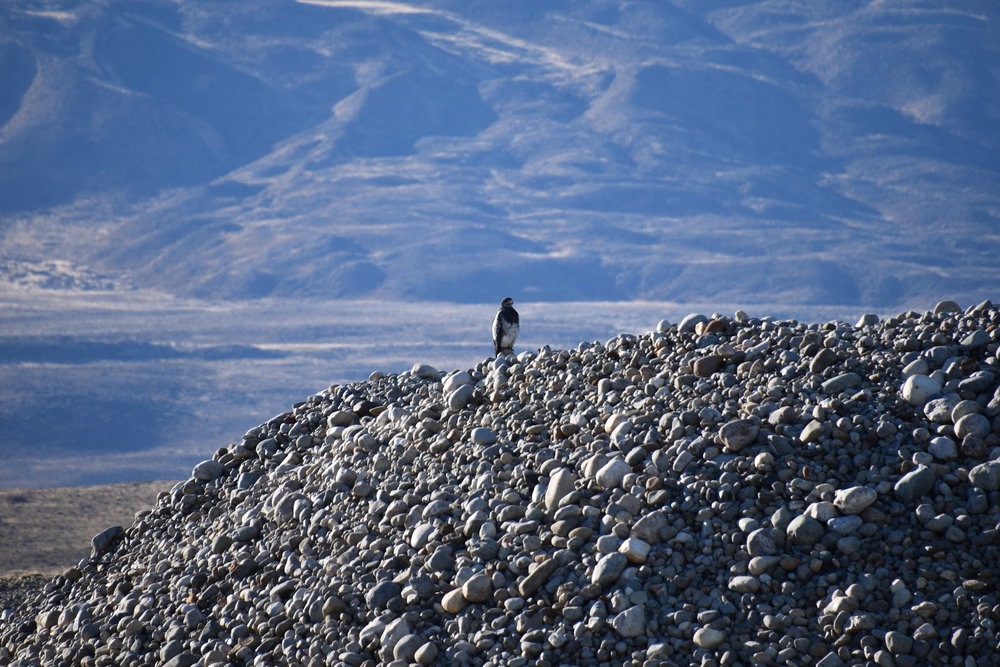 We took and easy drive back stopping frequently to watch the wildlife. The countryside was awash with condors. These huge and magnificent birds had been elusive up to now. It was a treat to finally see them. That said, I do wonder if the 'crows' I had spotted whilst running the loop section of the route had in fact been condors.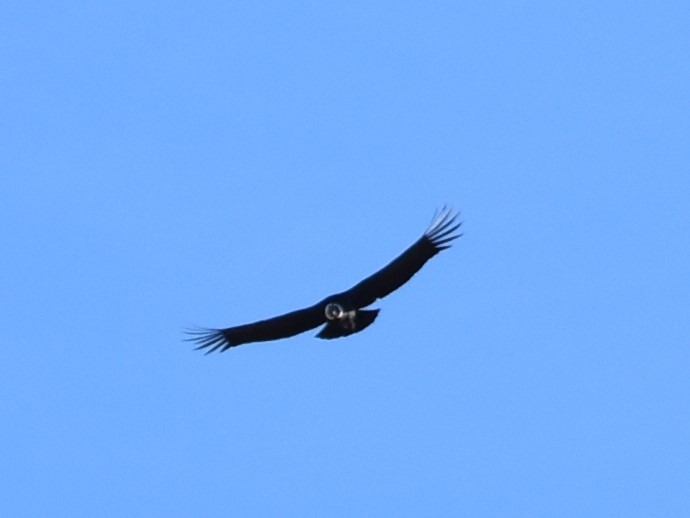 We arrived back in Buenos Aries late, but the city was just wakening up. It was after 10pm and we were sitting in a packed restaurant with a lively buzz as friends and families with young children relaxed over a casual meal.
There was one last piece of excitement in store. As we checked out of the hotel a message came from Dave to say that the arranged taxi was not coming and we would have to find a taxi. We did not have a lot of time and we did not have a lot of cash. How much would it be? Should we go get more cash? Would a taxi driver take US dollars? The guy on reception was no help at all. So, throwing caution to the wind we hailed a cab. We double checked how many pesos we had and I looked out the dollars. The traffic was heavy and so we were making slow progress. The stress was mounting as we watched both time and the meter. A sigh of relief as we arrived in time and with just 200 pesos (about £4) to spare! The last surprise of the trip: you can get a damned fine, reasonably priced steak in the airport! But the duty free is pants!
Another adventure and another Odyssey completed. North America next.
Thanks to David Scott of Sandbaggers and Steve Saffin (on the ground support in Argentina) and the local mountain rescue volunteer support (Andreya & Lucas) in El Chalten for creating and supporting this stage. Thanks also to Jenny and Ken, Gordon and Morag and Gordon P for their excellent company. Sharing the odyssey adventure with them made it even more special.