Being strictly accurate 2400.55 in 2015. My legs are now bloody stumps and my spine has compacted so much that I am now a foot shorter! Nah, not really. The miles just seem to have added up gradually over the year and given that I have been a bit of a lazy assed runner over the last three months I was quite surprised to see that total.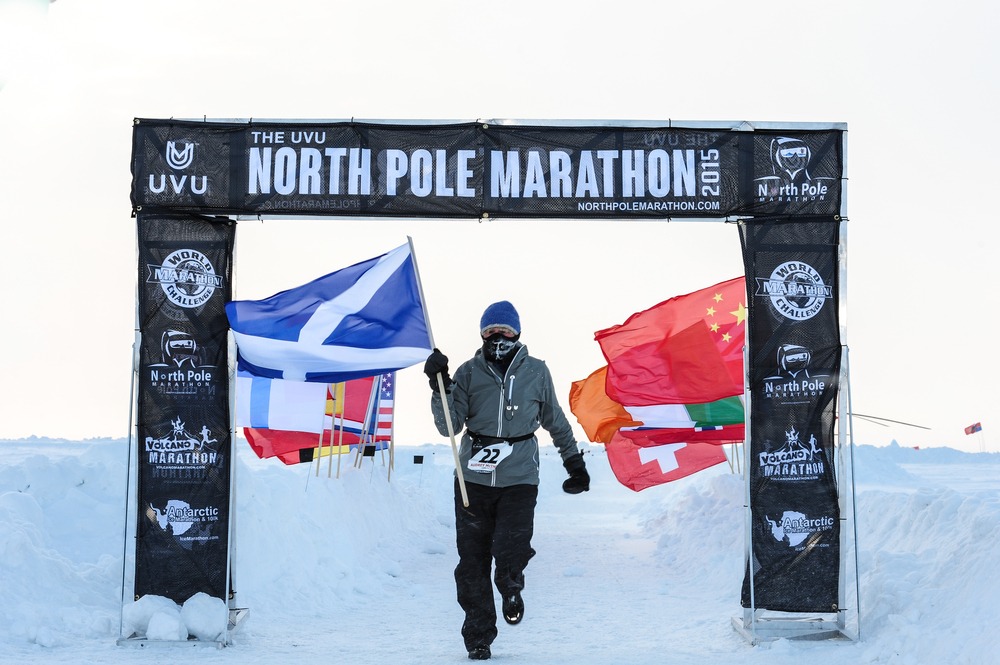 The year started in style with the North Pole Marathon. That was an experience and then some. I did not really plan for my scarf to freeze to my neck or the frostbitten ears. That resulted in a difficult phone call home on our wedding anniversary. Not only away for the anniversary but having to call home to admit that I had done the one thing I was told not to. I also did not plan on getting smashed out of my skull on dodgy Russian vodka and beer after the race. Not a good plan when water and food are in short supply. I was however impressed that I managed not to vomit all over my fellow runners on the flight home: making the sprint up the aisle to the 'toilet' in the nick of time.
The scarf cost me 3rd place but 4th placed woman in some of the most challenging conditions experienced by the event when the temperature dropped to -41 and with Arctic battle scars was just fine as was achieving the 'Polar Triple Crown' (as I dubbed it). Some things are constants though, such as eating your own body weight in pizza as we did on our return to Longyearbyan.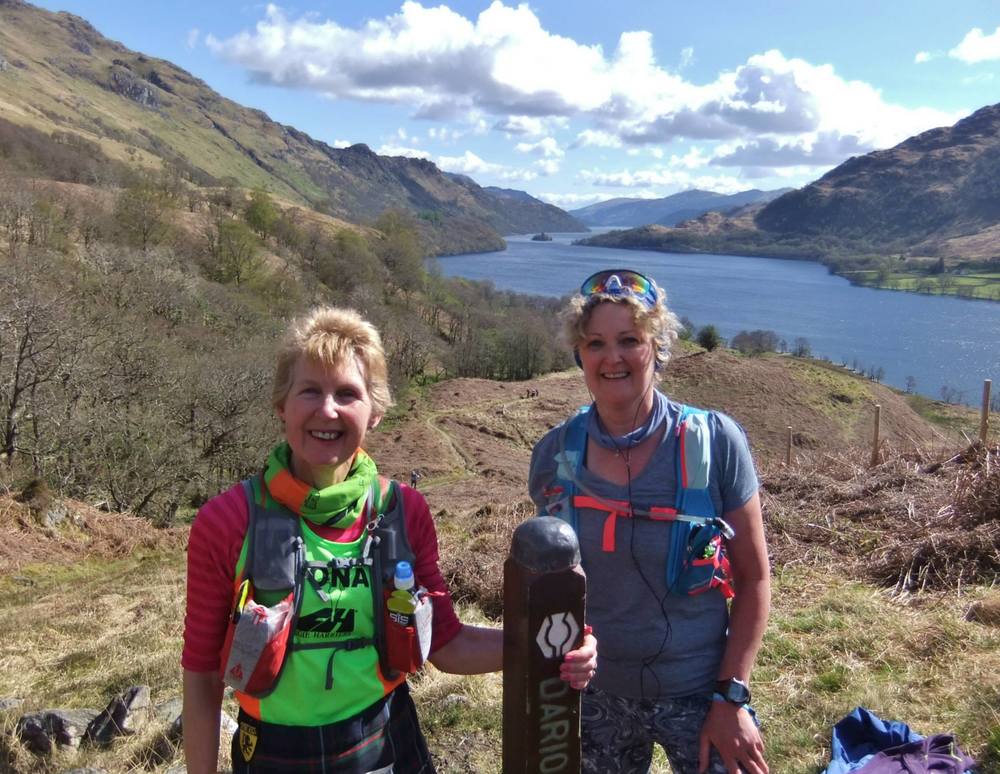 Two weeks later I was on the start line of the Hoka Highland Fling the sling myself 53 miles up the West Highland Way from Milngavie to Tyndrum supported by the incomparable Janice Miller. Armed with my race plan we agreed that Balmaha would be the first meeting point. Janice headed to Drymen on schedule only to find that I had been and gone. I came trundling off Conic Hill into Balmaha just under 4 hours well ahead of schedule and so it went; schedule ripped up. A heavy fall coming into Beinglas did not slow me down, but did result is a bunch of sweary words when I realised I had put a hole in my new breeks. I was very grateful for the help from Fiona Rennie and the rest of the train I was in getting me back up on my feet. Apparently everyone knows I am fine as long as I am turning the air blue. I got to the one of the best race finishes ever, that flag lined red carpet, with a 42 minute PB! Not bad.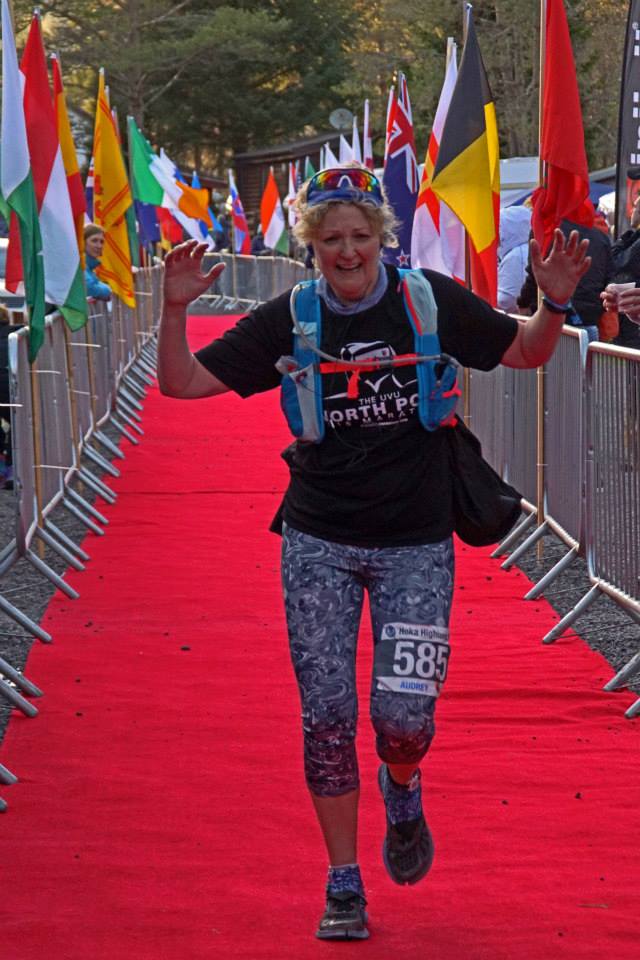 Next up was the big one, the full West Highland Way race ably supported by my crew: Alasdair, Sarah & Andy, Katherine and Al Running Gannet.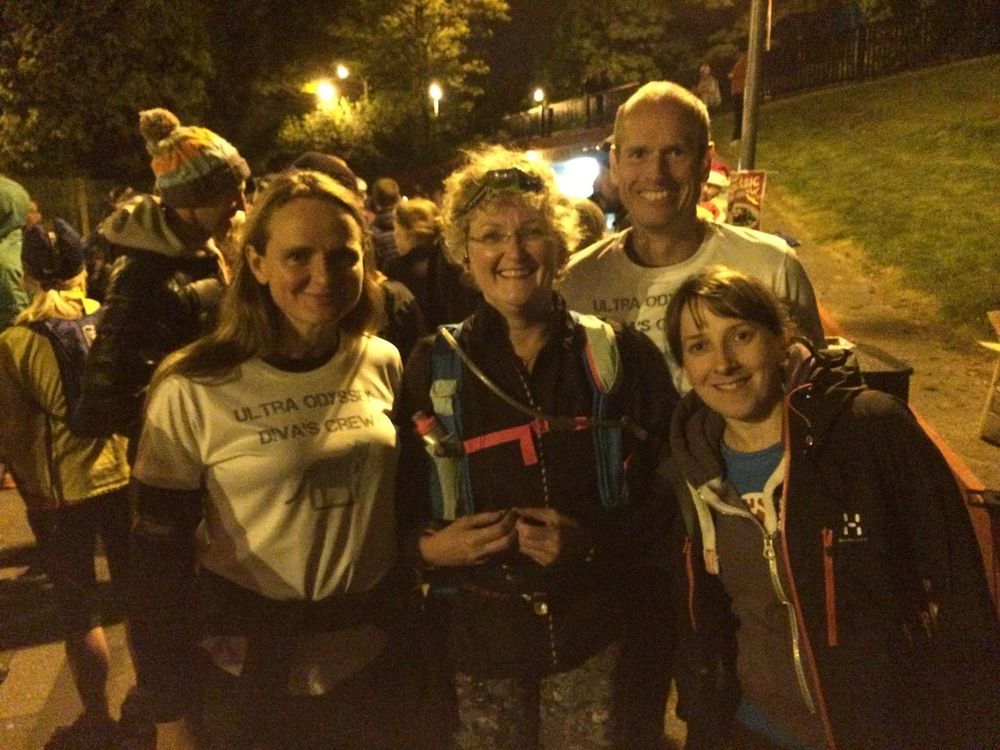 I had no game plan other than to finish and would be happy to sneak in just under 30 hours. I was slow over the first night struggling with stomach issues and several trips into the bushes to do what bears do in the woods. It was also the first, and last time, I would ever wear my glasses to run. I will just let my contact lenses weld themselves to my eyeballs from now on.
A tumble on the stile coming into Beinglas (what is it with Beinglas?) resulted in instant change of mood from being really happy at the prospect of seeing Alasdair to full on monumental diva strop. I was amazed that he was at Auchtertyre after that. Another fall at cow poo alley left me with grazes and a fairly impressive and huge lump on my thigh. I did speculate for the briefest of instants if I had broken my leg. Once at Glencoe things went into slow motion. After a longer than planned stop Katherine had to task of dragging me over the Devil's Staircase. The light went just after we got over the top and so the decent to Kinlochleven was tortuous.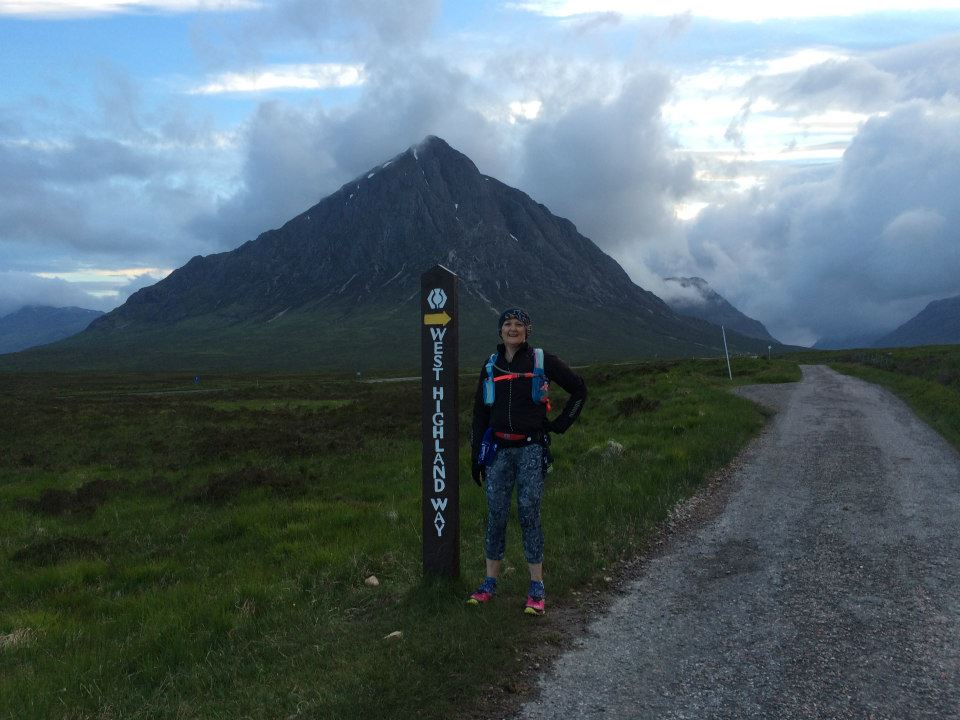 The 2nd night was worse than the 1st. Sarah had to unenviable task of dragging my now sorry ass across the Lairaig Mor in the pissing rain and cold as I kept falling asleep / blacking out on my feet as I stumbled along. Christ that took forever. I held out for the station as the cottage but when we got there it had been abandoned and only two of the fire torches were still alight. I hung on then for the 'party' and bonfire at Lundavra: nope, it was a soggy mess too, but at least it was light and I was now staying conscious and able to pick the pace up a bit and go for the world record for the number of pee stops in the 3 miles between Lundavra and the fire track.
I had given up all hope of finishing under 30 hours and just could not believe it when Sarah told me I would get in under 29 hours: just under in 28:56. Job done. People often talk about hallucinations during the WHW but for me it was the slightly surreal conversations: the banana flumps for the chimp's good behaviour and the cow biscuits.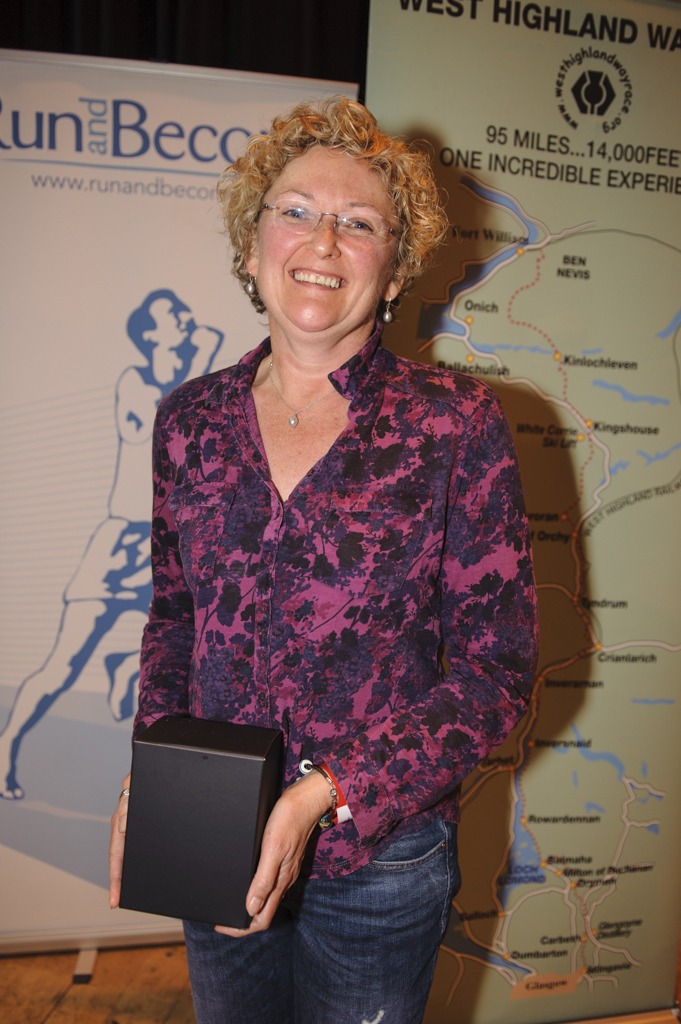 Somehow, I had found myself entering the Devil of the Highlands, and going for the WHW Triple Crown. Why? My lunacy seems to know no bounds. It was so soon after the WHW race, and close to Glenmore 24. What an idiot, but I was in good company. There were quite a few of us with the same genius idea.
This time I was ably supported by Liam. It turned out to be a bad day at the office. I finished and that is about the best that can be said. Torrential rain coming down into Kinlochleven, twenty minutes in the car and another slow stagger over the Lairig Mor did not make for a quality performance. There was much grumping and swearing, but the consumption of a mars bar and a can of coke provided the kick up the ass I needed. Not the most positive of days and a pathetic 15 minutes tears and sobbing after I finished, but I completed it and achieved the Triple Crown which is no mean feat.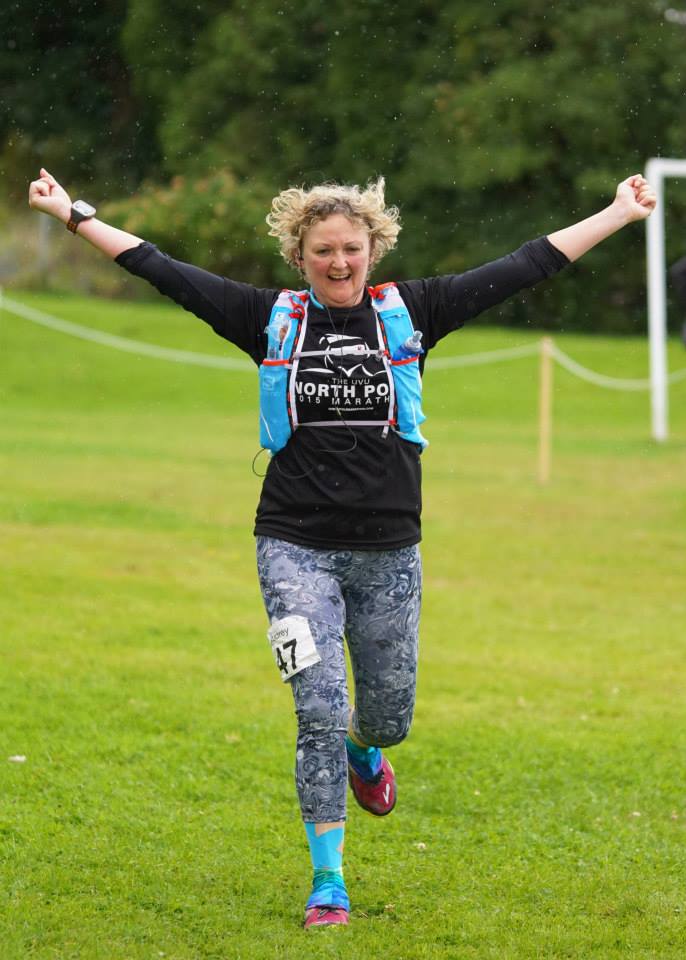 And so I found myself at my final event of the year, the Glenmore 24 where I was going for 'the horn'. Unimpressed in 2014 by the umbrella and 2 man tent that did not cut it in the rain, hail and sleet Alasdair demanded better Ts&Cs this year: cue a gazebo, tables and chairs and a brassiere – oops make that a brazier. Having planned for the weather we did not bargain on the allergic reaction to the killer midges and Alasdair looking like he had gone 10 rounds in the ring.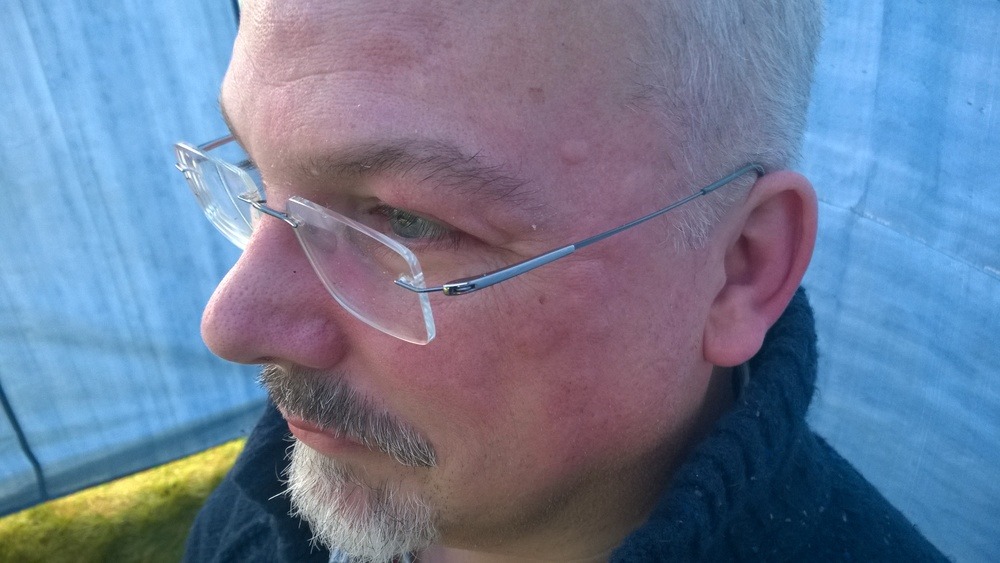 To cut a long story short, in my usual pig-headed and determined fashion I was going to get that 100. It damn nearly broke me but I got it with 20 minutes to spare even with the extremely slow hobble round the last lap. There was of course the inevitable diva strop, me telling Alasdair he had to eat and look after himself at 1 am and the gazebo almost blowing away.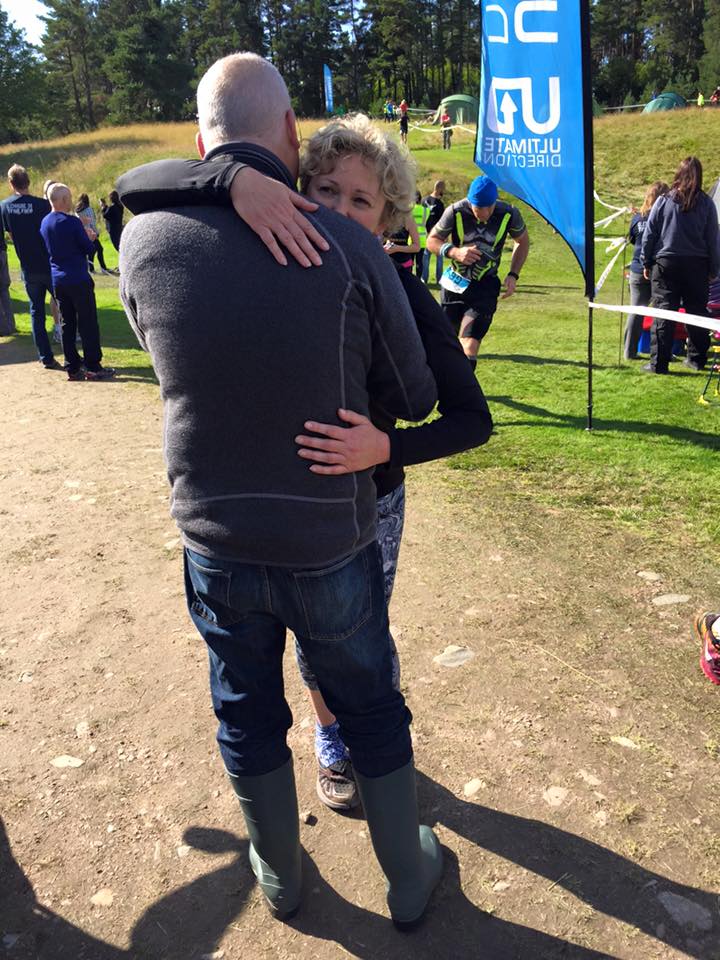 And that is where 2400 miles comes from. It has been a fine year and I thank my blessings that I have been able to stay healthy, relatively injury free and achieve my goals with the odd comic moment on the way.
2016 remains in flux at this point, but my dearest hope is that I will be able to run my Global Odyssey carrying the flag for Scotland, women and in particular the older female athlete, and to support those who suffer from dementia and those who care for them.
Happy New Year.