When I woke, I just lay quietly enjoying the cosiness and trying to ignore the fact that I needed to pee and that I was going to have to brave the cold and latrine. Eventually, though, there was no ignoring it and I had to get up.
When I opened the tent door I was confronted by a different world. It was bright and sunny with clear blue skies. The snow was white and glistening in the light. Wow!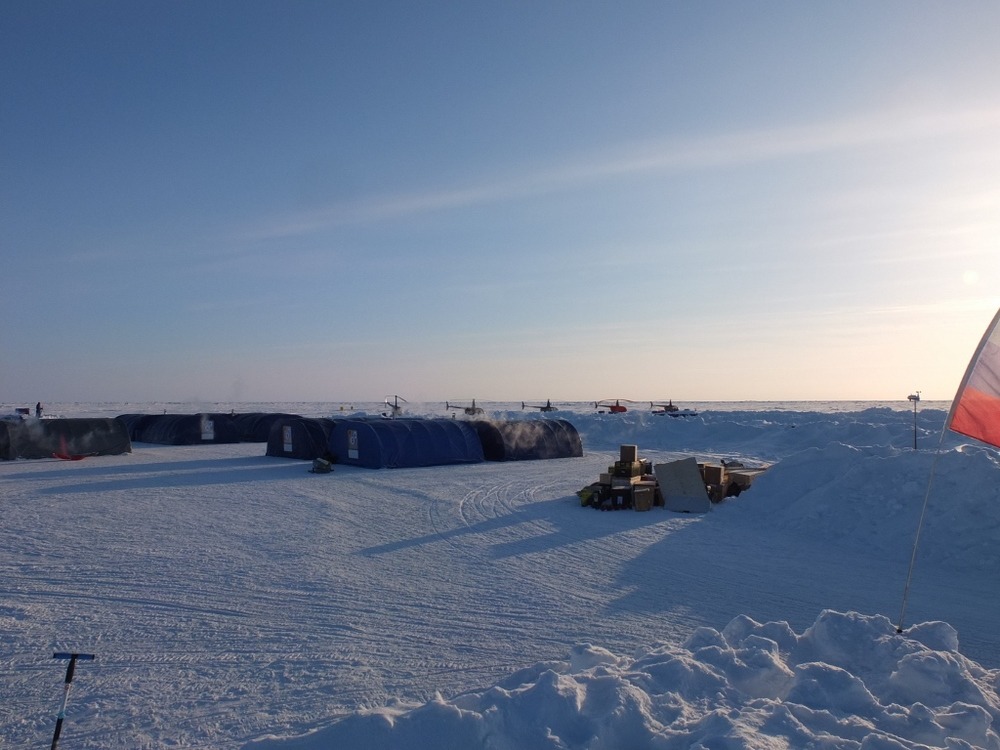 The landscape still bleak but with greater character now as you could see the horizon and the rise and fall of the  the ice ridges that shaped and sculpted it. I got the trip to the latrine over and done with then grabbed my camera and went for a wander about. Richard had been busy and I could see the flags marking the sections of the course next to the camp.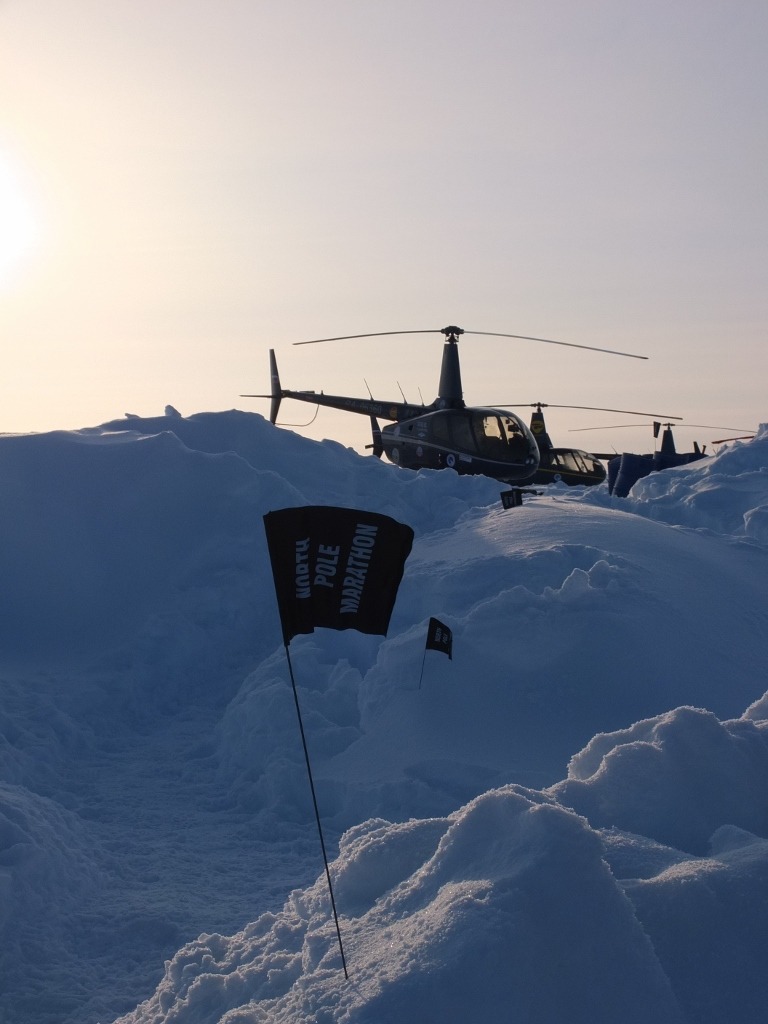 There was a pattern forming with regard to food: basic and meagre, and a single hot water urn that could not cope with demand and seemed to constantly be lukewarm. Breakfast was a dry rye bread, small squares of cheeses, salami and hard boiled eggs which were so hard you could throw one and kill someone. There was also some form of warm cereal that looked like semolina or wallpaper paste. I was told it tasted better than it looked.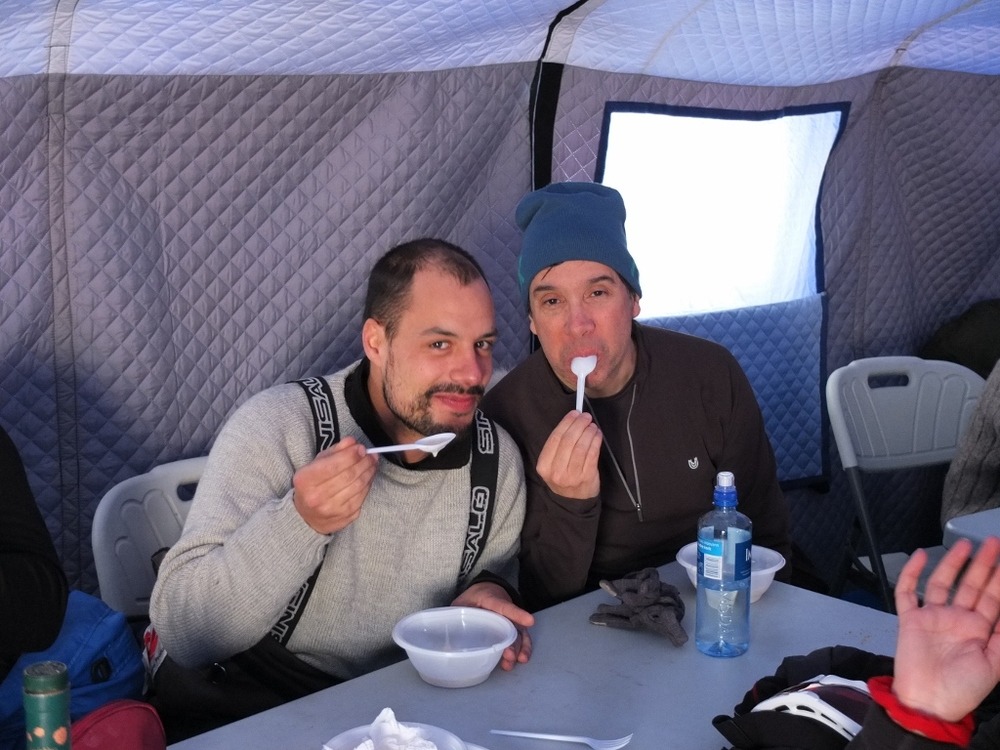 The good news was that the other flight had left and was due in sometime roundabout 11 am. I had lost all sense of day and time, but apparently it was Saturday and the race was expected to start about 1 pm. I spoke with the person who manages all the flights and he informed me that at 6am the temperature had been -24 and that it was getting colder and was currently (9 am) – 27. The wind speed was 5 meters per second, about 10 miles per hour. There was some chat that the plane had had to turn back because they had forgotten someone. Surely not, how do you forget someone? It turned out they had forgotten to load the huskies that Marcus was going to run with, but the oversight was noticed whilst the plane was taxiing and so had only delayed them by about 15 minutes.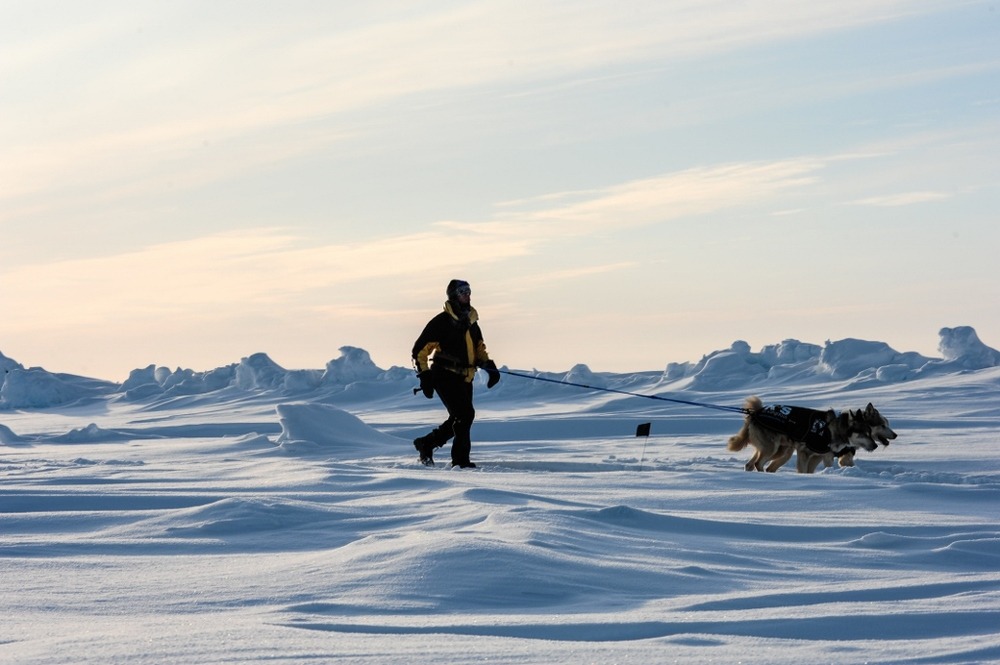 After breakfast I went and set out my race kit and supplies on my bed: the usual routine in a most unusual situation. The other girls had done or were doing likewise. As 11 am approached I decided to eat another ration pack: chocolate rice pudding. As I came out of the tent I realised the plane was coming in so diverted over to the runway for its landing. There was a lot of excitement as everyone disembarked and lots of chat about how things had been at the camp and back in Longyearbyen. Having the group back together felt good, reassuring. Back in the mess tent I found that yet again the water was not hot enough for my ration pack, and although I waited before adding the water, it was still not hot enough and I ended up with warm chocolate rice crispies rather than pudding: interesting, but not great.
Whilst eating it we were told that we had to re-assemble in the mess tent in race gear at 12 pm, not long, so I gobbled down 2/3rds of the rice before returning to the tent to get changed. When we convened Richard confirmed that the race would start at 1 pm. We were told that the race would be 12 laps of a 3.5km loop. It was going to be tricky underfoot and the bad news: we would not be on the runway. The tent behind the mess tent would be the aid tent where we each had an area to lay out our supplies, and where the doctors would also be. There was not much time, so a quick run back to the tent, a quick trip to the latrine then back to the aid tent to lay out my supplies.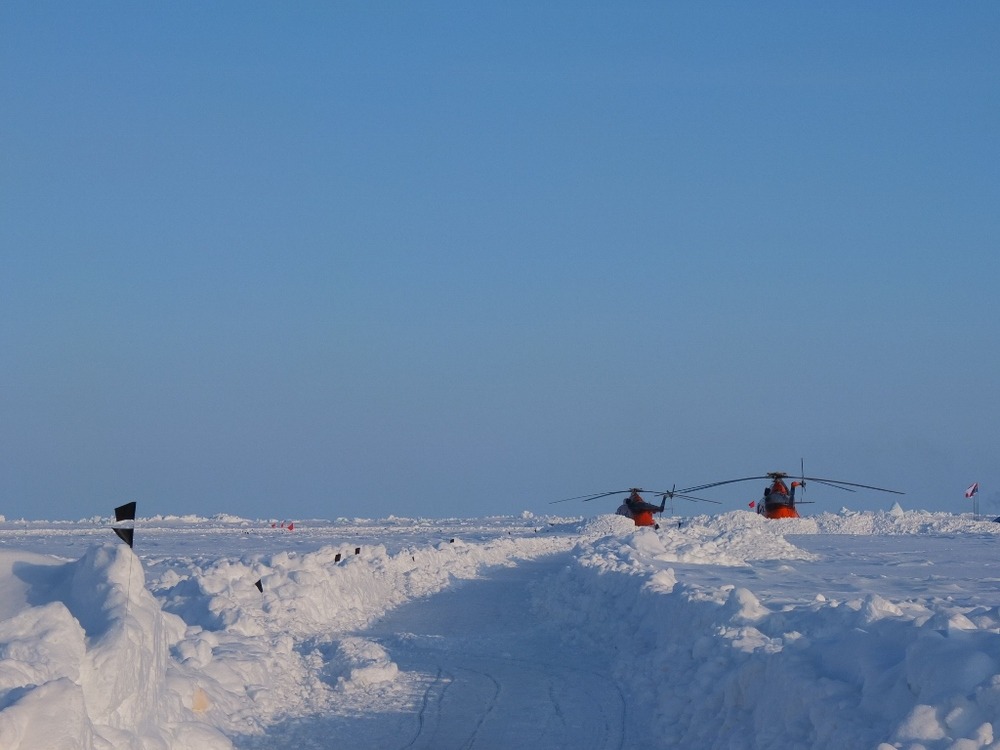 As we started to gather at the start I began to feel the cold seeping in through my layers. Had I made a mistake with my clothing choices? Did I have time to go add another layer? No. Damn. I started to panic a bit, but then remembered the advice we had been given that we should feel cold before starting because we must not overheat when we get going. I would be fine. I would be fine. Then I realised that my hat was slipping up a bit and exposing my earlobes. Annie very kindly offered a head band. I took off my gloves and mitts to put it on, but did not get them back on quickly enough and my fingers became so sore and numb. I struggled to pull on my liners, gloves and mitts and just had to hope that they would warm up when I got moving and that I had not done any damage. It was -27.
Like any other race we collected at the start, the fast boys at the front and the slower and less confident at the back, some nervous some not so nervous, all wandering how we would fare. I had at least had the experience of the Antarctic races, but Adrian and Heather had never experienced snow and sub zero temperatures, let alone run it.
I always start at the back of the pack. It is more relaxed and there is no danger of going off too fast.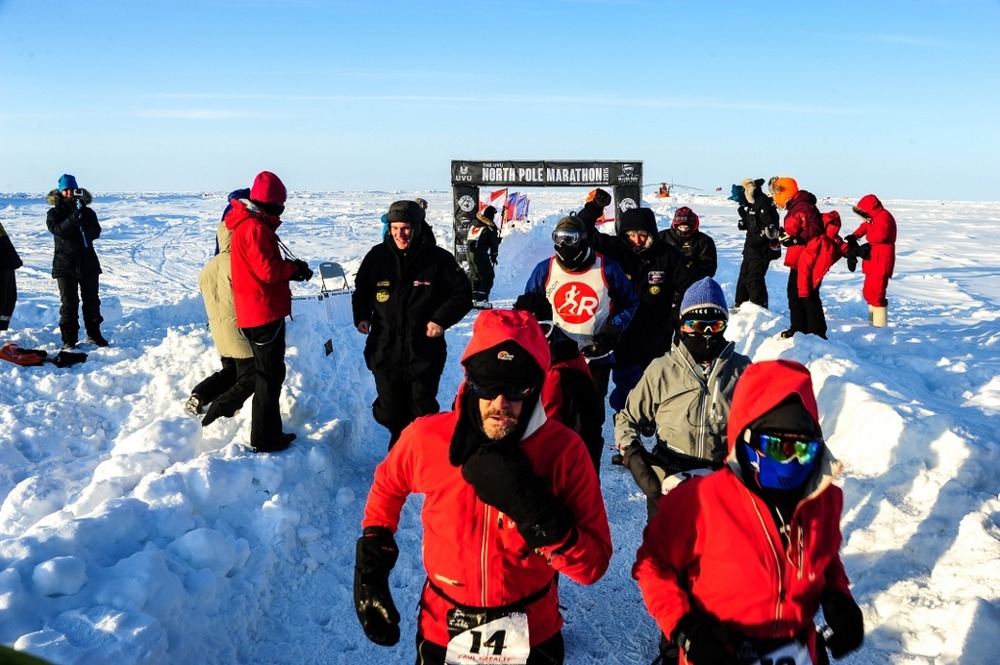 'Good Luck. You'll need it', was Richard's parting shot as the horn sounded and set us off, across the back of the camp and up through the snow past the helicopters. There was a bit of a bottle neck as we negotiated the route up over the edge of the redoubt.
The snow was ankle deep and uneven. sometimes your feet sank into soft snow and at others your feet were wobbling and balancing on hard chunks. The loop went past the first helicopter area, up towards the top end of the runway and across, then ran parallel before doing a jink out and turning back in past the end of the runway over to the second helicopter area before finally dropping onto a short stretch of about 150 meters of groomed ice back to the start/finish. There were a couple of sections where you had a headwind and one stretch of it that was very exposed to a cross wind and as the race progressed that was where we were most vulnerable.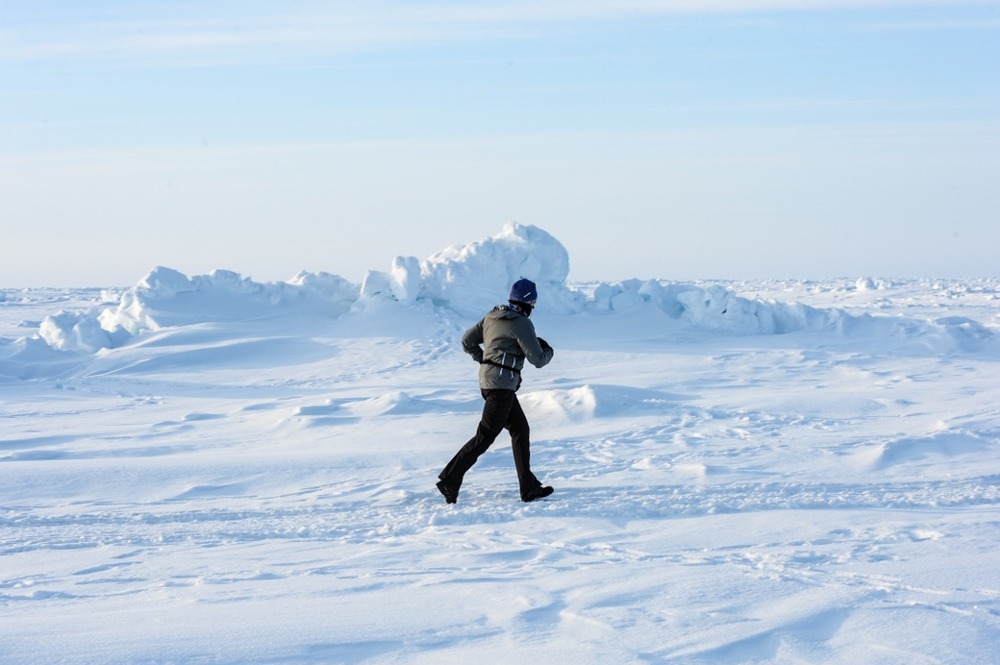 We had been advised to take the first lap easy. I decided to push it a bit just to test the footing, my heart rate, and to try and generate some warmth. The footing was tricky and energy sapping and my heart rate elevated quickly with the effort. The head band and hat and my gloves were uncomfortable and I was definitely warm, so I decided to drop into the tent. I ditched the headband, pulling my hat well down over my ears and ensuring that the side of the face mask came up over the bottom edge of the hat covering my earlobes. In the glove department I decided to try a lap with warm liner gloves and mitts forgoing the fleece gloves.
My plan was to try and only go into the tent every second lap, but as I powered round my second lap I decided that I would pop in quickly after every lap. That would ensure that I was taking on fluids and food, but would also get a good set of data for Nairn (Nairn Scobie, School of Life Sciences, Glasgow University) who wanted to monitor HR, comfort, perceived effort and temperature. The latter proved impossible to get as we could not get any thermometer to get a reading between my skin and the inside of my mouth being too cold).
This was just going to be a slog. There was no let up or respite on the course, and no admiring the landscape because you were too busy looking at where your feet were going and trying not to fall. I fell twice and tripped a few times during the race. That said, for the first few laps it was beautiful: sunny, bright and the snow glistening. There was also the novelty and wow factor of the fact that you were actually running a marathon at the North Pole: THE NORTH POLE! It was also quite novel to see the dog paw prints every so often in the snow: they seemed to be going well. Back to the slog: I knew the routine. Keep it steady, keep stops short and keep going. I had no idea of time as my Garmin gave up the ghost after 25 minutes. After the 4th lap I decided to ease it back a bit as I knew I was working hard and above my lactate threshold.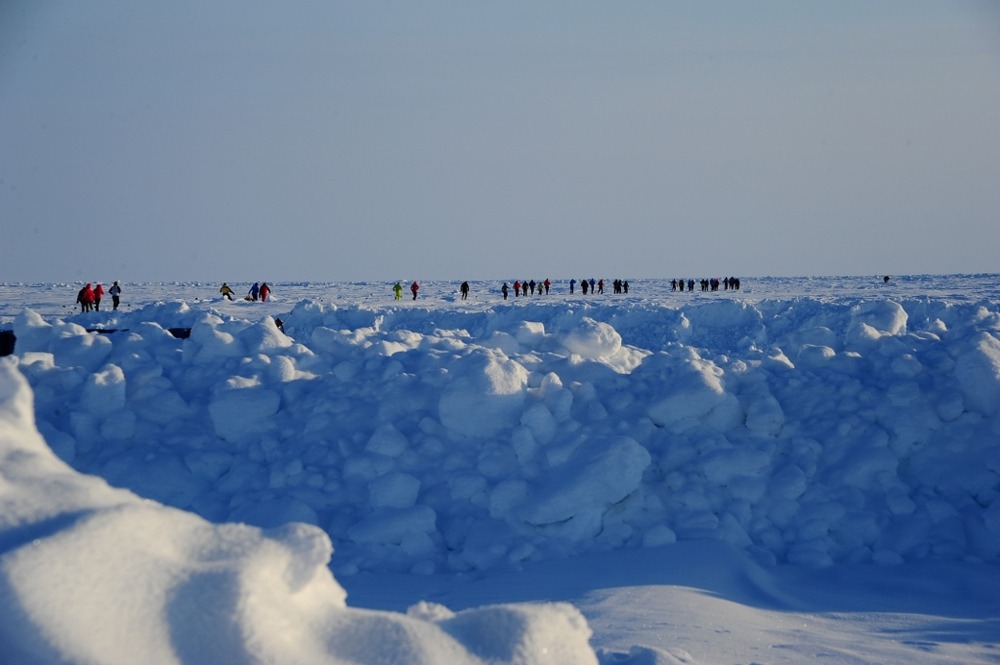 My tactic for the laps was to call out my number and the lap done each time I crossed the start/finish line. That helped me to keep track and to mentally count them down. In addition to that I was forming a plan in my head. Snow was getting into my shoes, so my feet would be getting wet, but they were warm and as long as they were warm they were fine. I would change my socks after the 6th lap though.
My face mask was freezing and getting very icy every lap meaning it needed warmed and thawed out each time I went into the tent. I had bought a second one in Longyearbyen and so decided to swap them every couple of laps. My legs were very cold but it was not unmanageable and I knew I would be too hot if I added layer. My upper body was cold, but I was not aware of sweating much so would just see how things went. I had spare layers in the aid tent if I needed to change. My hands were warm but I would swap my gloves about determined by the cold or moisture build up.
The plan with fluid and food had formed too. An espresso shot can after lap 4 and 8, coke, slugs water and juice at other times, with sports drink as a back-up. Pringles, almond butter and chocolate pieces and Haribos, which had turned into spangles, for nutrition with energy gels as a back-up. I found that the cold was suppressing my appetite a bit and it was hard to eat.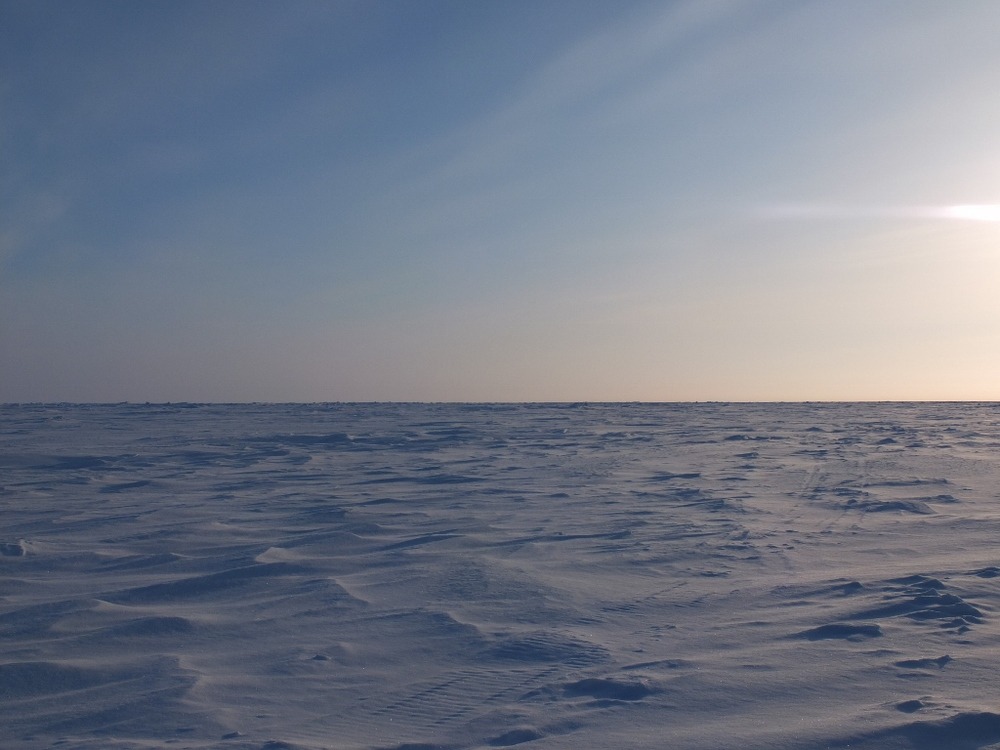 Looking back I now know that my cognitive ability took a bit of a dive. Combine that with my fiercely independent nature and my desire not to impose on people and you are potentially looking at a problem. The tent and the doctors were busy and Kate, who had opted not to run was constantly on the go helping people. She did an amazing job. I did not want to add to the load. Some runners were not doing so well: hypothermia, wind nip, frost nip and probably some frostbite. Several of the girls stopped or were stopped by the doctor after 6 laps. The problem with not asking for much help is that no one is checking you for the tell-tale signs of frost nip.
My stop after the 6th lap was a bit longer as I was changing my socks. I spoke with Dave the cameraman. He asked how I was doing: fine, but hard-going, and you know me I just keep plodding. He asked how I was finding the cold, it was -41. Really? I was cold, but was surprised to learn that it was that low.
Certainly the weather was changing and closing in and the wind felt stronger too. I had had to swap to fleece gloves and mitts and the right side of my face and head was getting very cold and sore during that exposed section of the laps.
I pressed on ensuring that I did not barge people as I passed them, and also trying to get out a greeting and a word or two of encouragement. We had to support each other to get through this. I had no idea when I passed someone if they were ahead or behind, but it did not matter; everyone needed encouragement. Everyone was in their own place. I had never experienced a race that had required such an intense level of focus and concentration but where at the same time it was as if I was in another place. There was a real sense of displacement and loneliness.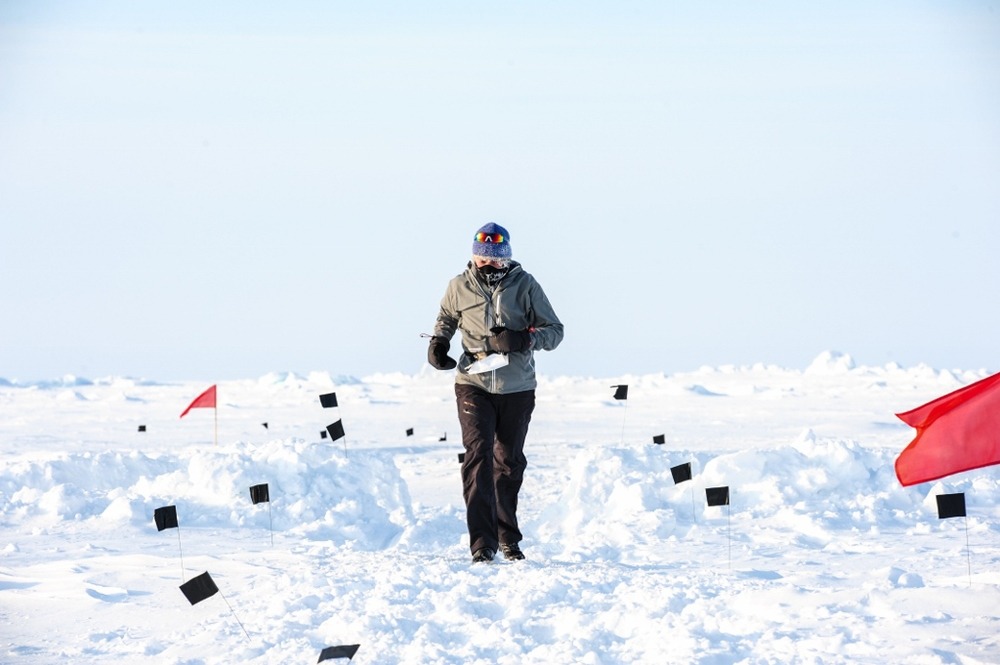 Another couple of laps done and I very aware of the wind and cold: face and ears nipping, my mask freezing to my face and using my tongue and breathe to try and melt the ice. I kept seeing Heather in the tent, she was ahead of me by a couple of minutes. There was no sign of Alice or Jennifer and I was lapping Gloria and Tuedon who were still pushing on. Karen, Annie and Tanj had stopped after 6 laps. At the end of lap 9 I was tired and experiencing a low. I started to hyperventilate a bit when I went into the tent. Was it the transition from freezing to warm? It was worse after lap 10 and Kate asked if I was OK? Yes. You don't seem OK. She and the doctor stood with me managed to get me to ease my breathing before going back out. Just 2 more laps, I was nearly there, time to dig deep and use my reserves of strength and power that I knew were there.
I can't remember now whether I spotted and passed Jennifer twice, in lap 10 and 11. The reason I had not seen her previously was that she had not been using the aid tent but going in the accommodation tent. She was quick at the transitions. I definitely caught her in lap 11 and overtook. As I finished the lap Richard called out that I was close behind the other two: which other 2? How close was Jennifer? A doubt as to whether I had passed her or even if we were on the same lap. Not like me to be worrying about where I was in an event.
Decision time: and not much time to think it through: should I just crack on and bash out this last lap forgoing the tent? No, I would risk a quick pit-stop for some fluid and a bit of sugar. I wanted to do this last lap justice and finish strong. My neck had been feeling a bit strange and uncomfortable and when I had tried to feel what was going it felt like my scarf was frozen, which I expected. It had done the same in Antarctica. I was about to make a split second decision as I stepped into the tent, which I would later realise cost me 3rd place.
I decided that I would take my scarf off and put a dry buff on. It was one of those double edged decisions. It cost me a place but meant the difference between a minor and a more serious injury. The reason things felt so strange was because the scarf had frozen to my throat. I was about to rip the thing off when Kate stopped me and the doctor came over. It was frozen and frozen to my throat, my throat was frozen and had ice on it, not to mention broken skin where I had started to pull at the scarf.
Now, this is where the impaired judgement comes, and the ridiculous scene ensued with me saying: Just get it off and let me out, we can sort it when I get back in. I only have one more lap. Just patch it up. I just need to get this done. It will be fine.
They were taking none of my nonsense. The scarf was warmed and removed. A hand warmer was pressed to my throat to melt the ice and defrost the skin and eventually some Vaseline was put on it and I was allowed to pull on a buff and get back out. It seemed to take forever but it didn't, but it was long enough to allow Jennifer to get past me and put some good distance between us. The doctor was a bit upset with me, and did a quick check of my mental state asking me what year it was.
Are you kidding? 2015, I called as I dashed out.
I powered round that last lap just happy to be finishing. I had no idea of time, but I knew it had been a long time since crossing the start line. The sense of relief when I dropped down onto the smooth run in to the finish was incredible. I pulled myself up and ran tall, picking up the pace, yelling out with the effort. As I approached the flag lined finish I grabbed the Saltire and crossed the line with it held high. I had done it. Probably the most extreme and intense thing I have ever done. A hug and a well done from Richard as he placed my medal round my neck. That felt so good. I was so glad that was over, and so elated. I don't think I will ever get over that sense of surprise and elation that I get when I cross the finish line after hard races.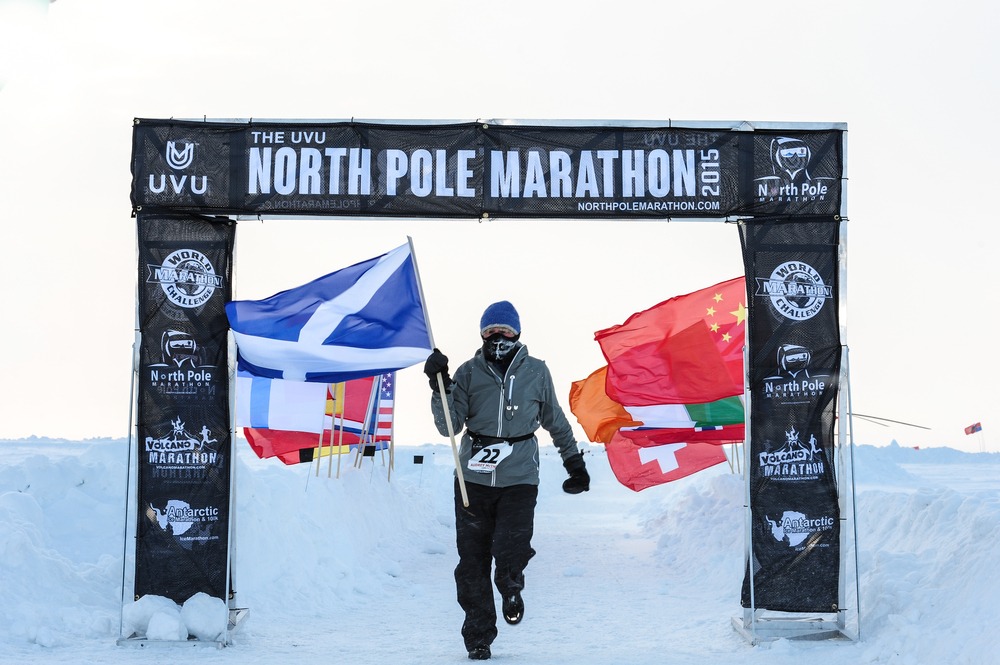 Right, I better go get my neck sorted. Back in the tent I saw Heather, Alice and Jennifer. Heather had won the ladies races after getting past Alice in the 10th lap, and as we know Jennifer got the jump on me. What a great and close race for the women; and, Heather such a deserving and gracious winner. Not only that, flying the flag for the supervets! Everyone was so kind, helping me to a seat over next to the heater where the doctor could attend to my throat and I could warm up. Kate took my shoes off and put dry socks on and helped my change my top. Daniel and Petr (2013 alumni) came over and congratulated me and got me hot drinks and food. Much to everyone's surprise that chicken stew and mashed potato that was on offer was quite tasty. I always find it hard to eat post race, but I managed a few mouthfuls. The Russian doctor also put some alcohol in my tea to help warm me.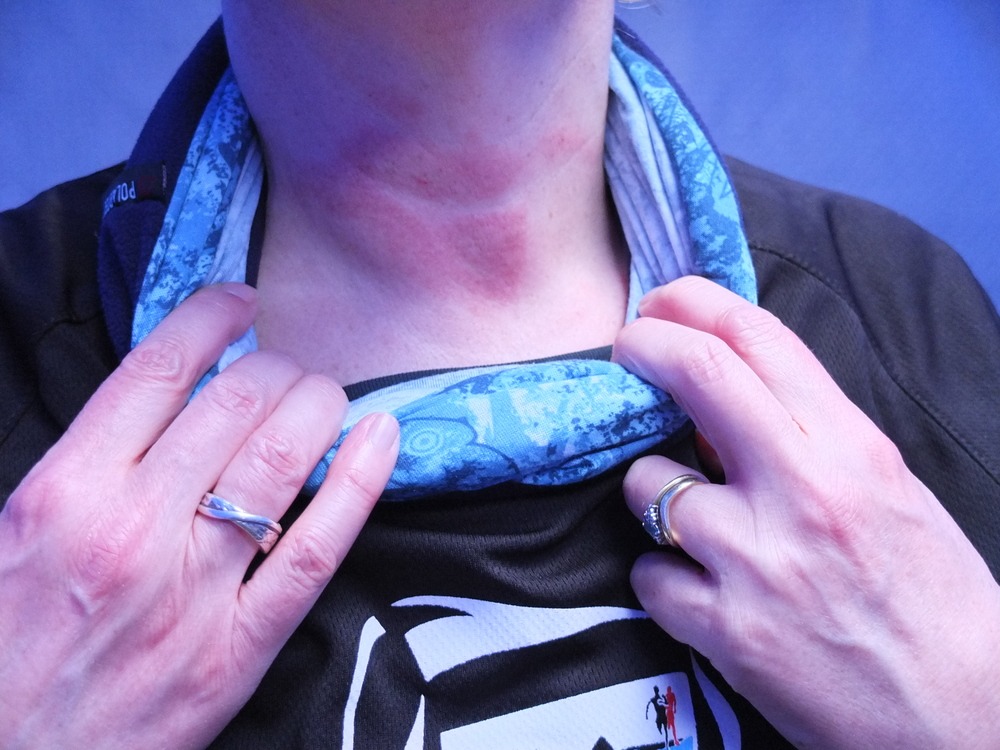 A while later we discovered that I had also got 2nd degree frostbite on my earlobes, and it turned out that my throat had 2nd degree frostbite too. You make a full recovery from 2nd degree frostbite, but as I am discovering you feel the effects long after the skin has healed. They will be sensitive and need to be protected for about 6 months.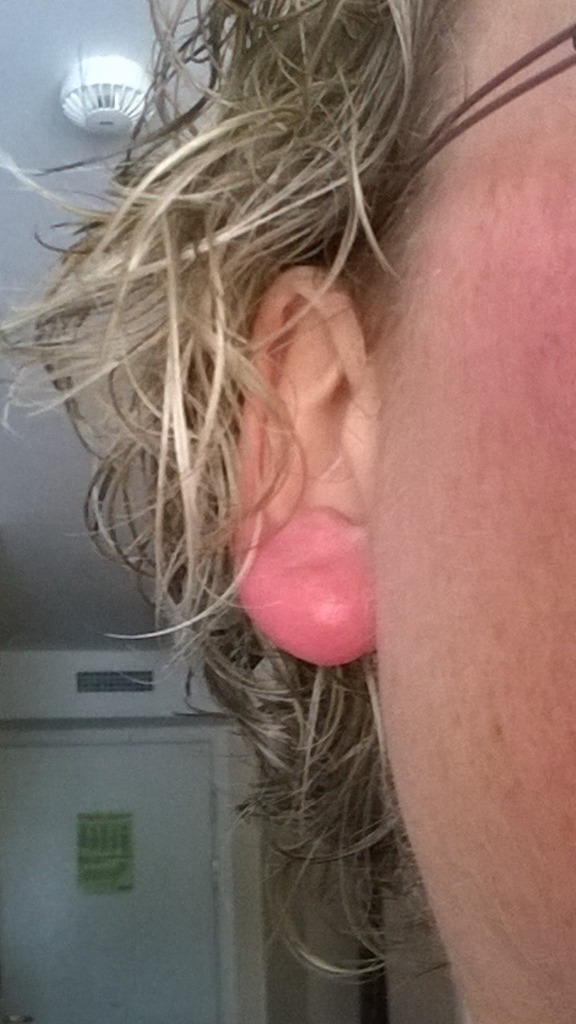 Most of the field was still out. I had taken 7:13:08, and the last finisher came in after 13:59:08. That was Marcus, who had taken a couple of hours out to settle, bed down and feed the huskies when they had completed as much of the race as was practical and sensible.
It was clear that we would not be flying back to Lonyearbyen that night, so time to settle in for another night at Barneo. Conditions were not ideal. None of us had much food, and we had used most of our water, so joining the after party in the mess tent at 1am and drinking a couple of shots of vodka and a can of beer were not really one of my best ideas, and suddenly I was rather drunk. Annie helped me weave my way back to the tent where I crashed and slept for a couple of hours.
As we were all stirring later in the morning Richard came in to say that a flight was due, did we want on it: a resounding YES. The novelty of Barneo was wearing thin. We were tired, dirty, hungry and thirsty (water was in very short supply by now, even the hot water). We got a 25 minute warning when the flight came in. Bags were quickly stuffed with gear and dragged over to the runway. Everyone was happy to be on that plane. We were overcrowded with people sitting in the aisle and amongst the cargo, but no one cared, all we wanted was to be back. Many people had missed flights and so Kate was going above and beyond the call taking details and offering to help reschedule people as much as she could. On that score I was lucky: I had booked a flight at lunchtime on the 13th.
My journey was not so comfortable with a hangover and a fair amount of vomiting: all self inflicted by my superb idea to rehydrate with alcohol. The planned order of play for my return was: bath, sleep, food. The reality was; dump bag in room, head to bar, drink a gallon of water, coke and coffee, eat my bodyweight in pizza. Quite a few of us were doing that. We were so calorie deficient. I remembered that it was Sunday 12th, my wedding anniversary! I called home for a quick chat with Alasdair and a promise to call later when I was sorted and things were a bit quieter. I also had to break the news that I had frostbite. The one thing that he had said I was not to come home with; you numpty! was the response. I had to agree.
Thirst and hunger satisfied for the time being I finally went to my room to have a bath and clean up before going to the restaurant and demolishing a 3 course dinner with Heather and Doug and a small group of the runners, eventually going to bed about 1 am shortly after the second flight arrived back.
It was very quiet and subdued the following morning. Many people had left on the 4.45 am flight. As I went in to breakfast I spotted Artur and we breakfasted together reflecting on our adventure. It had been Artur's first marathon: what a first marathon experience. How would he ever top that. After breakfast I went to sort out and re-pack my bag before starting the journey home. I was ready to go home, maybe not quite so ready to be in work the following morning but it had to be done. There was one last photo opportunity that I could not leave Longyearbyan without, the polar bear sign post at the entrance to the airport.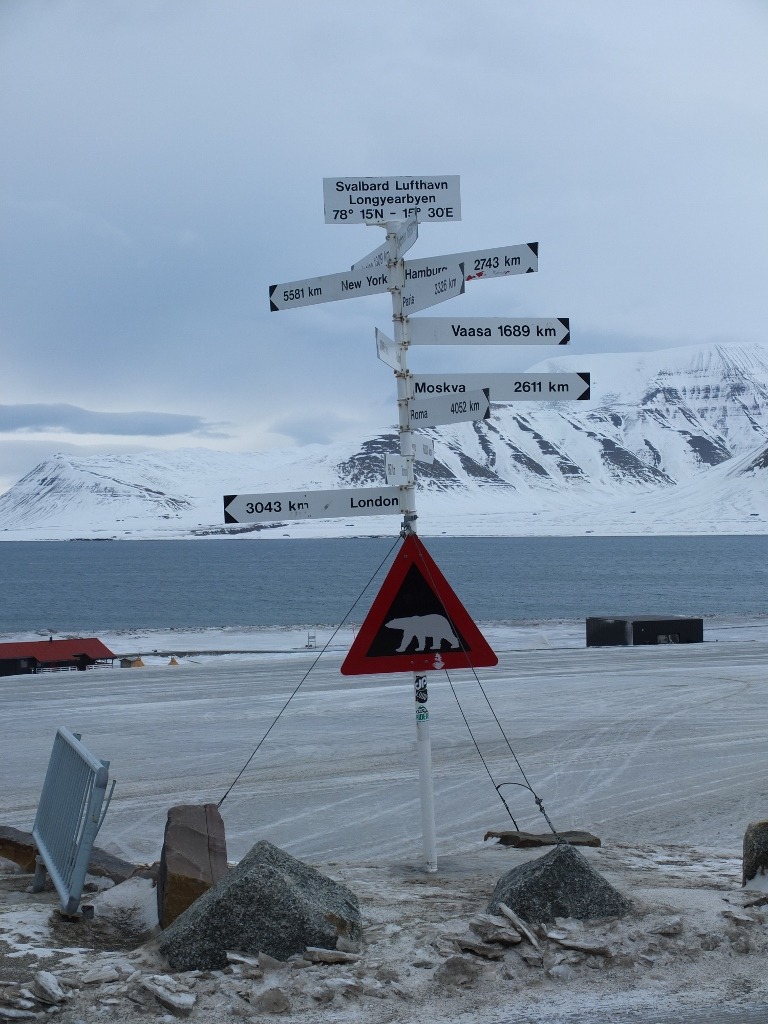 As experiences go it was intense. What made this marathon so hard were the conditions. They were probably the toughest that had been experienced by the event in terms of both the weather and underfoot. I still think that the Volcano Marathon is harder. The terrain is tougher and the altitude is a killer. The North Pole was an extreme slog, but I was not spent in the same way that I was at the volcano.
What would I have done differently, and what have I learned? With the help of that wonderful wisdom known as hindsight:
I would have taken more water and more food or ration packs
I would have worn a headband or buff as well as a hat to ensure that my ears were better covered and protected.
I would have used a buff to pull up over or under my face mask to reduce the chance of it freezing to my face.
I would have checked and changed my scarf/neck protection at regular intervals
I would have been more conscientious about asking for assistance in the tent to check me out and spot anything going wrong such as my scarf
Not rehydrated with alcohol.
What do I think went well for me?
Paying attention to my heart rate
Keeping the pace steady: my lap times were slow but consistent
My in race fluids and nutrition
Running my own race
Keeping my stops short
It was a good solid race for me and I am pleased with my performance. I have now completed four of the world's hardest races, and completed them well. I have achieved far beyond my expectation and probably the expectation of others. I am a proud super veteran and I am proud to be the first Scot to complete the polar hat trick of The Antarctic Ice Marathon, The Antarctic 100km and the North Pole Marathon.
Many thanks to Richard Donovan, Fearghal Murphy, Mark Conlon, Dave Painter, Kate Richardson, Dennis Andrade and all the support crew for making this event such a special and unique experience and for their support during the race.
Below is the full official video of the marathon.