The Antarctic Odyssey was the start of my journey into adventure racing and blogging. I wrote a series of post that charted my adventure from start to completion of my Antarctic Odyssey. This post is part of the series.
This was a much needed rest day, especially as I was getting virtually no sleep. It had been -10 in the tent overnight, and I have to say, a pretty miserable night. As ever, after a marathon, there was a lot of adrenalin still in my system; that always makes sleep a challenge, but then add the light and the cold and it was a recipe for an uncomfortable night. The wind had also been picking up and tent in wind is a pretty noisy place. At first this had been almost restful but as the night wore on and it got noisier the novelty began to wear off. On the plus side I had no stiffness or aches and pains when I got up, which seemed curious to me. I am generally sore after a marathon, especially a hard one. I could only assume that the combination of the cold and the compression tights were doing a good job.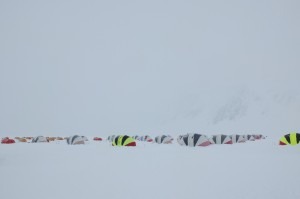 When I emerged from the tent it was windy, cloudy and snowing. This set the pattern for the day and the winds and blizzards were to increase. The wind was gusting at 50 knots and it was pretty much a white out. The nations' flags were taken down and the ice marathon sculpture was damaged by the winds, with large chunks toppling over. We were informed that these conditions at this time of year were unusual and quite unique, and were briefed on safety and advised that is was best not to leave camp but that if we did we had to report out and back in and go in groups.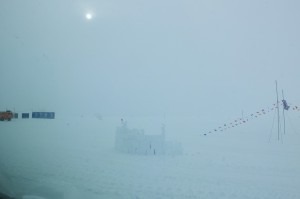 Most people were on a high after completing the marathon and happy to recover. There were plenty of blisters, one person with a mild temporary snow blindness, and one with frostbite on all 10 fingers! That certainly provided a cautionary tale for the rest of us, and especially those of us who were going to be doing the 100km. He was very lucky, and whilst the bandaged hands looked dramatic, he was expected to make a full recovery. Had he run for another 15 or 20 minutes without his gloves it would have been far more serious.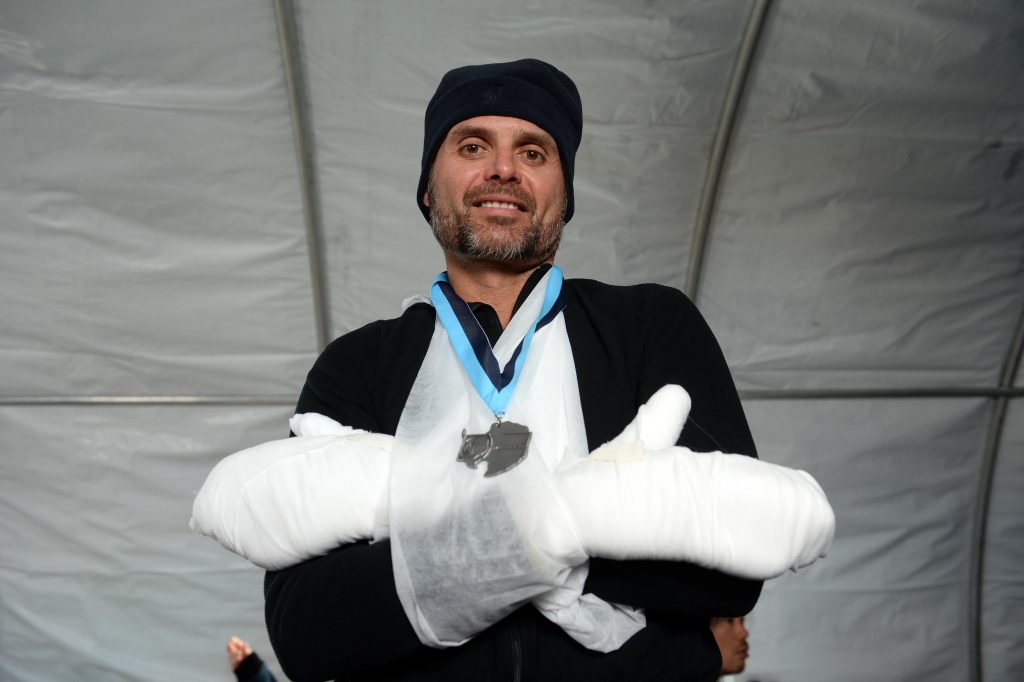 As for myself, I had a couple of blisters under my toenails. I rarely get blisters, and unusually for a runner have never lost a toenail. I can only assume that these were caused by the double layering and thickness of the socks combined with the movement of my foot in my shoes as I tackled the soft uneven surface. They were proving to be very uncomfortable, so I wandered over to the doctors' hut to ask if they would burst them. The answer: no, certainly not: too much risk of infection. But I always do that. I have never had an infection: still no: damn. Back to the mess tent wondering what I was going to do as I was contemplating a very painful 100km if I could not ease the pressure under the nails. When I expressed my frustration, Sarah offered a safety pin: brilliant. I duly sterilised it and had just pierced under the first nail, when I realised that one of the doctors was standing nearby. Had I been caught in the act? Brief eye contact was made, but neither of us said a thing. The relief of easing the pressure under my nail was instant.
The doctors also confirmed that I had a bit of wind nip on my cheeks on the area that had been exposed during the marathon: that small gap between my face mask and sunglasses that I had felt nipping. I was advised to take care of it and ensure that for the 100km it well covered. Taking care of it was fine except that I had not exactly come out here laden with beauty products and creams. I had sunblock, a tiny tube of moisturiser and lip balm: lip balm. That would create a barrier, provide some protection (it had sunblock in it) and moisturise. This proved to an effective treatment. What I did not know until I got home was that the wind nip causes permanent damage. There will always be sensitivity there and I will always have to ensure that the skin is protected when out in the cold, wind or sun. On the plus point, I will be using less blusher from now on.
Due to the weather conditions and the ferocity of the wind I was not able to do an active recovery, which had been strongly advised. This left a slight anxiousness, but there was nothing could be done. So, I spent the day chilling out and focusing on eating and drinking and getting as many calories in as I could. There was a lot to make up from the previous day and a lot to store for the next effort. I knew that it was going to be impossible to fully replenish my glycogen stores but as much as I could get in and process the better. I always struggle with large quantities so it was little and often. Plenty juice, dried fruit, nuts, biscuits, chocolate consumed around my meals.
I made another brief call home too. Board games, jigsaws and packs of cards were provided and a table tennis tournament set up, yoga and a movie screening. No one was bored. Anyone would think that the camp staff were used to this and prepared for it.
As the weather conditions worsened the camp perimeter was roped off and the tents made more secure. At the evening briefing we were told that guide ropes were being put up between the mess tent, the toilet block and the shower block too. We were also told that it was highly unlikely that there would be a flight out before Monday or Tuesday, however, there was a window of weather coming up that would allow the 100k, and that they were looking at a 2pm start the following day.
We were told about the 'sucker holes', little windows of weather where the wind would drop, the conditions would lift, visibility improve and the sun would shine. The only problem, it would only be for a short time, a few hours, just long enough for people to potentially get suckered into thinking they could do things; that planes could land. The 100k needs an 18 hour window; the Ilyushin needs 8 hours and 22km of visibility. We had been seeing this during the day, tiny windows of better conditions closely followed by more wind and blizzards.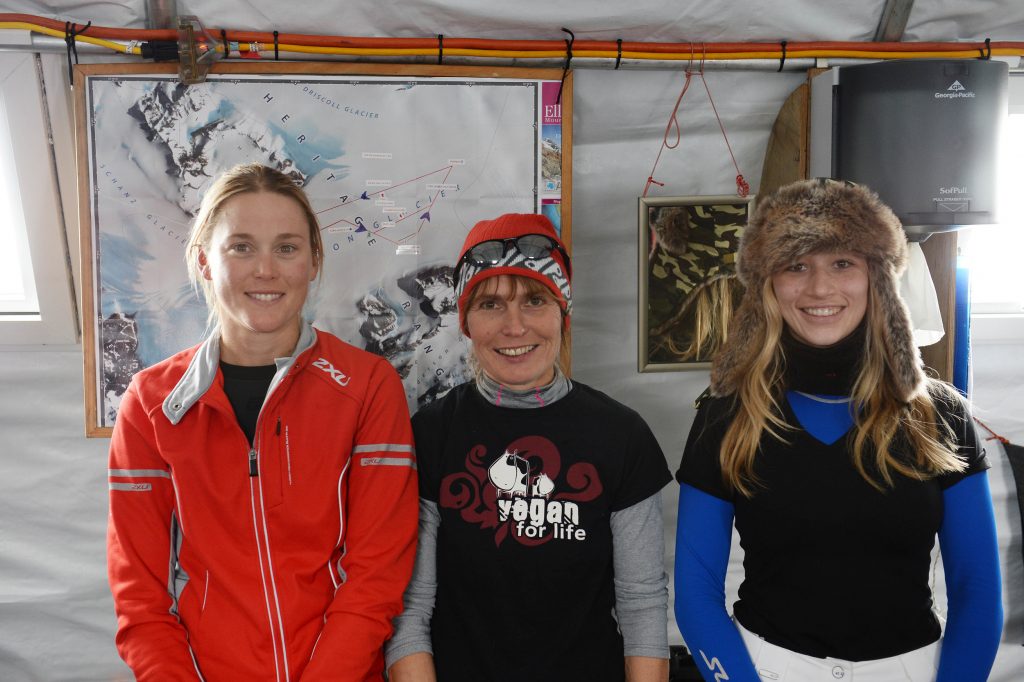 The highlight of the day, which kept everyone happy and celebrating,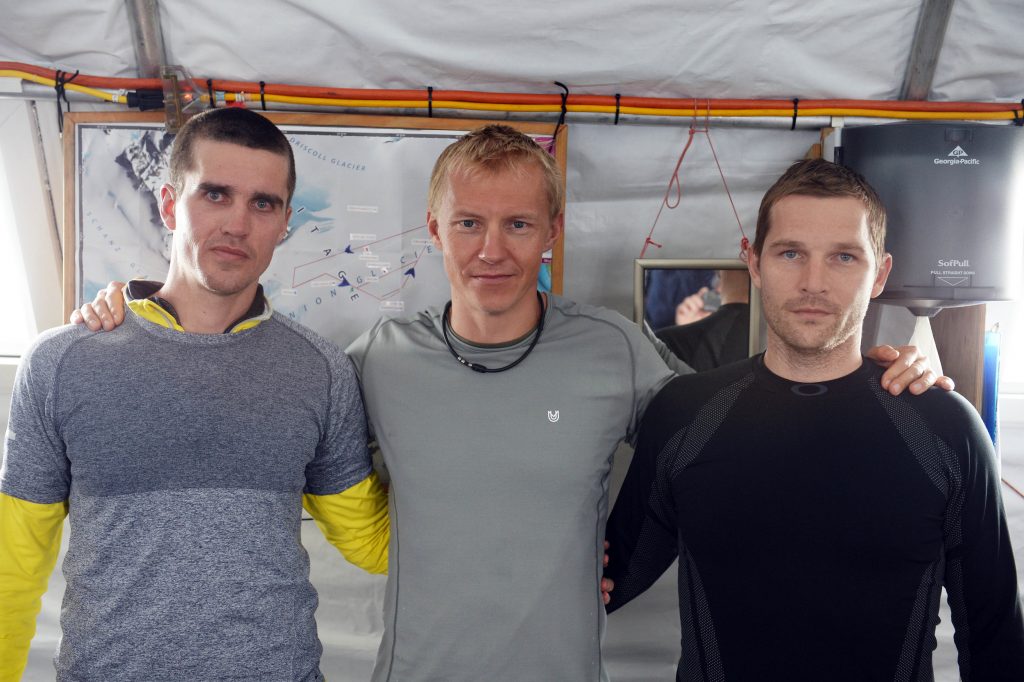 was the presentations to the marathon winners and to the 10 people who had just completed their 7 Continents. To complete 7 marathons on all 7 continents is quite an achievement, not just in running but also logistics and commitment: respect. A number of other runners were here as part of their aim to get the 7 Continents, and as for the others including myself; the question hung there: is this the next challenge, the challenge that I want to accept.