There is a sentiment that is much used in Scotland: that there is no such thing as bad weather, just bad clothing decisions. There was no room for bad choices or decisions when it came to kitting myself out for the Antarctic Odyssey. Helly Hansen stepped up to the challenge and agreed to sponsor my kit, just when I was losing hope of obtaining expert input and advice.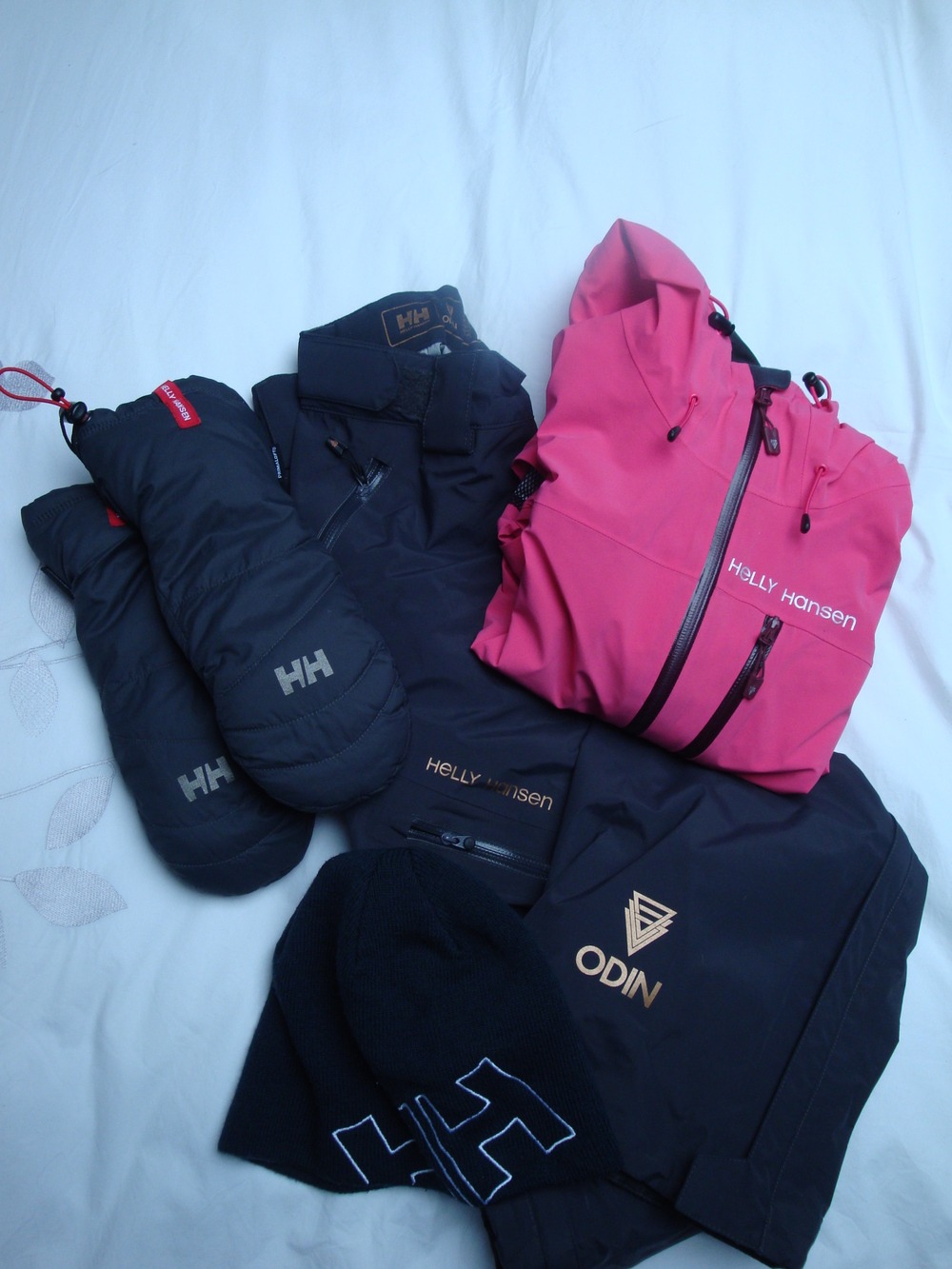 Several days later 2 boxes of kit arrived containing a selection of base, mid and out layers for me to try for size, comfort and, more importantly, to test if they would be fit for purpose. The kit for the non-running days was not a problem: warm base layer leggings, Ski pants (Legend pant) with a HH Warm base layer and Odin Hybrid mid layer; all topped off with a hooded down jacket (Quebec) and a sneaky wee polartec insulator for a bit of extra warmth if needed. The insulator jacket proved to be one of the most versatile and useful pieces if kit I took out, and it was especially good to wear in bed at night.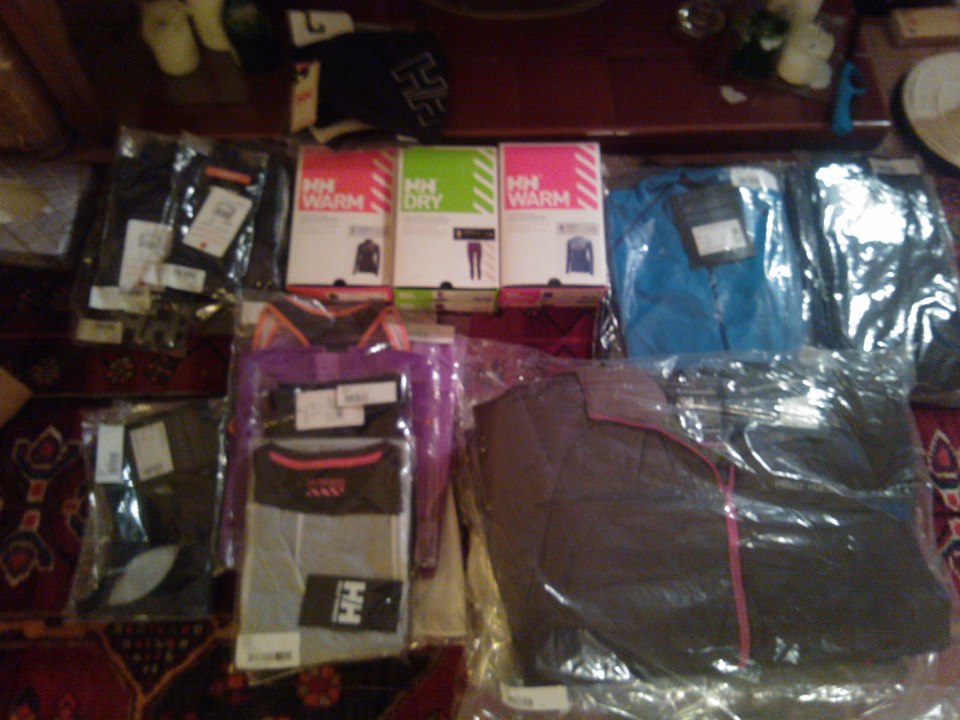 Now for the running kit: the first thing that I had to get used to was multiple snug fitting layers. By nature I tend to go for loose and comfortable. I quickly realised that I felt most comfortable in the lighter layers. At that point the decisions became quite easy: dry revolution base layers were going to be the order of the day, and they would be combined with either the Odin Hybrid or the HH warm Freeze half zip depending on the temperature. Legs were even easier as there was no base layer required just a good winter running tight. But, I was not going to get of that lightly, and the all-important windproof out layer proved rather tricky to nail.
I was supplied with an almost confusing array of gloves: liner, fleece, skiing, trekking and climbing. I had to decide what was most important to me apart from the obvious criteria of keeping my hands warm. Top of the list was moisture management so liner gloves had to be HH Dry Revolution, but I also used the HH warm liners. Next priority was mobility, being able to use my hands to get things out of pockets. That eliminated ski gloves and left me with the Polartec gloves which were thin, lightweight high quality fleece which proved to be extremely windproof. Another layer was required: down mittens; and at this point HH did not make down mittens. That was problematic, so but I started to look at alternative options, but then got an email from HH to say that they had a pair of 600 power fill down mitts, a new addition to their range. What an addition! They are an excellent down mitt that fits well and it not too bulky, allowing a reasonable level of dexterity.
The outer shell jacket and trousers was proving difficult. The first options that I tried from the winter training/running range were great winter kit for the UK, but would not stand up to the Antarctic temperatures. Skiwear was not an option as that would be too bulky. Then we hit on it: the Odin range, designed for climbing and hiking the garments were flexible allowing a great range of movement, lightweight and to specification in terms of the windproof requirement. Odin Traverse jacket and Traverse trousers were the final choice.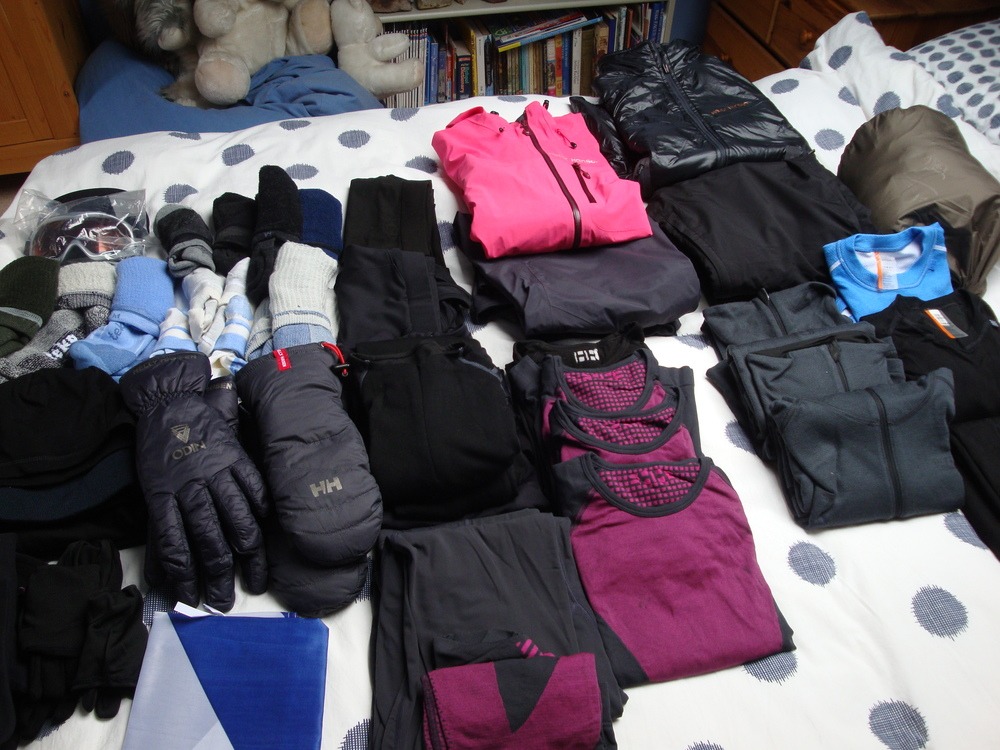 My kit was assembled. The UK winter of 2012/13 did not prove to be as harsh as the previous 2 winters and so I had not been able to really put the kit to the test, but I had to trust the experts and the fact that HH was also supplying the Walking with the wounded race to the pole. The proof, as they say, would be in the pudding. It was duly laid out, cross checked, double checked and packed. The effort that I had put into the selection of the kit was recognised at the kit inspection and I passed with flying colours. The kit was put to the test the moment we stepped onto the blue ice runway and hit with a temperature of -16 and 25knot winds, which was quite literally breath-taking. To take photos I could only bear having my gloves and mitts off for a minute or so, just long enough to get a couple of shots before having to get the gloves back on.
As we settled into camp I found the clothing warn and comfortable and easy to move about in, adding and removing layers depending on if I was outdoors, in the accommodation tent or the mess tent and managing to control my temperature well. This boded well for my running. Several of us decided to go for a short 2 mile run to try out our running kit and check if there were any last minute changes or adjustments we wanted to make. I was happy with the result: all boxes seemed to be checked, warm, moisture wicking and able to move freely. For me one of the most important criteria for running is to feel comfortable in your kit. Any irritations caused by the fit of the kit can build up into a massive source of discomfort, distraction and frustration when running, especially when running for long durations, and it can have an incredibly negative effect on your mind and sense of wellbeing. I needed to be absolutely confident that this would not happen here.
There I not much I can say about the race days. The kit really came into its' own and I can honestly say that it was perfect. During the marathon, there was a bit of wind and I am told the temperatures dropped to about -30. The archetypal layer of frost built up on my hat and gloves, but at no point did I feel vulnerable. My temperature and body moisture were well controlled and the only thing that I had to change was a pair of liner gloves in the near 6 hours that I ran.
The conditions for the 100km were quite different with a little less wind and the temperature only -12 when we started. I started the race with only a single HH dry Revolution base layer on under my Odin Traverse jacket. I have run in similar conditions at home and knew that would be enough. I was even able to run for short periods of time without my gloves, choosing to periodically remove them to stop heat and moisture building up. As I progressed I realised that this was going to be a different race in terms of my kit. Run over a 10km loop I found that every couple of loops I needed to change into dry layers, and as time wore on the temperature began to drop I needed to mix and match with the layers to keep an even temperature and not get too wet. Staying dry was paramount. I swapped from a base layer, to using a mid-layer as a base, and finally to a base and mid layer. Although I had several of each layer they still had to be dried and re-used. They dried quickly and did not smell, so felt fresh and clean when being re-worn. I was out running for a bit over 17 hours and remained comfortable, in terms of clothing, throughout.
I can honestly say the kit was perfect and completely fit for purpose. I could not recommend it highly enough.
The reason this final kit review is coming out so long after the event is because I have been testing it out back home during our rather mild Scottish winter. What has this proved? It is versatile and not just for extreme adventure racing conditions. I have been regularly using the tights, base and mid-layers for my winter training and trekking, hats and gloves. The liner gloves made and ideal lightweight single layer for chilly days. The insulator jacket is great to pull on after a run to prevent me chilling down. Some of the pieces rejected for Antarctica have also now become winter running staples, namely the pace winter training jacket and the racing light suit. As for the pace sports bra, it is a permanent addition to my running kit: a sports bra that does not chafe!!