A few minutes past 9 am on the 22nd of July the Queen's Commonwealth Baton was passed to me and I ran my section of the baton relay. The next day saw its journey complete as it was carried into Celtic Park stadium to be handed back to the queen, and to mark the start of the XX Commonwealth Games.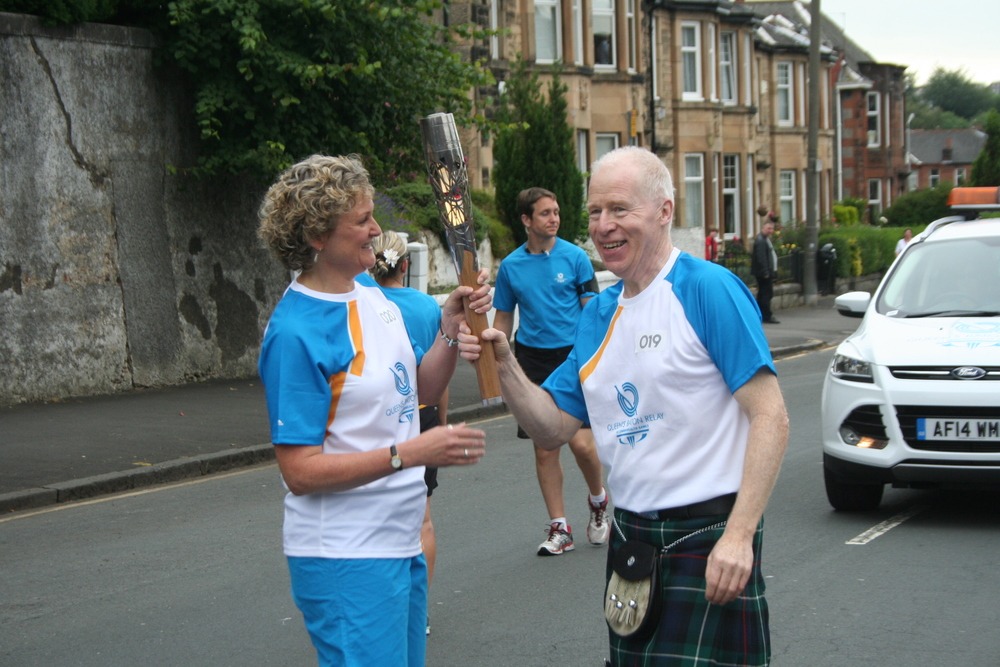 It has taken me a couple of weeks to try and find a way of articulating what this meant to me; and I am not sure even now, if I can do the experience justice, and refrain from being overly sentimental or gushing. Or that my amateur and un-honed writing skills will be up to the task?
Where should I start?
I will start in a café in Punta Arenas on November 28th last year, just hours after my return from Antarctica. I had been awake in excess of 24 hours (I do seem to make a habit of this), was adjusting to the return to an urban environment and was just a tad emotional, especially when I saw my email inbox. There was a series of emails asking me to accept nominations for the Queen's Baton Relay, which was quite overwhelming for my mental state. I was amazed and honoured that so many people thought me worthy of the task, and I was even more amazed and honoured when I was subsequently selected: thank-you to everyone who nominated me.
Jump forward to July. I had a huge grin that lasted all day, and even the fact that I got a bit short changed in terms of the distance of my section, was not going to dent my pride and enjoyment. Based on what I had been seeing on the live stream of the relay I was not the only one who spent an entire day grinning.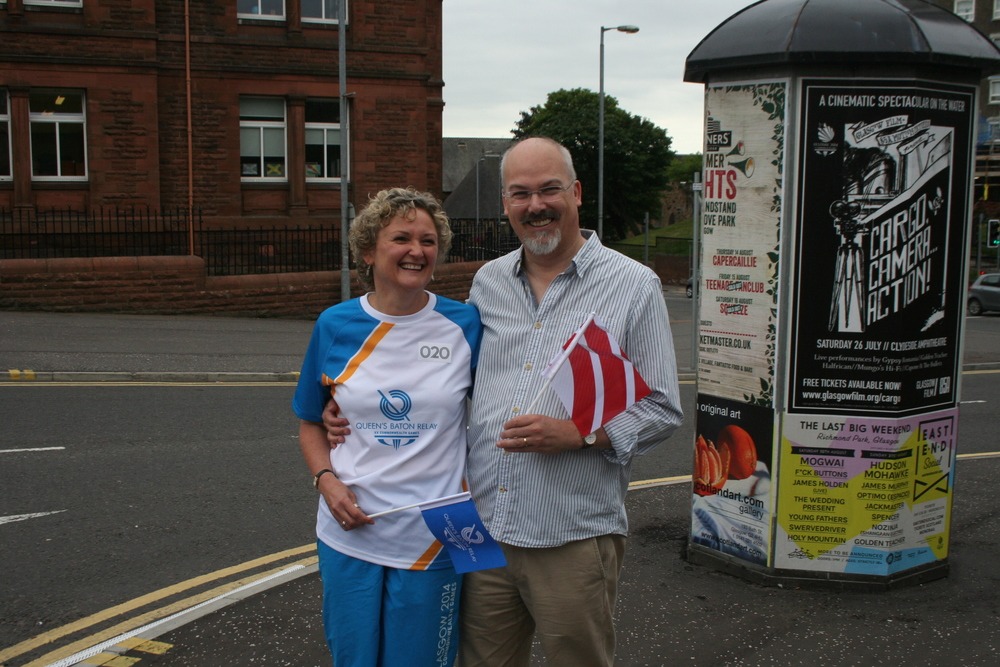 It was an early start and I reported for duty at 7.30 am in the Asda car part at Toryglen, and was scheduled to run with the baton approximately 9.00 am and would carry it towards Hampden Stadium: what a section! A glory leg; important to me as that is where the track and field events were taking place. It was the last day of the relay, before the baton would be taken to the Games opening ceremony, so there was a bit of a party atmosphere.
The crew responsible for driving us to our drop off points were great: full of enthusiasm, laughing and joking, making us all feel at ease; and ramping up the excitement levels as well as ensuring we got the important information and instructions. I was part of a small group of 11 bearers ranging from school age to 90! Representatives chosen by their school, running event organisers, an elderly volunteer who works with the city mission and soup kitchen, volunteers from community sports programmes, charity volunteers, people working with disability. All of us united in our support of our communities and charitable work, our sport, recognising each other's contribution and the sense of pride in being part of something very special.
There had been much speculation in the days prior to the relay that I might be handing the baton to a celebrity or sports personality as my stage finished on the approach to Hampden stadium. Various footballers were mentioned, as was Gordon Strachan: and guess what? It was confirmed that I was indeed handing the baton to Gordon Strachan. (This explained why I subsequently found that my stage was short: to enable spectators to see him, as the stadium security for the games did not allow spectators further down the approach).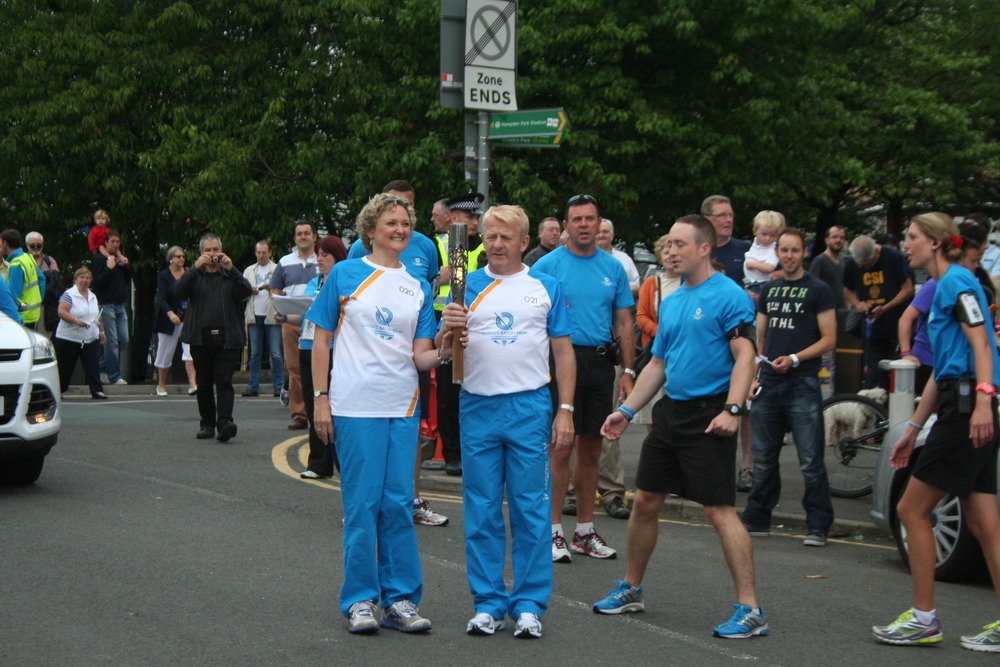 We duly set out and got dropped at our handover stations about 15 minutes before we would be handed the baton. We were all surprised by the number of spectators given how early in the morning it was. Alasdair and the girls and my parents-in-law and a small group of friends were waiting for me at the handover point. It was here where family photos could be taken and the police escorts were happy to help out taking photos to ensure that all the family could be in the photo.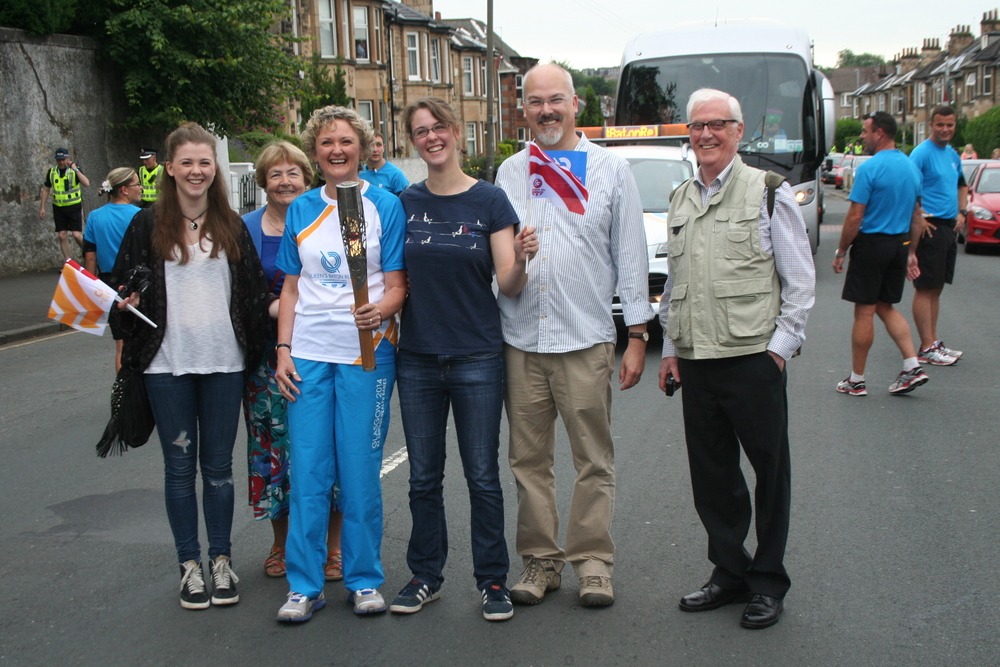 Soon we saw the advance vehicles of the cavalcade, shortly followed by the blue lights and the relay. It was a long straight road so I could see William, who would pass to me, to take the baton. Just before he set out one of the police escorts came running up to me introducing herself as Hazel and as my 'personal security'. Hark at me! The first and last time I would ever have personal security. William arrived, we hugged, got photographed, the family photos were taken. Then it was my moment, time to go.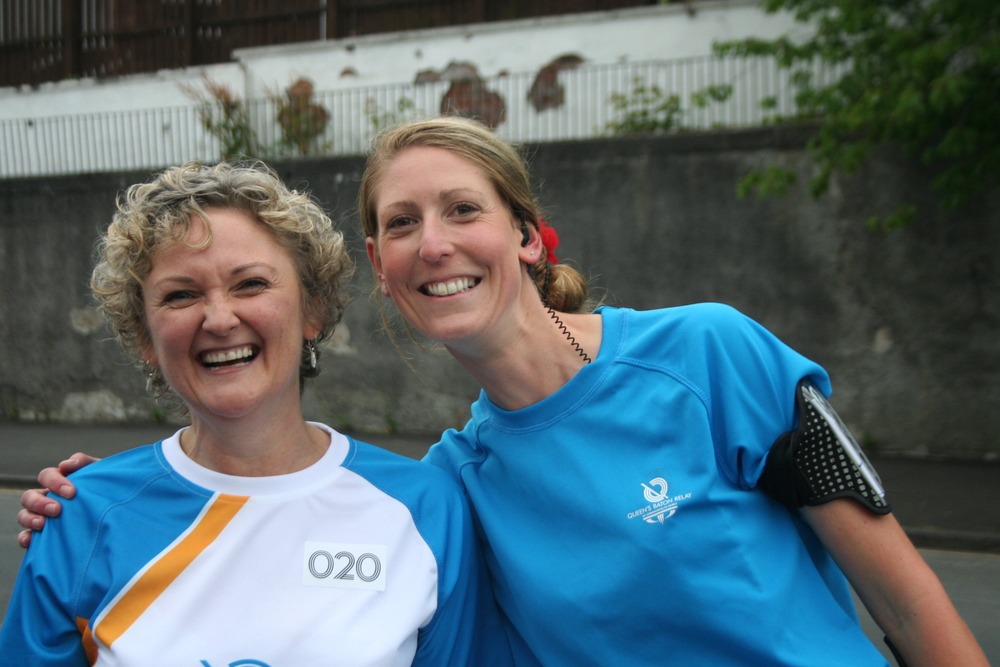 It was indeed my moment: my heart swelled and I allowed my head to swell too. Hell yes, I did something pretty special, pretty amazing, to get here, and this was one day that I was not going to downplay it. This was an acknowledgement of my achievement. I know that there are other people out there who run faster, run further and raise more money for charity; but in terms of personal challenge and achievement I had raised the bar and comprehensively cleared it.
Unlike the Olympic baton there was only one commonwealth baton; one baton that every bearer throughout the commonwealth carried. It was a beautiful object, crafted with care, and handled with care and respect: the patina that had developed on the wood added character and carried a little bit of everyone. Now, my touch would be added to it and I was responsible for taking it and all that it stands for on the next part of its journey.
It was over in what seemed like a flash. I started to jog, head high, proud and honoured, grinning and waving, acknowledging the support of the spectators; but all too soon I had to slow, stop and pass the baton over for its journey into the stadium. The shortness of run did not matter, I have been part of the relay and a proud bearer of the baton, and I had been able to share that with Alasdair and the girls who support me above and beyond.
During the games four banners hung in front of Glasgow city chambers, they read: humanity, equality, diversity and legacy. The baton relay has embodied these qualities. Bearers chosen for their humanity and respect for humanity; diversity of place, culture, age, religion and contribution to their communities; all worthy and all equal to the responsibility of being a baton bearer; and all representative of the legacy that might follow. Exemplars of what it is possible to achieve and contribute to life and society; inspiring and showing us that people from all walks of life, of every age can aspire to and contribute to making our environment more responsible, caring and healthy.